Wood flooring ideas | Livingetc
Wood flooring ideas are one of those 'original features' that homeowners long for and real estate agents love to mention. Wood floors are not new of course, wood has been used as floor types for centuries – mainly oak, sometimes elm, then later Baltic fir and pine. 
The Georgians used polished oak planks in grand residences, whilst below stairs, pine was used, but it was the abundance of pine forests in colonial America that gave rise to the mass use of bare wood floors, with the Victorians in particular. By the beginning of the twentieth century, wood was by far the most popular flooring before carpet took over.
The revival in wood floors came in the 70's when home renovation really kicked off and central heating meant that stripped floors could be an alternative to carpet. Then by the 80's, it seemed everyone was hiring a floor sander and restoring their forgotten floorboards, and it has gone on until the present day with all sorts of 'new' woods being used for flooring. Better manufacturing techniques have meant there is a wealth of choice – from polished hardwoods, to engineered flooring, chevron and herringbone to extra-long and extra-wide boards, not to mention the current trend for reclaimed wooden floors from disused factories, school gyms and  derelict farm buildings. You can choose from a matt finish, lacquered, brushed, oiled, distressed, even charred, and that is without going into the different colors available. 
So, we've edited a selection of which wood flooring ideas to use in which rooms and the different color choices available, to give you plenty of information to make an informed choice.
What are the best wood flooring ideas for a living room?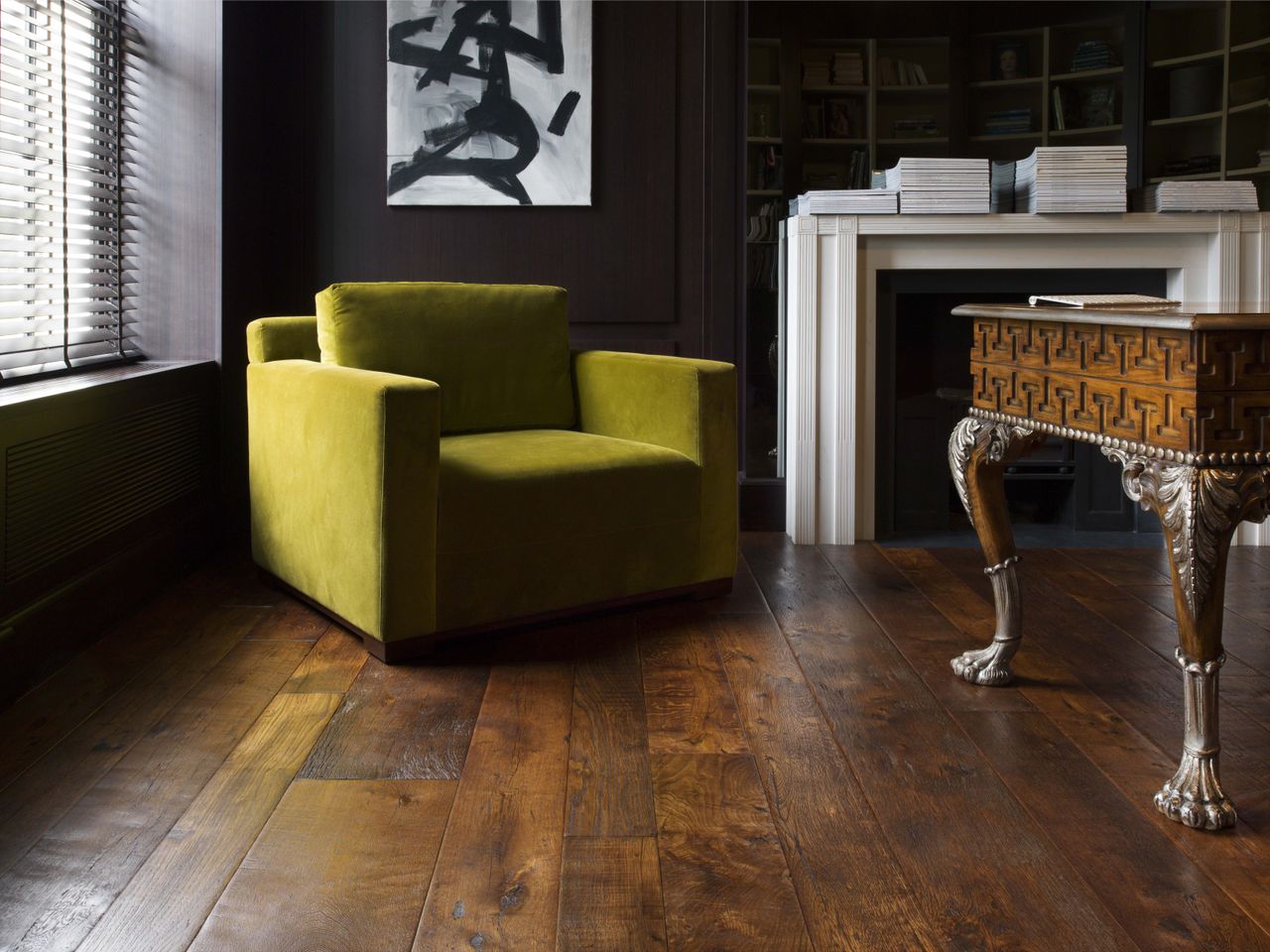 Hardwood flooring is by far the most popular flooring choice for living rooms, and includes solid wood and engineered boards. You may have an existing wooden floor if it's an old house, which can be re-sanded and re-finished as long as it's in good condition. Planks work well in a living room and are a traditional choice, and if it's a large room, extra wide boards will make a strong design statement, however parquet and basketweave designs can also look stunning and will add texture and interest in a smaller space. The floor you choose is down to personal choice, budget, how often the room is used and whether you have children or pets. 
Solid wood is just that, a solid piece of wood made into a plank or block. It is very hard-wearing and can be re-sanded many times to bring it back to it's original splendor. It is also a natural product, so it's eco-friendly. Naturally, trees take a long time to grow, which is why some woods are expensive. To counter this, in recent years, Bamboo and Eucalyptus are being grown for flooring as they can be harvested more quickly and cause less harm to the environment. 
Engineered floors are created by layering sections of softwood with a top layer of hardwood. "Layering wood this way reduces the wood's natural tendency to expand and contract." Says Robert Walsh of Ted Todd Fine Floors. "which means it's ideal for use with underfloor heating." Engineered wood can also be re-sanded, but it depends on depth of the top or 'wear' layer as to how many times this can be done. Just like terrazzo flooring, a good quality wood floor should last for 100 years or more if fitted properly and looked after.
What wood flooring to choose for the bedroom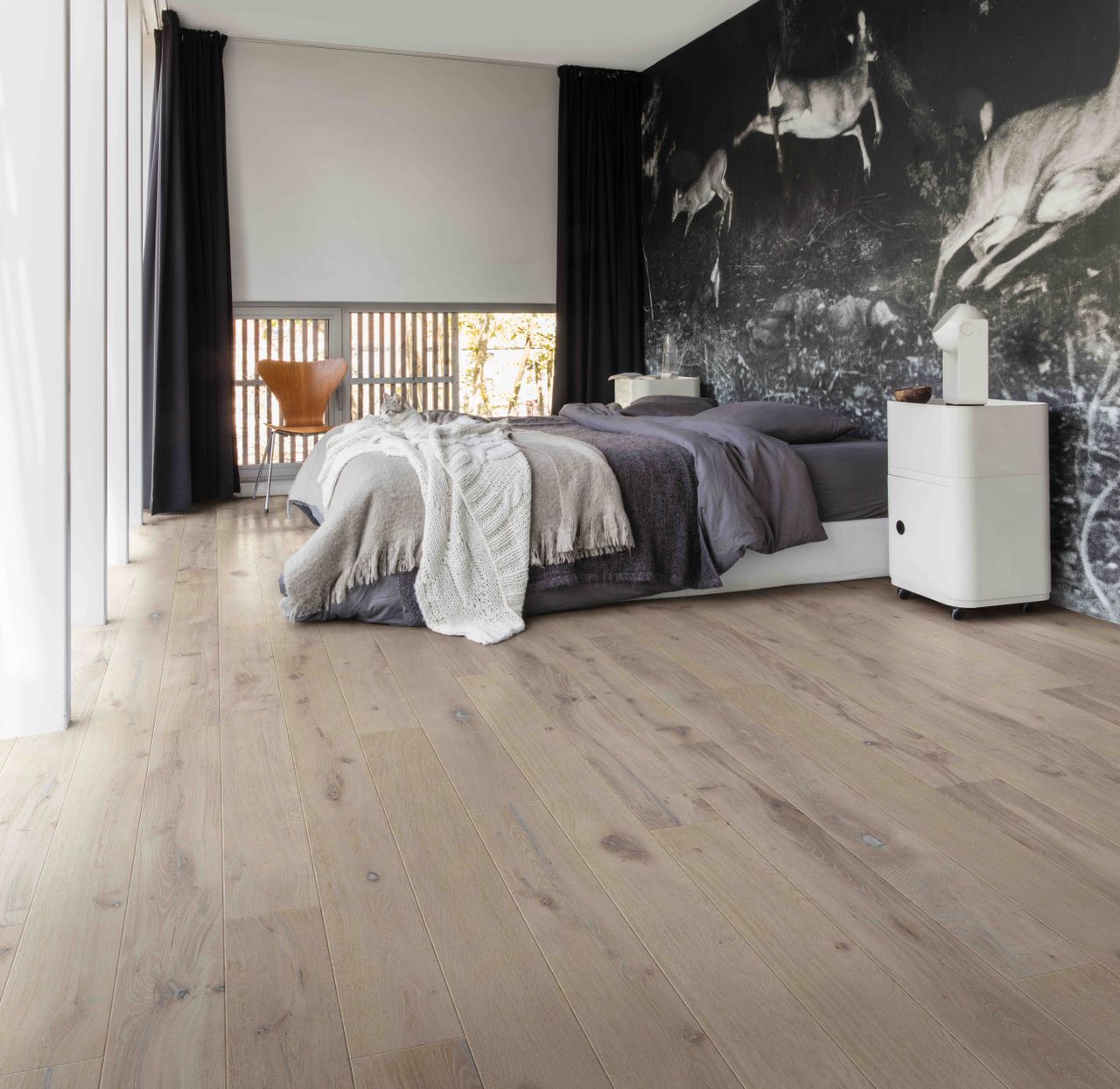 Wood flooring ideas are timeless and beautiful and can be co-ordinated with any décor, whatever your style. Both solid and engineered wood can be used in the bedroom, and with good insulation, wood flooring will feel warm – an important consideration in a bedroom where you are often barefoot and want to feel cozy – floor paint ideas can help here, too. Or to be sure, install underfloor heating. 
Wood flooring should significantly reduce your home's temperature fluctuation because it absorbs and stores heat more efficiently than other floorings. The size of your bedroom floor is usually smaller than a living room, so a smaller plank, chevron or basketweave might be a better option. Or, as the bedroom doesn't have to stand up to the wear and tear of other rooms, why not indulge in a reclaimed or 'rare' wood floor which will be more costly, but possibly more affordable in a smaller space, and has the added advantage of being unique – you can also enjoy your reclaimed floor knowing you are helping the environment, which is why this often forms a part of modern bedroom ideas.
A question that is often asked is which way the planks should run in the bedroom, "From both a technical and practical point of view, laying timber across the floor joists can help prevent the planks from separating, sagging or buckling," says Clara Ewart, Head of Design at Kitesgrove. "Aesthetically, the direction in which timber flooring is laid can also positively influence the way the proportions of a room are perceived, for example if the room is narrow, lay the timber floor horizontally to create an illusion of additional width.
What are the best wood flooring ideas for a kitchen?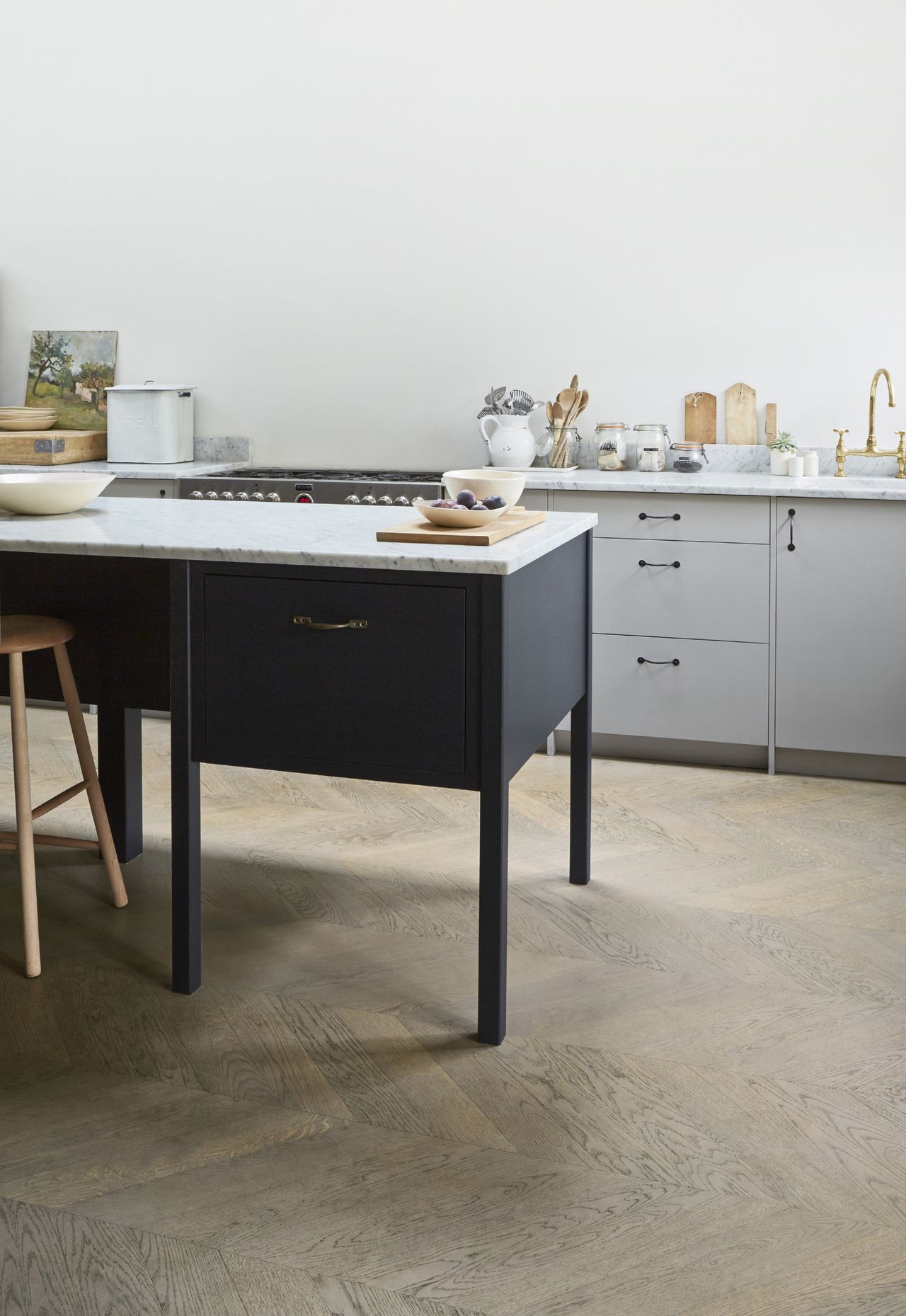 Because of the possibility of moisture and spills in a kitchen, it's best to choose an engineered floor which will cope better than a solid wood floor. Engineered floors consist of a sub-floor of plywood or a similar material, with a top or 'wear' layer of solid wood which means the boards are stronger, more resilient and impervious to fluctuations in temperature. The top wear layer varies in depth, generally the cheaper the floor, the thinner the wear layer. For a good quality floor, the recommendation is for a depth of 4-7mm. This means that if the floor does get damaged, it can be re-sanded to bring it back to it's former glory. When sealed and cared for properly, a hardwood floor is a great option as part of your modern kitchen ideas, but it will need more care than a wooden floor in a living room because it is a high-traffic area, a wooden floor in a kitchen should be re-sanded and re-finished on a 10 year basis, then it should last forever.
If you have inherited a wood floor, it can be sanded and restored but be mindful that if you are staining it, some woods take stain better than others, so try a test patch first. 
What wood flooring to choose for the bathroom?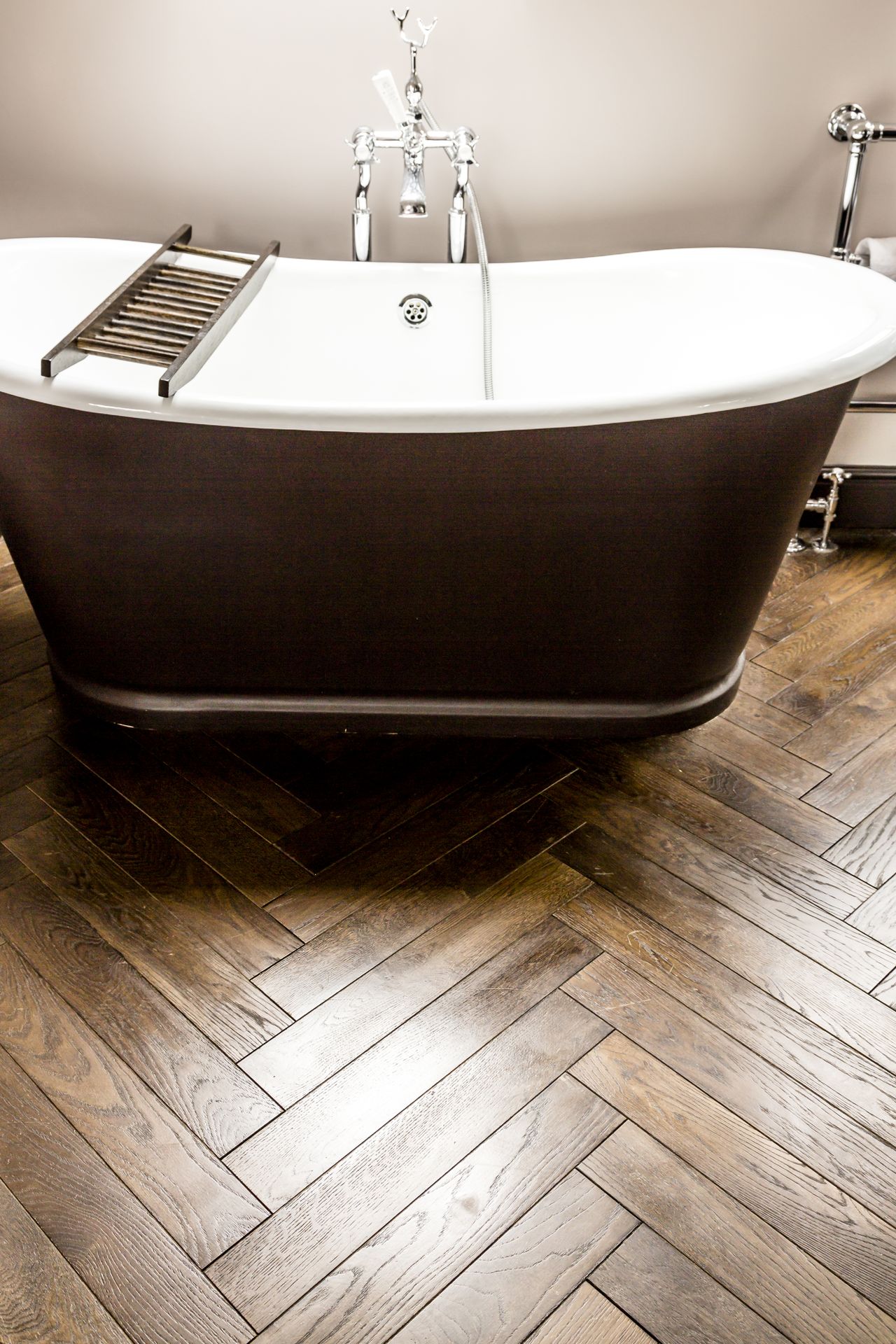 Wooden floors in the bathroom suffer from the same problems, if not more so, than the kitchen. Moisture and humidity from a bath or shower are the enemy of wood floors, not to mention children splashing in the bath, so it's generally recommended that wood-effect porcelain tiles or LVT is used. However, if the room is large and well-ventilated, a wooden floor in a bathroom can look fabulous, but again an engineered floor is the best option. For modern bathroom ideas, think about hardwood flooring with the 'Click' method of installation or one that is fitted with adhesives rather than screws which may puncture any water barrier beneath the floor.
If you have an old house and have inherited a planked wooden floor, there maybe gaps between the boards, which can be caused by a number of things but mostly because the wood shrinks over time and dries out, or it could be affected by heat from below. If the gaps are very wide, or uneven, it might be worth filling them to prevent water ingress. If moisture seeps through, it could cause damage to the subfloor and seep through to the floors below. "Bringing wood floors into the bathroom should not scare you!" says interior designer, Raili Clasen "Most flooring is super-sealed and will repel water in small doses. Keeping the same flooring from bedroom to bathroom makes the two spaces flow together. Just make sure good quality bath mats are used when getting out of the shower and bathtub, and make sure you hang them up afterwards to dry."
To prevent moisture building up, install a good quality extractor fan which should carry on running after a shower or bath.
Regular maintenance of a wooden floor in the bathroom is important – test by dropping a small amount of water on the floor, if it 'beads' it means the finish is protecting it, but if it sinks in, it's time to add another protective top coat.
Dark Wood Floors – a handy guide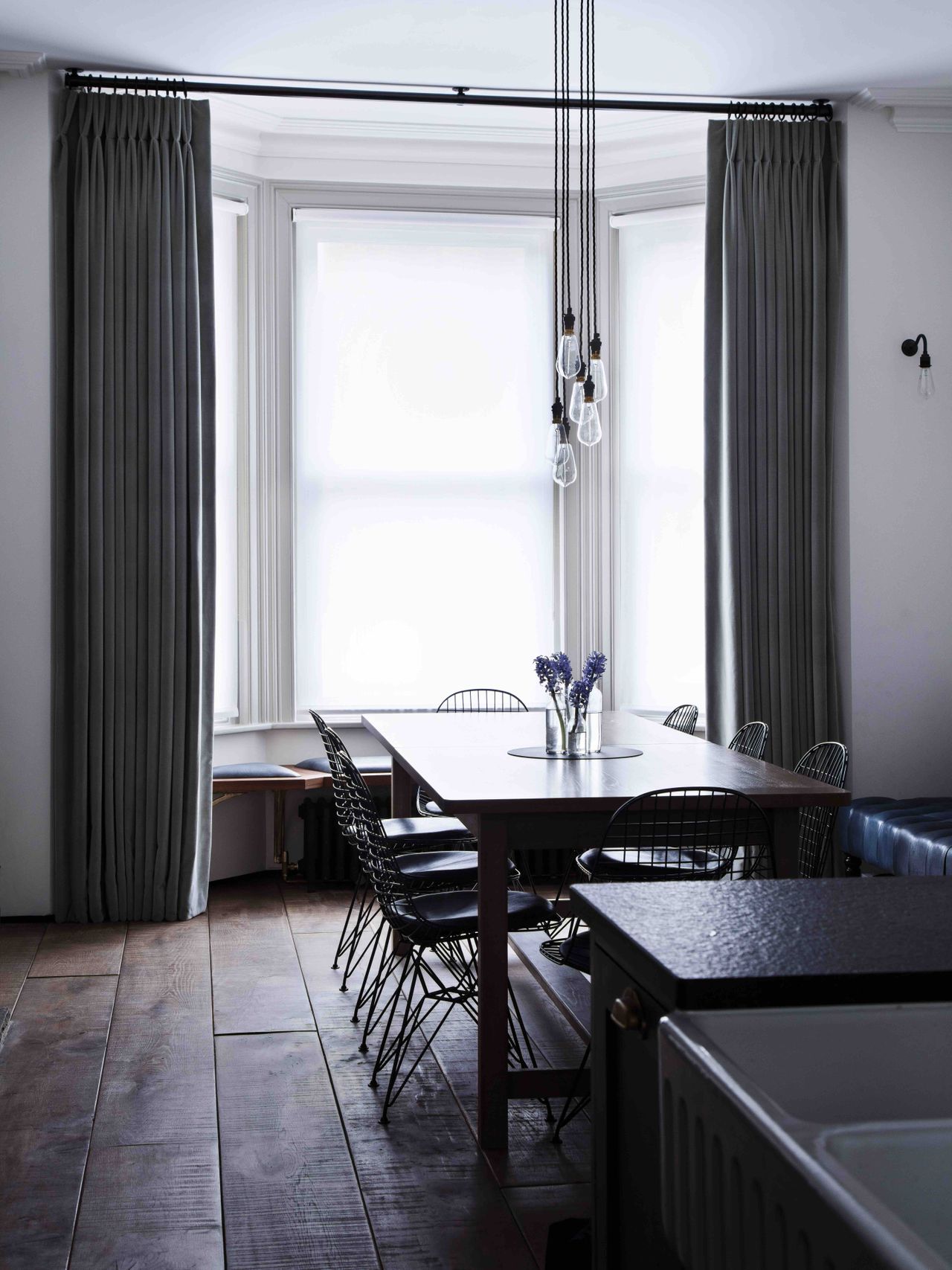 Dark floors instantly add drama to a space and are a grounding element, they look sophisticated and give small rooms a bigger presence than they might already have, so don't shy away from a dark floor in a small space. Dark floors don't show wood graining so easily, giving a more uniform look and less colour variation, so it's more of a solid base for a room scheme, and means any colored or contrasting furniture you place in there really pops. "Dark hardwoods transform your home into a stylish space and are currently the most popular" says Debbie Gartner of The Flooring Girl.  "Dark floors add drama and go with just about everything from white cabinets to dark furniture, this is because dark woods are cool toned, so they go with both cool and warm paint colors."
As far as care is concerned, dark floors generally show less overall scuffing but do show up crumbs, hairs, fluff and scratching, so not so good if you have pets. Choosing a satin finish is more forgiving and a satin or gloss finish will allow light to bounce around.  Dark floors with a brown or charcoal tinge will add warmth.
Light wood Floors – a quick guide to care and maintenance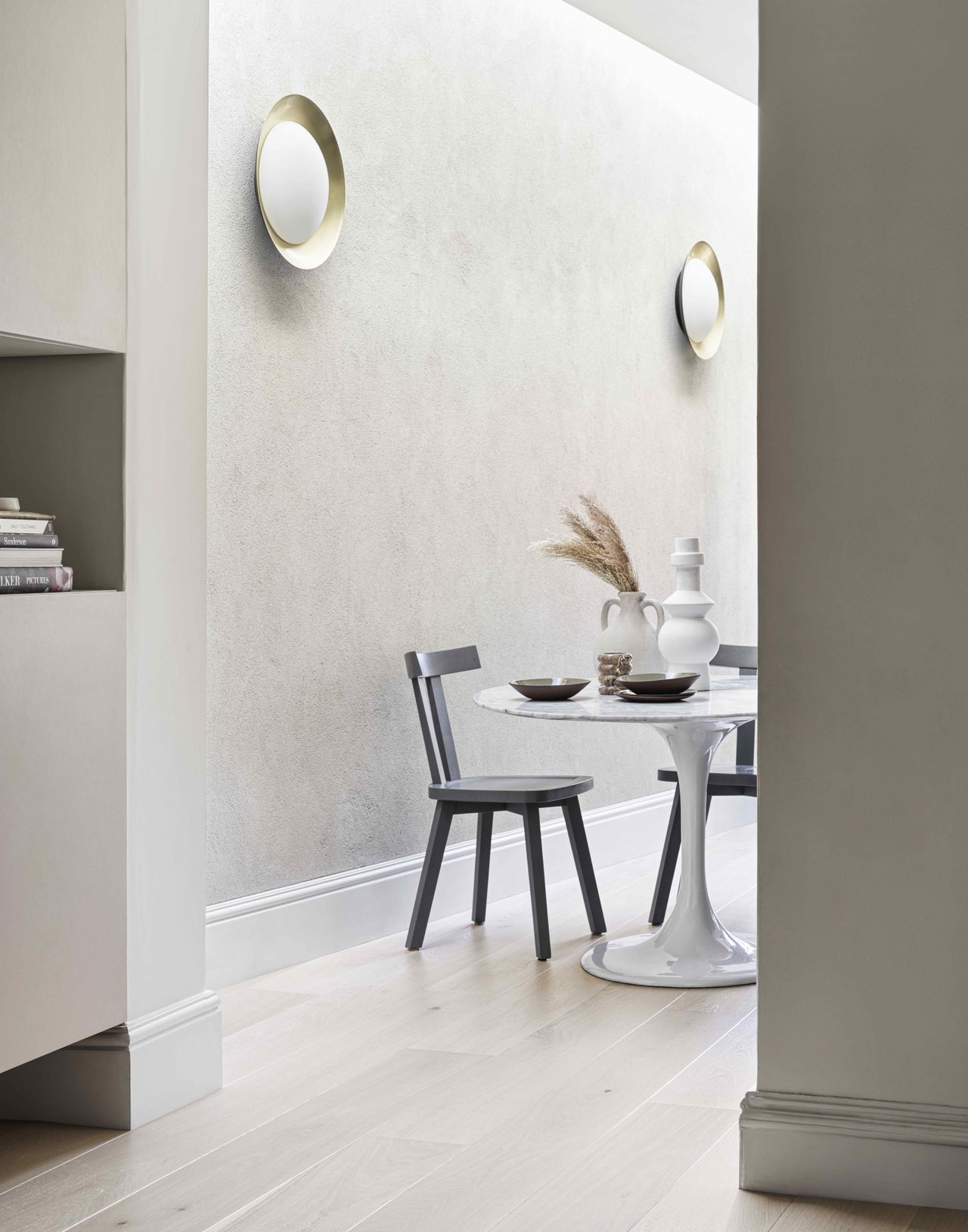 Pale or bleached floors are ideal for a contemporary space or if you are creating a Scandi-style scheme. The light colour allows the wood grain to shine through bringing texture and character to a room. 
Light wood floors are versatile and easy to live with, simple to clean and maintain. They are also better if you have pets, as they don't show scratches, hair and fur so readily. It's a good choice for a hallway offering a warm and airy welcome.  Oak in a golden blonde finish would look fantastic in any room in the home but works particularly well in the bedroom where it's a good base for adding color with bedding and accessories, and texture with rugs and soft furnishings, it's a warm shade too. Flooring with a matt finish keeps it feeling modern.
Parquet flooring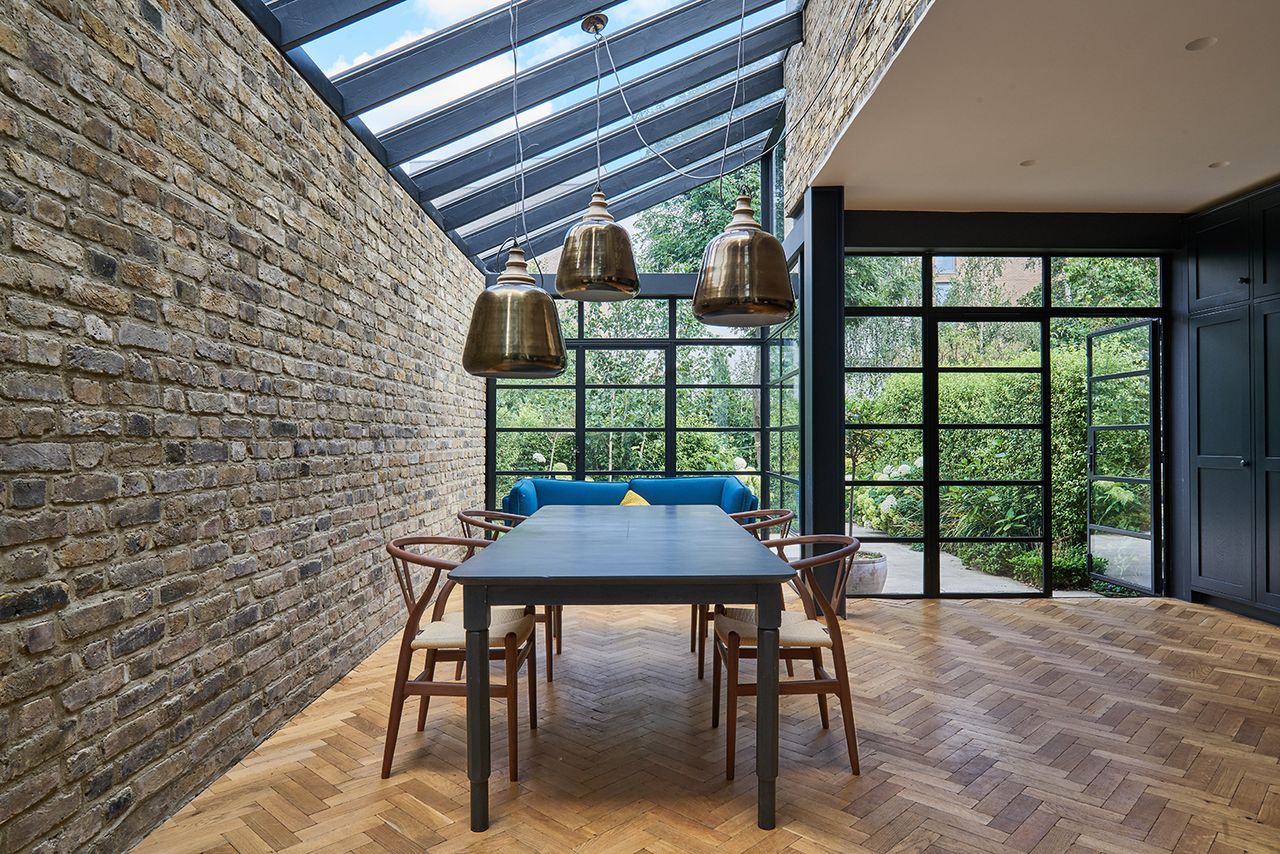 Parquet flooring was first introduced in the 1600's in France when the French king, Louis XIV commissioned it for his palace at Versailles, in fact some basketweave designs are still called French parquet. It then had a resurgence in the 1930's in Art Deco schemes, and some lucky people have discovered original parquet hidden underneath layers of carpet. Parquet is essentially individual blocks of wood laid in a herringbone pattern and was originally set into tar, or pitch. For the purists amongst you, you can buy restored parquet blocks, but you will need a specialist installer to get the best finish.
Fast forward to the 80's, when new manufacturing techniques, along with the introduction of engineered floors, meant it could be made and installed more easily in panels rather than individual blocks and it can also be laid over underfloor heating. People love parquet, or herringbone, or chevron for its distinctive pattern and uniformity.  It looks fabulous in a living room, especially a large living room, or dining room where the pattern can be seen to its full potential. It works particularly well in a hallway too where there is less furniture covering it up and its beauty can be admired.
Basketweave parquet is another variation where smaller blocks of wood are interwoven giving a basketweave effect. There are variations including French Basketweave which is small pieces of wood laid in a diamond pattern with a straight border around the edge, and Block Basketweave, which is simpler and comprises four blocks laid together in a square, with the square next to it, laid in the opposite direction. Basketweave is often used in period properties.
Wood floor paint – when and how to use it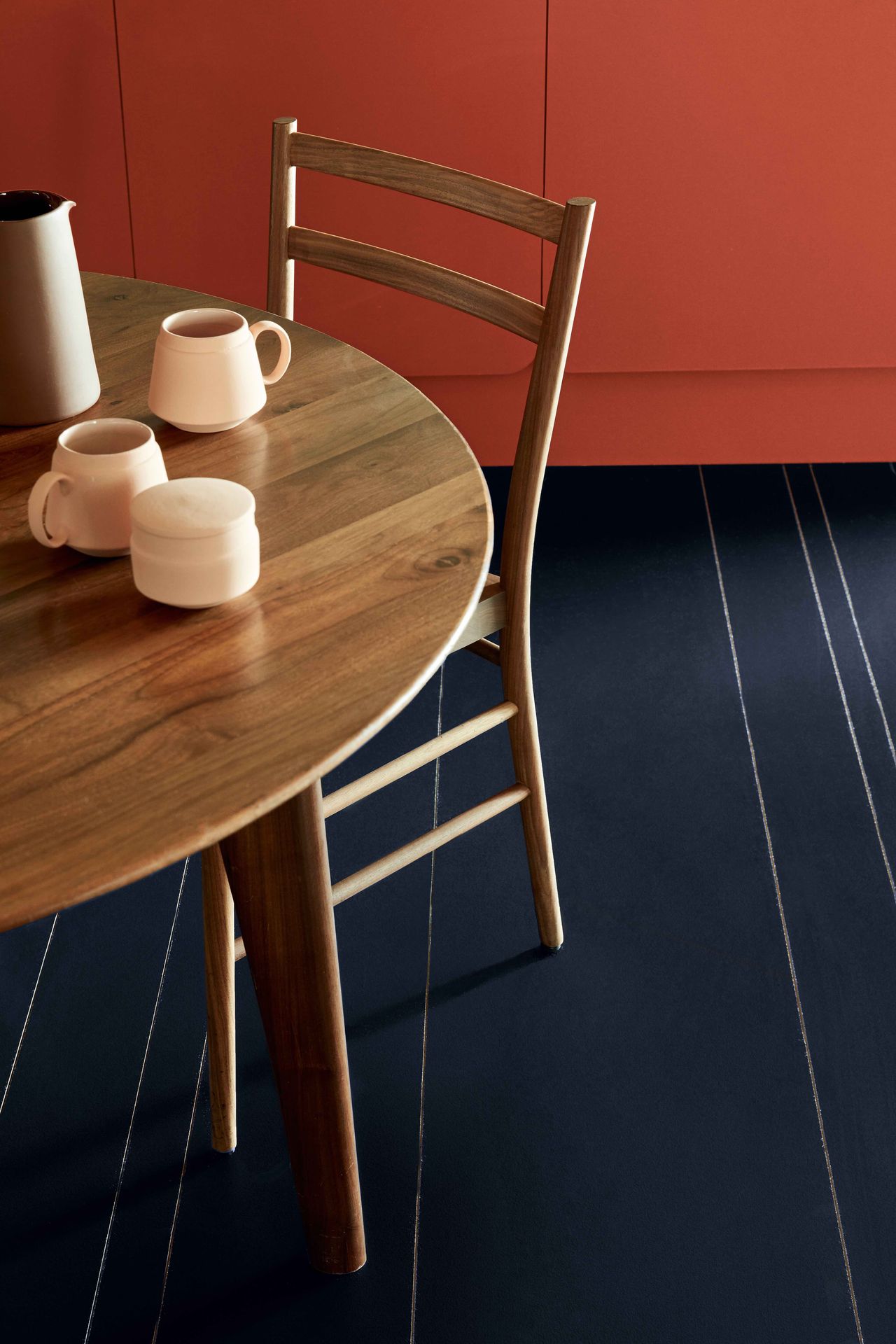 Painting an existing wooden floor is a cost-effective way to renovate, and can totally transform a space, it's also a great way to add color and is relatively easy to do. As  with all DIY jobs, preparation is crucial. First remove all the furniture, then make sure protruding nails are either removed or nailed in, that the boards are sound and don't need replacing, and if the gaps are too wide, you may need to fill them. Then you need to remove any old paint using a floor sander, available to hire from your local hire shop. If the wood hasn't been painted before, first seal any knots with a Knot Block Wood Primer and fill any cracks with a Multi Purpose Wood Filler, both available from Ronseal, then prime the surface with a wood primer. If your floor has already been painted, it will act as a primer in itself. There are many domestic floor paints around now in lots of different shades, two of the most popular are from Little Greene and Farrow & Ball. Apply two or three coats of floor paint leaving four hours between each coat. You can use a brush, roller or applicator pad.  Work on two floorboards at a time and paint in the direction of the wood grain.
"If your goal is to brighten a dark room, white floor paint creates a greater sense of scale in a space," says Camilla Clarke, Creative Director at Albion Nord. "Use floor paint to help create more light in a poorly-lit room. This solution is ideal for small rooms or rooms with few windows." She goes on to say "Go for a high gloss white paint to help bounce the light around the room. Also, the higher the gloss, the more resilient it will be."
Gray wood flooring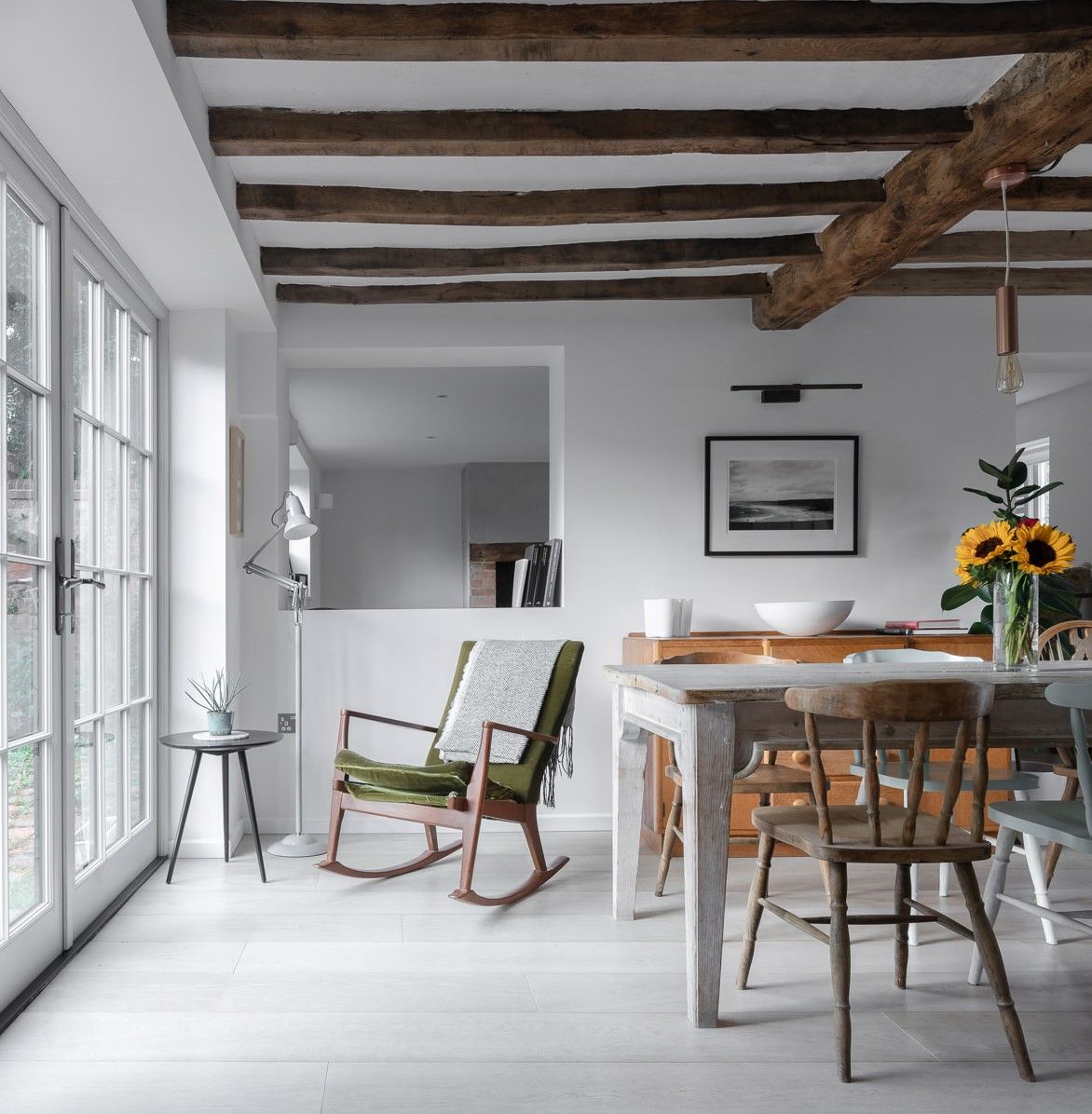 Gray is the hot new color for flooring, in line with interiors generally. Gray goes with anything so gray flooring is a good base for a room scheme. Start with the flooring then build up with walls and furnishings in different shades of gray for a layered look. Light gray, one of the most popular neutral living room ideas, is calming and relaxing and makes a room feel open and airy, whereas dark gray is dramatic and cocooning. Gray flooring looks stunning with white furniture for a really contemporary look, or place black furniture on a pale gray floor. There is plenty of choice out there from planks to parquet and chevron to laminate look-alikes. A light gray floor is also a good choice if you have pets as it won't show up fur and hair as much. "The trend seems to be for wider planks in a gray finish and usually a matte or satin finish which looks more stylish," says Debbie Gartner of The Floor Girl. "Most gray floors are oak, especially white oak, maple and birch as they tend to be lighter in tone to begin with. A gray floor is hard to achieve with pine or cherry as they have orange or red undertones."
What is the cheapest wood flooring option?
The less expensive wood floors tend to be those with a thin surface layer of wood, often called a wood veneer. There are various low cost faux-wood effects, including vinyl and laminate flooring which has a photographic applique layer under a clear protective layer. "Engineered floors will always be cheaper than solid wood," explains Chris Parry of Discount Flooring Depot. "Our most inexpensive floor is the Autograph Click range which is crafted with a softwood core and a 2mm hardwood top. Our cheapest solid wood floor at the moment is Bamboo which is water resistant, highly durable, and also sustainable."
How to care for wood floors
Generally caring for a wood floor is fairly straightforward with one of the best vacuum cleaners or a wet and dry cleaner, but more care is needed if the wooden floor is in a kitchen or bathroom where there is moisture, humidity and the possibility of spills. 
Living and dining rooms don't take as much punishment, although it's important to take care when moving furniture, never drag it across a wooden floor. Furniture pads are a good idea on the bottom of furniture legs or feet, and using rugs near a fire for example, will prevent sparks from damaging the floor. In hallways a doormat is essential to prevent small stones being walked in and damaging the surface. "The golden rule is to keep dirt, grit and strong direct sunlight away from your floor, high heels should be discouraged," says Darwyn Ker of Woodpecker Flooring. "In fact if you can get people to leave their shoes at the door, so much the better. The National Wood Flooring Association (NWFA) in the US is a good source of information on caring for your wood floors. They recommend vacuuming weekly and re-finishing your floor every 3 – 5 years."
What wood flooring is best with dogs?
So many people have dogs these days, so it's important to take them into consideration when choosing a floor. "If you have a dog, avoid naturally softer woods like pine and fir," suggests Joss Thomas, founder of Indigenous. "Also consider a floor with an oiled finish rather than a lacquer which will show scratches more than an oiled floor."  A lighter floor with a texture will hide small marks and scratches and choose a solid wood floor or an engineered floor with a thicker wear layer, so that it can be sanded back over the years – and try to keep your dog's claws trimmed.