White bathroom ideas: 11 decor schemes to inspire
White bathroom ideas are classic, and this neutral look is going nowhere.
From crisp spring looks to summer beach vibes and winter wonderlands, it's one of many bathroom color ideas that can adapt as quickly as the seasons change.
So whether you're renter looking for a temporary touches or a homeowner seeking long-term inspiration, there are ideas for every budget.
White bathroom ideas
Paired with the right bathroom lighting ideas, a white bathroom scheme can add the illusion of space and luxury – no matter how small your space. It also is a great starting point for any budding interior designer.
So whether your taste is for modern, minimalist spaces or you're intending to use white as a foundation for punchier colors and Avantgarde textures, our white bathroom ideas provide plenty of inspiration. 
As part of their bathroom trends report, Brenna Ryan, Marketing Executive at Victorian Plumbing says: 
'Scandinavian-style bathrooms are in the height of fashion. Typically consisting of neutral colors and plenty of wooden finishes, they offer a true feeling of relaxation, with minimalism and clean lines creating a clear space for your mind and body.'
'It looks like going back to nature is where trends are heading. Searches for modern bathrooms have faltered recently, as have searches for busier farmhouse bathrooms.'
 1. Mix white and wood for a country farmhouse feel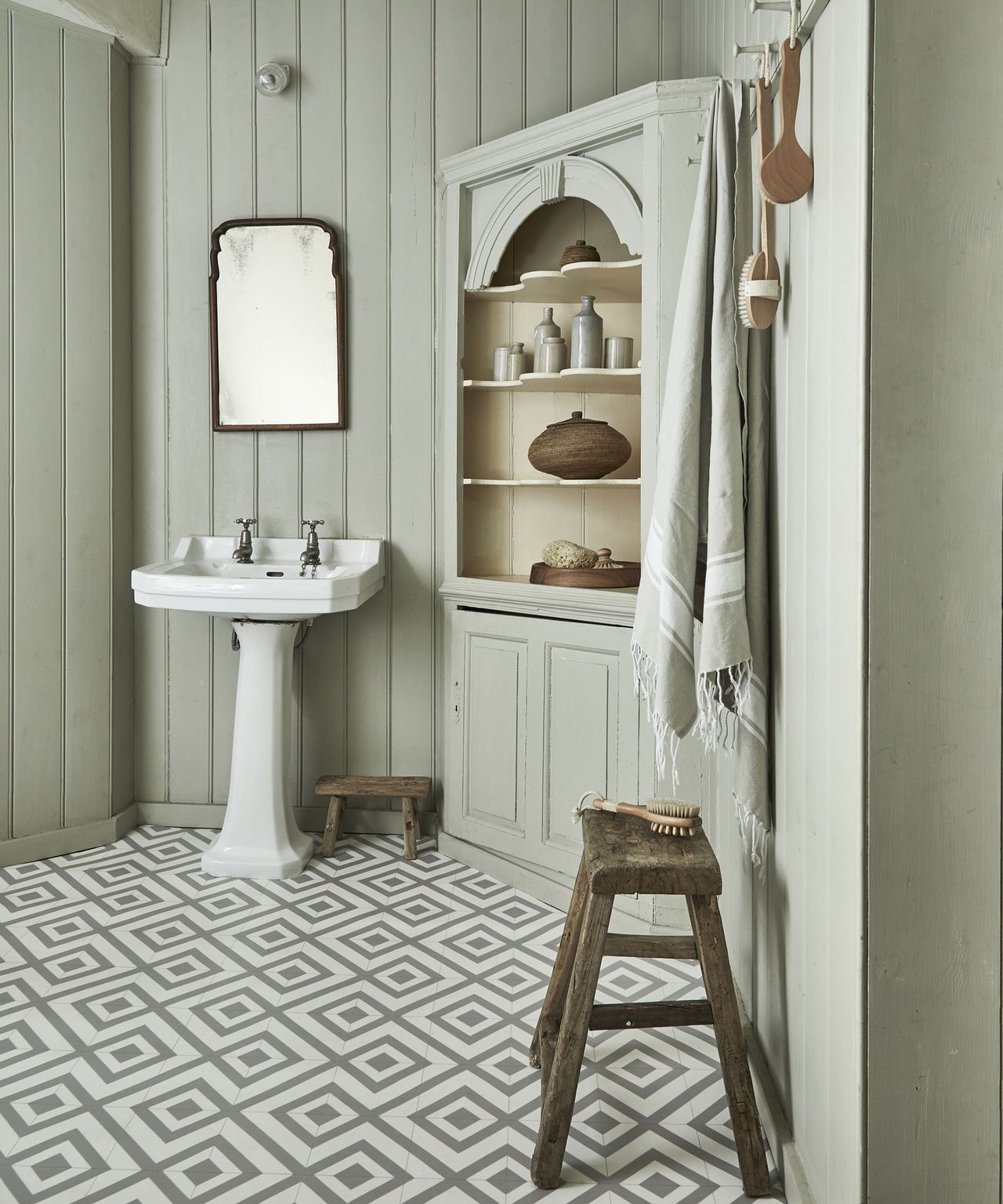 White and wood are elements that, when combined, are a rural match made in heaven. So whether it's wall paneling or cabinetry, bathroom storage pegs or seating, sometimes the simple ideas are the best.
As well as brightening up a room with little light, it can also double up as an on-trend Scandi scheme. This is particularly true when grey bathroom decor is added into the mix too.
Style with natural loofahs, ceramics and stoneware for an organic feel that brings nature closer to home and complements a spa bathroom idea.
 2. Go for gold to add Regencycore opulence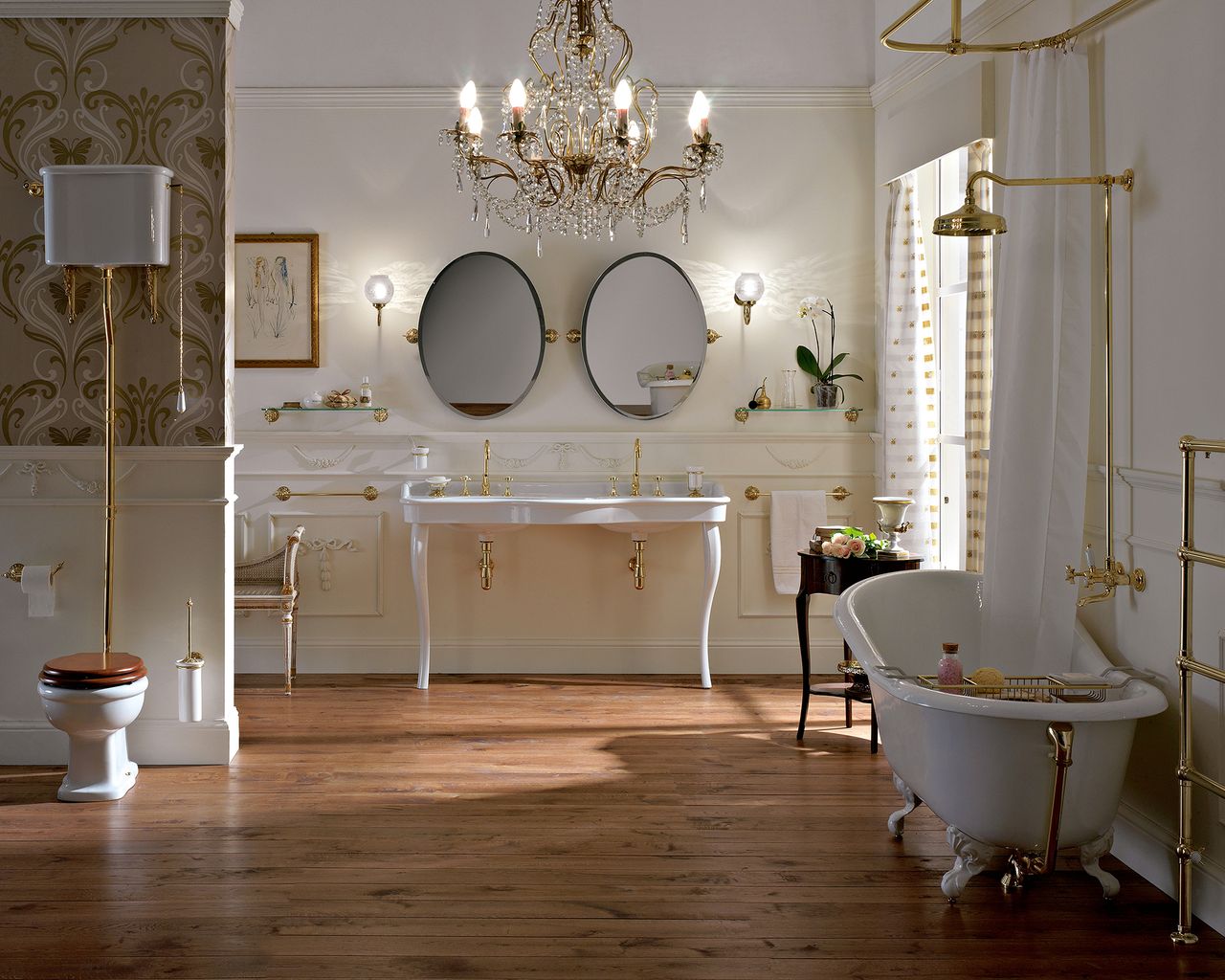 As luxury bathroom ideas go, you can't go wrong with gold. From towel rails and radiators to faucets and lighting – aureate accents can add an expensive look and feel to your white bathroom decor. Especially if you choose a cool white color as the metallic fixtures will warm up the space. 
Just be sure not to go OTT – you want the space to look tasteful not tacky. So keep things simple by picking out small features in not to close proximity from each other. For example, a new toilet brush and a bath tray are just two ways to add glamorous gold touches to your bathroom scheme. 
3. Decorate your white scheme with trendy green accents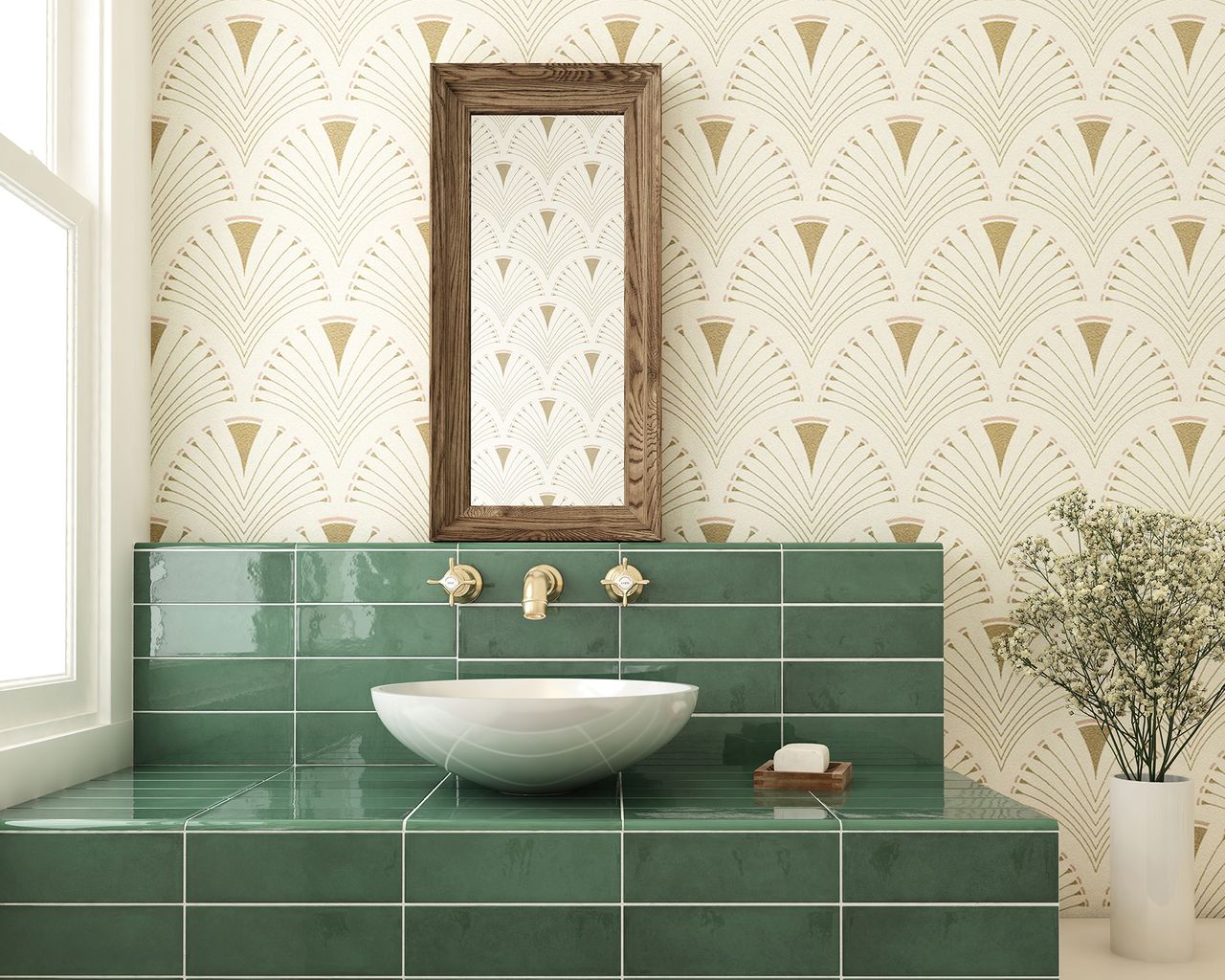 Far from the retro avocado suites we saw in the seventies, green and white bathroom decor has had a glow-up. From herbaceous sage schemes to creamy pistachio shades, green is a color that only enhances the calming effects of a white bathroom.
If you want to keep in line with more traditional bathroom ideas, it's a color pairing that, you've guessed it – gets the green light. For a biophillic feel, add bathroom plants and floral details in the form of tile motifs and accessories for a nature-inspired scheme.
Ensure this decor doesn't induce nausea by using this color carefully. Here, fresh forest green makes up an all-in-one splash back and vanity unit where this beautiful bowl-like basin sits on.
4. Keep your bathroom clean for sparkling results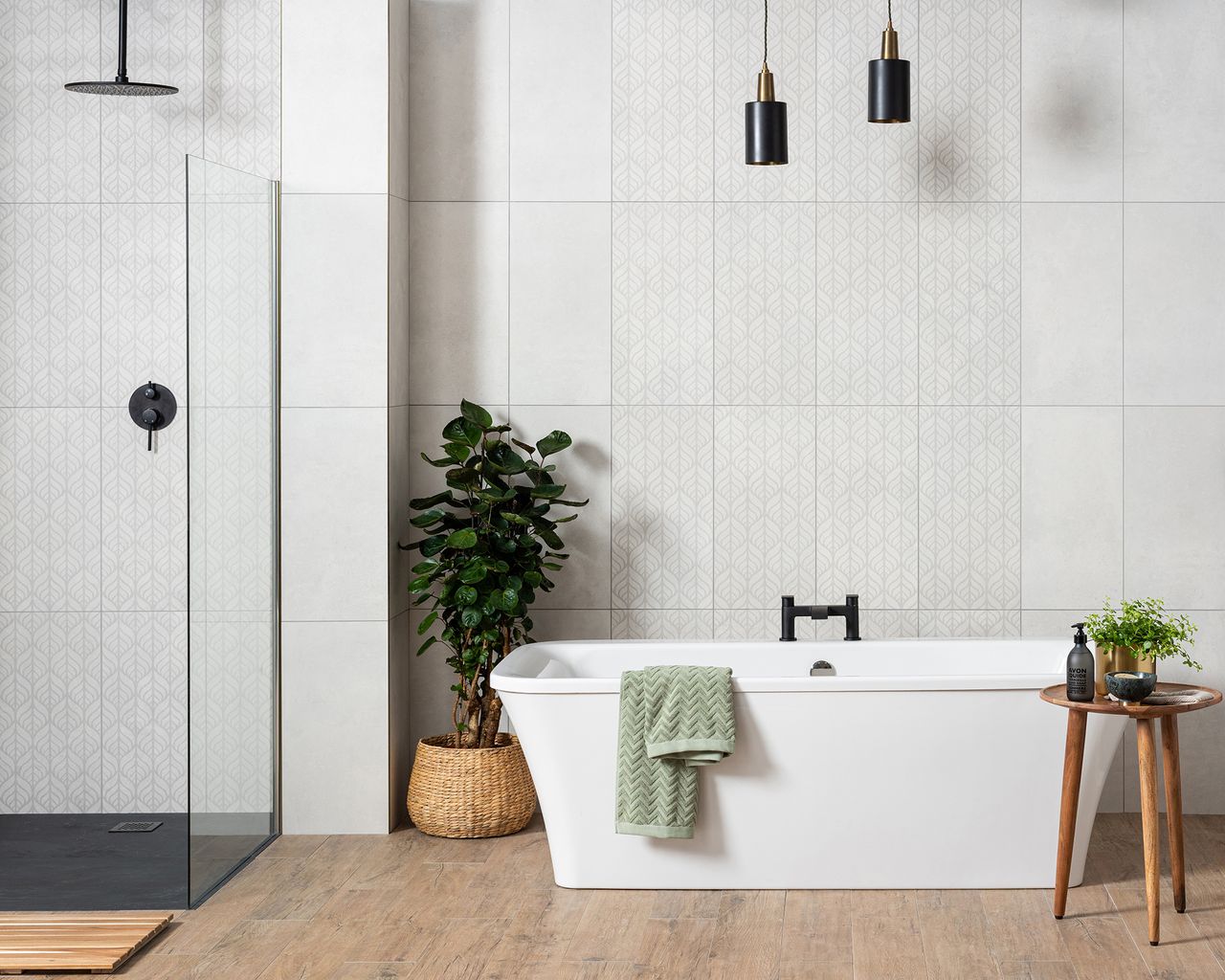 If after a full bathroom remodel, you haven't got much to spare, then don't despair. There are a number of cheap bathroom ideas to keep your white bathroom decor looking designer. And much of this is to do with keeping surfaces looking pristine.
Giving your bathroom tiles and grout a good scrub can do wonders for a bathroom scheme. Plus, if the paint in your white bathroom is washable, a bit of elbow grease can elevate this space.
It's also worth taking a look at the space and reviewing what doesn't necessarily need to be on show. By de-cluttering your space, you can create the illusion of a larger bathroom. Alternatively consider bathroom shelving ideas to get your items off the ground and save on valuable floor space.  
5. Add speckles of sophistication with Terrazzo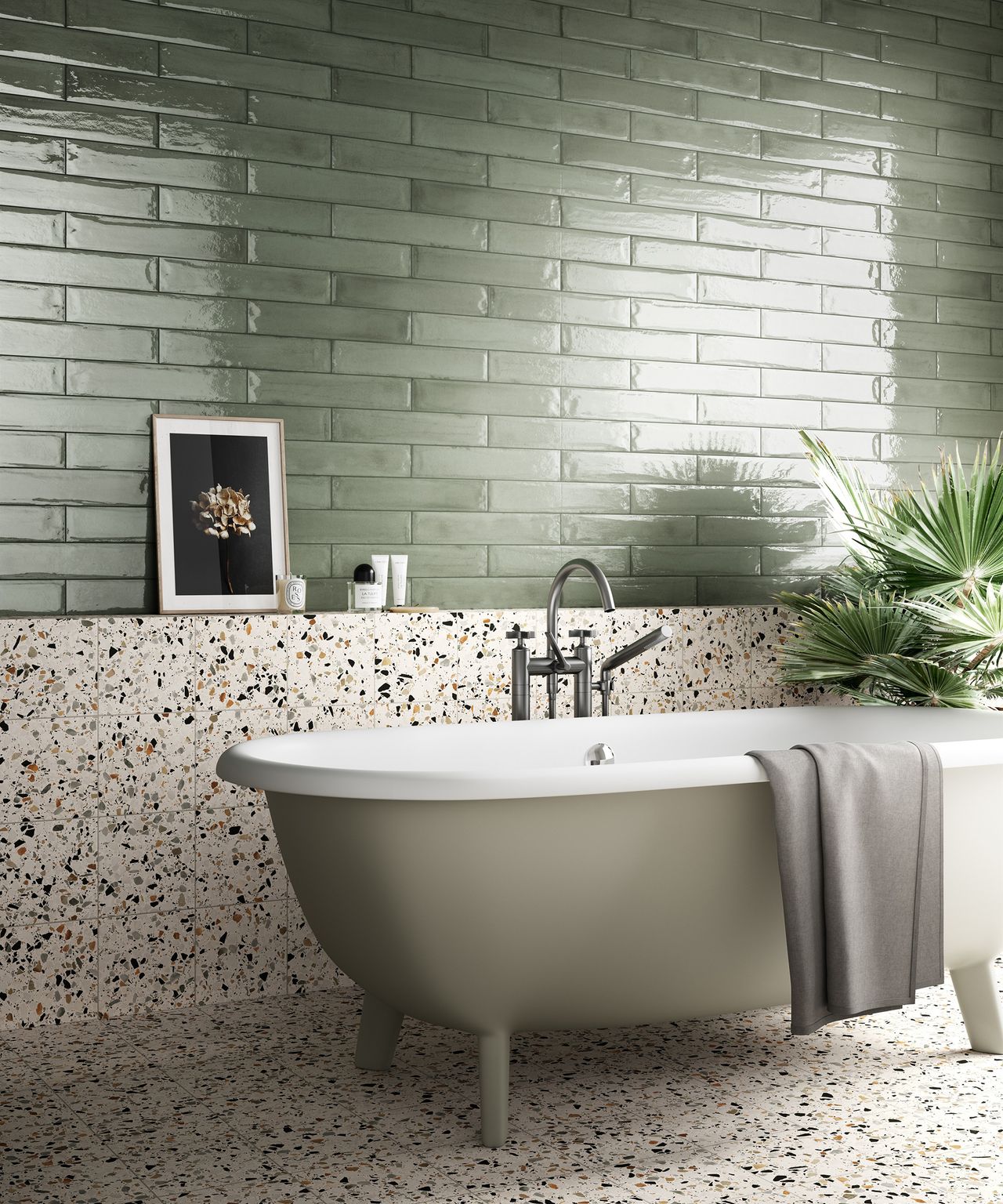 If the idea of a plain white bathroom decor seems 'boring' or 'uninspired', then turn to Terrazzo for an interesting take on your washroom interiors. Made up of flecks of marble, quartz, granite and glass, it is a gorgeous surface that glistens when light reflects on it.
While the real deal can be an expensive investment, a similar look and feel can be achieved using porcelain wall and floor tiles. It's a tile idea and trend that's seen traction on social media sites such as Pinterest and Instagram. 
But if you don't want to take on the laborious task of tiling, then adding Terrazzo style accessories to your bathroom is also a way of incorporating the Italian-inspired look in your white bathroom scheme. 
A statement washbasin is also a stunning focal point if you can commit to the expense. However, a small rug, toothbrush holder or soap dispenser will also do the trick.
6.  Go floor to ceiling with an all-white scheme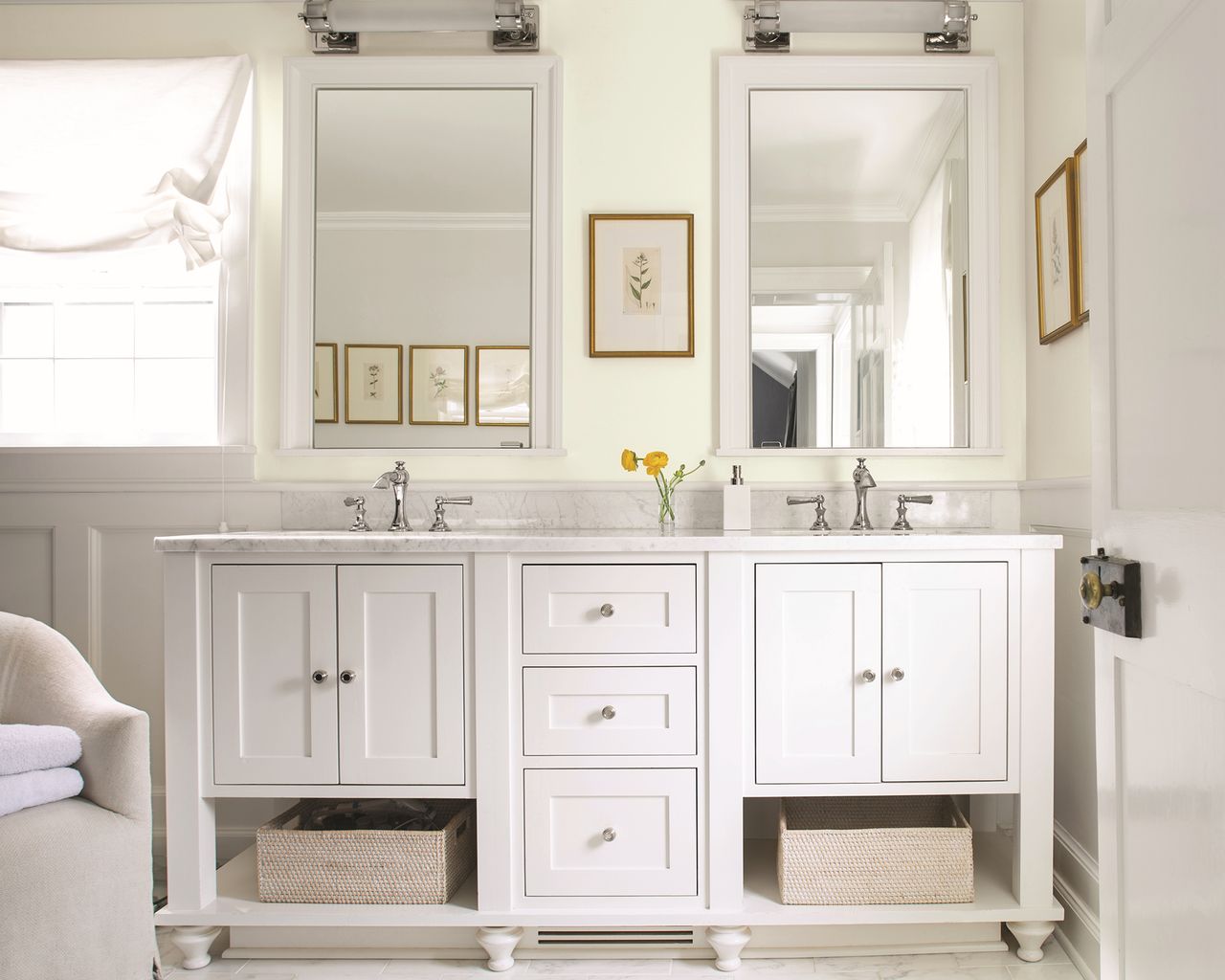 Yes – it's brave, but going full-on with white bathroom decor can create a bright and airy, open feel. It exudes luxury and is the epitome of a modern and minimalist bathroom idea.
Jemma Dayman, Buyer, Carpets and Rugs, Carpetright comments; 'The understated luxury of pale flooring offers huge versatility to your room. 
'Paired with neutral tones it delivers a sophisticated and confident look, but when you yearn for color it also provides a perfect foil for deep saturated shades or a simple monochromatic scheme.'
For example, by adding marble tiling, you can create a designer look for much less than you'd think. Alternatively, source a plaster effect paint to create tone and texture reminiscent of a boutique hotel by the beach. Just be sure if both cases to completely pare back your accessories. Less is much, much more on this occasion.
Creating a seamless look by matching your floor and wall tiles is an easy way to create a cohesive space that isn't too taxing on your decision making. Just be sure to look up their slip rating as this'll show how suitable they are for a wet environment such as your bathroom.
Note that this probably won't be the easiest scheme to maintain with children or pets, so stick to our other ideas if your white bathroom scheme has quite heavy footfall.
7. Add pastel shades for a youthful color pop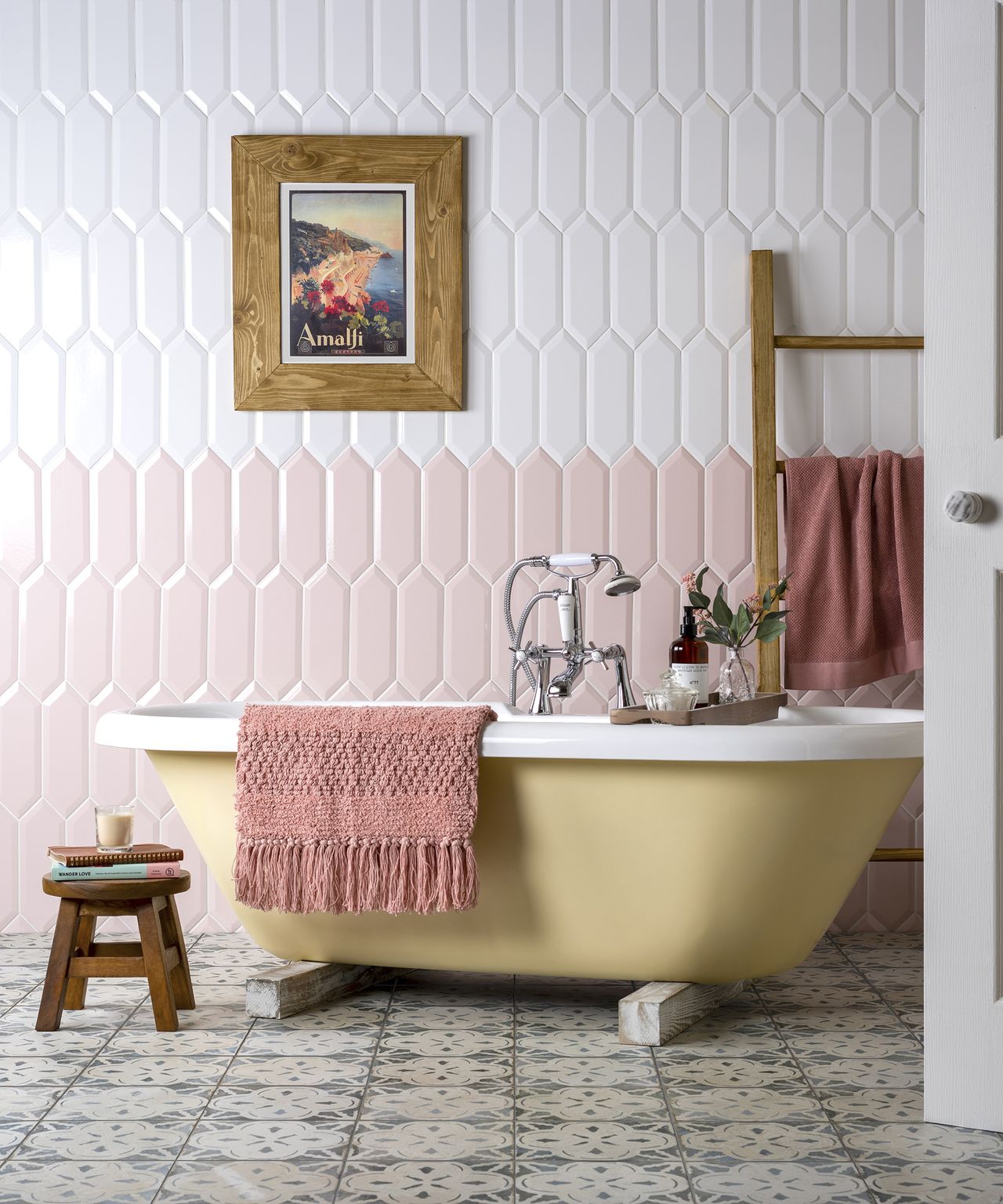 Bring your personality to the bathroom by incorporating cute pastel details into your white bathroom decor. 
By doing so, you can achieve a playfulness and quirkiness by introducing bright pastels, and build on it by introducing bold design elements such as a tiled wall or statement bathtub. 
Add a refreshing feel to your white bathroom decor with that adds zesty citrus yellows, peachy pinks and lovely lashings of lavender!
8.  Expose a brick wall for low-key industrial chic look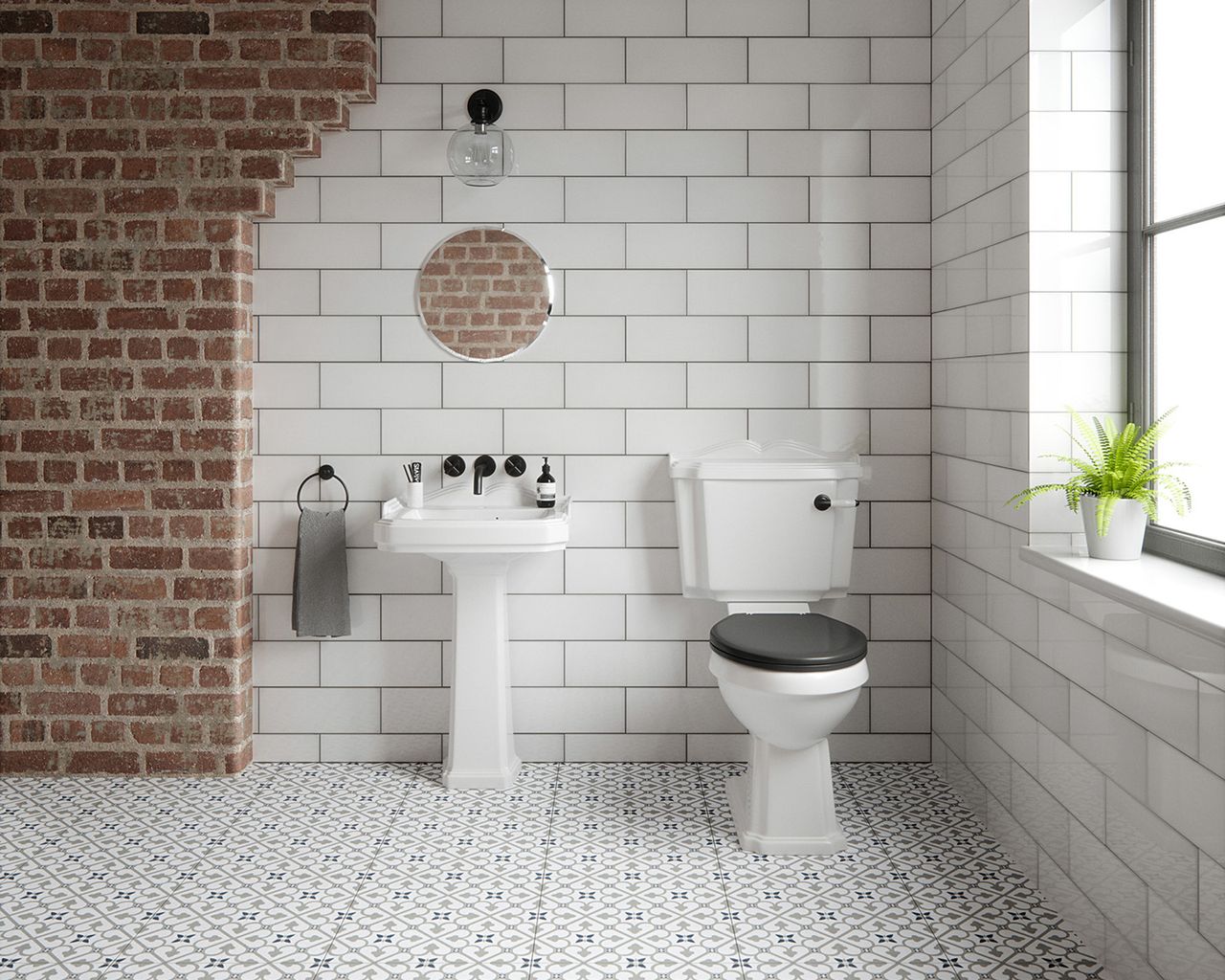 If you're fortunate to be blessed with architecture that's kept its integrity throughout the years, then there's no need to over-complicate your white bathroom decor. By knowing how to create a feature with an exposed brick wall, you can quite literally 'get the London look'.
While exposing all four walls may be a little overkill, choosing one wall can create wow-factor in your washroom. Pick the area that is least likely to come into contact with water. By doing this, you'll avoid the risk of erosion for long-lasting results.
Once you've done the hard work of safely stripping back the wall – the decorating decision is completely down to you. Keep things traditional by maintaining the terracotta brick look or paint the bricks white for a clean and contemporary feel.
9.  Consider a white window treatment to brighten or provide privacy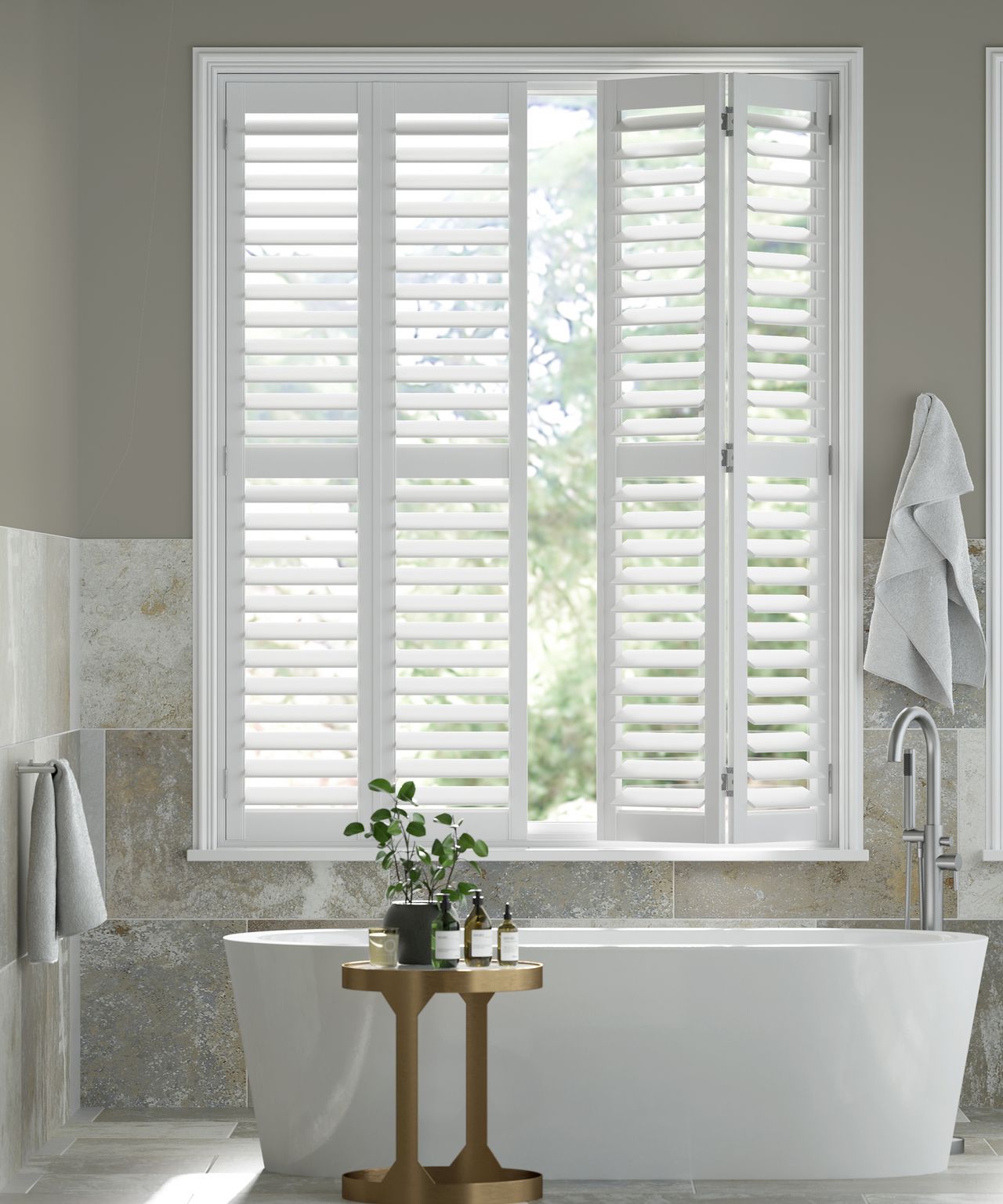 While we all want our bathrooms to look nice, they are very personal spaces where prying eyes are certainly not appreciated!
So whether you choose a thin window film to provide privacy or go full-on with a theatrical drape, a versatile color such as white will open a window of opportunity when it comes to options for your bathroom decor. Perfect for a child-friendly scheme, it also stops scary silhouettes from appearing at bath time! 
Sophie McCreadie, Interior Trends Specialist at Thomas Sanderson says: 'While bright colorful shutters and make great features in your interior theme, neutral shades complement any style, giving you the freedom to change parts of the room without remodeling each window to match.
'Light neutral colors also have the added benefit of making any room feel brighter and airier. Open or closed, these soft shades will make the most of the natural light without casting a colored filter over the rest of the room.'
10. Add printed white wallpaper for a fancy feature wall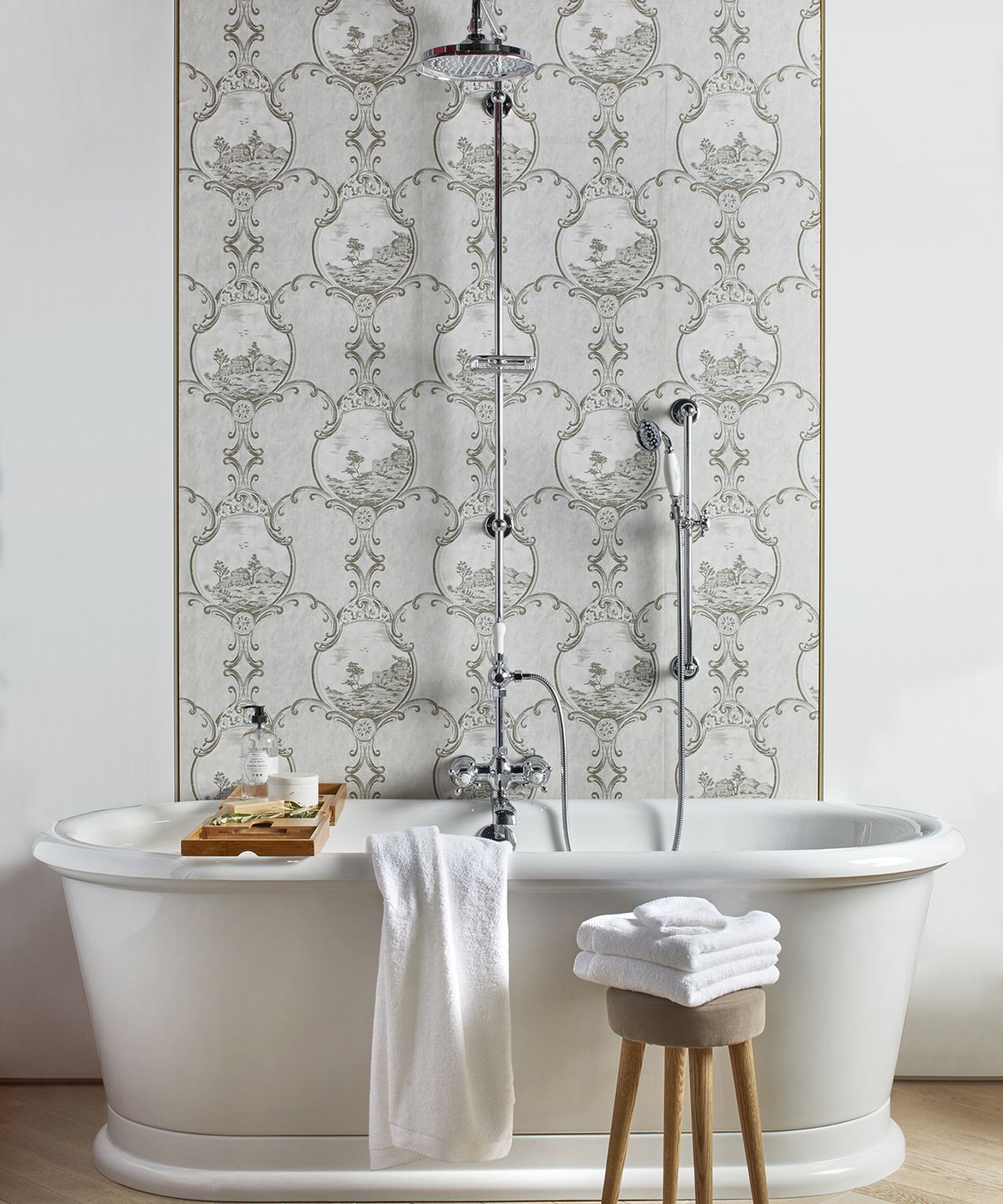 As well as adding texture, white wallpaper is a great way to make the furniture and objects in your bathroom stand out.
Another advantage of bathroom wallpaper decor is that it has the ability to cover up imperfections on your wall. Consider it the #filter for your walls, covering up any superficial scuffs and bumps in the plasterwork.
And, if you haven't got a good brick foundation, this can also be mimicked with a faux wallpaper to emulate this effect. Tile-effect wallpapers will also save you time and money in cutting and installing these ceramic squares to your bathroom surfaces.
11. Add vintage charm with antique tiling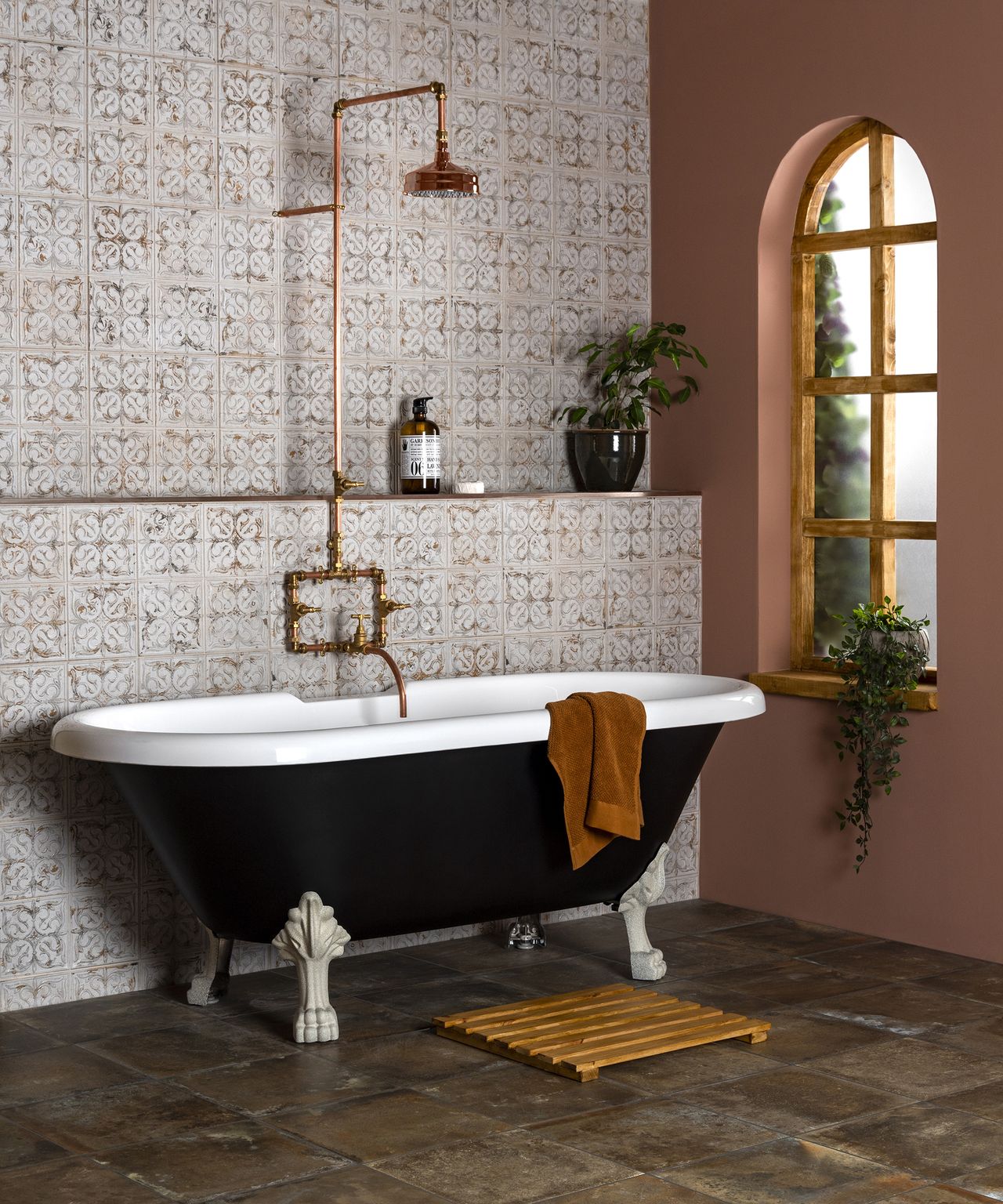 When it comes to white bathroom ideas – brand new isn't always best. And as the adage goes, old is gold, especially when it adds romantic vintage vibes.
Inspired by tin wallpaper, these anchor chalk tiles have a decorative vintage styled design and are perfect for creating a statement wall. They're made from durable porcelain and have an antiqued aged rusted appearance. Paired with a few simple metallic fixtures such as a shower head, they provide a luxury look without the high-maintenance upkeep.
How do you modernize a white bathroom?
According to the experts – it's all about creating texture. Modernizing your space doesn't mean that you have to compromise on coziness or traditional tactile touches.
David Harris, Design Director at Andrew Martin, explains that 'people think of boucle as a heritage fabric for interiors but it's becoming even more prevalent in fashion now. There's lots of different boucle's, soft, tactile, crushed, all sorts.'
So next time you're shopping for your bathroom, why not consider a bath mat or stool with this textile finish?
While another key opinion leader takes to the floor to share her two cents on stone. Isabel Fernandez, Director at  Quorn Stone, says: 'A natural stone floor is a timeless investment for your home. 
'Packed with character and charm are one of the most forgiving floor coverings you can install, making them a beautiful yet practical choice for modern day living that will stand the test of time.'