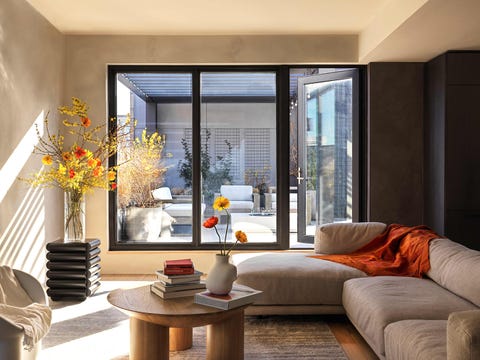 This Harlem Bachelor Pad Is Filled with Quiet Drama
In the moody eat-in kitchen, the custom millwork is by GD Arredamenti. The pendant lights hanging above the Skagerak table are by &Tradition, and the vase is by Simone Bodmer Turner.
---
They say less is more, but more what? In the case of this Harlem penthouse, the home of director, producer, and post production artist Loïc Maes, it's "More" the way Britney Spears growls it: a buffet of tonal shifts that suggests more than meets the eye.
Initially, friends who saw the new-build apartment dismissed it as "nothing special" and implored him to move on, but Maes, who's worked with artists like Lady Gaga and Madonna, as well as beauty brands including L'Oréal and Maybelline, was undeterred. He recognized that within these walls a star could, indeed, be born—or at least fabricated.
To that end, he engaged the New York- and Paris-based architecture and design firm Re-a.d., working with founder and principal (and fellow Francophone) Côme Ménage over the course of six months to realize the space as a stoic treatise on comfort and luxury. Maes's brief was on the nose: "Something simple to look at," a reprieve from the hectic pace of his day-to-day work. Aligned on a minimalist approach, Maes and Ménage, a passive-house certified architect, collaborated on an impressively cohesive suite of finishes punctuated by a spartan mix of contemporary furniture including pieces from designers Steven Bukowski, JackRabbit Studio, and Faye Toogood.
At 1,600 square feet, the two-bedroom apartment is intimate but accommodating. The combined living room and eat-in kitchen open onto an outdoor terrace that's perfect for plein-air entertaining now that it's summer (and vaccination rates are up). But the focus remains on Maes and creating a frictionless space to replenish his creative energy: Moldings and baseboards were removed throughout to reduce visual noise, and frameless inswing doors (flush to the wall with concealed hinges) were installed. Recessed lighting was declared verboten, so Ménage outfitted the apartment with indirect cove lights on Lutron smart dimmers. The ambient lighting lends the rooms a monastic slap of sensory deprivation.
Lime wash paint was applied on the walls in thick and thin layers to achieve a dappled, textural effect—light in the living areas and dark in the kitchen and bathrooms. "The first person does a rough pass and then very quickly another person comes behind and gives another pass, a little bit more precise, so you literally read the movement of the people who did it," Ménage says of the process. "It's a piece of art in and of itself."
Custom millwork by GD Arredamenti subtly elevates every inch of the space, from the soffits in the hallways to the kitchen cabinetry, where edges are beveled to minimize visible hardware. The hardwood flooring remained untouched by Re-a.d., as Maes had coordinated its installation with the contractor before moving in: All of the wood grains and tones were decided around it. The result is decidedly monochromatic but full of surprises for those with an eye for detail.
Maes's commitment has yielded a home that is at once restful and fittingly prone to a dramatic reveal—including a nomination for Re-a.d in this year's NYCxDesign Awards Small Apartment category. And for Ménage, who counts this as his firm's first dedicated interior design project, the space is a testament to its owner's insistence on sweating the small stuff—in a good way. "I think that was really his desire, to offer himself something that is true to his taste," says Ménage. "It's his thing, for sure."
This content is created and maintained by a third party, and imported onto this page to help users provide their email addresses. You may be able to find more information about this and similar content at piano.io