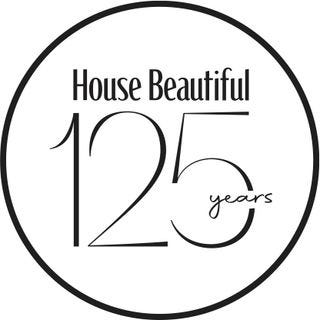 These Rooms Designed in 1970 Were Inspired by Flowers
For House Beautiful's 125th anniversary this year, we're digging into some of our favorite spaces from our archive—including, so far, decorator Sister Parish's New York Apartment and the West Hollywood home and studio of designer extraordinaire Tony Duquette, dubbed "the house of a magician." Here, we revisit a collection of room designs inspired by flowers from 1970, which was first published in our April issue that year.
When you're not sure what color palette to go with for a room in your home, why not base it on a flower? Each one typically has a few single-color varieties, and some often boast three or four colors at once. If you need ideas to jumpstart your creativity, we have you covered. In our latest archive dive, we're gathering inspiration from 1970 when House Beautiful featured a collection of room designs based on flowers—specifically zinnia, carnation, delphinium, and peony. Whether you want to dive into misty blues and purples or play around with various shades of pink, these rooms are full of color combos that you can easily mimic to makeover your own home. Explore the original story below.
---
Zinnia
Editor: Richard Fitzgerald
Zinnia, a flower touched with gold, suggests a palette of Straw, Orange, Citron, Red, Yellow, Zinnia Green Leaf. Any and all go together as in a garden bed. Wheel below plots six color schemes.

With each of our four color palettes we have assembled a group of appropriate ingredients and asked a decorator to design a room around them. Here, the Zinnia family–zingy, buoyant, coloring household goods of today in all conceivable materials from lacquer to carpet wools (the Zinnia flower rug was specially designed in the six colors of the Zinnia palette). Zinnia can go many ways, but it is an obvious companion to steely, see-through, glistening look of contemporary. See how the makings above furnish a recreation room, next page.
Sunny, spirit-lifting Zinnia sets the mood in a room of entertainments
Zinnia colors splash through a high-spirited recreation room, as youthfully with-it as the electronic entertainment wall, solar lamp, and self-inflating roly-poly chair and ottomans. Using the ingredients, preceding page, Designer Arthur Elrod of Palm Springs planned the room, painted ceiling and blinds in a playfully matched geometry which repeats the full Zinnia palette of Straw, Citron, Yellow, Red, and Green Leaf. His design also, the Orange-Yellow steel-frame table. A harlequinade of Red, Yellow, and Orange linen upholsters the steel sectionals. Across the room, below, Elrod sits at a see-through table that teams with the Zinnia rug. Furnishing the terrace: Green Leaf wicker, Orange lacquer folding chairs, and poolside outdoor carpeting in Straw.
A Zinnia kitchen spicily draws its genial color scheme from Zinnia Red, Orange, Yellow, Straw, and Green Leaf, playing each against the tawniess of the wood cabinets. These are designed with removable, reversible panels that may be in contrasting solid color or in a floral print, as shown on the island cabinets. Gas cooktop, in Straw, is also available in smooth porcelain, the heating elements fused into the surface. Zinnia red walls and wood cabinets are brightened by a Straw ceiling, light-reflecting foil wallpaper, and the circular skylight, which floods the kitchen with daylight. Night lights are concealed behind the Orange perimeter of the skylight. Thus the herb gardens, which are planted in stainless-steel mixing bowls, flourish in continual light. These pulley up and down easily for watering or whenever the cook needs a snippet of fresh green flavoring. Vinyl floor tiles, set to form stripes of Red, Yellow, Green leaf, and Orange, put the kitchen on a bright footing, but also serve the visual function of outlining the square island work center, highlighting it as a piece of kitchen decoration. All the major kitchen appliances and cabinets are made by The Tappan Company.
Zinnia in the kitchen: A mere inkling of the Straw to Green leaf palette in kitchen-worthy home furnishings, stylish as they are scrubbable, washable, boilable, flame- or ovenproof, from vinyl floors to toaster casings, from plasticized wallcoverings to mixing bowls and coffee makers. Plastic laminates can now panel refrigerators and dishwashers in any color you fancy.
Zinnia makings of a garden room promise Riviera sunniness on darkest days–Zinnia Citron, Yellow, Orange, Red, Green Leaf, in fresh contrast to Straw wicker and the chalk-white fun of an elephant daybed (reflected head-on in the intriguing Gothic rattan mirror).
Zinnia Citron, singing out strongly, a little going a long smiling way as background in chintz upholstery and window blinds. Accents: Green Leaf and Orange. New York apartment of Mrs. John F. Moses. Wilhelmina Fox Feiner, designer.
Zinnia Red changes its old-fashioned garden character to elegance in Chinese lacquer, French cintz, and a Taurelle oil, accented unexpectedly in Bristol blue. Home of Mr. and Mrs. Walter Goldstein. Clifford Stanton, designer.
Zinnia Yellow easy to live with in large quantities, makes a good marriage with traditional architecture. Sharpening touches: Zinnia Red lacquer and flamestitch. Boston Apartment of Jerry Finegold. Tom Rowlands, designer.
Zinnia Yellow its butter brightness intensified in shiny vinyl wallcovering. Rug is Citron, sofa is Red, but the interplay of reflections surrounds the room in a luminous aura of gold.
---
Carnation

Editor: Anna Wiglama
Carnation—the spectrum stolen from subtle varieties—pale Peach, salmon Red, Beige, purple Bellodgia, the silvery foliage of Sprig Green. Five ratioed schemes below.
Assembled above, the makings of a modern bedroom with a French fillip, the colorations running the full Carnation range. This palette is a true sophisticate, using colors once thought to be the prerogative of decorators. Carnation Beige and Peach and the understated, feminine tints found in old chintzes, its Red and amethystine Bellodgia decisive and heady, its Sprig Green the elegant silvery celadon of the flower's fronds. Yet all of these can be mixed in many ways—traditionally, amusingly, daringly. See them put to use on the next page.
A rich mélange of Carnation color in a bedroom that sings with pattern
The bedroom, all Carnation colors rampant, a gentle riot of pattern-on-pattern, checks, plaids, stripes, and patchwork, a documentary floral chintz upholstering bed, chaise, walls, and the bowknot-printed drapery pouffed to compound the pleasant clutter. All as uninhibited as a cutting garden in high summer, the room was designed by Bruce Gregga of Chicago, below, to prove the compatibility of flower colors that nature grows together. Innovative ideas here: the switch of fabric from windows to wall panels; the switch of paint from walls to windows (windows are uncurtained, the blinds painted Red); the built-in linen cabinet in the bedroom, its stretch-curtained doors simulating an armoire, above; the protective screen giving cozy enclosure to the chaise; the unanticipated Lucite table and the mod striated rug in a room full of French tradition. On the next page, the versatile Carnation palette takes an entirely different direction.
A chorus of Carnation in the makings of a bath-dressing room. Peach prevails, not in old-fashioned pallor, but with great sophistication when it's underlined with the dusky purple of Bellodgia in towels, shower-curtain trim, and the Chinese cloud swirls of an urbane wallpaper. The scheme is flashed with small, sharp notes of Red in the rug, the ladybug scale, mirror frame, and accessories. For eye-quieting contrast, the shell-shape basin in creamy, peachy onyx, and the Beige of the antiqued dressing chest. Plexiglas étagère is clear and Beige.
Bed-sitting room for a young girl, daughter of Mr. and Mrs. E. C. Nash. Sans hackneyed pastel frills and cuteness, it was designed by Stuart Mager in Carnation Red and Bellodgia, colors which give the room the grown-up look any precocious twelve-year-old would love her room to have. Besides, Bellodgia is as soil-concealing as it is sophisticated. The shell of the room is pale peach, its carpeting Sprig Green.
Suppose a Carnation living room, its suggested wherewithal at left: its tenor would be light, with a generous spread of palest green carpet, an importantly scaled cabinet, antiqued Beige, casement cloth and flowered upholstery chintz creating a glow of Peach tone (an optical illusion, really, because both fabrics are minutely striped Red on white). Enlivening, smaller areas of clear Red—lampshade, lacquer table, cabinet curtaining—are the eye-arresting brighteners. The light look is emphasized by contrast against the dark walls of Bellodgia.
Carnation colorings, cooled, calm, fresh, and ivory-tinged as the Beige flower—that's Designer David Barrett's version of the palette in the bedroom of Mr. and Mrs. Joel Satz. The chintz, billowing at the window, quilted on the bed, is a blossom scattering of the whole spectrum on an ivory ground.
For his own very current, eclectic living room, Designer Robert Simon opted for a worldly mix of Carnation Red and deep-toned Bellodgia, relieved with lots of white and the gleam of glass and chrome. A checker of the colors covers French chairs.
---
Delphinium
Editor: Lester Grundy
Delphinium blossom colors are misty Blue, pink-shaded Mauve, deep, clear Sapphire, Purple, and the sharp Stem Green of the flower's stalk. On the color wheel, size color-proportioned Delphinium schemes.
The Delphinium palette in a collage that furnishes the country-mood dining room on the next page. Delphinium Blue and glowing Sapphire are no strangers—well-known coolers, receding space-makers, crispers, book companions to white, frequent hobnobbers with reds and yellows. But here, in the company of their own family, juxtaposed with Mauve, Purple and Stem Green, they might be colors never seen before. Indeed, the whole Delphinium spectrum is a fresh look. The color wheel opposite and pages following suggest untrammeled color-scheming.
Delphinium colors a country dining room where the manner is mannerly
Delphinium furnishings from the preceding page, deftly assembled in the sundrenched, sky-lighted garden-dining room of Designer Clifford H. Stanton's Southampton summer house. (The designer, below.) Most lavishly used: cooling retreating, space-making Delphinium Blue and Sapphire, a sparkler against white in the window-shade fabric and on the vinyl tile floor. Rough wood walls are tinted the palest Blue. Shag rug is Sapphire. Then, as if to make the whole airy room come alive, the pleasing eye-shock of sharp Stem Green on painted country French chairs. Another unexpectedness: sparse flashes of Mauve linen on the table. Uncluttered, uncliché, the room is as urbane as it is provincial.
Welcoming Delphinium—in an entry hall or foyer, ingredients. Visualize a crisp palette of Blue, Sapphire, and white, spiked with Stem Green in a moiré drapery and in the subtle striping of a sofa fabric. Lay white textured floor tiles with the first-sight stopper of a purple area rug. Cover walls with wet-look white vinyl or a wallpaper snowstorm of polka dots on a Sapphire ground. Shirr the palest of Blue sheer on a transom, light the scene with a plaster-white chandelier, accessorize sparingly with an important porcelain, set on the clear glass of a console table that gives an illusion of space.
Mauve and Purple for a young girl's room—an unaccustomed palette, yes, but a fresh surprise, youthfully joined with white and the whole pretty spectrum of Delphinium colors. See the fill range of lacquering the drawer fronts of the semainier. We envision the Mauve lacquer four-poster dressed in violet-spangled sheets, blanketed in Blue, tossed with a quilt abloom with Blue field flowers, all lightheartedly resting on a Stem Green rug, shaggy as an uncut lawn. For a slipper chair, a shiny Purple satin or a pepper-and-salt mix of Purple with Mauve.
Total Delphinium—Blue, Sapphire, Mauve, Purple—undulating like the waves of the sea in a stretch fabric covering walls and bed in the seaside home of Designer Jack Simpson, which looks toward the Southampton beach. Colors are repeated in the area rug, with a splash of Stem Green. The Victorian Gothic chair, painted matte white, adds romantic pattern and the shock of contrast to the room's whimsey.
Glowing Sapphire grotto, the London dining room of Mrs. John Duffield, designed by Alexandre Albrizzi around his octagonal glass table and a geometric carpet. A reflective surround of mirror seems to push the room right into space.
Blue, Sapphire, and white in an exaggerated flamestitch print is the sole fabric in a cardroom designed by Val Arnold to have the ambiance of a terrace garden. He reversed convention, coloring the woodwork instead of the walls, stressed the outdoor mood with rattan furniture.
An amusing update of the Victorians' Turkish corner, below: The pumply padded little divan (see its old-fashioned shirring), walls, and ceiling are given Oriental togetherness with the same richly patterned bronzy Purple color print. A clutch of throw pillows enhances the luxury.
Bower for a little girl. Designers Burt Wayne and John Doktor gave it a spangling of marguerites against the Sapphire of matching fabric and paper, canopied the bed with a lattice gazebo.
---
Peony
Editor: Frances Heard
The Peony palette—very white White, strong, Bright Pink, pale Shell Pink, a gentle, blue-tinged Red, deep, bronze-cast Leaf Green. On the wheel. Five ways to color-scheme.
Peony's palette persuades us that pink is a color of clout and character, pleasantly pretty when need be, as in babies' rooms or fragile boudoirs, but a powerful potential when its intensity is punched up and played against the sophisticated Leaf Green of peony foliage. The logical assumption: Peony Pinks and Reds may well bellwether a new color direction for contemporary living rooms. Herewith a gathering of Peony furnishings chosen for their warm, assertive, living-room worldliness. The living room they create, next page, proves our thesis.
A pink-thinking room—proof conclusive of the Peony palette's dignity and vigor

Ellen Lehman McCluskey, long an advocate of pink in the living room, designed this room around the Peony furnishings on the previous page. Bright Pink and Red are definitely on-stage, warm, advancing, making themselves known, but in fact are used in lesser quantity here than Leaf Green and White. Their impact is quieted bt White in broad expanses—floor, ceiling, mantel brick, curtaining—and by cool walls of Leaf Green textured vinyl. There is lots of calming green company, too, in printed drapery and upholstery fabrics. Striated rug is a medley of Peony flower colors. The Shell Pink hassock pile-up is linen velvet.
Picture a Peony bedroom, its ingredients running the blossomy gamut of flower color from White through Shell Pink, Bright Pink and Red to Leaf Green in a variety of values, as you see in the French-flavored rug. Wallpaper is a smashing field of giant, nasturtiums. Drapery stripes—and stripes today are something to keep an eye on—suggest a sheer scale of White, Shell Pink, and Bright Pink or a mingling of Red with Leaf Green. Bedlinen and slipper chain in Shell Pink. An adjacent bath would go pink, of course, with probable accessories of green glass.
Kicky, mod, and Peony Red: Trappings for a youthful bedroom, with Red highlighted on one wall, the others White, and lots of the wet look in a lacquer chest, a bentwood mirror, and a clear-globed White lamp. Add to the fun a "Hello, Central" telephone-booth banquette in Leaf Green and White, a nostalgic Red calico quilt, Shell Pink curtain striping.
Full-flower Peony colors in a densely patterned print. Designer Billy Baldwin's choosing for a young girl's room in the Dallas home of Mr. and Mrs. Harding Lawrence. He used it with generosity on walls, draperies, upholstery, and the square-quilted bed throw, but kept it readable and effective by overbalancing its busyness with even more generous expanses of ivory and White. Niceties to note: the sharply pressed, knife-edge drapery pleats and the slim-shirred valance heading, as though pressed with a crimping iron.
Peony power in the bedroom of Designer Mark Hampton. He has paired off the geometries of two patterns—Bright Pink damask and a pinwheel cotton—painted walls deep Red with a painted bordering of Bright Pink, which gives the room a look of paneling. He cooled it all with a white lacquering of the Victorian woodwork and the Eastlake carpenter-Gothic furniture, which gives the eclectic room its nostalgic overtone.
The sophisticated Peony, a living room designed by Milo Baughman, monochromatic, Shell Pink and Bright Pink in varying values. For all its warm coloring, it's a placid room, cooled with pearl-gray walls and carpet, glinting steel and lacquer. The upholstery here is soft ladies' coating wool.
Peony muted, the bed-sitting room in the St. Louis home of Mr. and Mrs. Charles Yalem. Designer Joseph Braswell married the palest Shell Pink with diminished tones of Leaf Green, struck two pings of bright color in Red Chippendale chairs.
This content is created and maintained by a third party, and imported onto this page to help users provide their email addresses. You may be able to find more information about this and similar content at piano.io