Teenage girl bedroom ideas: 10 designs for your adolescent daughter's decor
Sugar and spice and all things nice, that's what little girls are made of. That is until they hit adolescence. So how do you tackle a teenage girl bedroom idea? With a whole heap of sass, and a good read on the latest fashion, color and interior trends. Which is where we come in. 
You need probably need something edgier than our standard kids room ideas. A teenage room will require a bigger bed, dedicated study space for homework, less. toy storage and more space for clothes and hobby equipment. Whether that's soccer kit or a sewing machine.
Granted, creating grown-up girls bedroom decor demands a bit of patience, but with a little bit of imagination and creativity, you can execute a 'Gucci' aesthetic for the 'gram. That's slang for fancy, or very fashionable by the way. And no, we definitely just look that up!
Teenage girl bedroom ideas
1. Go mystical with a glittery geode wall decor design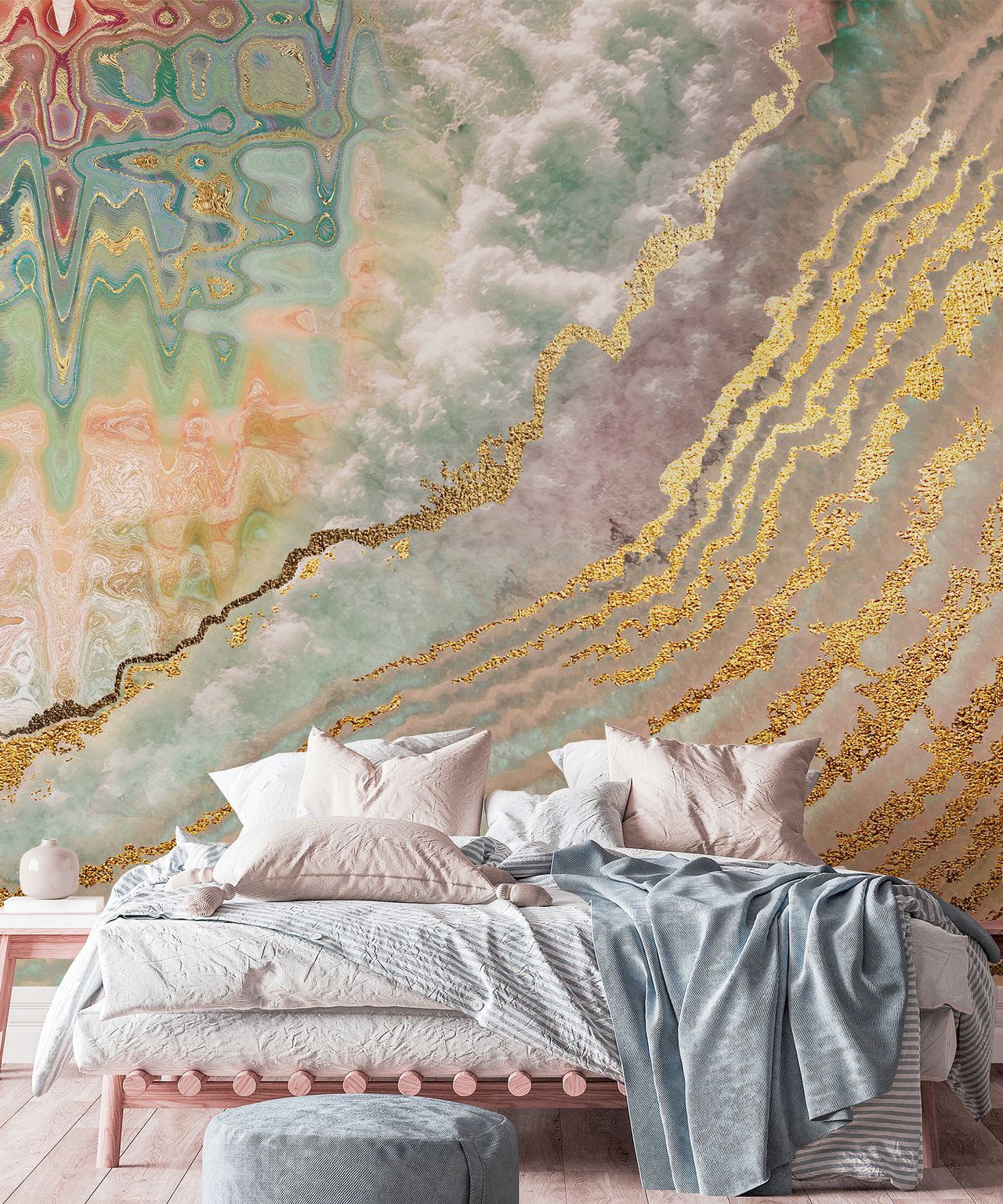 If you've a girl that's into her spiritual cleansing and wellness, then bring some awareness to her interiors with a statement geode bedroom wallpaper design. Laced with glitter and mesmerizing pastel shades, this multicolored print will dazzle, evoking positive affirmations and cool gems and crystals.
Lara Skinner, artist and contributing illustrator at Wallsauce, says: 'There is so much beauty to be found in our natural world, and so much to take inspiration from as an artist.
The textures, patterns and colors of naturally forming geodes aim to bring the intrigue of these organic forms to our inside spaces.'
2. Use blue as a girl-friendly bedroom hue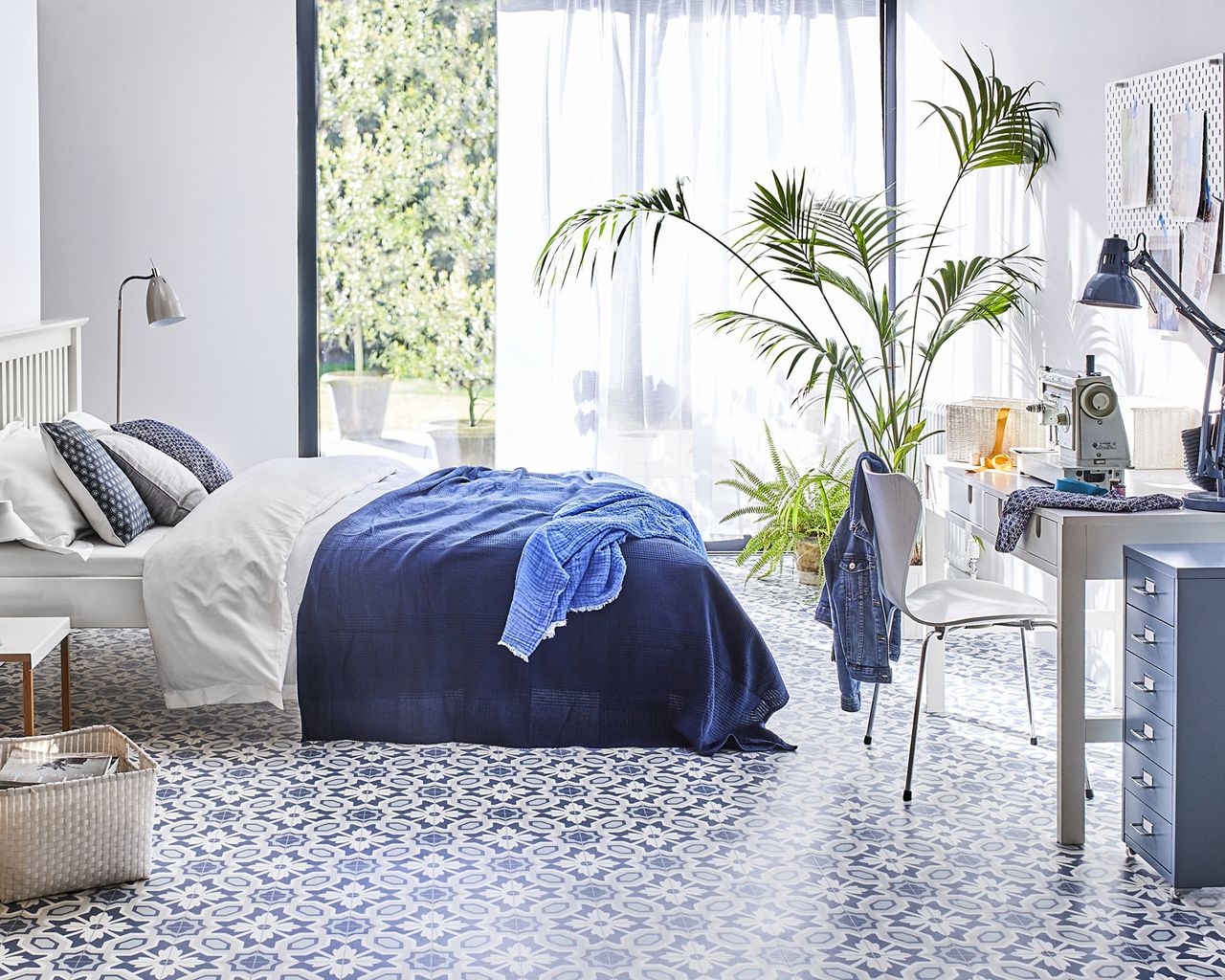 If you've got a teen girl that thinks pink bedroom ideas stink, then maybe blue might be her favored hue.
You may think that this color should be reserved for a boys bedroom idea, but pick up the perfect paint and we promise, there'll be no shade from your teen!
Cornflower and power blues are a cool and calming approach to a feminine bedroom design. Paired with white, you can create a gorgeous Grecian scheme that looks expensive and something straight off Mamma Mia's movie set.
While bedroom lighting ideas and bedroom cabinetry design are quick wins, we think the Eclipse 575 Eleanor Vinyl by Carpetright is the star of the show in this scheme. Waterproof and with a whimsical mosaic design, it's adds a bit of Mediterranean magic. LVT is also a great wipe-clean option for food and drink spillages. 
3. Use on-trend terrazzo in a teenage girl's bedroom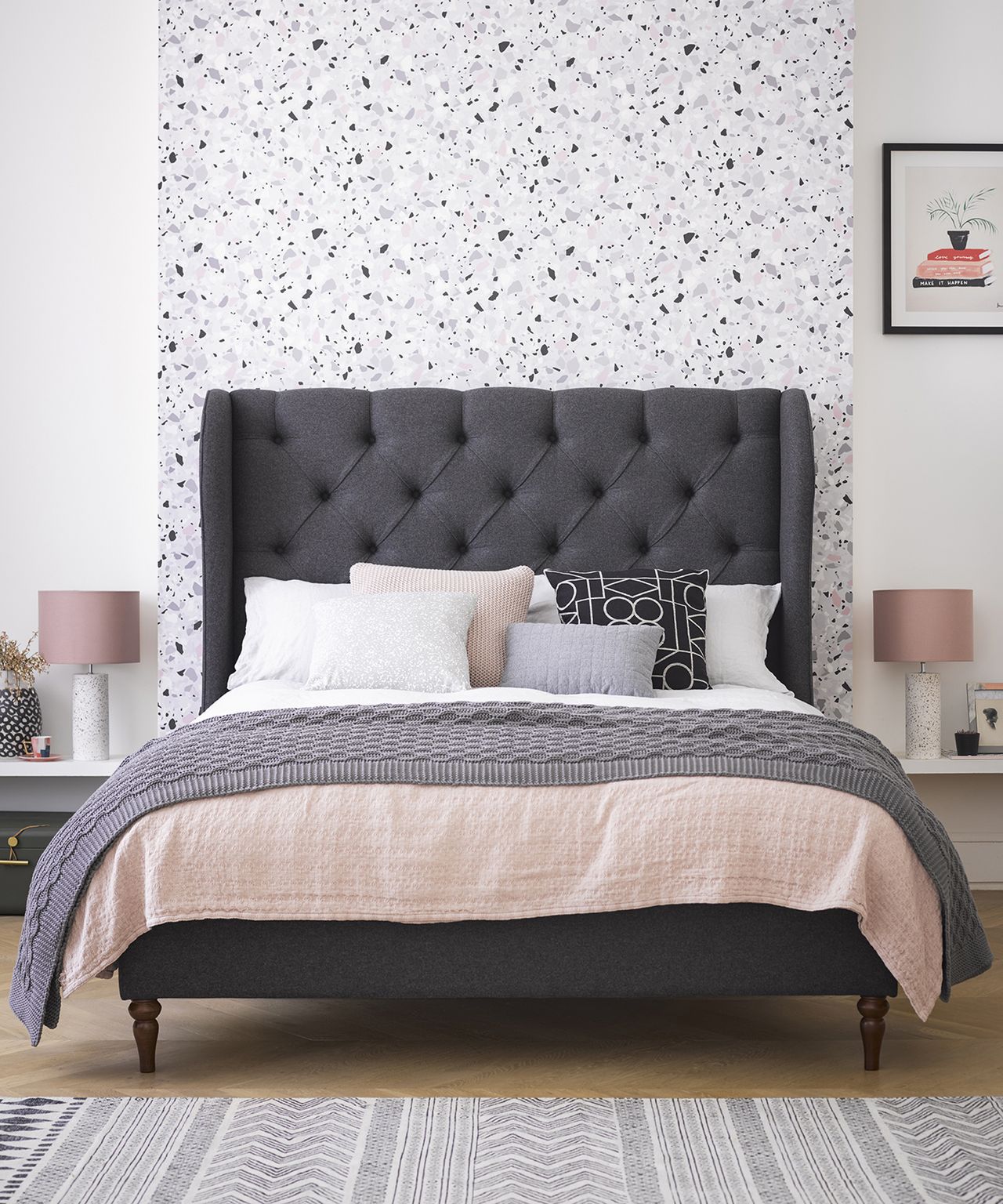 Not just for kitchens or bathroom decorating, using terrazzo in your teenage girl's bedroom will tick the boxes for style and functionality.
As well as adding a luxurious backdrop to a modern bedroom design, the flecked printed wallpaper by Graham & Brown means that fingerprints from makeup, dust and dirt can be easily disguised too.
What's more, it also adds trendy texture to a space that can fall flat if not styled correctly. To ensure it doesn't, pair with lots of other complementary patterns and tactile furnishings.
And if your teen isn't keen on all-over accent wall ideas, then Terrazzo rugs and lampshades and revive a tired bedroom space.
4. Love the line drawing trend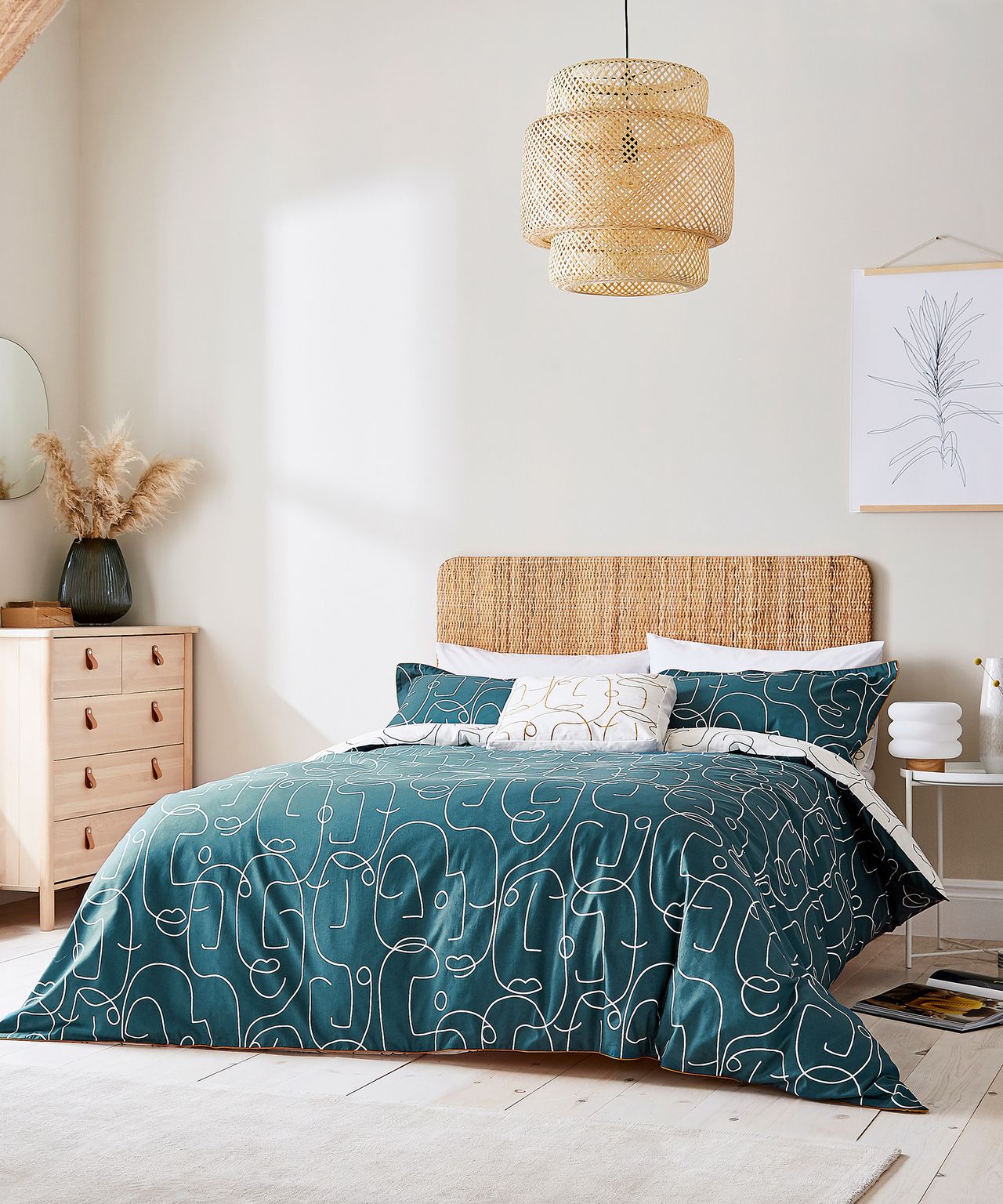 Google searches for Picasso line drawings and Henri Matisse are up by 250 percent as homeowners and art enthusiasts look for ways to introduce this must-have trend into their home. 
Abstract faces have been dominating the world of interiors for a little while now so why not introduce this into your teenage girls bedroom scheme? The versatility of this simple and chic design allows you to introduce this motif into almost any interior scheme. 
Natalie Mann, new product development coordinator at Iconic Lights says:  'Line drawings and abstract expressions have exploded this past year, and there is no sign of this interior trend slowing down.'
Found on cushions, bedding, lampshades and more, you'll face no trouble findings soft furnishings and accessories in-store at online, just like this duvet cover set from Wayfair. But, if you do want to unleash your inner artist, a freehand painted bedroom wall decor design or some adhesive stickers will wake up any white walls you have.
5. Add floral decor for a romantic country theme
If you have a petal who's having a tough time with adolescence, then introducing a cozy floral or biophillic design into her teenage girl bedroom decor can help her self-esteem blossom.
Combining quintessentially English garden roses and pretty painterly honeysuckles, this collaborative Pembroke Roses bed linen design from The French Bedroom Company and Cath Kidston makes for a charmingly beautiful linen idea.
To complement this romantic bedroom design, add floral framed wall art and a bouquet of fresh or dried flowers and foliage for a room that works harmoniously in a fresh, pared-back way. Finish the space by painting doors, shelves and chairs in a chalky pastel pink for an effortlessly serene space.
6. Tackle teenage rebellion with graffiti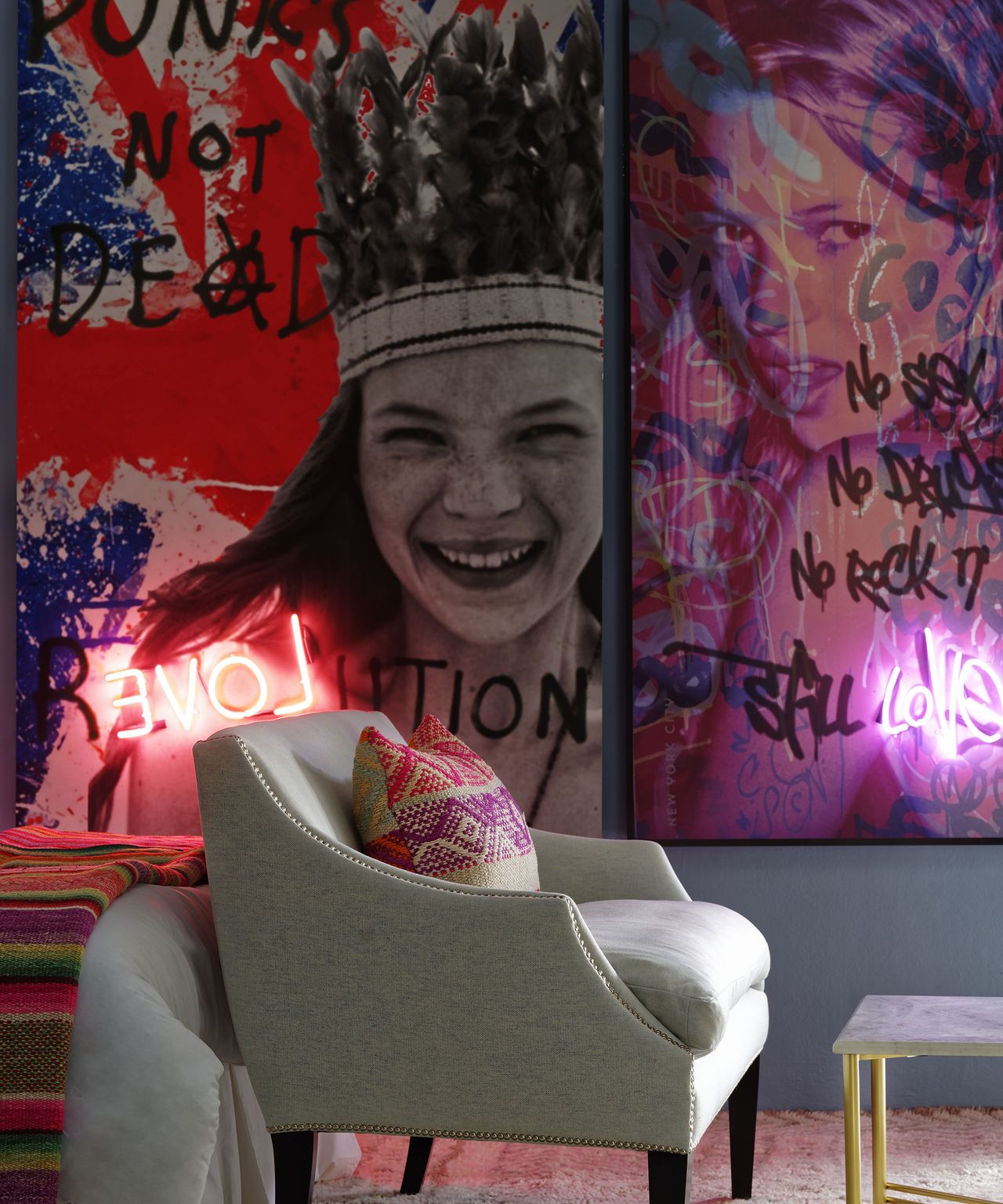 If we look back to our mischievous days in high school, we might find some memorabilia in the form of graffiti-ed exercise books with doodles and drawings. Dig a little deeper and you might even find out who our secret crush was too.
It took us a while to reflect back on our past selves, but asides from the tears and tantrums, teenage girls are powerful and expressive women in the making. So if you want to reflect a punchy personality in your teenage girl's bedroom design, then look to their walls.
Add some '90s grunge chic or '70s punk rock into your teenage girl bedroom decor for an edgy and exciting look. Across the pond, British music artists and fashion models adorn our kids walls for a retro and rebellious scheme.
'Neon artwork has also become a must for on-trend interiors.'
'It screams confidence and someone who seeks fun.' says Martin Waller, founder of Andrew Martin.
7. Create a 'selfie ready' space with a large mirror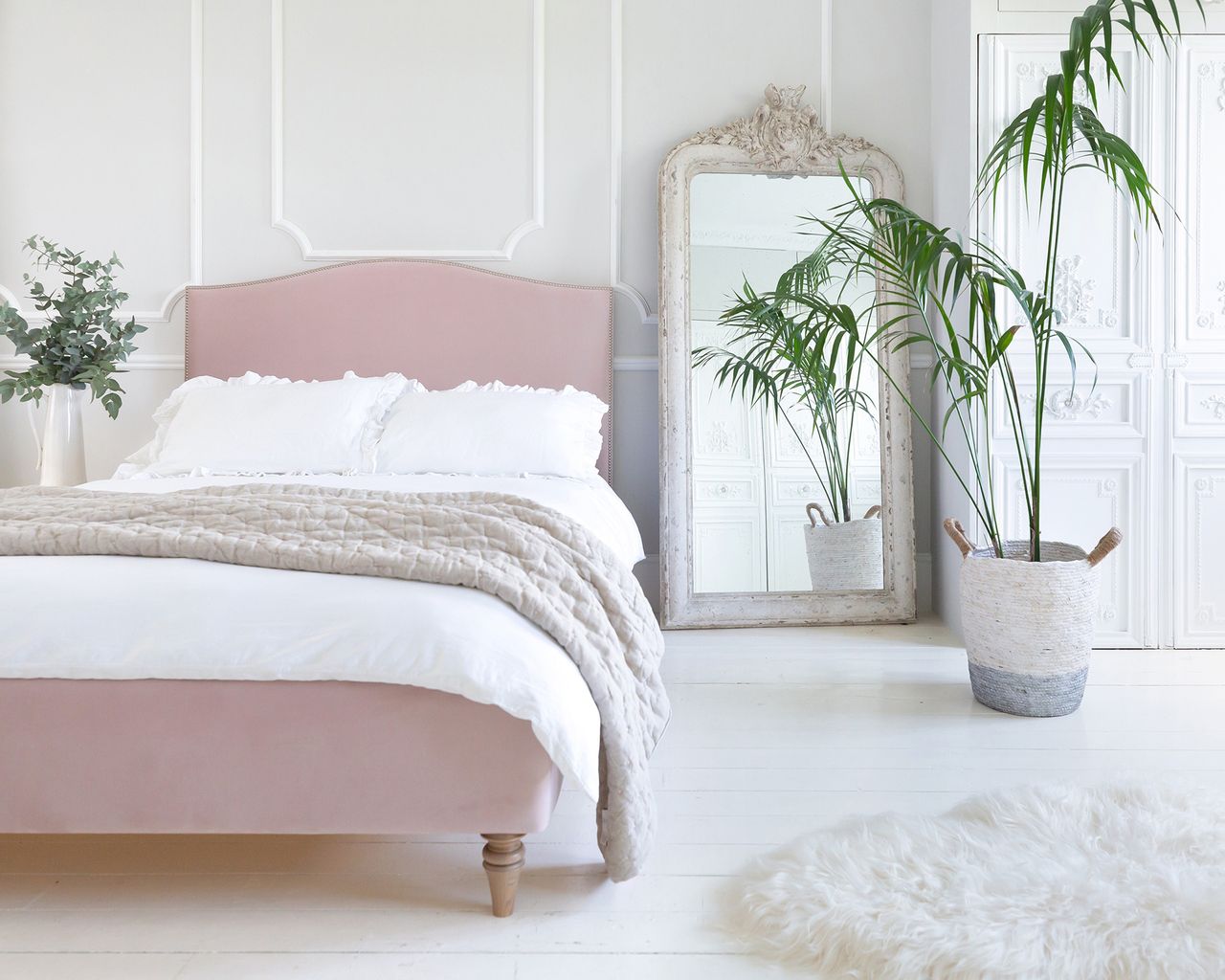 Got a teenage girl that's glued to her smartphone? In a hyper-filtered, social-savvy world, girls and guys are wanting to look their best IRL (in real life) and on the 'gram. From mastering makeup tutorials on Instagram to putting together a look that gets all the likes, a floor-length mirror design is an essential item in any teenage girl bedroom idea.
We adore the acanthus leaf crest, curved shoulder corners and the distressed stone-effect finish on this mirror frame by The French Bedroom Company.
The glass features small areas of mottled antique-effect mirror that enhance the authentically-aged aesthetic. This also cleverly disguises any makeup residue or oily fingerprints while getting ready.
Made from a stone-effect resin on a wooden frame, it has two sets of wall hooks on the reverse for safe hanging if you have an accident-prone teen!
 8. Introduce luxe lighting into your not-so-little lady's room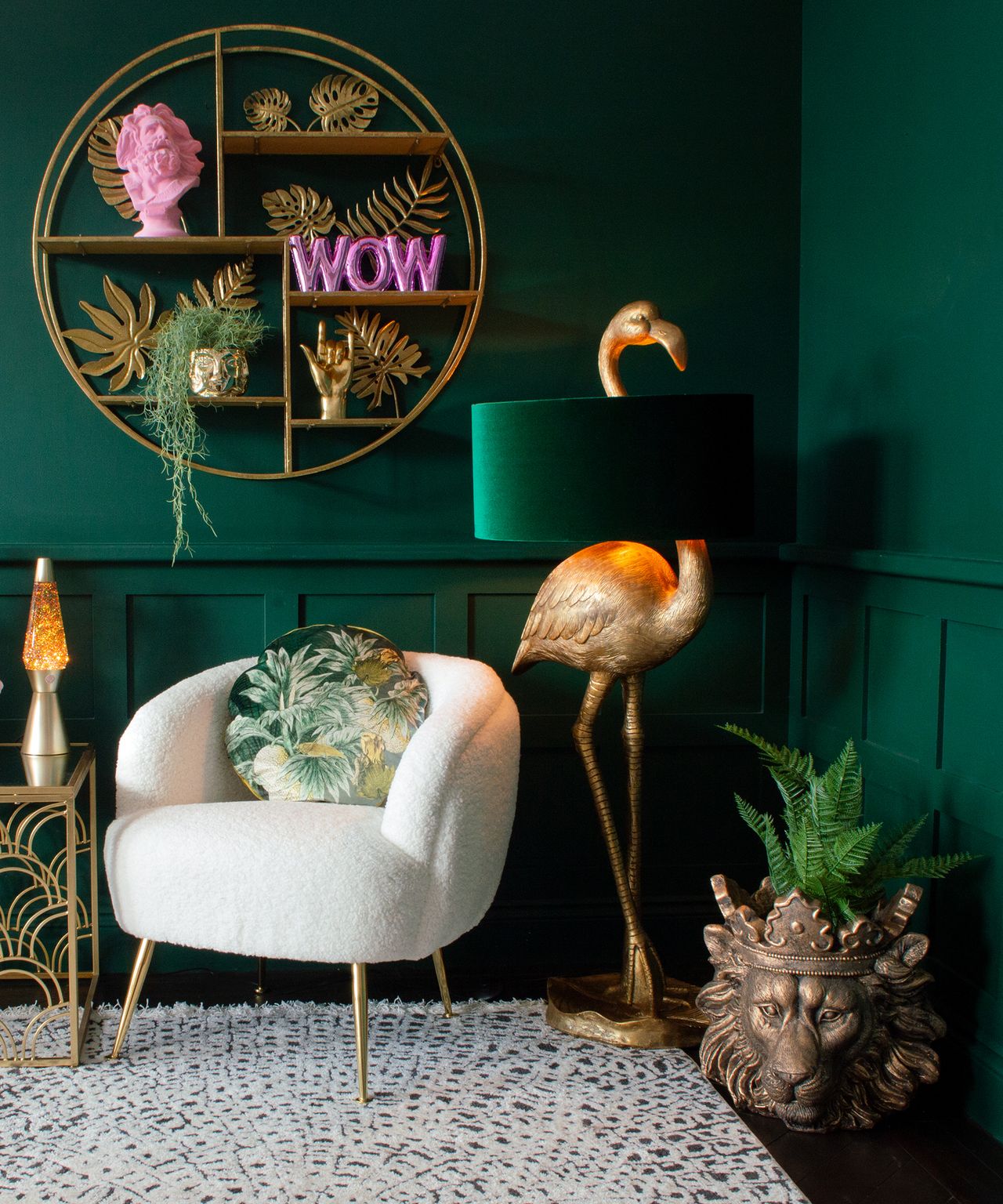 If you thought a mirror idea was important when it comes to selfies – then you've only done half of the hard work to get the ideal 'Insta-ready' image.
A pout with poor lighting is hardly going get those double-taps, so investing in a good bedroom lighting idea, be it a floor lamp or ceiling light is going to give her that glow.
This flamingo floor light from Audenza will at atmosphere and fun to any teenage girl bedroom decor, and we think this fashionable fixture is certainly on fleek. With its soft diffusive light and jewel-like emerald shade, it's sure to steal the attention and add wow-factor in the room.
9. Add a statement headboard for all-round opulence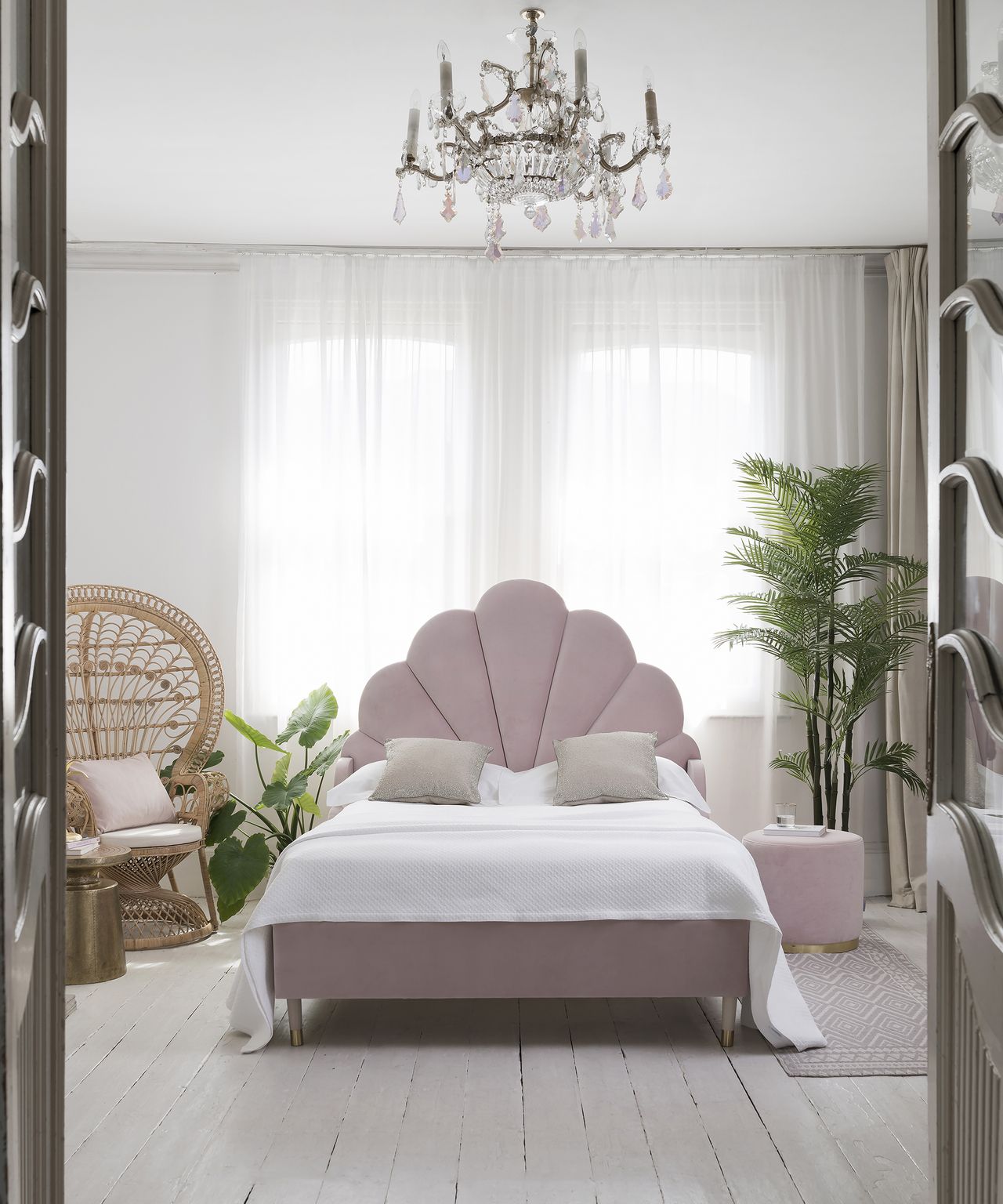 An all-time favorite of ours (thanks Disney), a timeless scallop design is a chic option to invite opulence into your little mermaid's bedroom look.
Originating in France in the 1920s, the design Art Deco movement quickly put curvaceous shells at the forefront of our interiors spaces. And this Ariel upholstered bed by Sweetpea and Willow is about making a decedent statement. 
But if you can't afford to buy another bed, why not consider a velvet scalloped headboard design for a boujie update? If money is very tight, a DIY headboard is a cheap bedroom makeover idea. 
Camilla Clarke, creative director of interior design studio, Albion Nord says:  'trying a different shape such as scallop edging can increase the height of a bed for a more statement effect.'
10. Put a clothes rail in a teenage girl's bedroom for easy access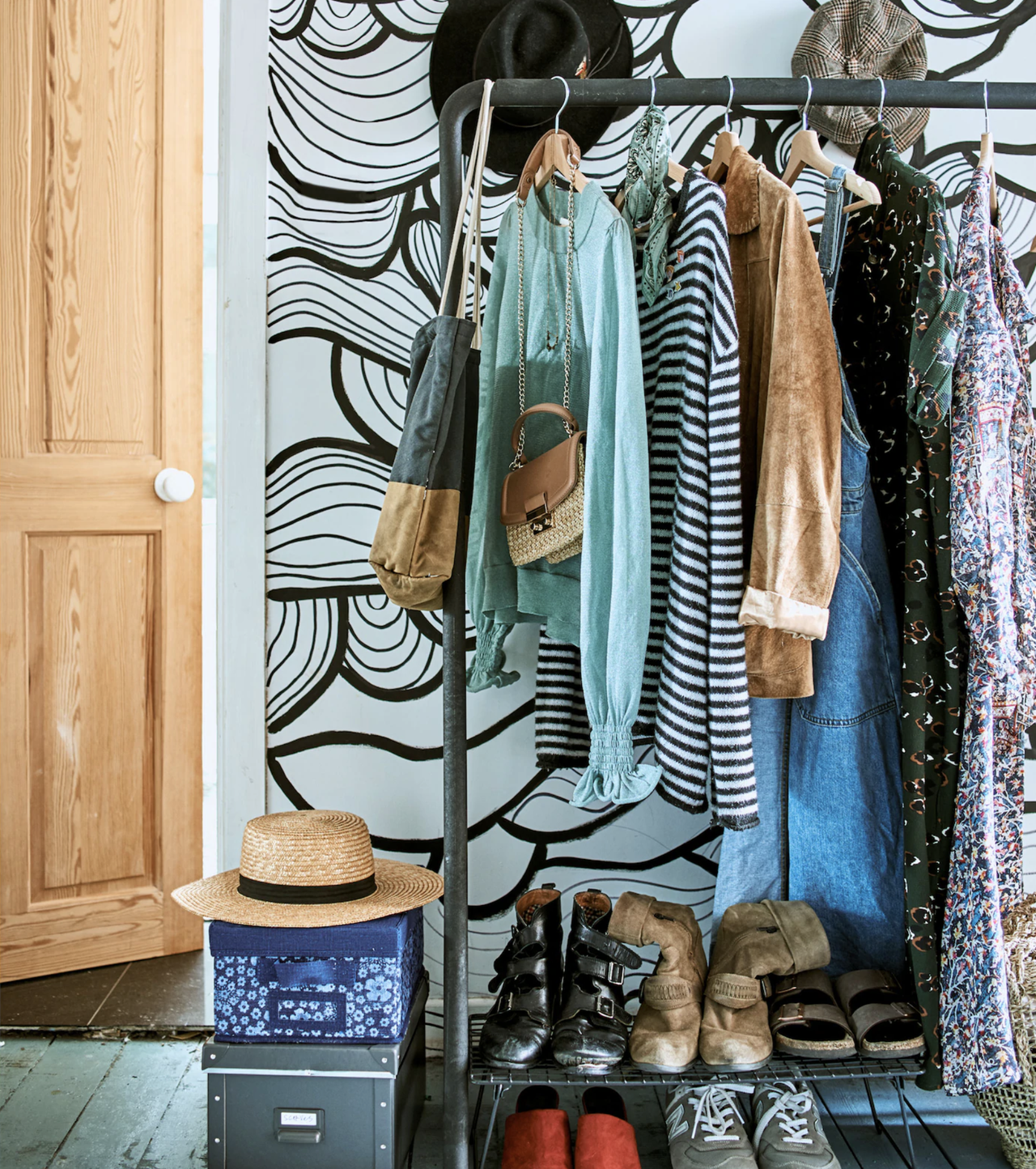 Teenage us would have killed for this kind of setup in our bedroom. So much easier than rummaging through hundreds of clothes in the wardrobe, the makes all your kid's fave outfits really easily accessible. Plus, we think this actually looks really cool, and would be a great feature in a girl's bedroom. 
'If there's room, little ones will also enjoy a dressing up corner with a rail for their costumes and a large mirror to help them see.' says Ursula Wesselingh, founder of Room to Bloom. 'Slightly older girls may appreciate a small dressing table to experiment with make-up. 
'From pre-teen age, somewhere comfy to sit and chat with friends becomes increasingly important – think floor cushions, a bean bag or a small sofa.'
How can you style a teenage girl's bedroom?
Ursula Wesselingh, founder of Room to Bloom says: 'Teenage girls often know quite well how they'd like to style their room, influenced by trends on social media and getting ideas from friends.
'It's a time to develop their own taste by experimenting with decor.'
'Prints are a great way to express their individuality and are easily swapped out as taste change.'
'Mood lighting creates a cozy or arty atmosphere when hanging out with friends – think led signs or string lights.'
'Bedding, fabrics and cushions also offer lots of styling opportunities. Last but not least, plants are great to dress a room and add a grown-up touch.'