Purple bedroom ideas: 11 designs in lilac, plum and more
Known better as grandma's fave color for frocks and frills, you'll probably be wondering why we're not steering clear of purple bedroom ideas.
But with granny chic, cottagecore and regency core being some of the most popular interior trends, it seems like old IS gold. So we're putting a spin on these bedroom color ideas. 
No longer is lilac lost in the background. Nor does the room smell like potpourri or moth balls. Plum is now yum and eggplant is exciting. And while chintz used to make our eyes wince, we can't wait to get our hands on some purple patterned upholstery. 
And when used in a bedroom, light purple hues give a feeling of Zen. It is perfectly balanced as it's not too bright nor too shaded, allowing your mind to escape before dozing off to sleep.
Perception-changing purple bedroom ideas
Scroll on for our favorite purple bedroom inspiration. 
1. Create a chic gallery wall design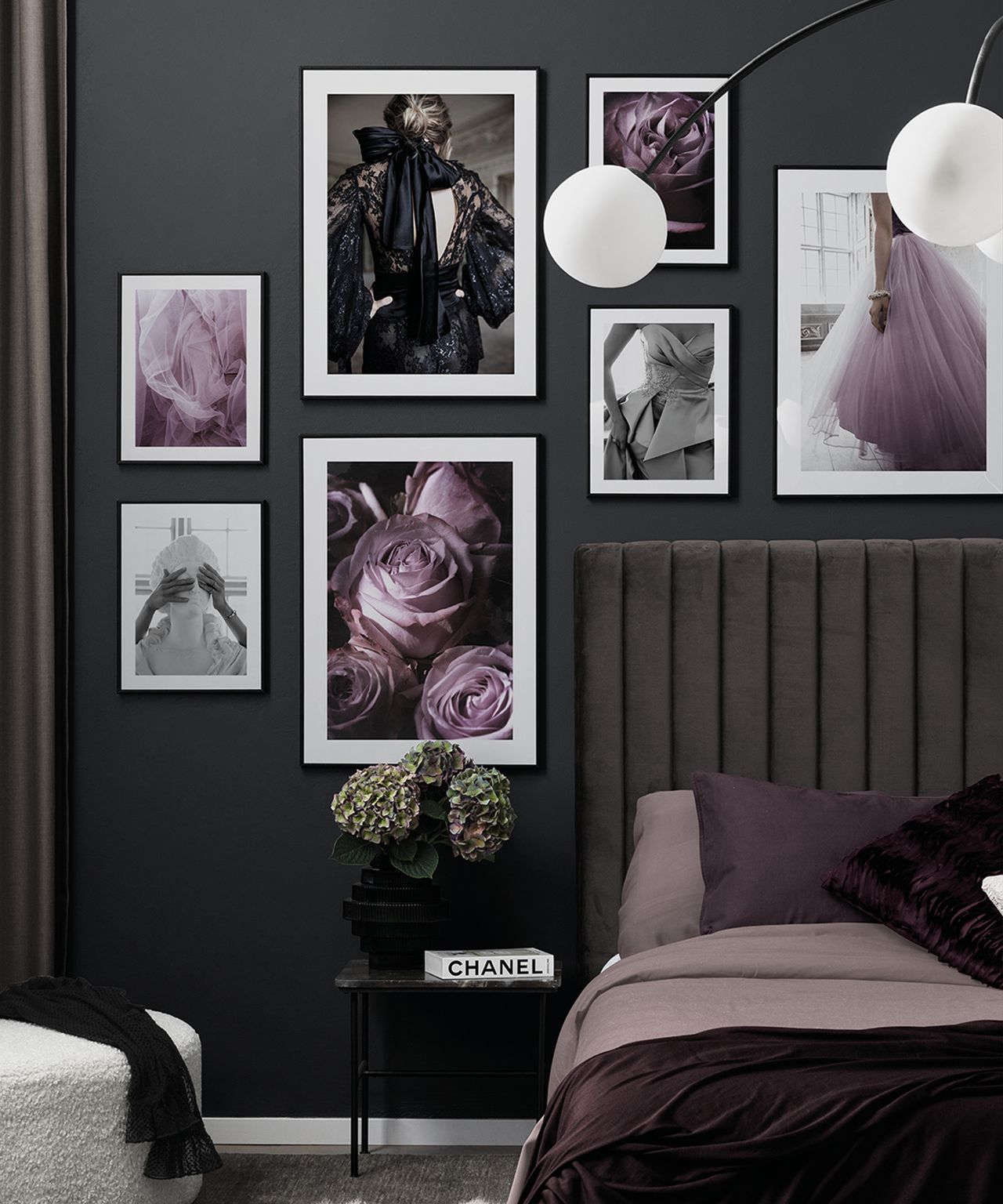 Fashion and interior design are much more intertwined than most of us think. From innovative materials, textures and tones, what's on the catwalk one day is captured in your bedroom the next. So it isn't surprising that our cute gallery wall ideas are sometimes inspired by haute couture.
However, wall decor ideas don't have to come with the hefty price tag. Family photographs or printed repro designs are an affordable way to add a luxury look to your bedroom. Or, shop for coffee table books with big name brands and designers for instant impact.
Use floral prints and floaty dress designs to add an airy vibe to a dark purple bedroom design. Green-purple Hydrangeas or purple peonies also add a sense of biophilia to the bedroom too.
Erika Woelfel, Vice President of Color and Creative Services for Behr says: 'Darker purples are the perfect shades for a two-tone bedroom wall to create a lush environment, especially when the room is decorated with white, gray and assorted neutrals.'
'Pops of gold metallics, like a lamp or furniture hardware, add a touch of glamour'. 
2. Create a romantic boudoir with a scalloped bed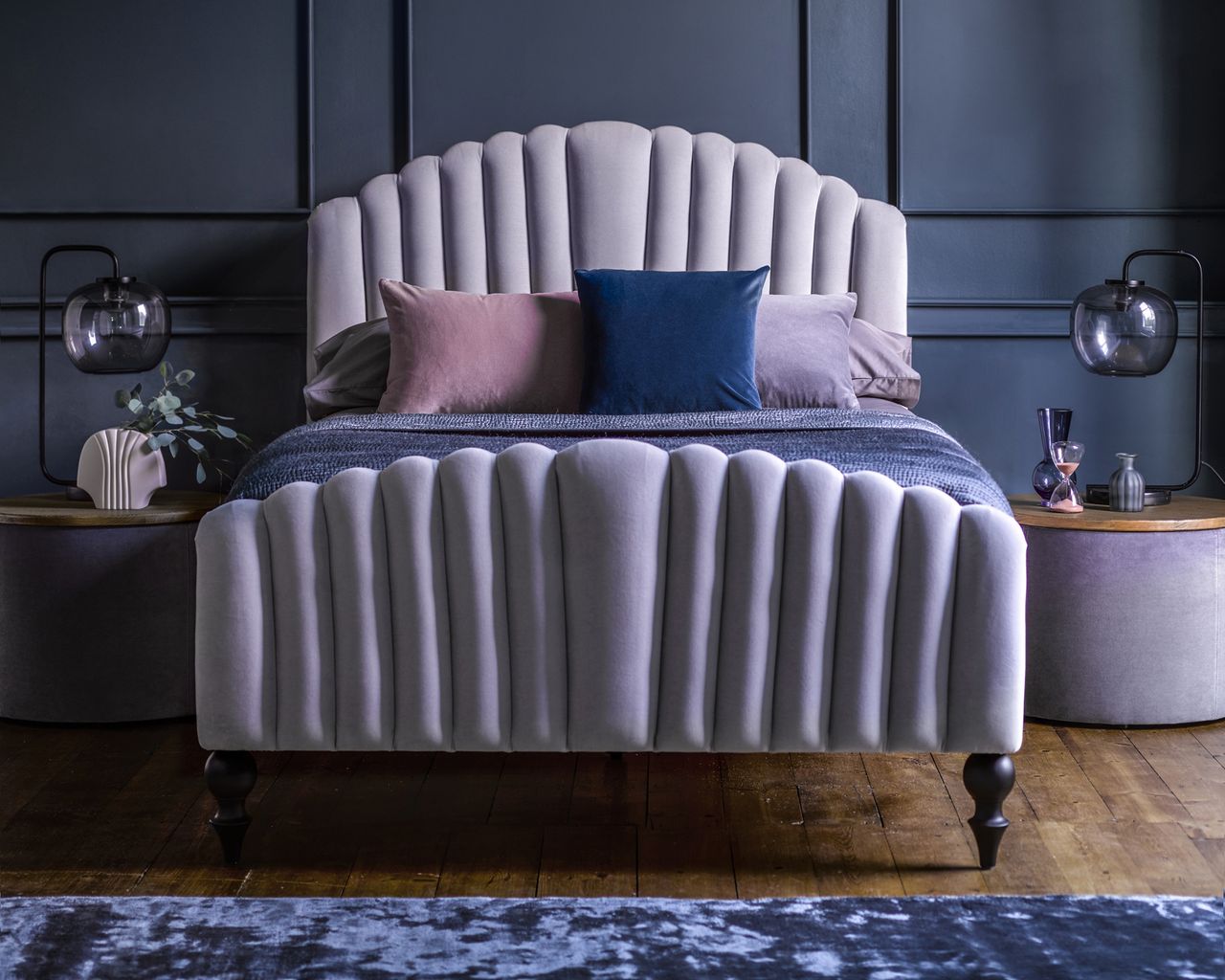 If we could be a Greek goddess for the day, we'd be Aphrodite. Encompassing love, beauty and desire, she, (as the cool kids say) was goals.  
But if you want to embrace your inner goddess, then look to your bed. With a shell-inspired design and soft fluted detailing, this purple bedroom design from Sofa.com is the perfect romantic bedroom idea.
Paired with a luxe velvet rug, this is one of those bedroom ideas for couples that we cannot resist.
3. Inject fun into a shared bedroom idea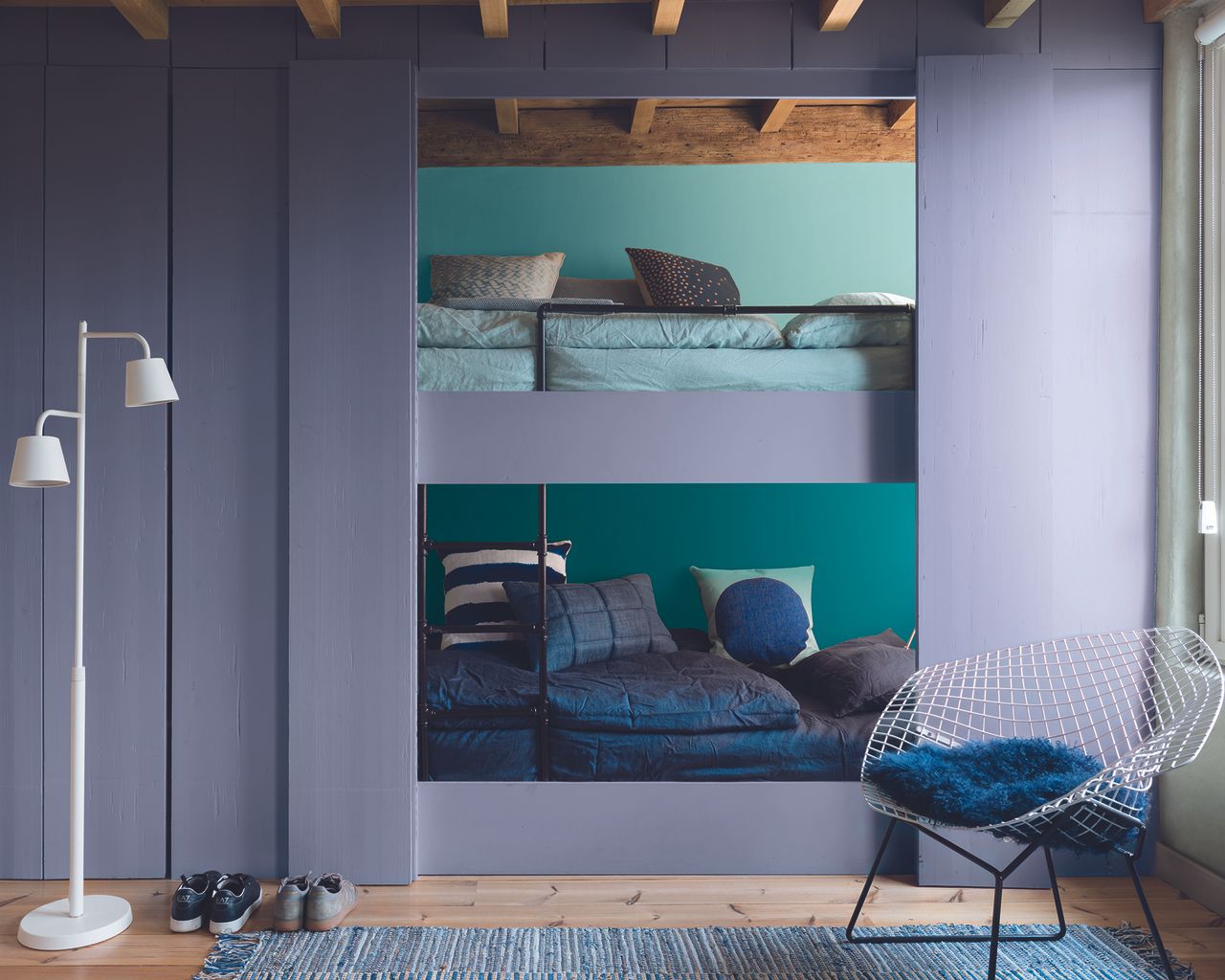 Shared bedroom ideas can be a little hit and miss. In some cases, one party is going to be happy, and the other a little disheartened. But this bunk bed alcove idea in purple and green looks like bundles of fun!
Though each 'half' of this design incorporates a green backdrop, the different shades can be picked out by each child. There's lots of opportunity for your children to choose their own soft furnishings too.
From cushions to throws, bedding and hot water bottles, each bed can incorporate both your older and younger child's interior tastes.
4. Add country vibes with floral bedding design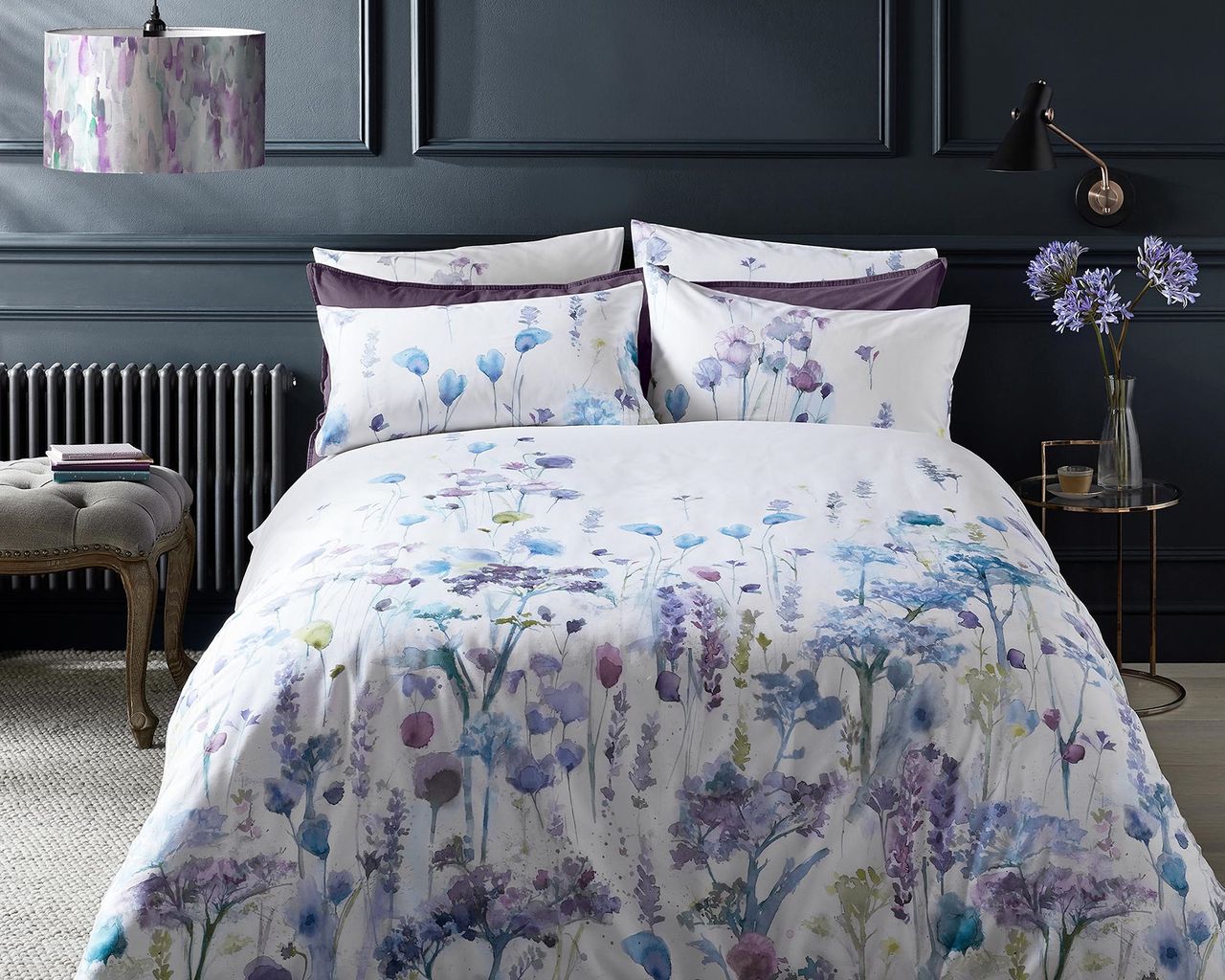 Want to add country floral vibes to your bedroom, without the hayfever? A handy printed duvet is where it's at. Featuring digitally printed design of meadow flowers and splashes of watercolor, this is a great French bedroom idea without the achoo!
Styling this bed linen design couldn't be simpler! In the spring and summer, pair with soft muted cornflower blue. Come autumn and winter, vamp up this look with blue-grey and purple for a vampy, bold aesthetic. This painted paneling is the sort of wall decor that'd look stunning in a period home.
To finish, add a bunch of faux lavender or iris and add a few purple bedroom lighting ideas.
5. Use purple in a girl's bedroom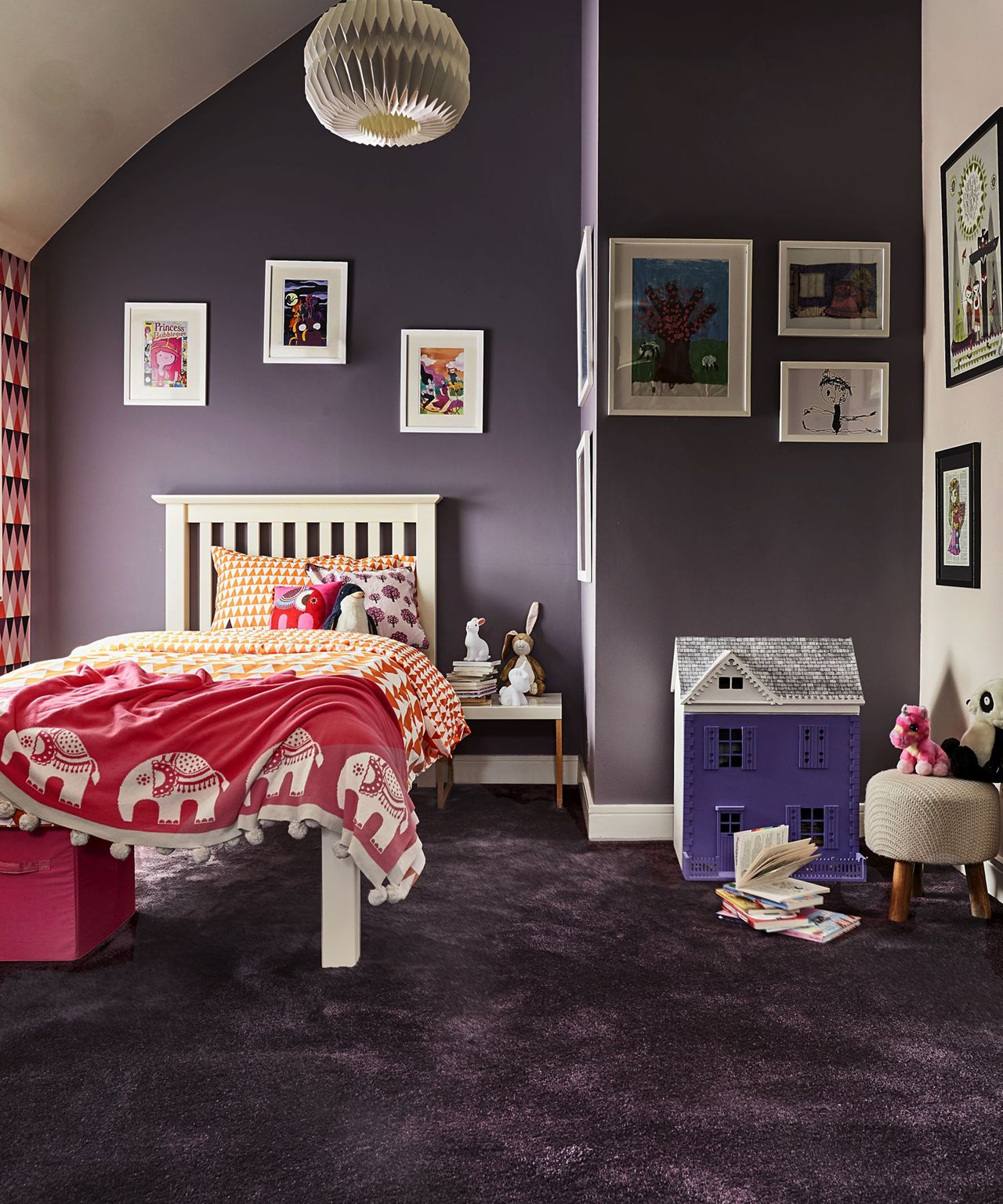 Purple is a fun color for a kids bedroom idea and has the advantage of suiting both genders equally.
But, in this girls bedroom design, it is coupled with fuchsia pink to give it a punchy color pop that brightens up the scheme. We particularly love the Thai-inspired elephant motif bedding which gives this purple bedroom idea a sense of escapism.
This pink and purple combo is also continued in the patterned blind decor. This window treatment idea helps to block out sunlight and keep the room cool.
Carpet is a great idea in this purple bedroom idea. Not only does it add a soft and tactile touch for getting out of bed, the dark color means that things like play dough, paint and muddy footprints can be easily disguised. 
6. Contour the room using different shades of purple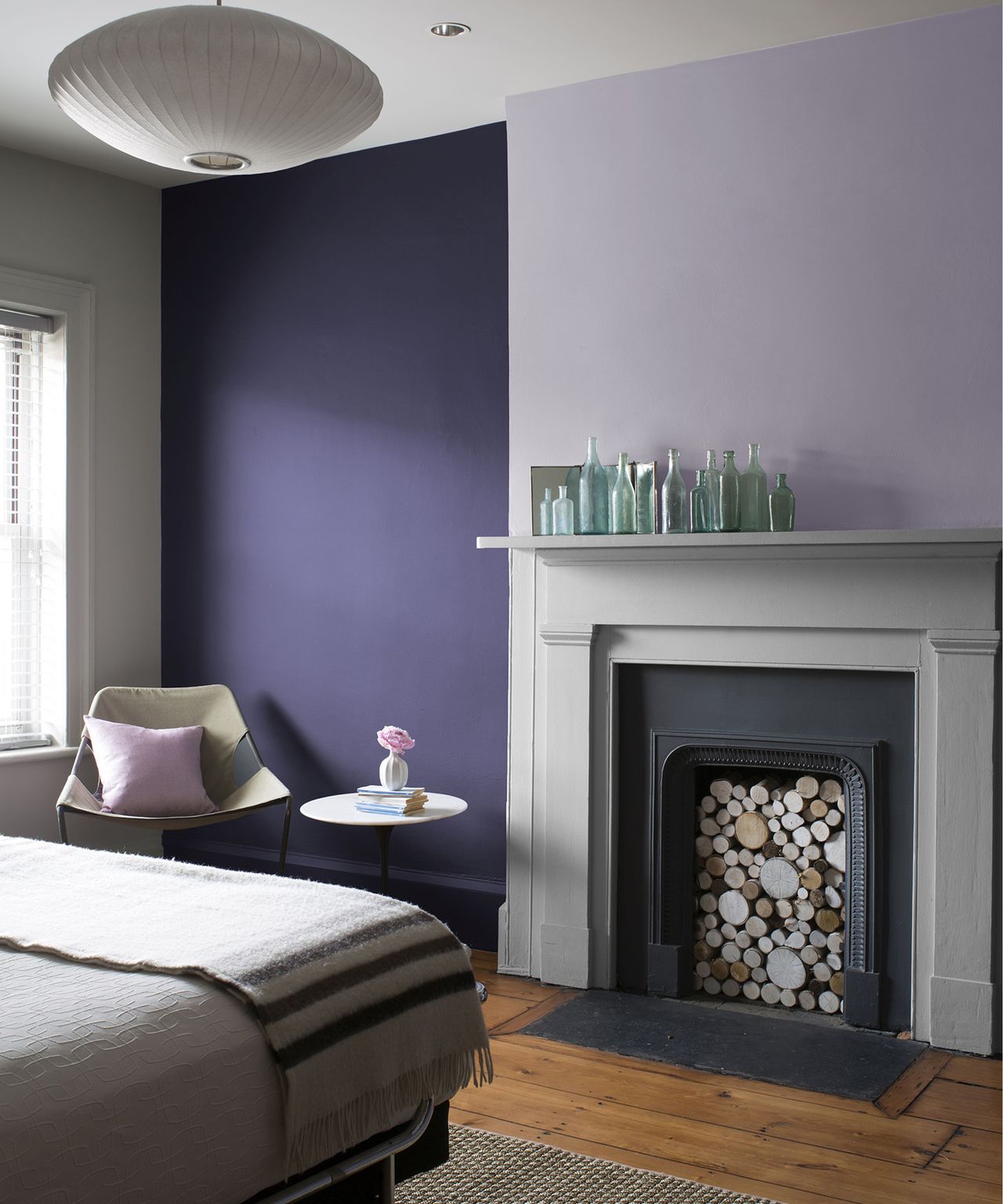 Contouring isn't just for the Kardashians. Or exclusive to the makeup world for that matter. By playing around with different shades of purple you can manipulate the space to make your bedroom look bigger.
In this purple bedroom idea, the ceiling is painted white to give the illusion of a larger space, while dark purple and lilac accent wall ideas create a dynamic feel to the room. Paired with light accessories like the cream throw and chair, it won't feel like the walls are caving in on you.
7. Add a regal feel with complementary jewel-like tones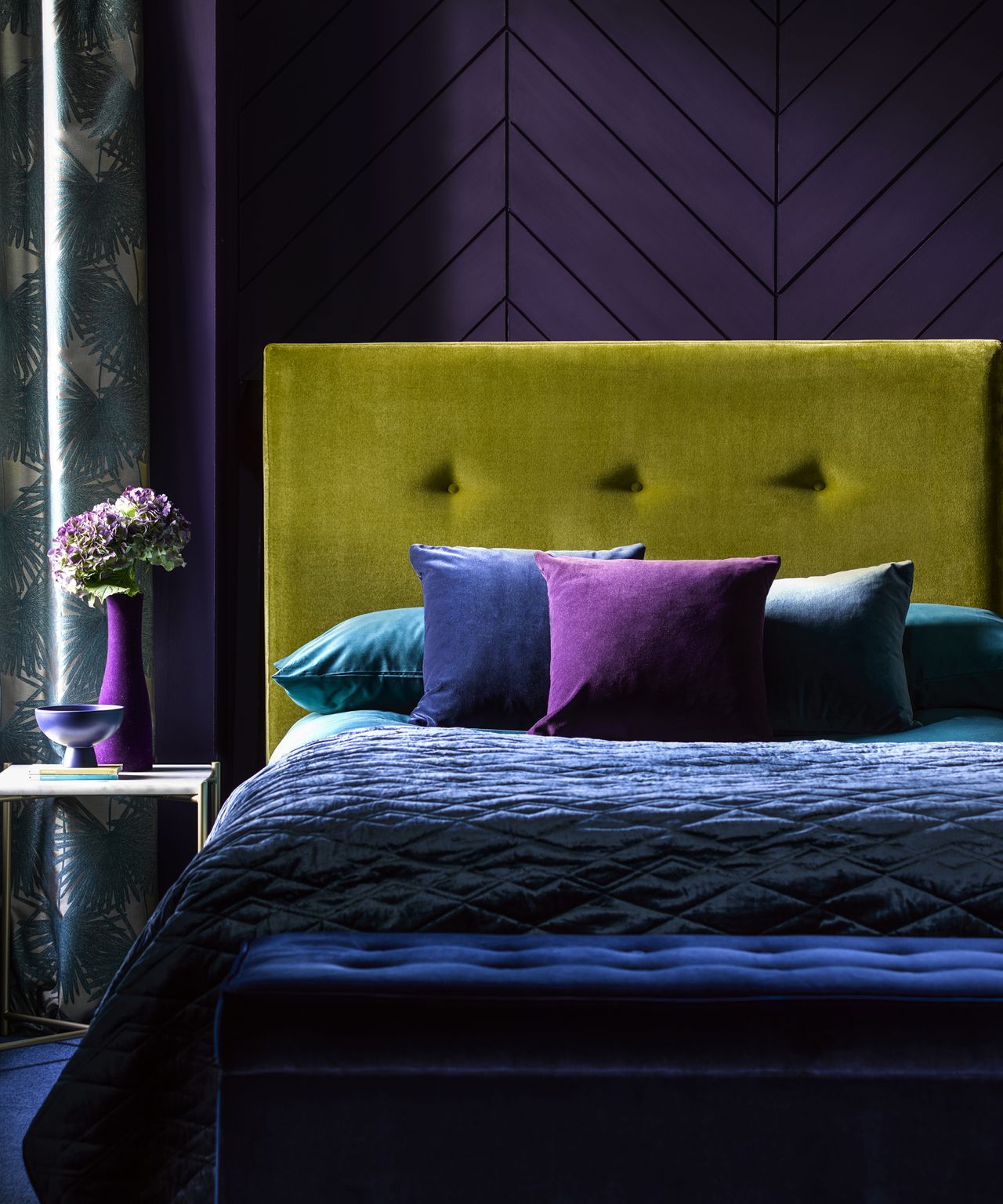 With its plush characteristics and luxurious looks, velvet is a material that can add expense to a purple bedroom idea. While this material can look old fashioned and sometimes cheap, the answer is in the color and style execution.
To make this scheme work, pair purple Amethyst with complimentary jewel tones to create a bling modern bedroom idea. This room uses piercingly blue Topaz cushions and a contrasting yellow Sapphire headboard to create quite the statement. Queen Elizabeth of England would certainly approve.
8. Go wild with animal print and texture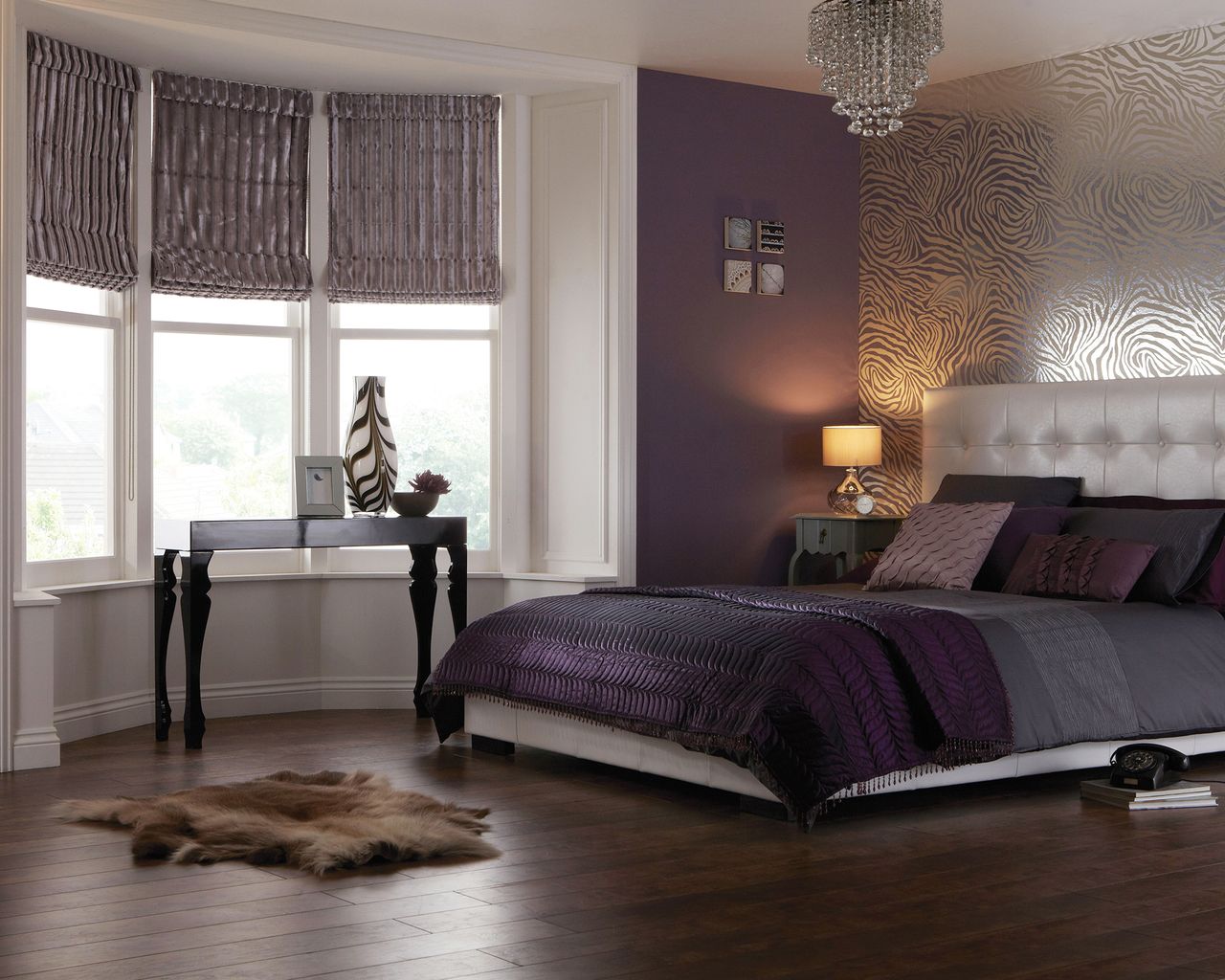 Want to add chic safari vibes to your bedroom? It's time to unleash your animal spirit through your interior style.
A modern twist on the purple and grey bedroom ideas, this zebra feature wall adds fun to an adult master bedroom. Watch how it glistens when light bounces on it. And as a vegan friendly idea, The faux fur rug breaks up a dark wooden flooring design.
And just look at those luxury chenille roman blinds! This French fabric, named after the caterpillars fur it resembles adds a lovely ribbed texture to your windows for a fuzzy 3D effect.
The statement chandelier lighting idea will certainly make you Queen of the jungle!
9. Add gold accents for an art deco-inspired feel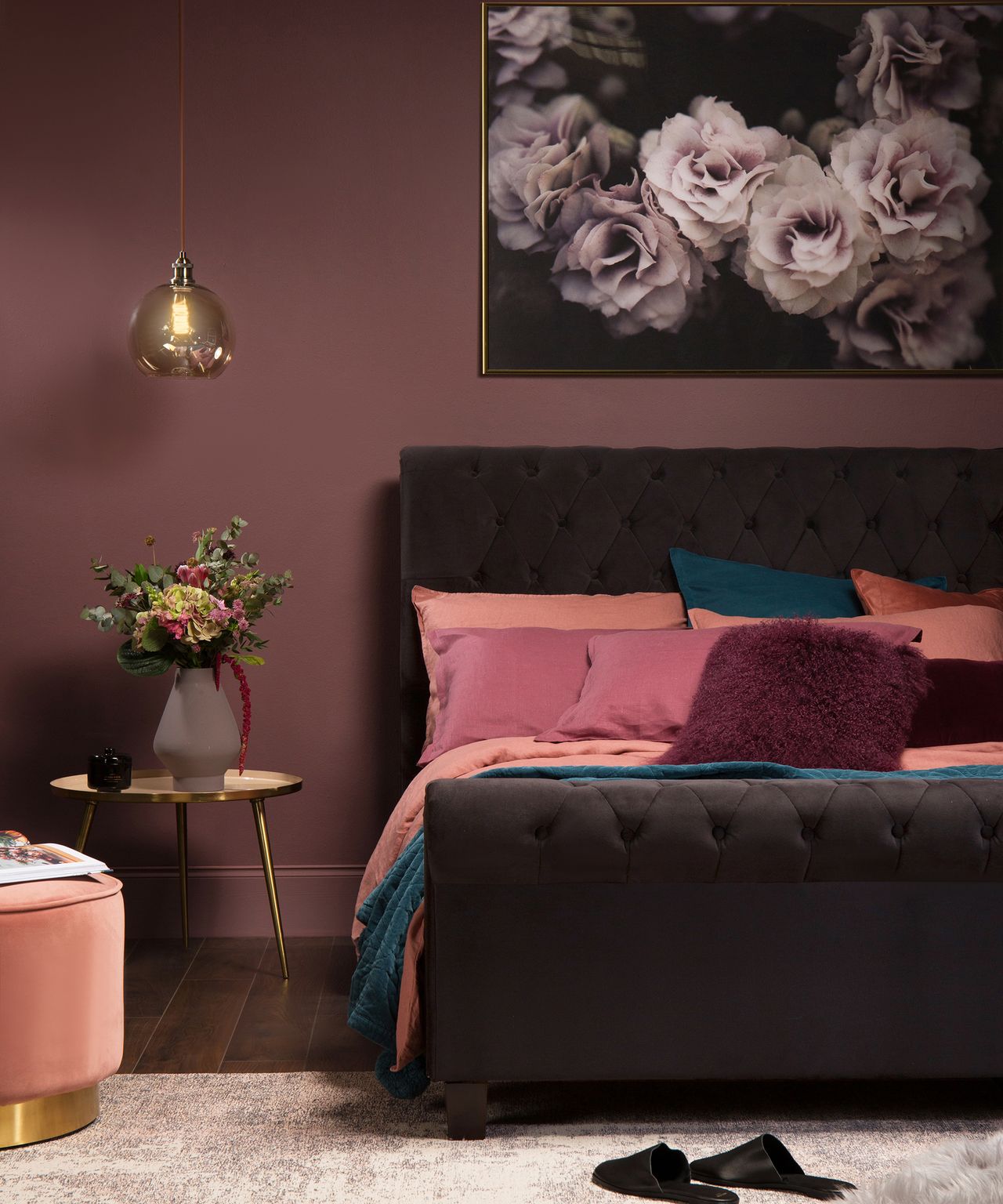 Peachy pinks, corals and teals are playful hues that add young, spontaneous vibes to your bedroom scheme. But when coupled with purple and gold, they take on a grown-up façade inspired by the art nouveau era. Especially paired with this chocolate-purple wine wall.
Adding a glamorous speakeasy atmosphere to your sleep space, gold accents in the form of side tables, lighting and seating add a trendy touch to this room. Bedrooms aren't just for sleeping in, so this plush pink stool is perfect for putting on your heels and fastening the zip on your glad rags. A little party never killed nobody!
This chesterfield bed also adds swoon-worthy vintage bedroom vibes and the dark mauve is a delightful alternative to the traditional brown in a purple bedroom idea.
10. Add a purple printed wallpaper design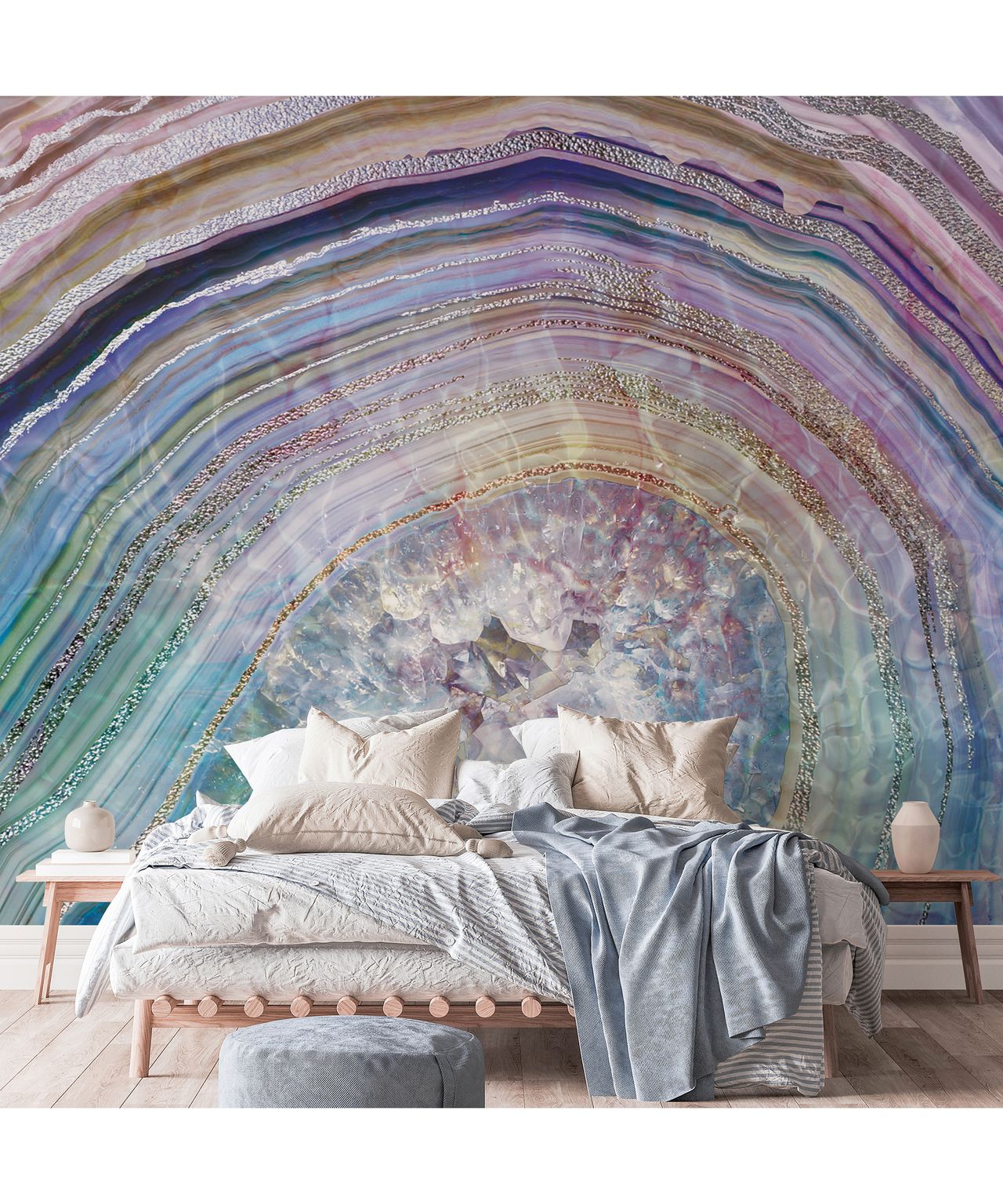 Practical and stylish a printed wallpaper design can work wonders in a purple bedroom design. But, before you go in search for any old wall covering, know that motifs stretch way beyond floral designs or stripes.
Or, as Martin Waller, Founder of global design brand Andrew Martin, says, 'wallpaper has a huge impact on the mood of a room so it's key to get the design right. Opt for darker, more dramatic tones such as purple or navy to make larger rooms appear more intimate or choose lighter hues, such as grey to create the illusion of space.
'Traditional patterns often suit period homes better, whilst kitsch patterns can add a sense of fun. Don't be afraid to combine different patterns.
'Mix classic designs such as stripes or florals with exotic styles such as ikats and kilims. Avoid making the space look too busy by choosing patterns in colors that complement each other.
As a trendy teenage girl bedroom idea, why not play with the idea of a metallic geode pattern? With its stunning glitter effect, it is the perfect backdrop for Instagram selfies and TikTok videos. Keep all other accessories super simple and let the motif do all the talking.
11. Add lilac accessories in a rustic bedroom idea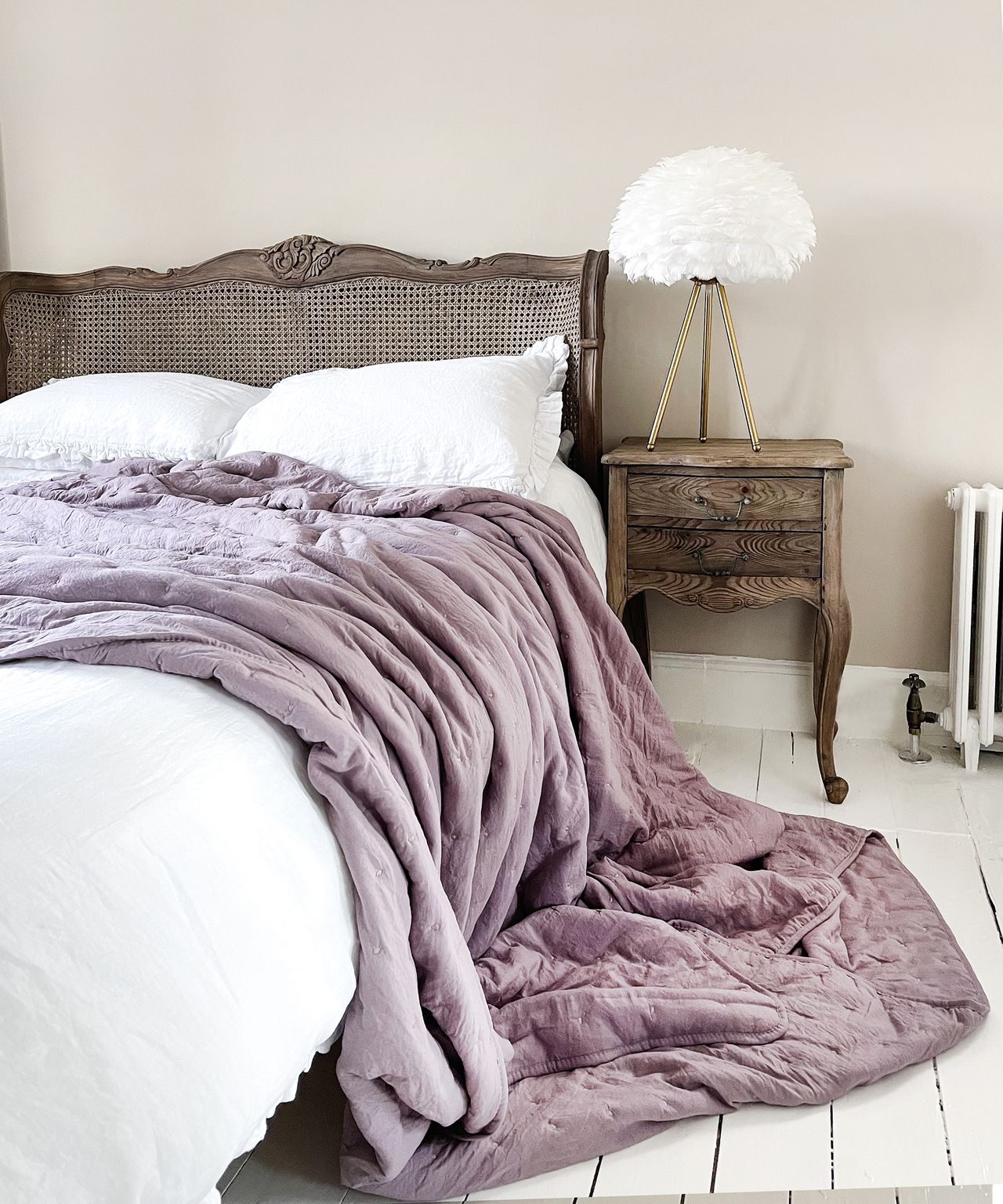 While purple might seem a 'harsh' color to dress a bleached wood and white rustic bedroom idea with, lilac is our 'light' in shining armor when it comes to this color palette.
Sitting prettily between pink and purple, this bedspread by The French Bedroom Co is versatile and easy to style. Coordinate perfectly with shades of pure white, ivory and cream or against natural brown, rattan furniture or even painted grey furniture.
Dreamy and princess-like, you'll swat Prince Charming away in favor of a few more hours of sleep!
What colors go with purple in a bedroom?
Francesca Birch, Designer at Danetti says: 'Balancing light purples with shades of grey will help ground your interior and avoid it looking too sweet.
'Using a taupe based grey will create a warmer color palette. However, using a blue-based grey will create a cooler, more contemporary look.
'Metallics will help add warmth to a cool color palette. Brass and Copper are ideal for pulling out warmer tones in your greys and purples.'
And Pam Johnson, Head of Buying at Bensons for Beds says: 'Purple is a harmonious and calming color to use in the bedroom. If you go bold on the walls you can still coordinate your headboard and divan with pale tones – Plum works beautifully against darker walls.'
'Paired with soft greys, light woods and accents of gold complement the look for an elegant bedroom scheme.'
What is the prettiest shade of purple?
Rob Abrahams, Co-Founder COAT Paints says: 'Purple can work really nicely in bedrooms, creating a richness that can mean a super cozy feel.'
'Softer shades of purple can feel luxe but without being vivid, which is important in a bedroom. Deeper shades of purple work well if you want a dramatic and moody look. 
'Brighter shades can work but we'd always use them to create definition on a feature wall, such as behind the headboard. Pair purple with warmer neutrals and off-whites rather than grey tones to bring out the richer notes of the color.'
'Lavender has a careful balance of pink and lilac undertones. It is perfect for both north and south facing bedrooms.
'We would recommend you use this shade as an accent color across two adjoining walls or on all fours walls to bring pretty-with-a-punch to your bedroom decor. Purple done right can be incredibly invigorating and uplifting bringing unique personality and power into any space.'
While Nina Tarnowski, Founder and Designer for Woodchip & Magnolia says: 'Create a blissful bedroom scheme with purple, its soothing tones are perfect for the bedroom.
'Steer away from sickly purples in favor of lilacs and lavender and adorn all four walls for a spa-like room that you can't wait to escape to at the end of the day.'
Lastly Ruth Mottershead, Creative Director Little Greenesays: 'Bedrooms are a wonderful place for embracing a color you love.
'For an intimate effect, opt for all four walls, or create a focal point by painting one wall in a rich encompassing shade.
'Don't forget the ceiling: opt for a lighter version of your wall color rather than a stark white, for a soothing and considered look.'