Modern rustic living room ideas – the expert guide
Modern rustic living room ideas have a soothing quality. Revolving around soft colors, raw edges and natural materials, they become places you instantly feel relaxed. 
Of course, you don't have to live on a farmhouse to achieve this look, as its principles work well in the city. We've asked our favorite experts for their insight on piecing this vibe together, one handmade and handworn piece at a time. 
Use reclaimed terracotta tiles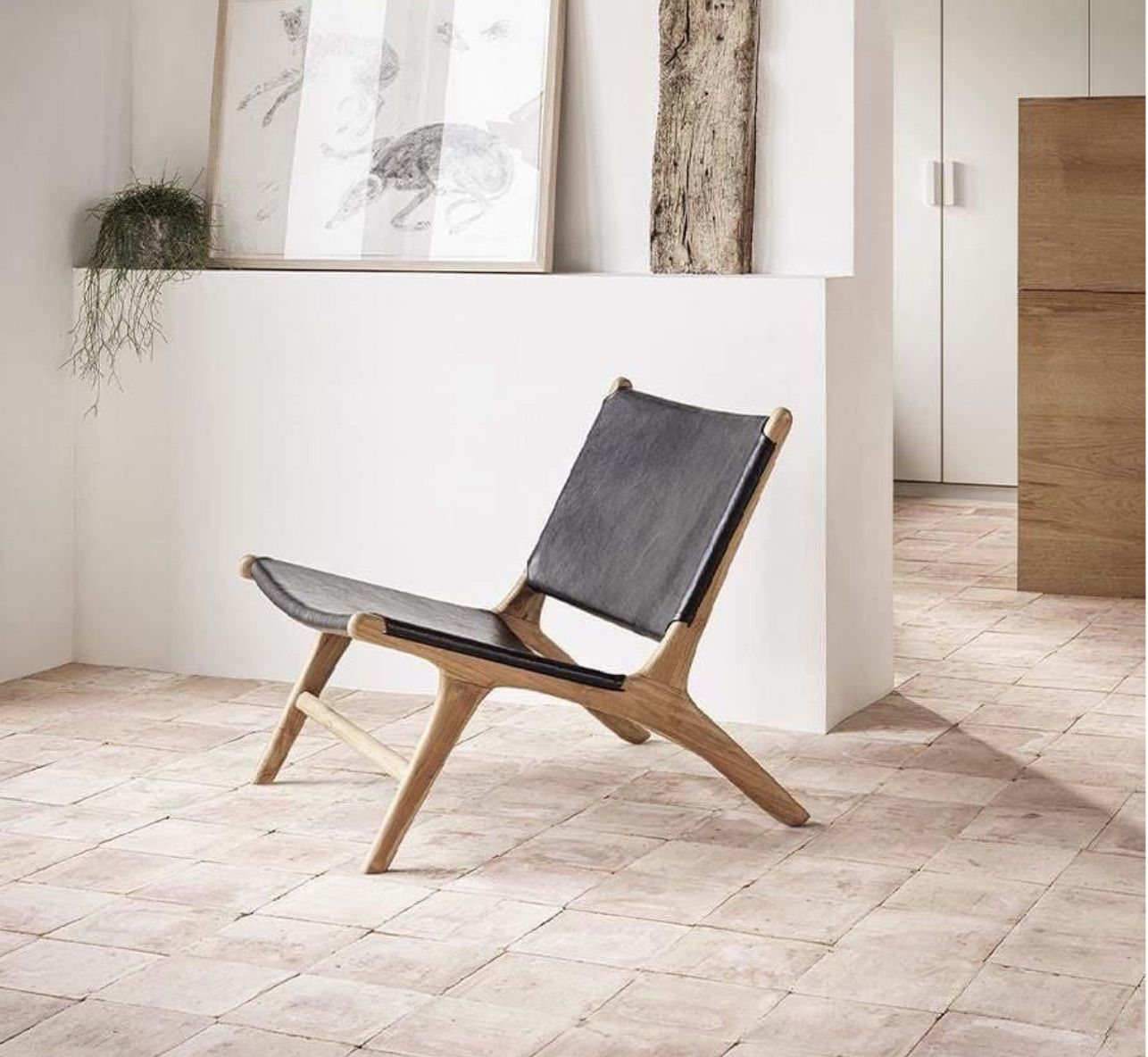 Renowned for its use of reclaimed and natural products, Bert & May is possibly most famed for its highly original tile selection. A go-to for those seeking out a signature floor tile with a chalky, reclaimed look that pairs perfectly with modern rustic living room ideas. 
Lee Thornley, the founder of Bert & May, first became aware of the benefits of rustic products when he built a house in the hills in the south of Spain. He invested his innate creativity into building a traditional-style Spanish house, a casita built around a courtyard, every room of which has been decorated with local Spanish products, including, of course, terracotta tiled floors. 
Now a staple in the Bert and May product offering, Thornley says, 'We have always been fans of the rustic look at Bert & May. For us, the key to a successful rustic scheme is a careful balance of authentic materials and simple color palettes' explains Thornley. 'The best rustic interiors do not shout, instead, they let the beauty of the natural finishes do the talking. Tiles are a great place to start, whether it's some decorative reclaimed antique patterns, plain terracotta, or contemporary encaustic tiles; they are highly functional and forgiving – ideal for countryside living where they'll need to withstand wet shoes! Terracotta tiles have a timeless appeal and lend a raw edge that is perfect for a rustic finish; the earthy tones are easy to work with and suit interior as well as exterior spaces. Reclaimed terracotta tiles will have more wear and variation of color, while handmade contemporary terracotta tiles offer a more subtle tonal variation. I'd always recommend using a terracotta floor tile, especially if you're looking to achieve timeless rustic charm in a living room!'
Wooden wall paneling, but not necessarily as we know it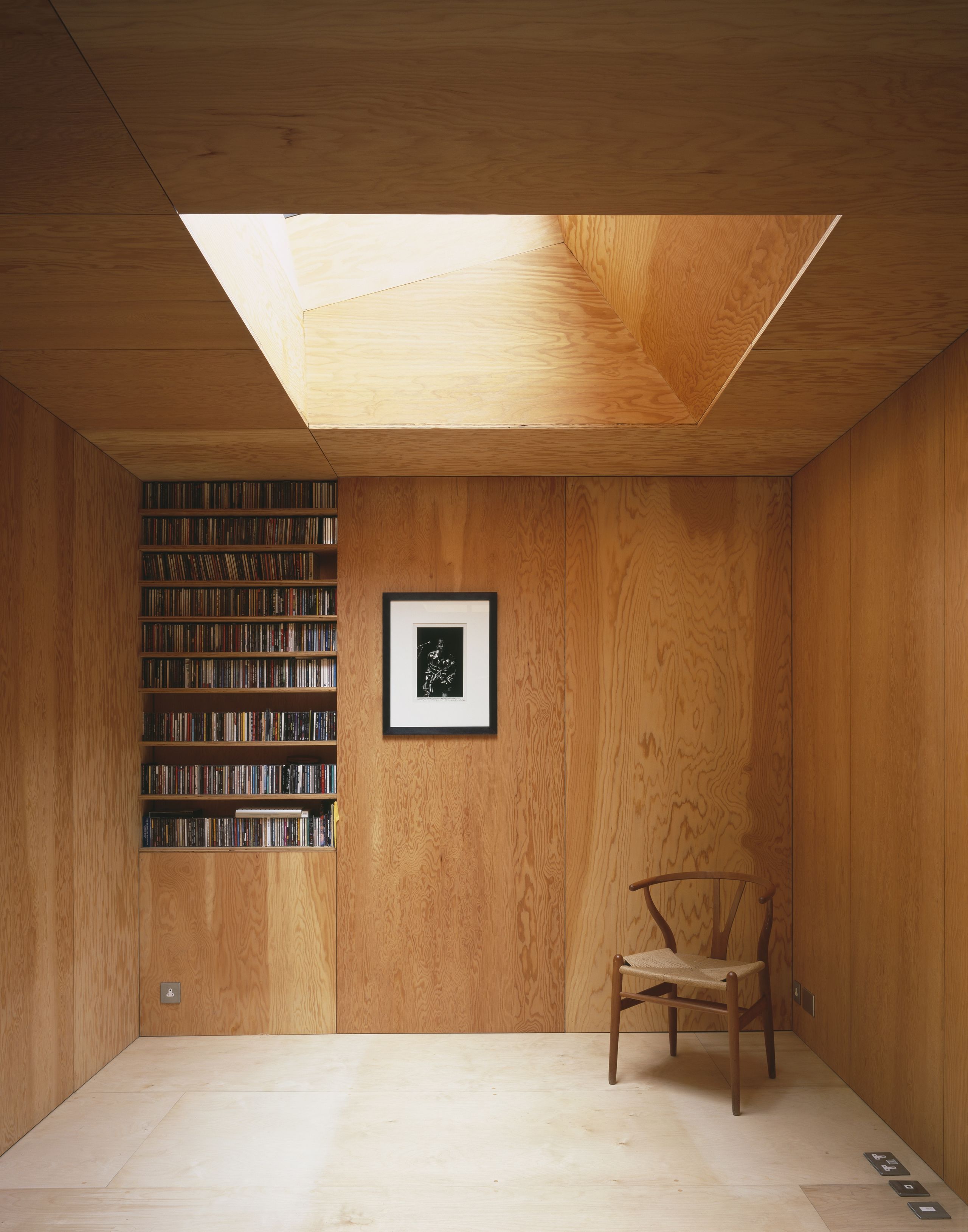 Ah, you might think that when discussing modern rustic living room ideas we would pull out ye olde shiplap wall paneling, but there's actually a different way of bringing wooden wall paneling into a living area, and for it to be chic and not too rustic. 
Some wooden wall paneling can be a bit, well, traditional looking. And shiplap can quite quickly become a little dominating. However, architect and designer Jonathan Tuckey has worked wooden wall paneling in a way that has more of a mid-century chic vibe – whilst still rustic – as opposed to 'we've seen this before'. It's sleek and it's warm, one of the nicest living room color ideas – it's distinctly architectural and stylish, whilst all the while remaining rustic at heart. We like this. 
Tuckey says, 'Frame House is the reconstruction of a Grade II listed mews house whose journey in navigating a path through challenging planning constraints created a design that both reveals and reveres its history. Acting as storage for horses and carriages, the mid-19th Century coach house originally served the grand Victorian houses behind. From the outset, the ambition was to create a simplicity in a form that echoed its past, and feature an honesty of materials whilst functioning as a home. The use of Douglas Fir and Birch plywood for the paneling, materials that were not at the time widely considered innately beautiful, appear refined through meticulous craftsmanship and simplicity in detail. It's probably what would have, at the time, been considered a rustic material, however, its reintroduction is all about the application and finesse!' says Tuckey. 'With the varying tones of the timber grain, skilled craftsmanship elevates the modest palette of materials to create its restrained, soft and reclusive character.' he says. In response to a distinct lack of windows at the rear of the property, a traditional concept so that the inhabitants could not see the grander masters house across the lawn, Tuckey says, 'To get around the lack of light at the back of the house the suspended ceiling was opened up and Douglas fir panels enveloped the inner skin of the structure, with the insertion of new skylights that filtered light down from above.' Result? Ingenious. A cozy yet chic house, full of modern rustic living room ideas that have an instant warmth thanks to the Douglas Fir wooden paneling.
Whitewashed eco walls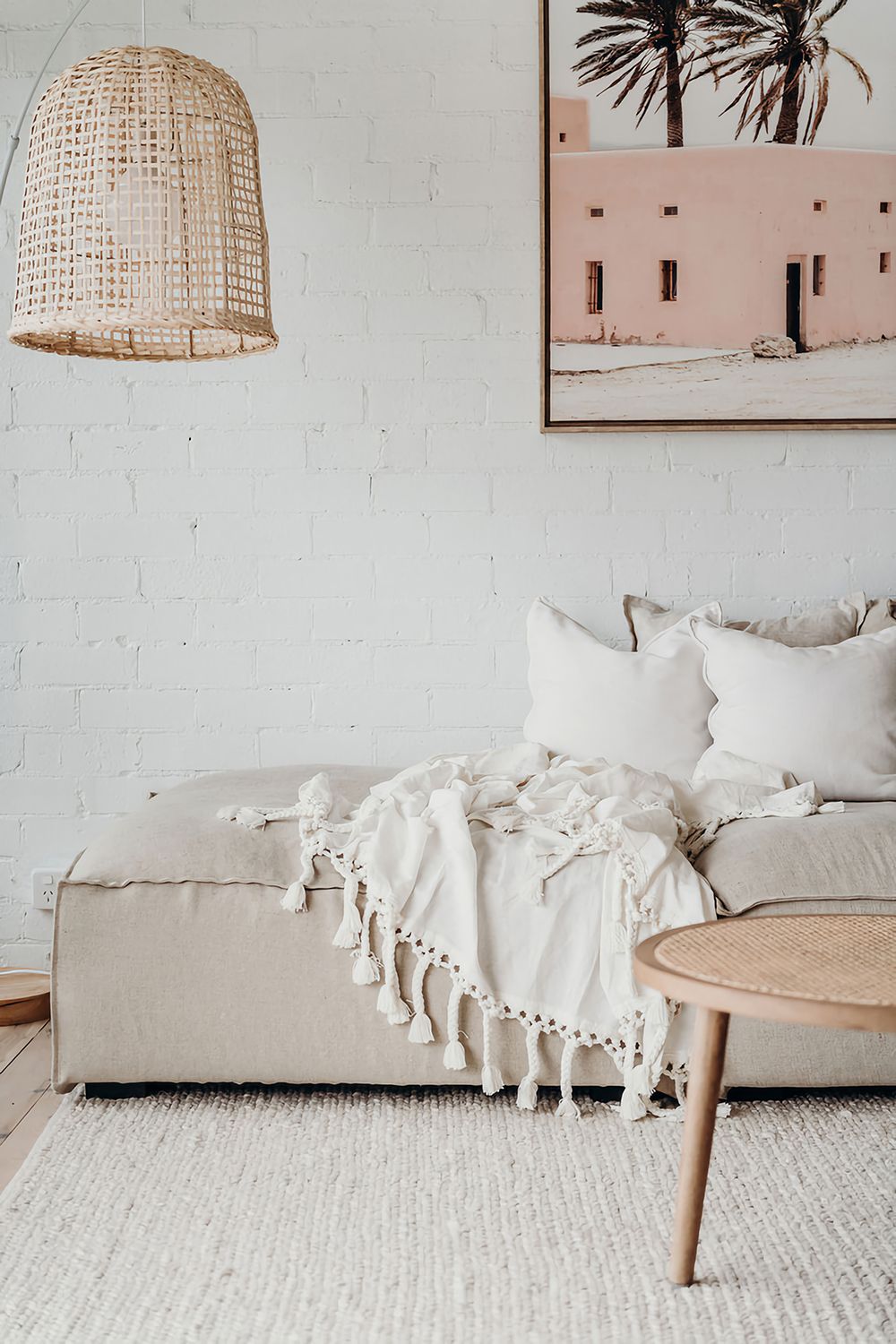 'Whitewash is one of the most beautiful surface finishes. It is one of the best white paints for interior walls because it is true white without any other undertone. Like the white of a Greek Island, it is soft and chalky looking. It's super easy paint to use and it's the perfect makeover color and finish – fresh, bright, white!', says Bronwyn Riedel of Bauwerk. "It also has many benefits, thanks to its natural glow and inherent properties. 
Reidel explains, 'The beauty of whitewash is in its make-up. Due to the calcite crystals in the structure of the lime, it has double light refraction. What does this mean? It means the paint has a luminous quality, in a completely different way to other paints, which makes the surface glow. Part of the fascination of whitewash is that you can easily paint coat after coat over time, every coat improves what is already there. Essentially, the more you whitewash, the more brilliant the appearance of the paint! However, even if you don't repeat the coats regularly, it always looks beautiful no matter how old or worn away.' 'Traditionally whitewash was re-applied each year as a ritual in many cultures. It was a Springtime tradition. People whitewashed because lime-based whitewash has natural abilities to disinfect and clean surfaces', says Reidel. 'Its high PH level means that microorganisms find it hard to grow, so it helps protect the building against molds, and more importantly, it means that no biocides or fungicides are required to be added to the manufacture of the paint, unlike other paints. But best of all? It's truly beautiful.'
Introduce natural, undyed tactile fibers and fabrics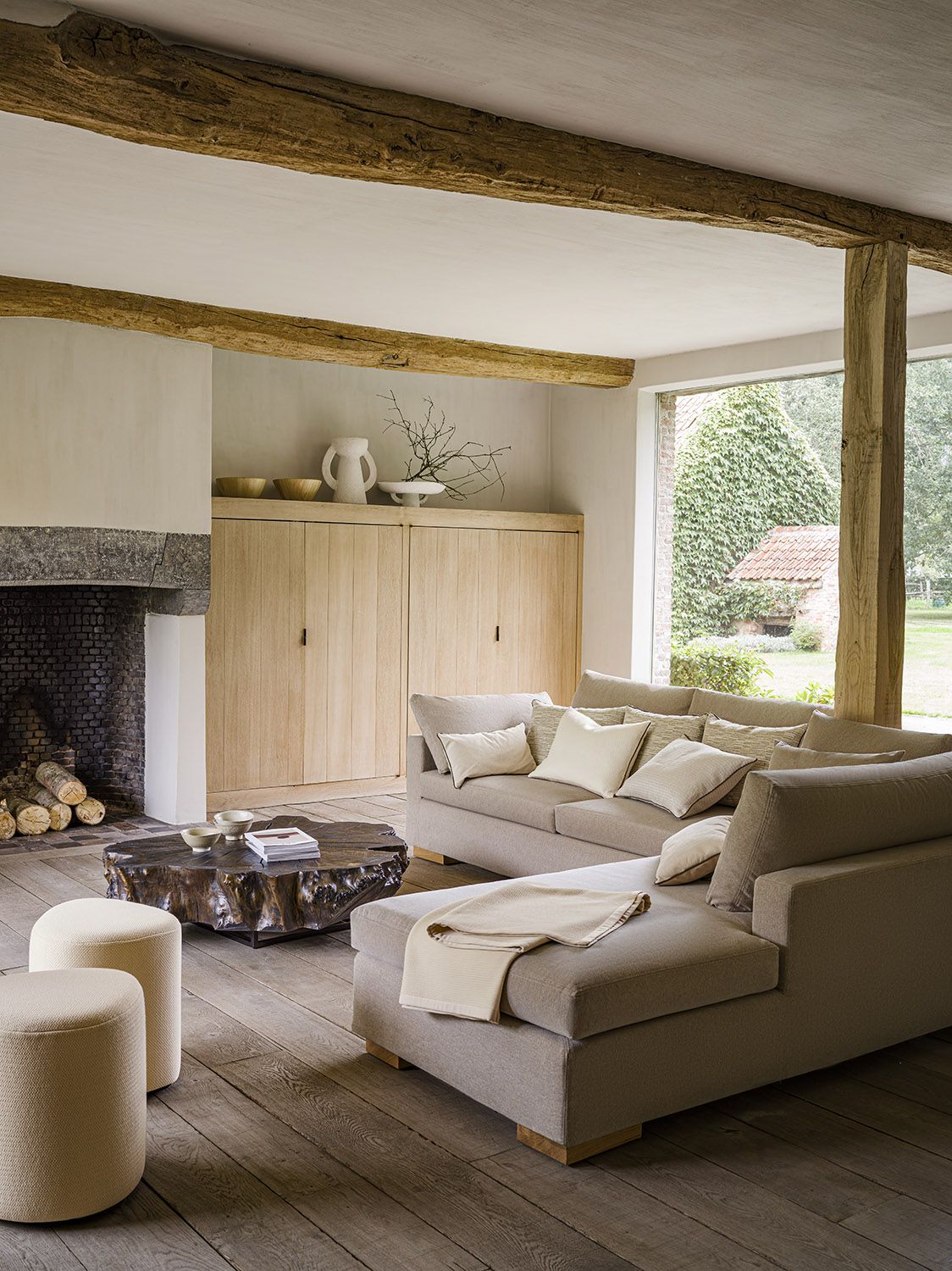 Putting together modern rustic living room ideas can very often involve getting tactile with your touchy-feely aspects in the room. Furniture, rugs, and wall surfaces can benefit from tactile materials. Think boucle, deep pile, and handwoven fabrics and wall coverings. 
And to achieve a rustic aesthetic, modern furniture ideas veer towards the rougher and most natural fiber finishes from this selection. Pierre Frey, one of France's leading fabric houses and a must-know for interior designers, supplies a range of fabrics perfect for creating a rustic yet comfortable living room aesthetic. 'Strongly inspired by traditional hand weaving and tapestry techniques, the Natecru Durable collection, available in soft, natural ecru and grey shades, is woven exclusively in the Pierre Frey workshops in the North of France,' says Frey. 'It's made from a selection of recycled materials, too. 'Recycling wool and cashmere yarns, avoiding dyeing, and in addition going to lengths to source organic cotton, eco-friendly cultivation of linen and hemp' is the best way to create a natural and rustic feel with fabrics, says Frey. "Apply such fabrics on sofas, chairs, drapes and other surfaces which can take a fabric covering. Think neutral, think natural, think tactile."
Expose your ceiling beams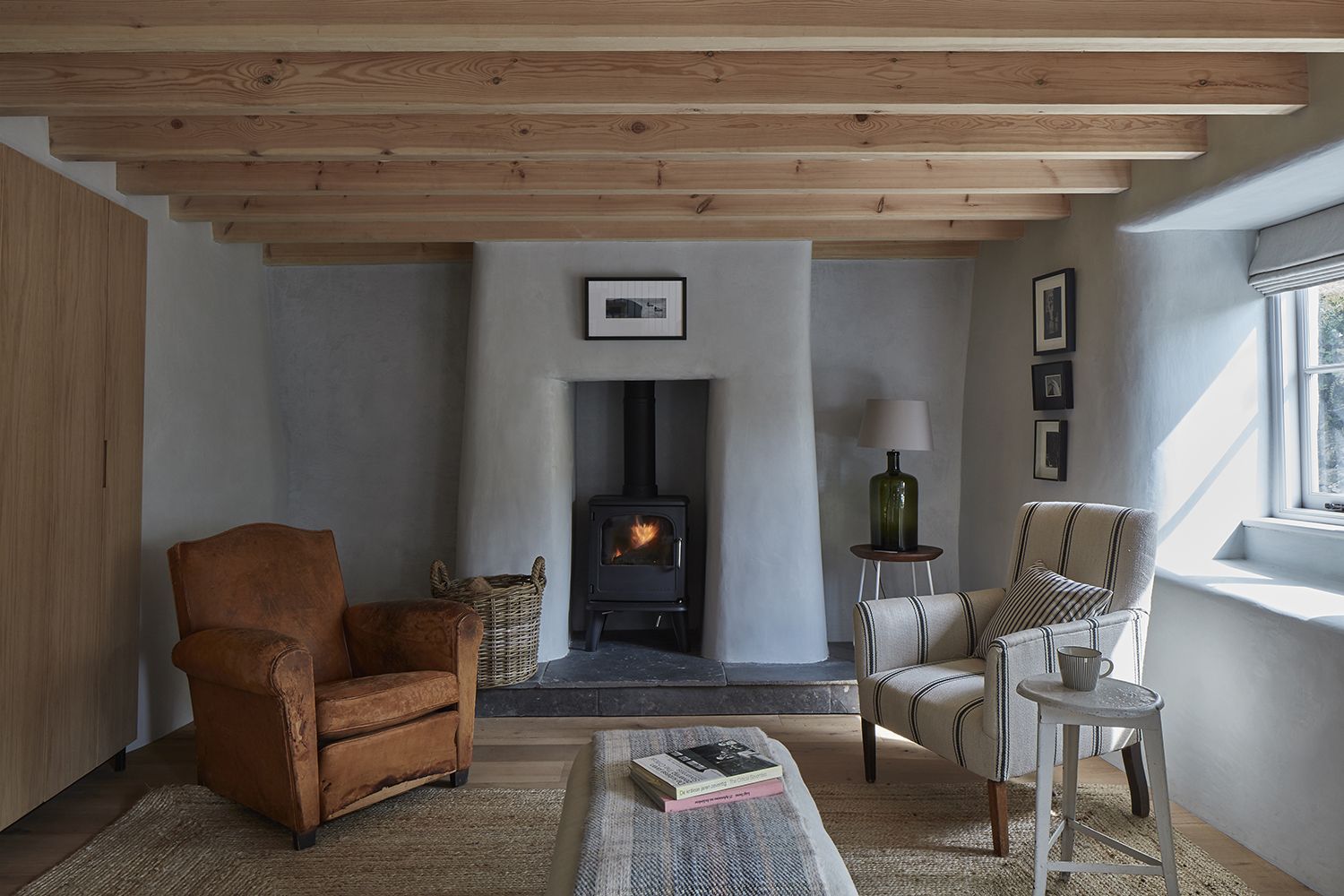 It's come to our attention that Jonathan Tuckey does a modern rustic living room ideas rather beautifully (a deliberate understatement, if you didn't detect it) which is why you'll see his name pop up more than once in this feature. 
This is a different project from the one mentioned above. A fisherman's cottage in Cornwall, England, where Tuckey has worked with exposed wooden ceiling beams in the living room. 
Tuckey says, 'This 400-year-old fisherman's cottage sits along the Cornish Coast on a hill that gently slopes towards the water just a mile away. The client loves life within its breathing walls, and are passionately fond of the house. The billowing and irregularly shaped walls and stepped floor levels within the house are particularly special in a way they are reminiscent of the altering forms of the landscape even within the routes of the house. When working on this project, we cherished the deformed yet beautiful shape of the roof outline, a defining form of the old building. The beams here are an example of a new addition inserted in contrast with the old. They are new beams, but they really complement and emphasize the original, rustic aesthetic of the building', explains Tuckey. 'The clients' ambitions were to achieve a house that is dependable, reliable, raw – rugged like the coastal landscape, and be able to age naturally and also carry and bear the outdoorsy lifestyle that would be demanded of it. These thoughts were the basis of many material choices, such as the local reclaimed slate used on the floors, hallway walls, and roof, the lime plaster, the hardwood throughout, and of course the beautiful beams! The design avoids reliance on over-complicated fittings and details, and instead uses opportunities given by natural daylight, letting the character of the ancient cottage be legible. Like the material palette, the furnace and furnishings have been selected in the same way – rich, robust, dependable, as something that could exist and sustain family life here for many years to come. By the way, a wood burner is an equally rustic and comforting addition to a room, along with the beams', says Tuckey.
A leather armchair. Or two!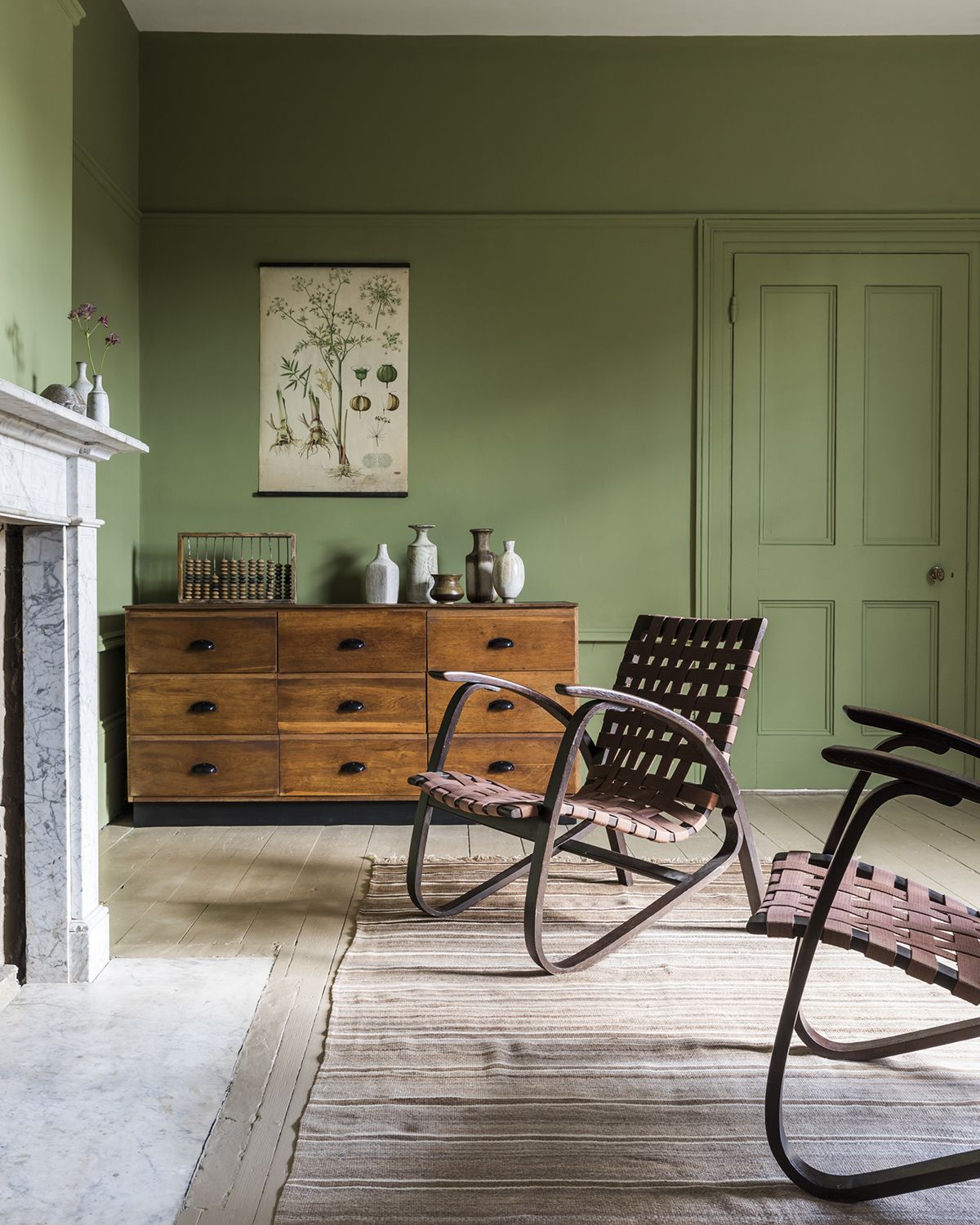 A bit like the perfectly patinated and worn-in leather club chair in Jonathan Tuckey's fisherman's cottage in Cornwall, pictured previously, these beautifully aged leather armchairs from Merchant & Found bring a certain rustic charm to this vivid living room swathed in one of the best green paints. 
One of the best modern rustic living room ideas comes from choosing the right chair, finding one that has just the right level of wear and tear. You don't want it to look new, but at the same time, you also want to avoid going too scruffy. It's all down to personal opinion, of course, but we think one or two scratched or a little rip in the leather is completely acceptable. One might say, that's rustic goals! 
Paul Middlemiss, founder of Merchant & Found, comments on the wonders of adding a leather chair to a rustic room. 'Vintage pieces of furniture give a place soul – whether it's a hand-me-down through the generations or a design classic you've lusted over for years and wears its scars well. A classic and well-worn leather armchair or ecru linen that has softened with many washes never fails to bring rustic charm to a lounging spot!' says Middlemiss. Indeed, nothing beats age on a well-made piece, it seems. Middlemiss explains, 'Not only do they add depth but a vintage leather chair offsets contemporary pieces in the room. The level of craftsmanship from the period which, here at Merchant & Found, we specialize in, is incredible. The joints will be handmade, upholstery immaculate, old screws are sometimes works of art, and old timber has a deeper color and feel. It is difficult to fake age and the best pieces wear it well.' Middlemiss has opted for the look in his own home, saying, 'In my own home I have a pair of 1930s steam bentwood armchairs by the designer, Jan Vanek-up Zavody, ooze originality and is extremely comfortable. Our customers are discerning and know about design – they appreciate quality and can mix and match styles. My advice is, if you love a piece, buy it! and it will add an essence of rustic charm that sings.'
A touch of pattern and print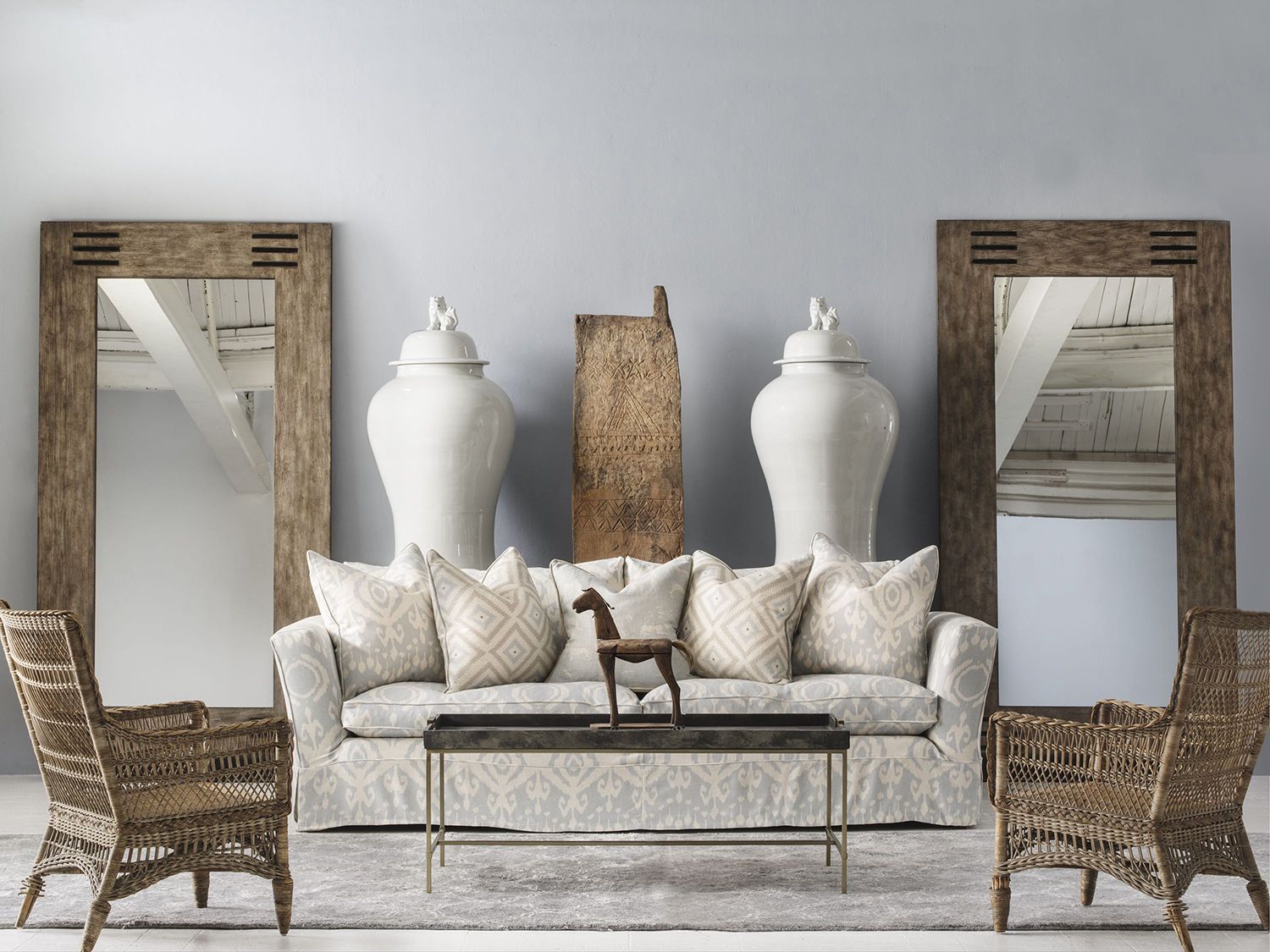 A rustic aesthetic can be brought to the fore with the use of age-old inspired prints and patterns, too. Cushions which are neutral, but with an Aztec print, bring a calm and timeless sense of style to any modern rustic living room ideas. Martin Waller, founder of Andrew Martin, says 'People are inspired by travel and wish to have permanent reminders of where they've been or would like to go. Many of us like to bring articles from far-flung places back into our homes. I don't think the Aztec look ever tires – we've seen it continuously in fashion and interiors for decades', says Waller. Looking for inspiration from all corners of the globe, Waller says, is the key. 
'This look spans all areas of the globe; from the Aztecs of central, and south America, Kilims from Turkey and Morocco, and ikats from the mountain villages of Indonesia', he says. And don't be too cautious to mix your prints and patterns up, either. 'Don't be afraid to combine different patterns. Mix classic designs such as stripes or florals with exotic styles such as ikats and kilims. Avoid making the space look too busy by choosing patterns in colors that complement each other. Materials like mirror, reclaimed wood and, as in the image above with the beautifully calm and serene neutral scheme, brushed linen, all add a rustic look and play with the eye to create the feeling of openness.'
Wood burning stoves and stone surrounds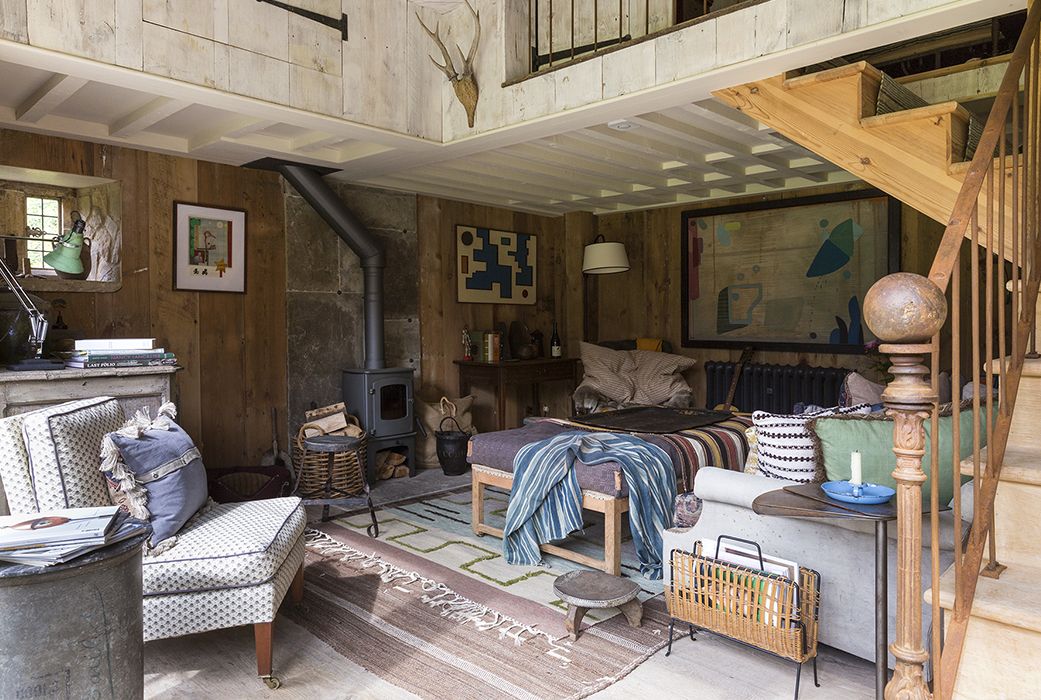 If you are lucky enough to have room for one, then an open fire or wood-burning stove is an excellent rustic addition to a living room. They immediately conjure back-to-basics vibes (in a good way) and there's all the romanticism that comes with being fireside too. Think campfires, long country walks, and warming yourself by the fire after a cold, grey day. Nothing, it seems, could be better than a real working fire, and it's often on the ultimate 'wish list' when people are looking, in particular, for a countryside home. 
In this barn design, London-based designer Christopher Howe has incorporated a wood-burning stove with a stone backdrop into a rustic barn interior. Its simplicity is its beauty. From its reclaimed wooden staircase and balustrades to the perfectly curated mix of relaxed and informal furniture pieces, this barn is all the rustic we desire!
Add in a rustic lamp or lantern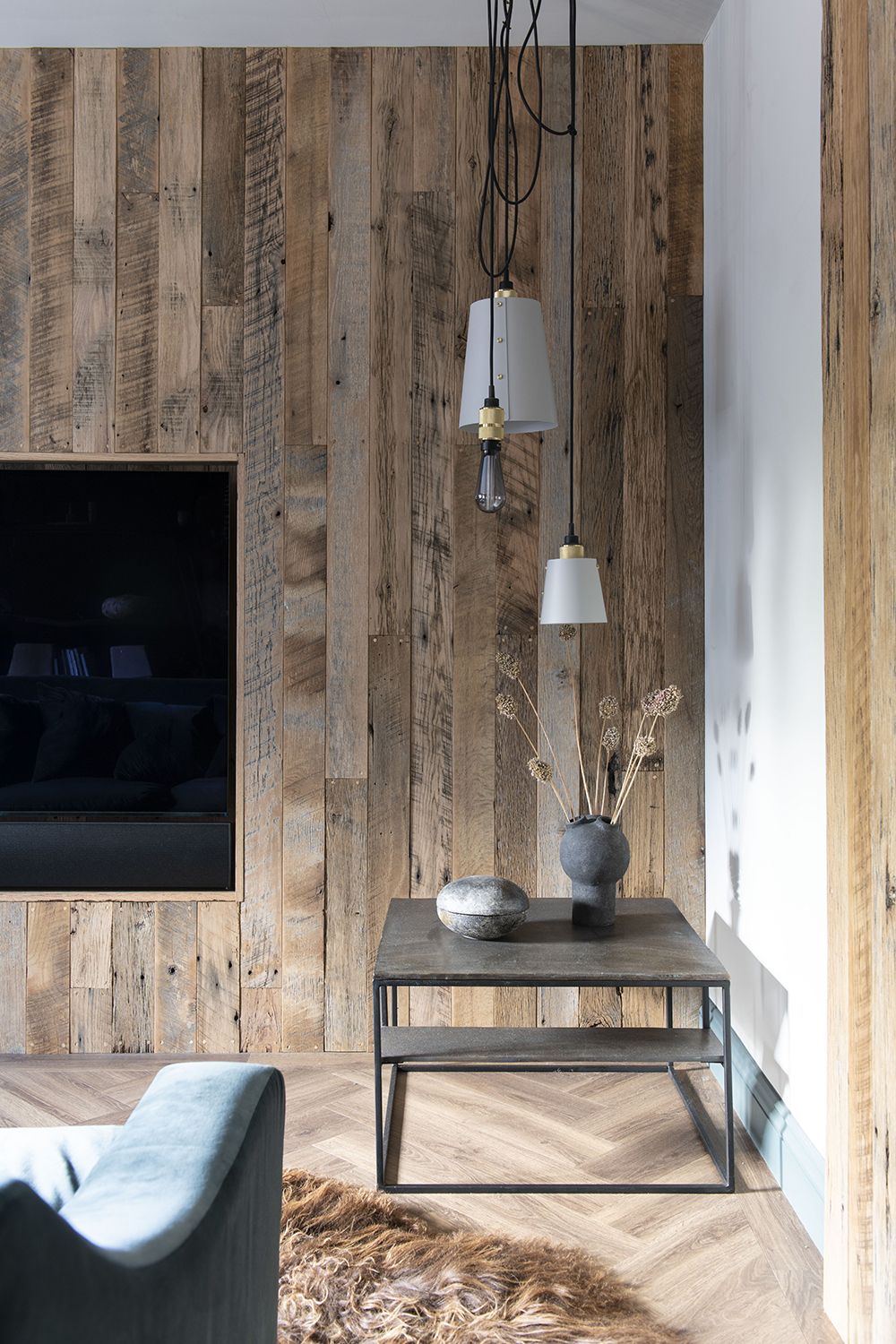 Shine a light? Yes! Opt for statement lighting that's ever so slightly rustic in style, and you won't go wrong. Whether you are opting for a full rustic aesthetic, or, maybe just want to bring in a few elements of rustic into the room, lighting is a great way to light up the living room and add a different element to the scheme. Gone are the days when design meant a perfectly shiny brass picture wall light – that was the 1980s! – things have shifted forward and we live in an age of interior design where even some of the finest and most elegant living rooms play host to lighting which is a little, how shall we say it, imperfect? A reclaimed designer table lamp from the 1950s which has a couple of bruises or slight battle scars? Acceptable. A metal lantern with a touch of rust around the hinge? Bring it in. And one of the quickest and easiest ways to introduce the slightly rustic look is by opting for string-style pendants, with an exposed – simple – bulb! 
Ben Stokes, founder of Kagu Interiors, says, 'Introduce industrial lighting into a country or rustic living space, i's a brilliant and sparky way to create contrast and balance the relaxed rustic charm with a modern and contemporary style. For best results group together a selection of silhouettes for an eclectic finish and always consider the length of the cables. If you are positioning pendants over a permanent fixture consider low-hung shades, they create a design statement and make great alternatives to table lamps', says Stokes.
Layer with a vintage rug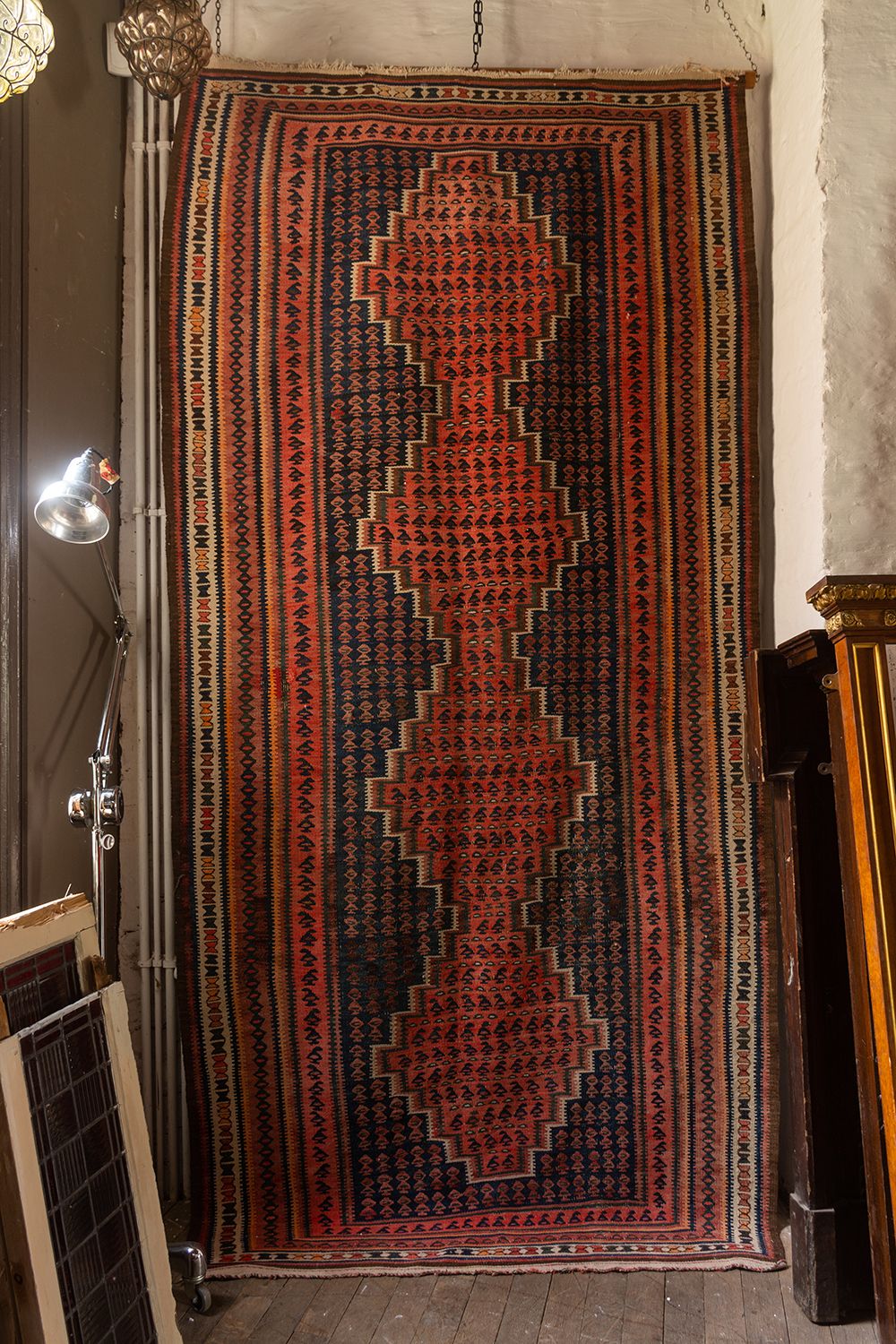 Layering can be vital in achieving a naturally developed rustic look. For example, one of the best modern rustic living room ideas is to soften the coldness that inherently comes with a rustic tiled room with a sumptuous vintage rug. Retrouvius, North West London's favored reclamation merchant and sustainable interiors destination, always has at least one fantastic vintage rug in stock. Why? Because it's a classic piece, and if you're designing a rustic living room then a second-hand, good quality rug should be on your list. Add warmth to a stone floor hallway or terracotta tiled living room with a runner or rug. Adam Hills and Maria Speake, who co-founded Retrouvius in 1993, sell a curated selection of furnishings and architectural salvage. Their design studio, with a fully-fledged team of interior designers and architects, roll out client design projects which herald the use of reclaimed. It becomes quite apparent, when looking at previous interior design projects by Retrouvius, that using a curated quantity of handpicked reclaimed items in a design project really can raise the bar in terms of quality. It is, quite simply, the most sustainable way to design an interior. Check out their furnishings, and their beautiful selection of rugs, on their website. Our final word? If you see a nice vintage or reclaimed rug you like, be quick! Due to the nature of these items' being, technically, vintage or antique, means that each one is unique.