Masculine home office ideas for him: 17 designs that mean business
We may call them our home office ideas for men, but these sophisticated looks can be adopted by anyone who wants to smarten up their working-form-home space. Because as remote working is now more widely accepted in today's society, you may well think it's time to invest in a stylish space to carry out your duties and check your emails.
No longer does a busy cafe or dodgy wi-fi connection in a public space cut it. Today's home office ideas incorporate the swishest of swivel chairs, beautiful bookcases and trendy tables that are not only practical, but damn right suave.
Our masculine home office ideas steer clear of chintzy florals. Instead, think dark interiors that add drama and ergonomic pieces that will help you seize the day in comfort. Some looks make full use of a study or box room. Others can be incorporated into a larger open-plan space. All will empower you to do your best work.
Masculine home office ideas for him
1. Choose a color inspired by nature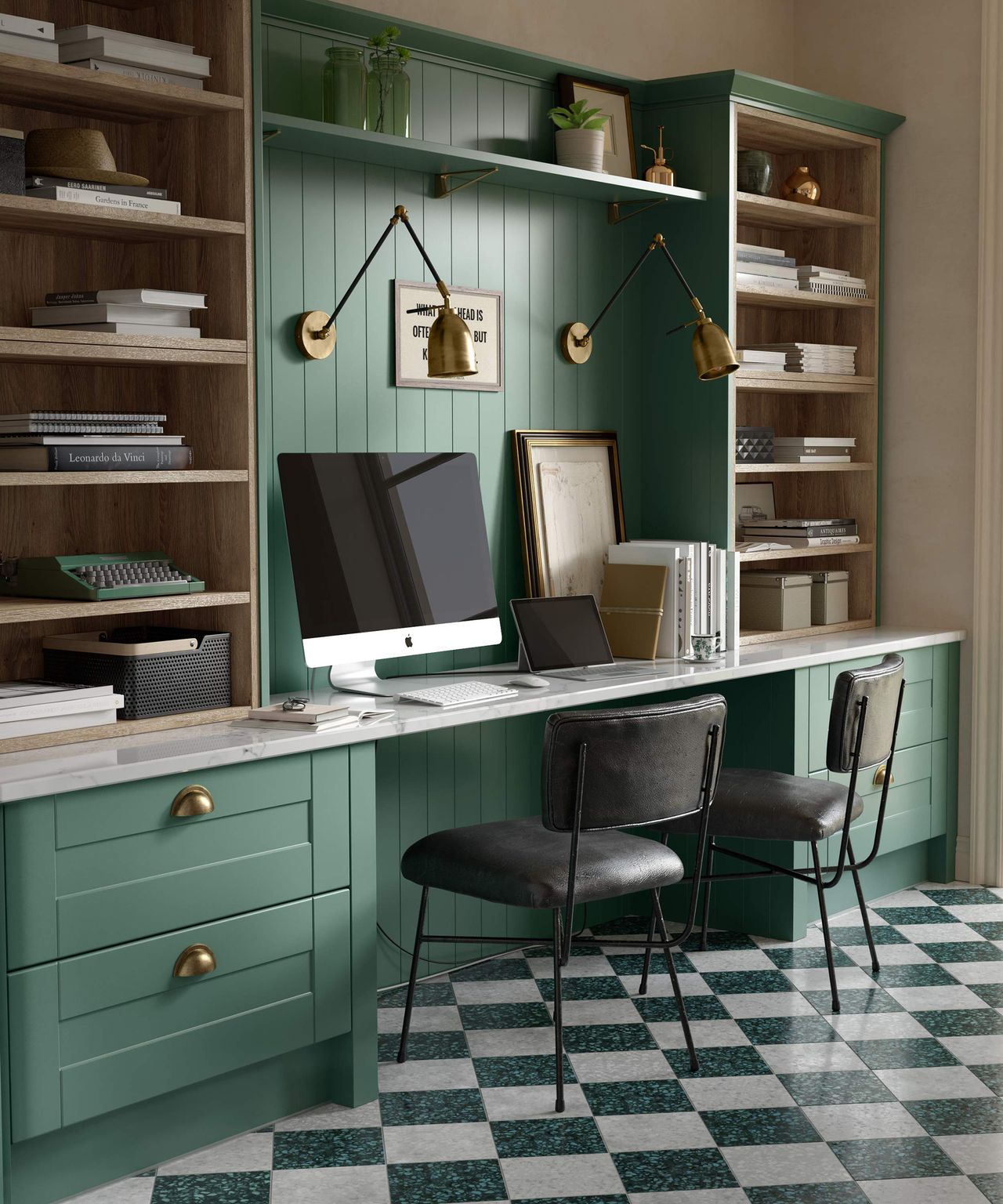 If you haven't got a dedicated office or study space for remote working, consider setting one up in a larger room. This home office uses shaker style units in the same shade as the adjacent green kitchen.
'Colors that help us feel close to nature are a perfect choice for forming an atmosphere that soothes the mind whilst encouraging creativity.', says Helen Shaw, UK Director at Benjamin Moore.
'Soft, muted hues such as sage green are tranquil in nature whilst also having a connection to botanicals and nature that help relax our brains and entice creative thinking.
'Equally, if you favor bolder hues, deep forest green works well in a home office, sparking the inspiring and tranquil images of natural greenery.'
2. Add grandeur with statement lighting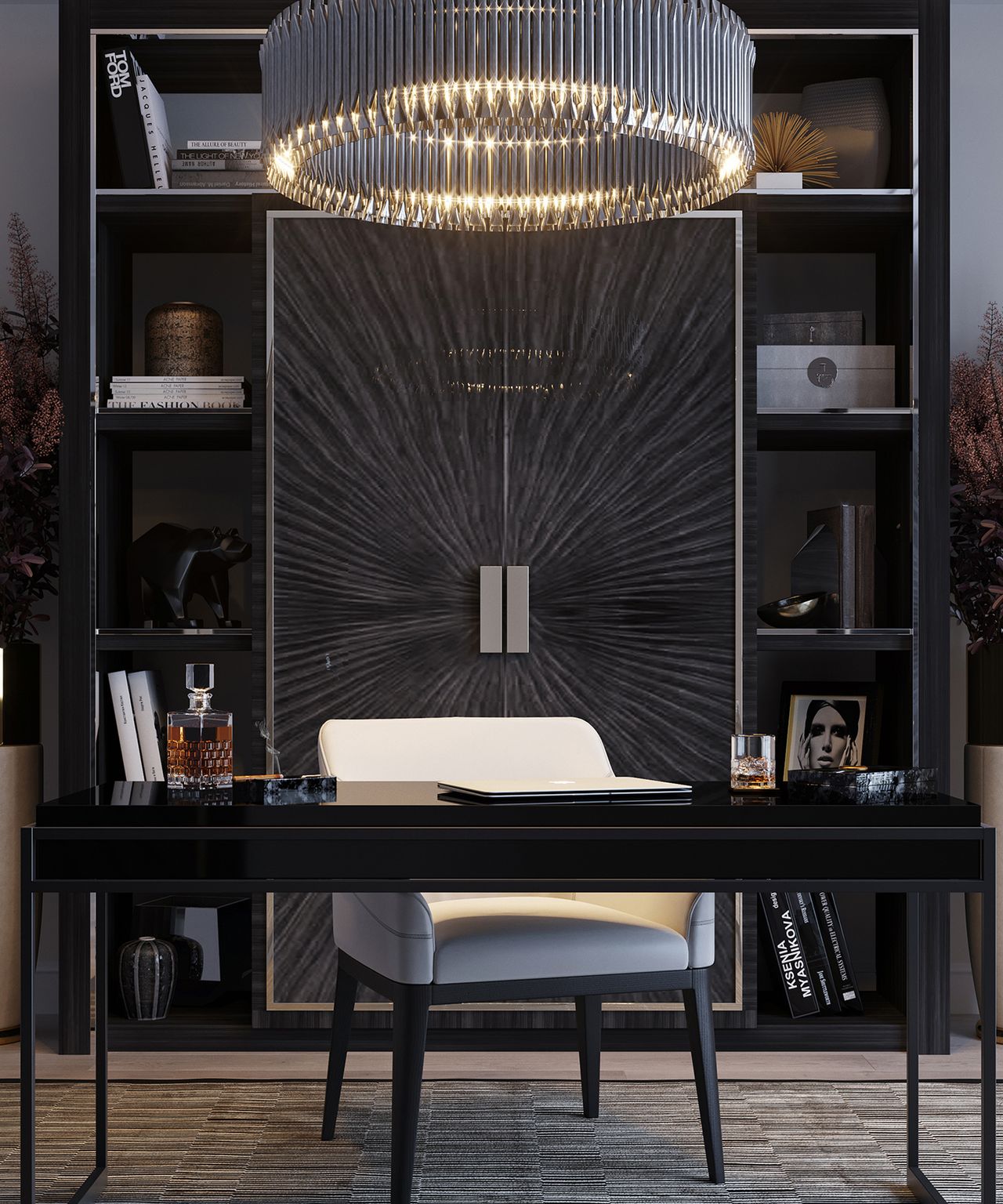 We are head over heels in love with this dark and dramatic home office for him.
From the statement luxury chandelier, to the chic white chair, these design-led elements have been styled to create a modern home office idea that oozes luxury.
The star of the show however, is the cabinetry in the background. This striking home office organization idea makes for a stylish and productive workspace, where paperwork and inspiration are within easy reach.
We suspect that with the Tom Ford hardback books and the whiskey decanter, the owner of this office is a fashion-forward city dweller who works hard and plays even harder.
3. Create an opulent space by incorporating marble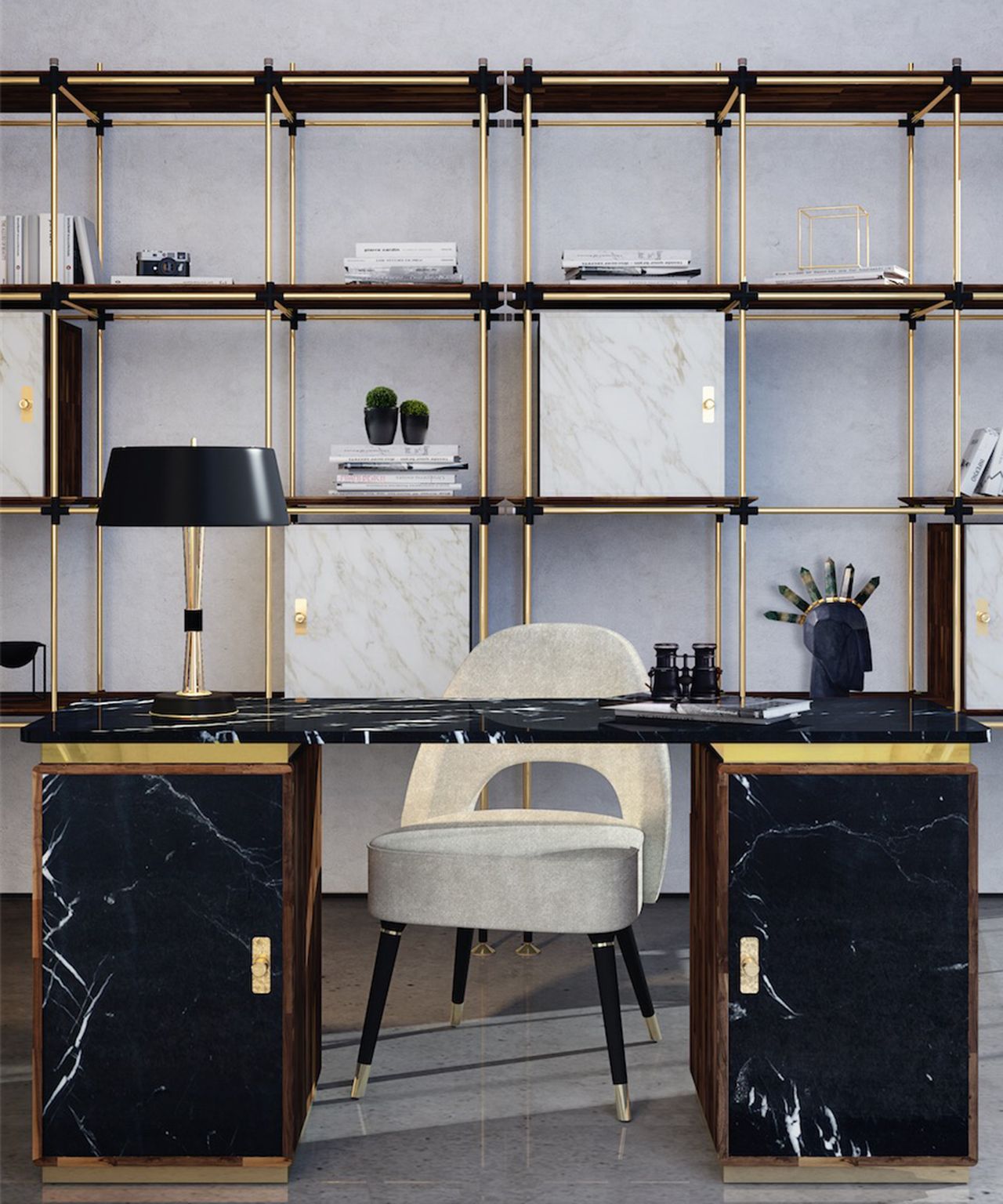 Marble has a wonderful way of magically making a room more luxurious. And the same can be said for these home office ideas for him.
This black marble desk idea pairs perfectly with the white marble and gold shelving idea. This boxy design works well to create a minimalist look for a man that likes to be organized.
The black desk lamp is the ideal desk buddy for number crunching or concentrating on more creative activities.
4. Channel Mad Men with a statement chair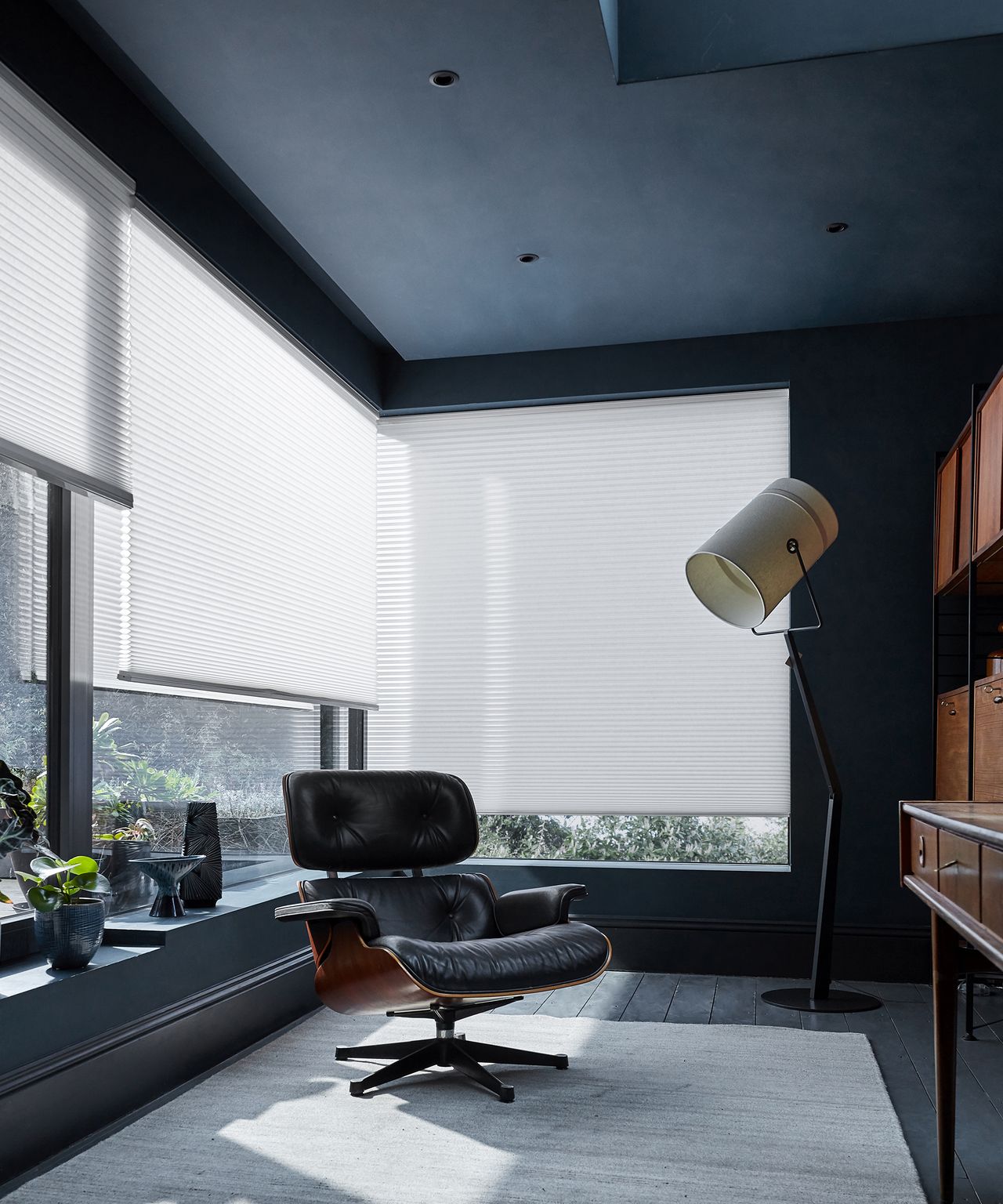 If your work day can feel like a constant battle through tasks and a fight to keep your head above water, find some joy through some noteworthy interior design.
Featuring black leather and quilted detail, this iconic Eames office chair is the ultimate seat for considering your next business move. It featured prominently in the TV Series Mad Men – a mainstay of the offices of high flying advertising agents Sterling Cooper Draper Pryce. 
Using black paint on the walls and ceilings also adds Mid-Century thrill to this workspace.
5. Create a dramatic scheme with dark flooring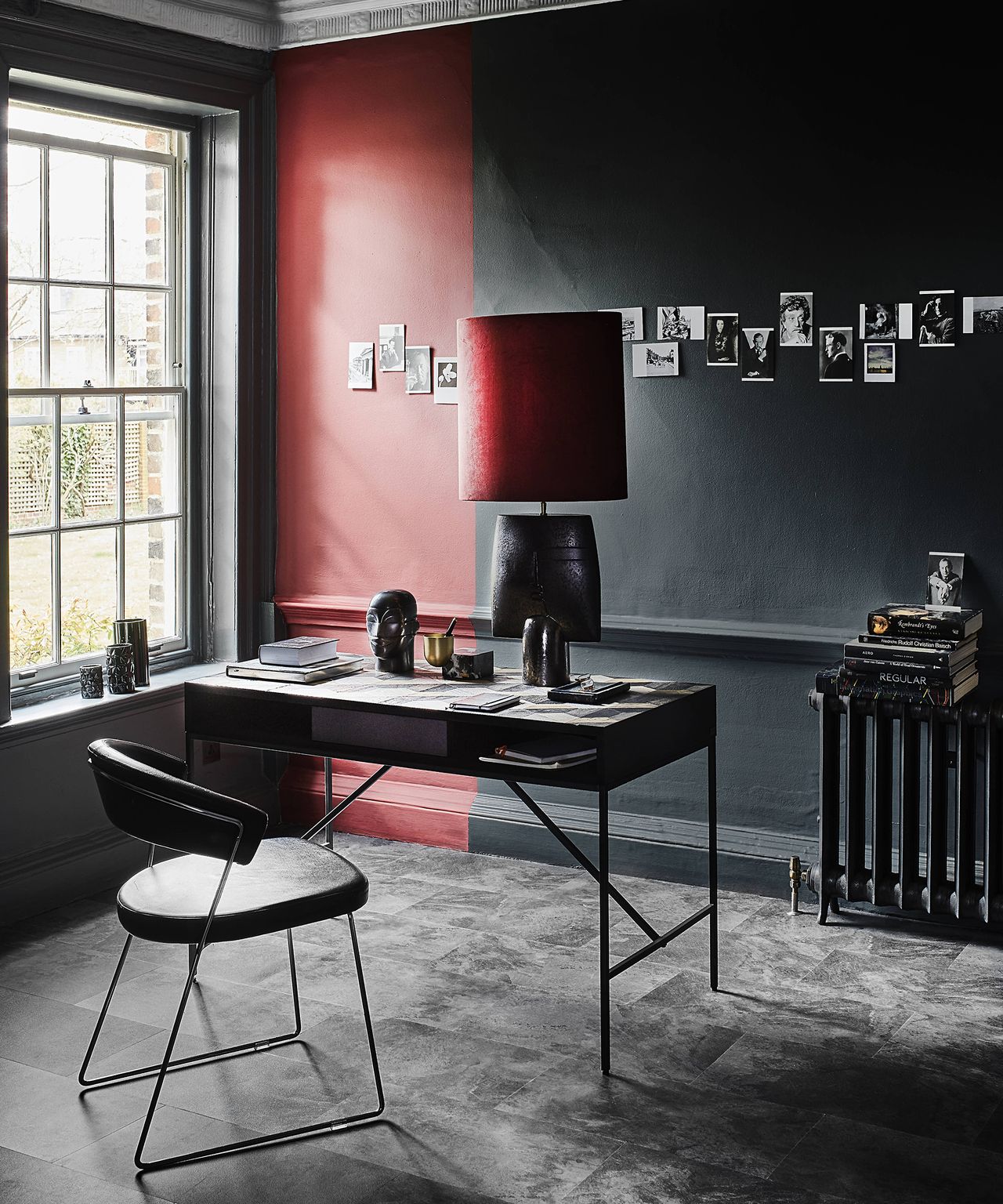 Give a masculine home office a bold and dramatic stone look with different types of luxury vinyl tile flooring.
Infusing his remote workspace with its dark black and grey slate, it will bring a classic look into your interior… and make accidental coffee spillages easy to clean up!
Suitable for use with underfloor heating systems, this is an idyllic choice for helping to keep toes lovely and warm, especially during early morning shifts in the winter.
A flash of red paint is one of many ingenious wall decor ideas that, when paired with a lampshade of the same color, adds fiery energy and warmth.
'Don't be afraid of introducing bolder shades.', says Daniel Snazel, buyer for hard flooring at Carpetright.
'Red works particularly well when paired with grey or black, creating a contemporary look whilst opting for a luxurious slate effect floor will ensure your office looks sophisticated.'
'When introducing contrasting colors into your office, keep your neutral shade to the largest sections of your room, such as floors and walls, and use the bolder color as an accent shade to add personality to your room.'
6. Create a closed-off man cave with barn doors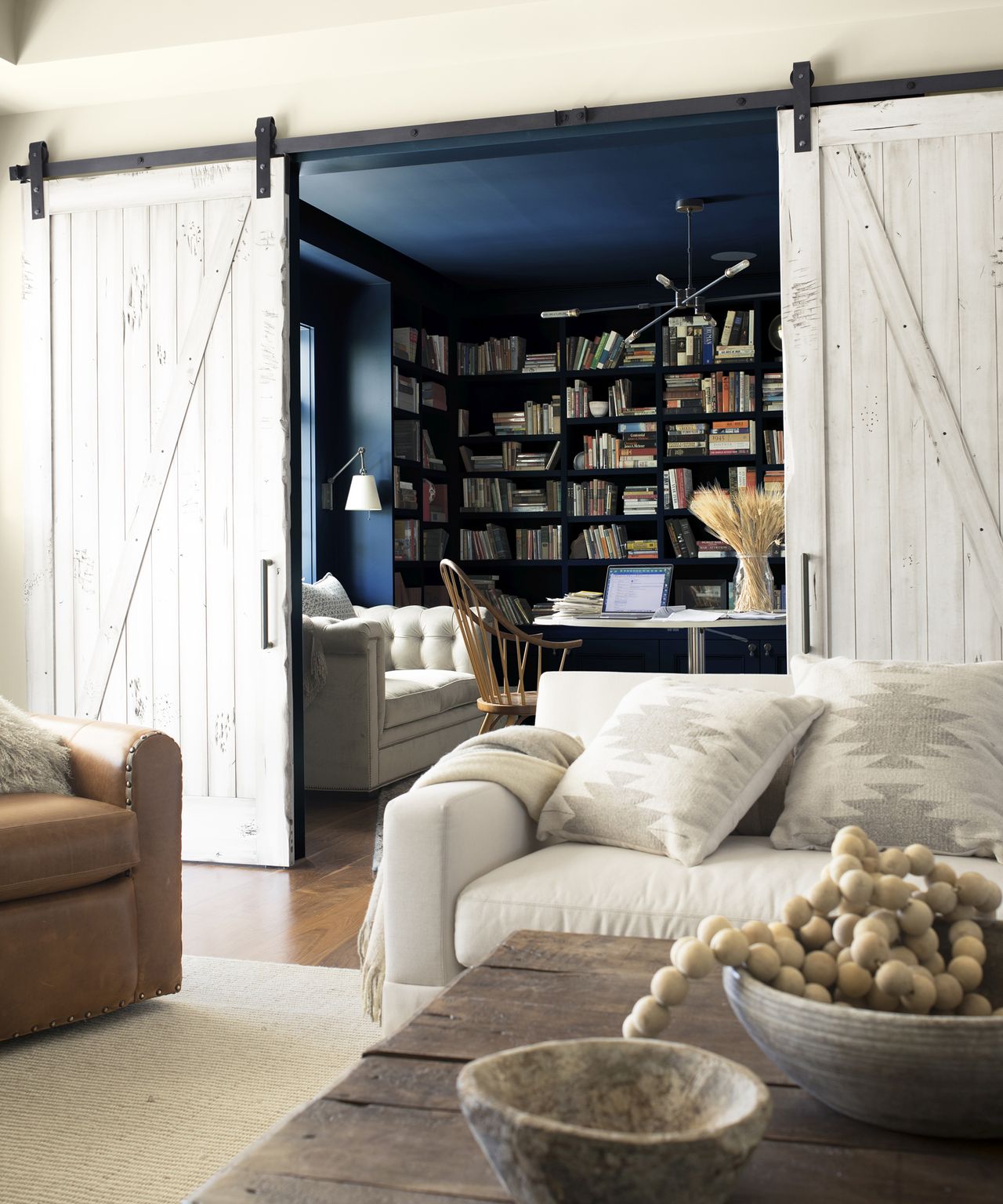 How about this blue home office for him? Decorated top to bottom in one color, this home office idea can be closed off from the more traditional white living room design beyond.
'One might think that too much color in an office space would be distracting, but it's actually more inspiring and motivating, while the deep blue of this hue is simultaneously relaxing and tranquil.', says Helen Shaw, UK director at Benjamin Moore.
'Blues are a great choice for anyone who needs to boost their concentration whilst working from home. It is a naturally tranquil shade that restores balance and harmony.'
'If your workload, or even just the current day to day is overwhelming you, blues are a great choice for calming the mind and encouraging focus. '
7. Create a minimalist men's office with abstract art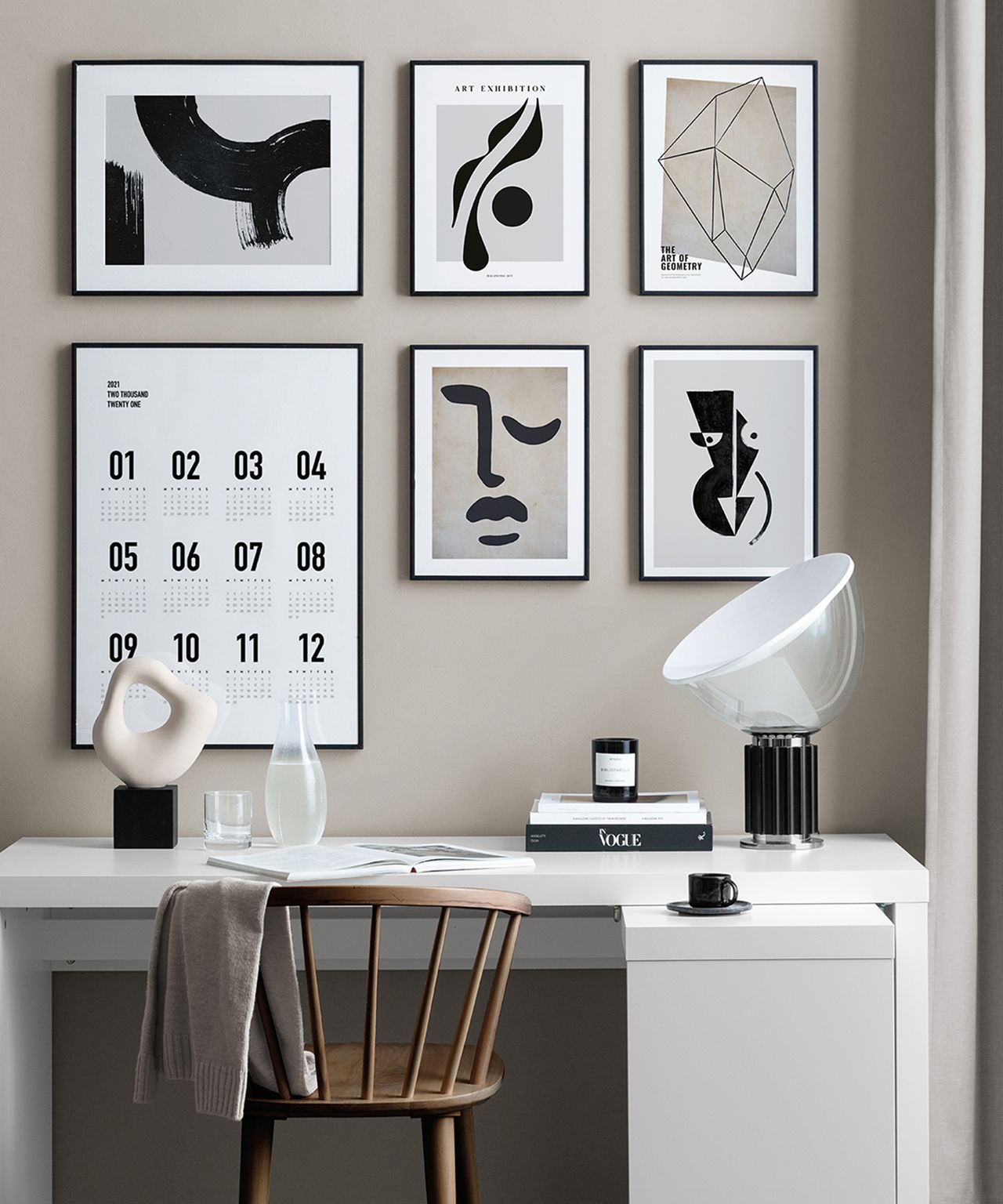 Sometimes it's nice to have a bit of distraction from all those video calls, targets and work objectives, in the form of abstract art. And this doesn't just apply to feminine office design. Gallery wall ideas can be used in home office decor ideas for him, too.
Introducing soft curves into a high-pressure environment such as a home office idea create a relaxing atmosphere and allow us to become more aware of ourselves.
So if you're reading this, unclench that jaw, relax your shoulders, remove your tongue from the roof of your mouth and take slow deep breaths to stop holding tension in your body.
Get framed wall art for an affordable price at Desenio.
8. Add interest with a printed wallpaper idea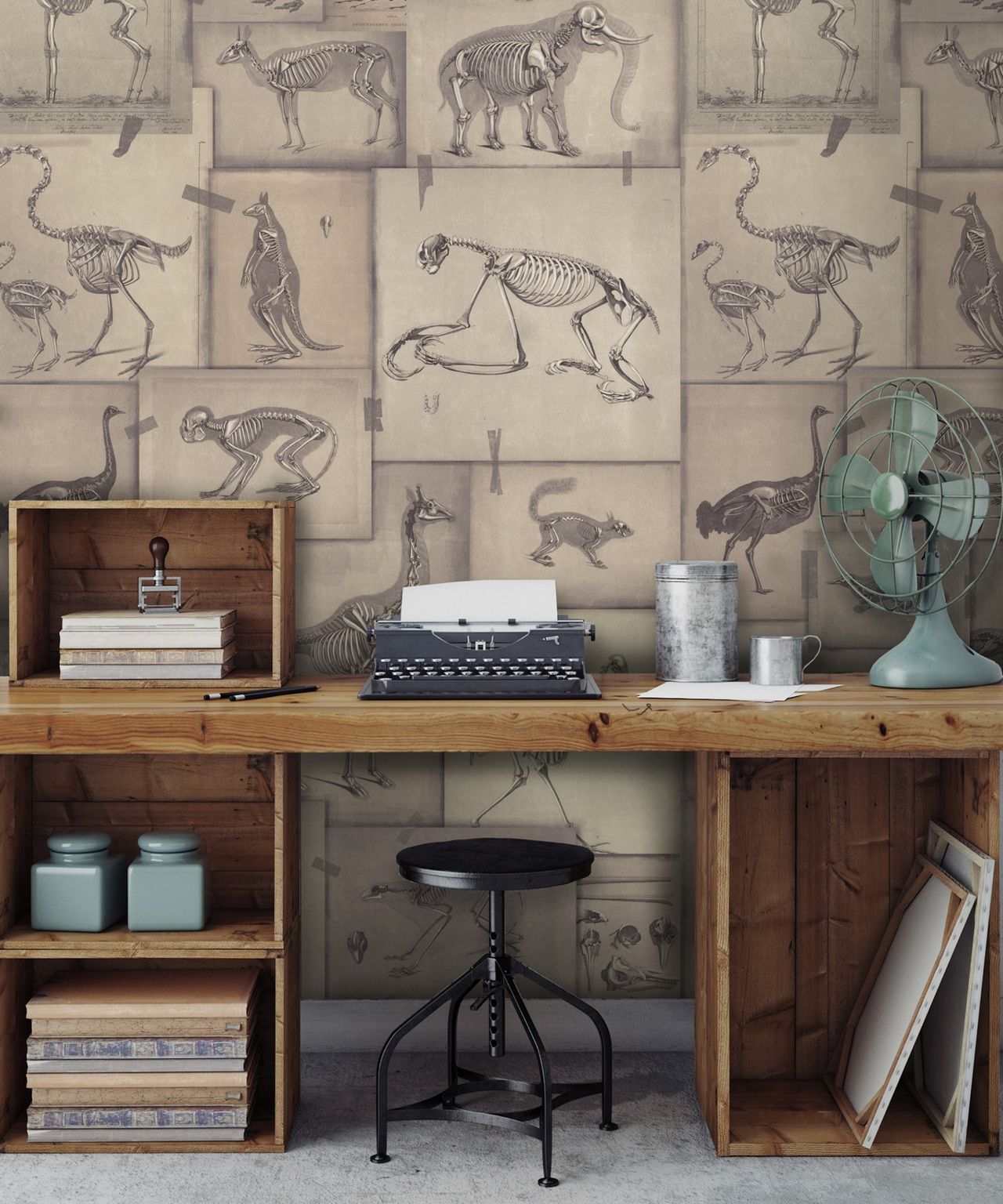 Contrary to popular belief, dinosaurs aren't just a good boy's bedroom ideas – they can be used in home office ideas for him, too.
So if you know your Triceratops from your Tyrannosaurus and your Stegosaurus to your Saltopus, you can create a roaring home office scheme using a printed wallpaper idea and lots of wooden furniture. In this sepia tone, it's a fun feature that still feels grown up. 
Pair with a vintage typewriter and fan for Jurassic Park vibes.
9. Pack away your day with a wall desk idea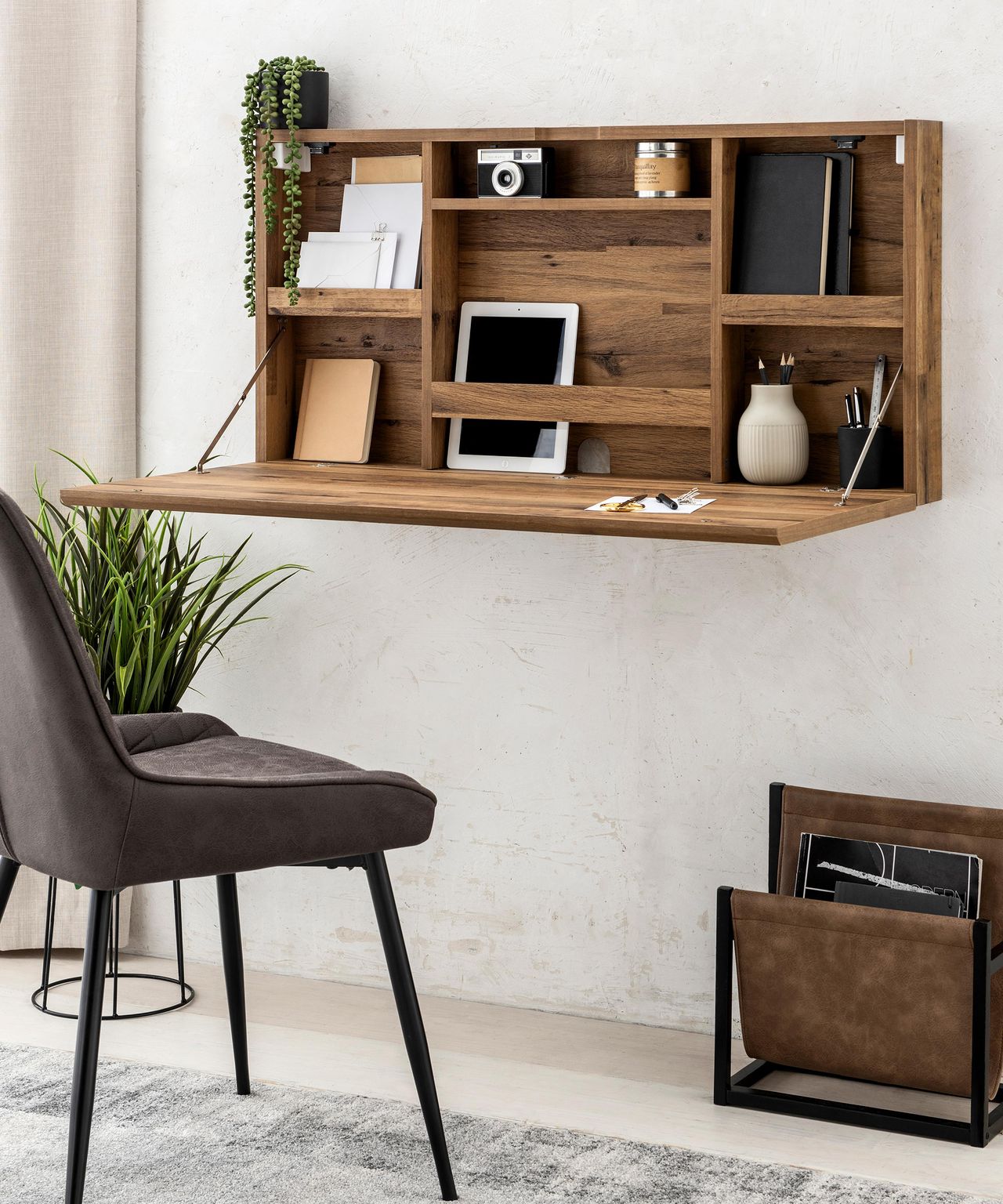 Looking for a rustic home office for him? With an oak effect chevron design, this compact desk design attaches to the wall to provide an ideal working solution for a small space or corner in the home.
This fab desktop from features handy internal shelves for storage and display, too. And when the work day is done, it can be shut away with no obvious reminders of the office. 
10. Combine grey and orange for a modern home office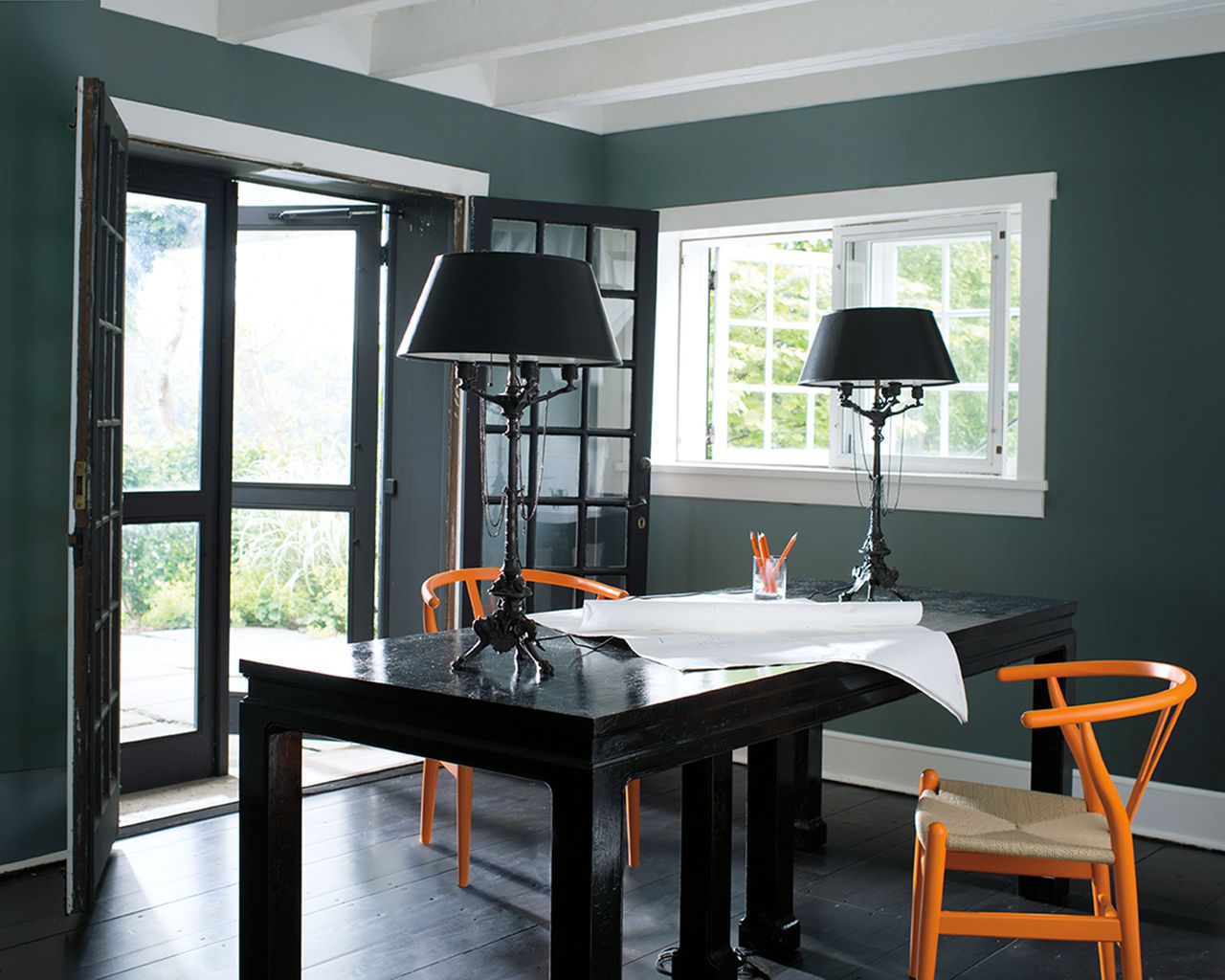 'If you are lucky enough to have large windows or glass doors, darker moody colors work well against the natural light as when the light hits. It will draw out any lighter undertones.', says Helen Shaw, UK director at Benjamin Moore.
These orange chairs add interest and stop the overall execution looking too grey and dreary. 
11. Or opt for wooden Venetian blinds instead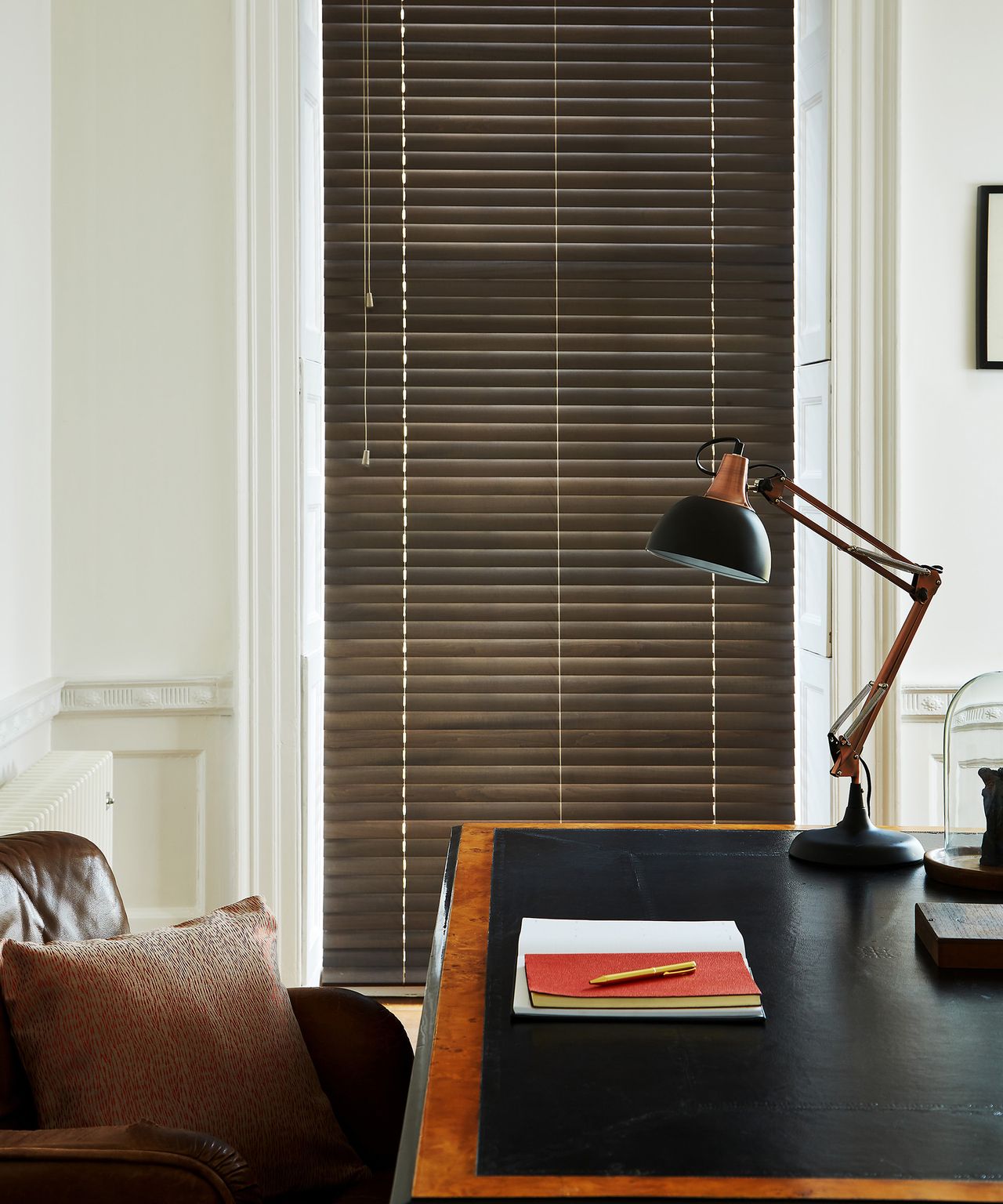 If you're looking for home office window treatment ideas that aren't overtly feminine or floral, why not choose blinds over a curtain design?
To add character to your home office ideas for him, consider faux wood Venetian blinds. 'They have a gorgeous wood-effect finish and come in a variety of natural and painted shades.', says Yvonne Keal, senior product manager for Hillary's.
'They benefit from being moisture-resistant and, unlike real wood, they won't be affected by the hot sun.'
And Lisa Slack, head of product for Thomas Sanderson adds: 'A wood Venetian blind not only looks the part, it's also a practical choice combining privacy and light control with stylish good looks.
'Tilting slats can be angled to a precise degree so you can achieve the required level of light control, ideal if your office can be viewed by passers-by for example and the safety of your equipment may be in danger of theft.  
12. Shut yourself in for late night shifts with shutters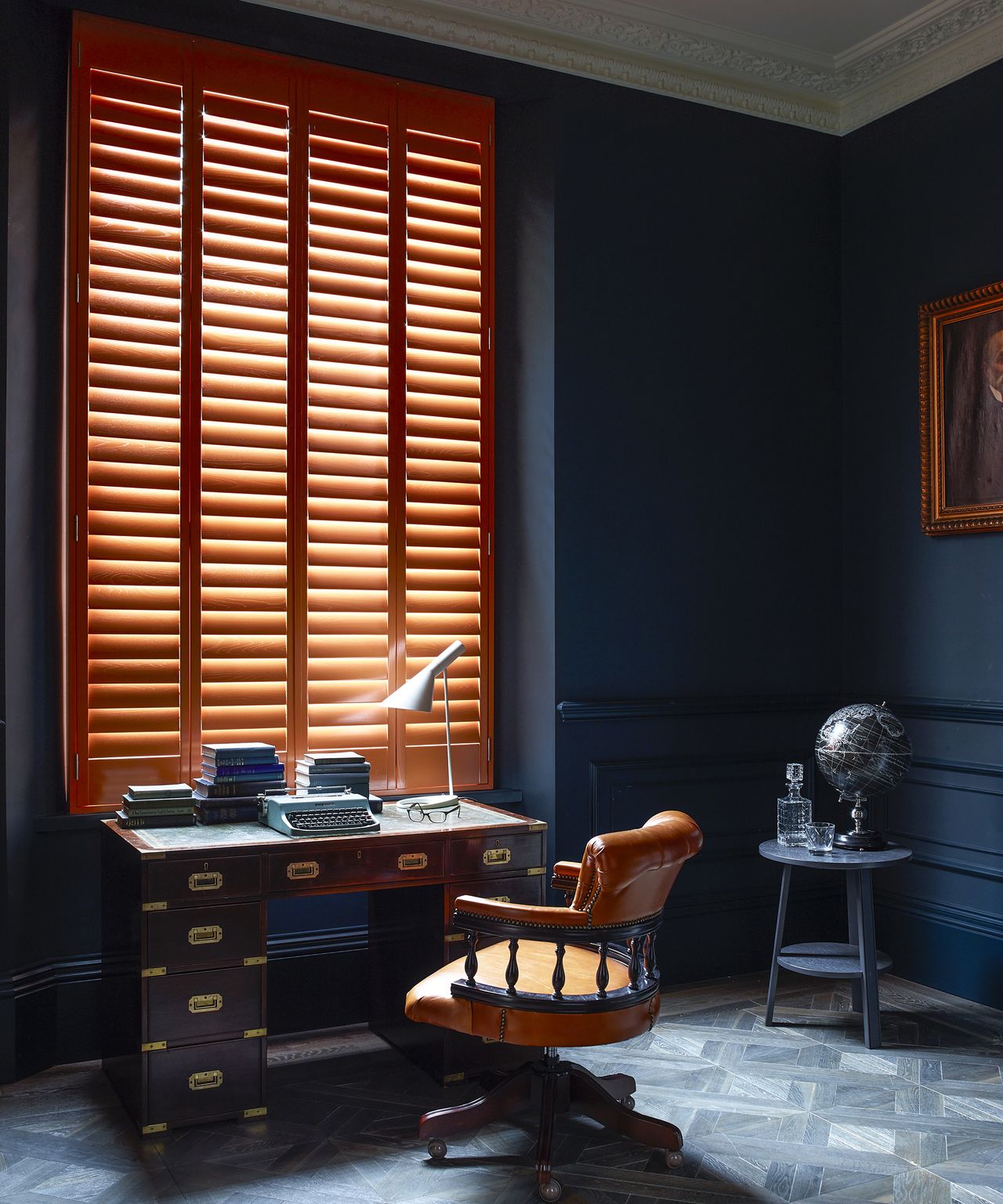 If you're in an industry that involves rotated shift work, you'll know how much it can affect your circadian rhythm and sleep pattern.
Shutters can help to block out sunlight and street lights which give our bodies and minds cues on how early or late it is in the day.
In this scheme by Shutterly Fabulous, they combine a striking orange window treatment with dark and dramatic navy wall paint to achieve the perfect balance of dark and light.
13. Hide a floating desk idea in a small closet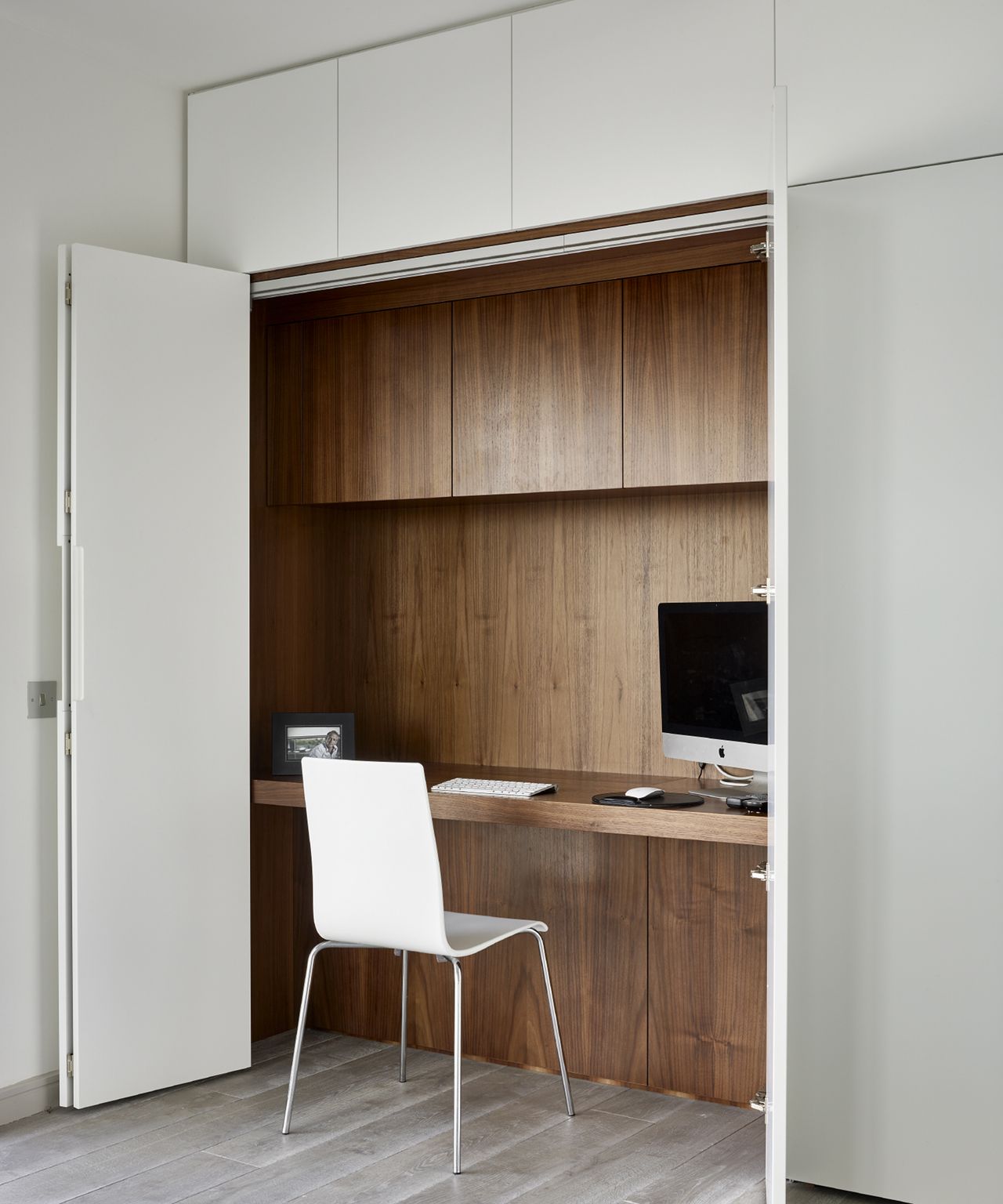 If you're looking a office idea for a male bachelor, or one that'd fit in a small apartment, we've just the thing.
Fitting into a small cupboard design, this wooden floating shelf setup incorporates overhead storage to keep his workspace tidy.
When not in use, simply remove the chair and close the cupboard doors. And just like magic, your home will return to being your evening and weekend sanctuary.
14. Turn your shed into a workspace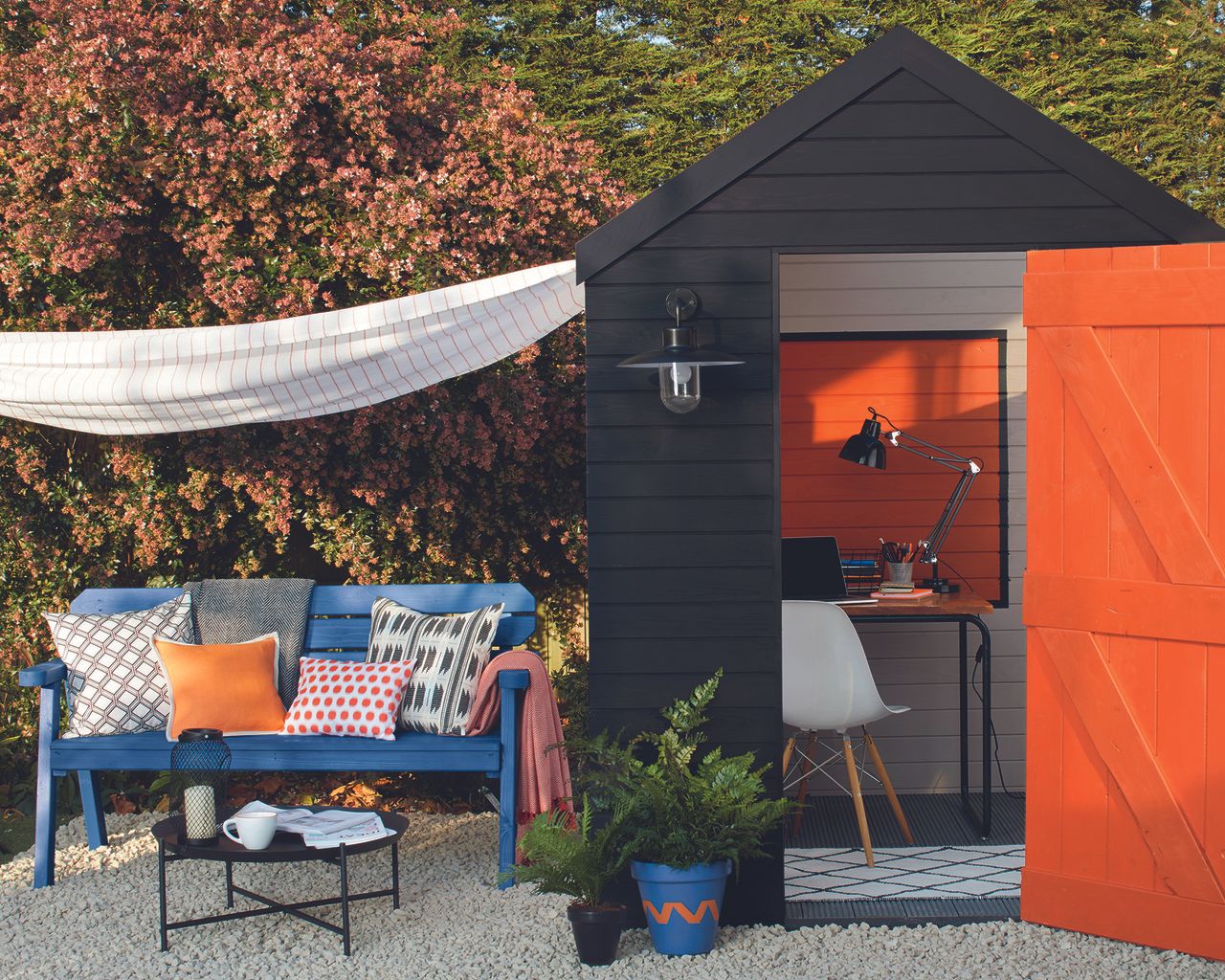 If a home office idea for him isn't suitable inside the home – it's time to think outside the box with an outside workspace. No, you're not in the doghouse. But a garden shed office idea does have its benefits.
In this bright black and orange idea by Cuprinol, you'll find a snug Berber-style white rug, occasional chair and noticeboard wall paint idea. Interior inspo that translate perfectly in an exterior outbuilding.
In the winter, get your insulation right with a radiator or alternate heating idea and you won't want to come out. Come summer, open the shed door to enjoy the sunshine and blue skies. 
15. Create an industrial boho office scheme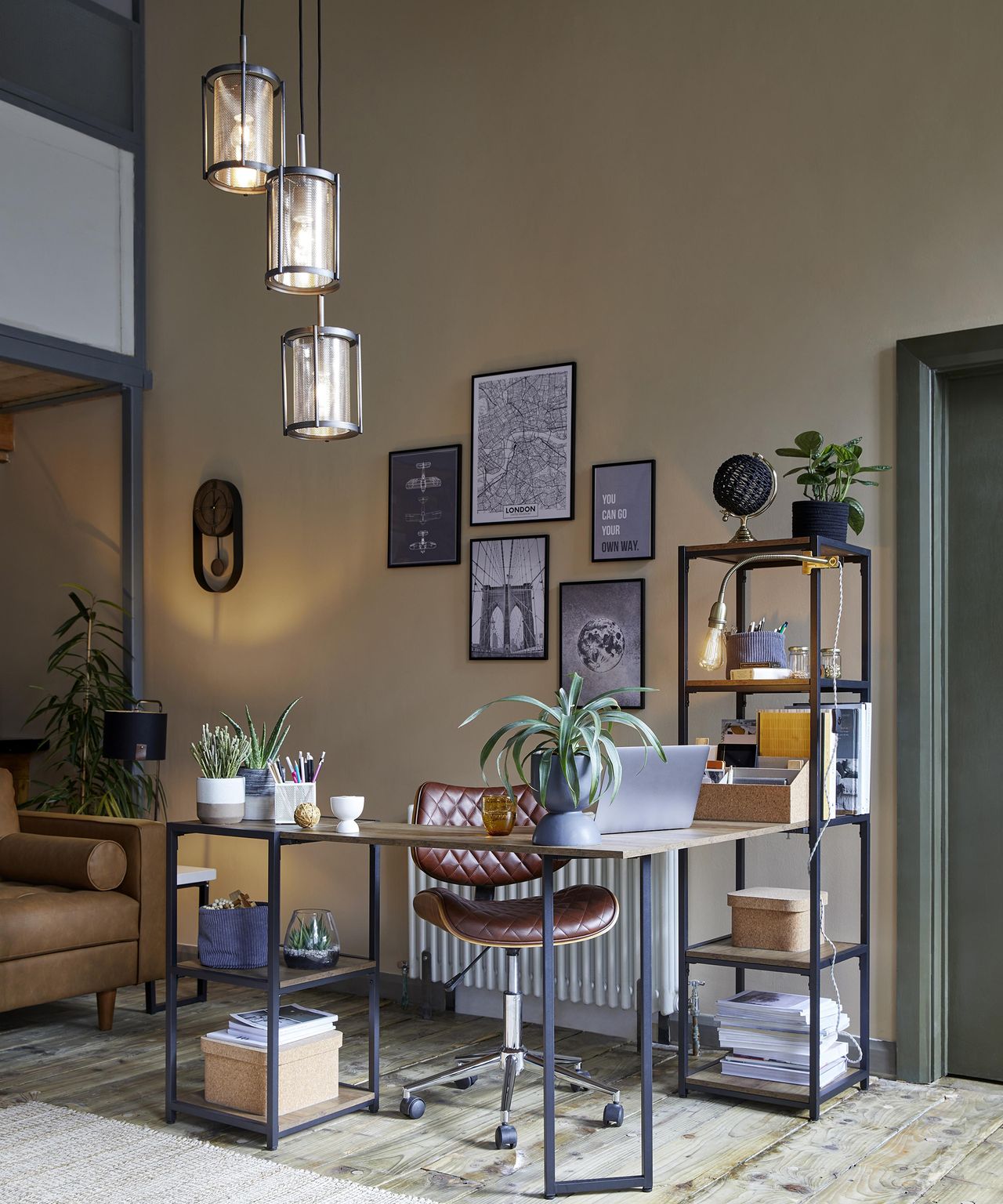 'Plants make a huge difference in a home! You really can't go wrong with a low-maintenance fiddle leaf fig tree, a yucca or some subtle succulents.', says Nadia McCowan Hill, Wayfair's resident style advisor.
'If your plant parent skills leave less to be desired, opt for clever faux versions. Add a cool concrete planter and—voilà—your space will be infused with new life.
16. Try a mid-century modern scheme in dark wood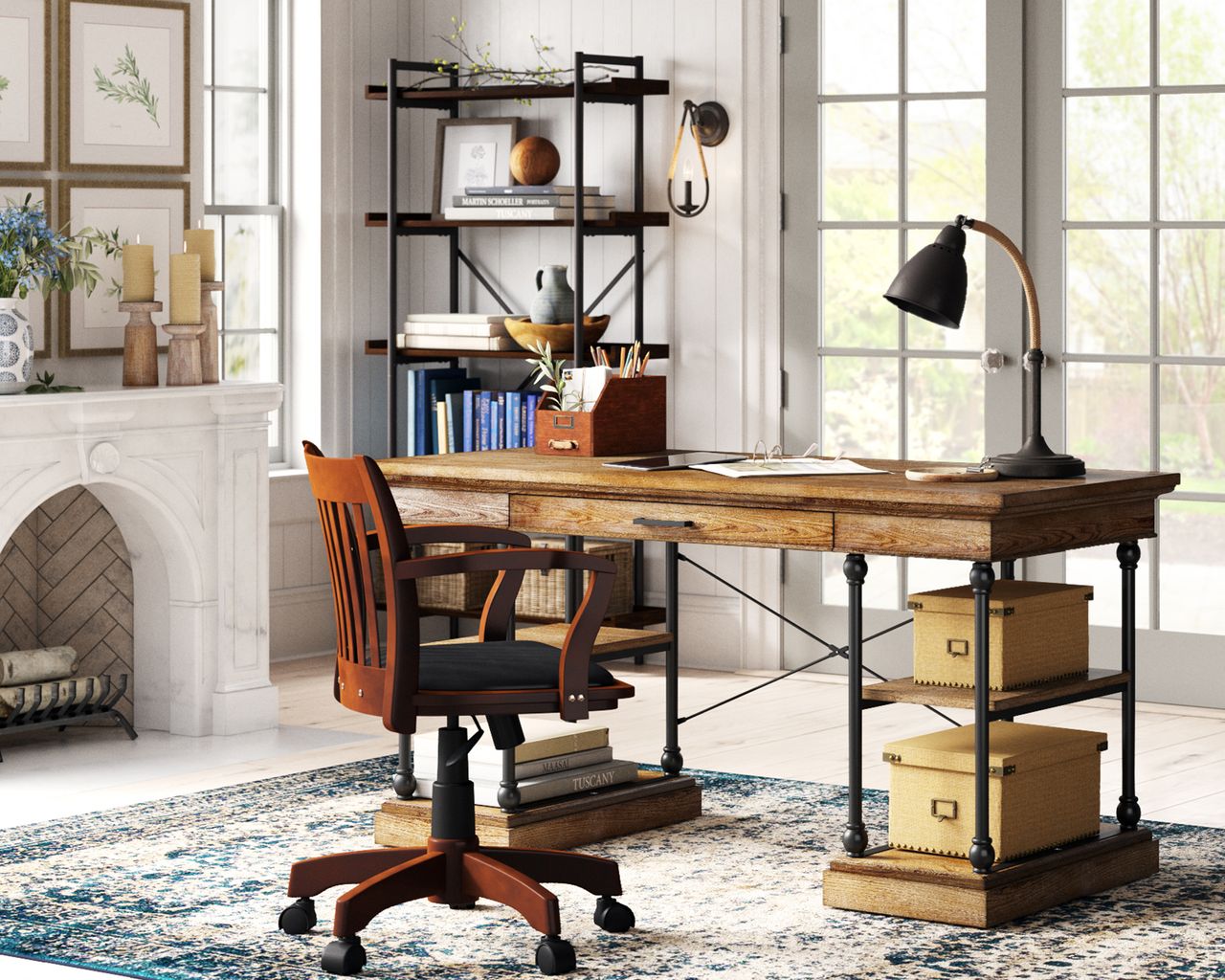 'For a luxe touch, choose finishes such as matte black, brass or copper—think industrial type bookshelves and vintage style copper lighting.', says McCowan Hill.
'Pair with weathered wooden elements that will develop a homely patina over time for an interesting contrast.
17. Create a sporty home office with framed wall art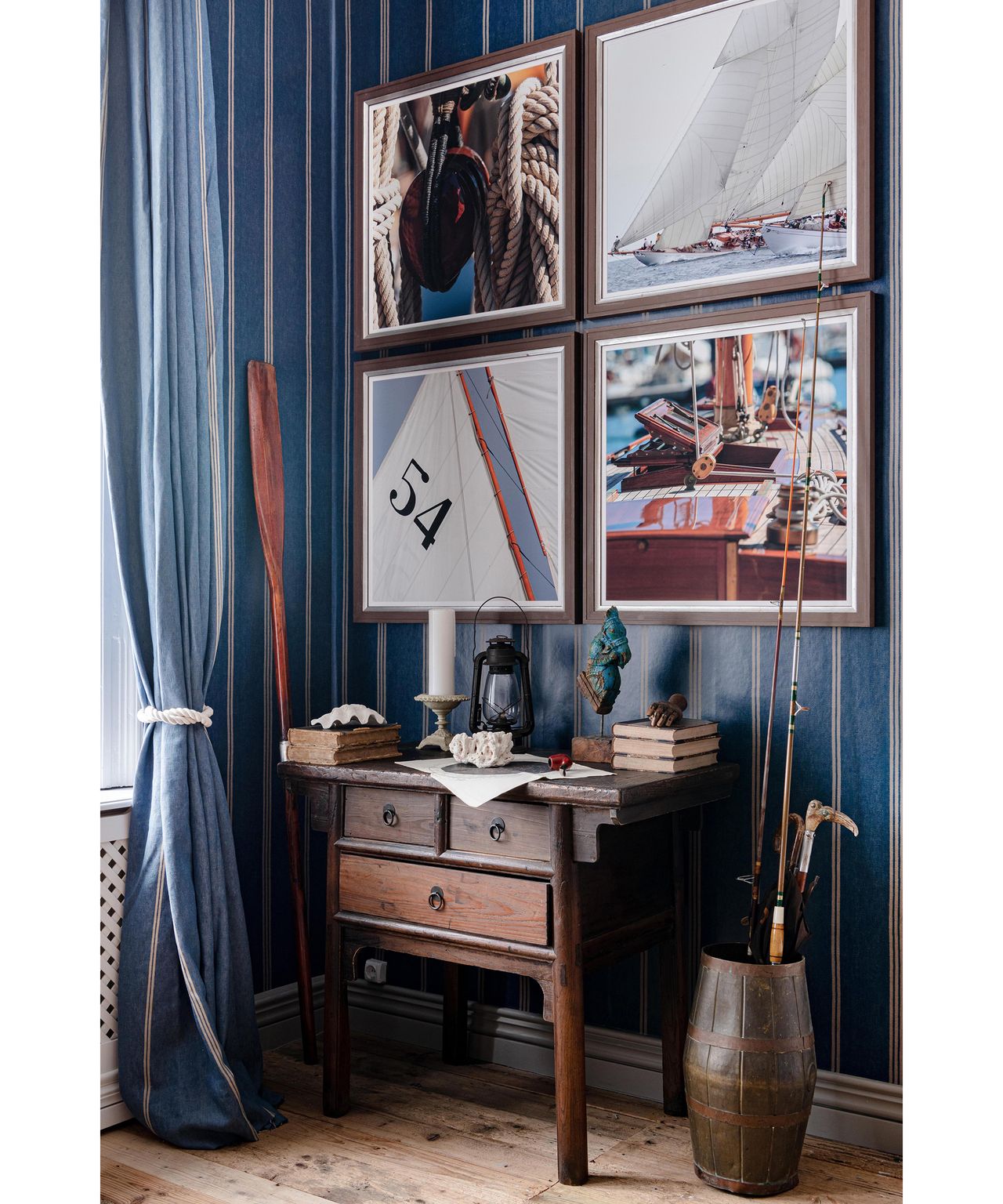 If your son or husband likes to take part in a sport, or watch it on the weekends, why not incorporate it in a home office ideas for him.
This scheme combines a boyish blue striped wall, with framed close-up wall art ideas and sporting apparatus styled into his interiors.
How do you create a manly office?
'Once upon a time, a man's 'study' was a quintessentially British phenomenon, a place where the 'man of the house' could escape to, kick back and get away from the bustle of family life.', says Lisa Slack, head of product for Thomas Sanderson
'Fast forward 80 odd years and it was renamed the 'man cave', but with so many of us now working from home, this space has become more of a necessity than an indulgence.'
'Typically, the traditional aesthetic of a man's study, is dark and moody, featuring burnished wood and a leather clad desk.'
What do men need in their office?
'To nail laid-back masculine style in a home office, secure the essentials first.' says  Nadia McCowan Hill, Wayfair's resident style advisor.
'Invest in high-quality, timeless silhouettes for your desk, office chair and storage —and the rest will follow.'
'Keep a neutral color palette in mind when starting out so you can accessorize accordingly, with classic, moody hues such as midnight blue and deep charcoal.'
'While men tend to keep their home functional, it's accessories and textiles that add a homely feeling.
'Lay down a statement area rug on wooden floors for some extra warmth and don't be afraid to add in some personality.'
'Artwork is a great way to show off your style, with framed movie posters , bold geometric wall art or black and white photography always being a strong go-to choice.'
'Display treasures you've collected while travelling or add some decorative elements which speak to you and distract from monotonous work tasks.'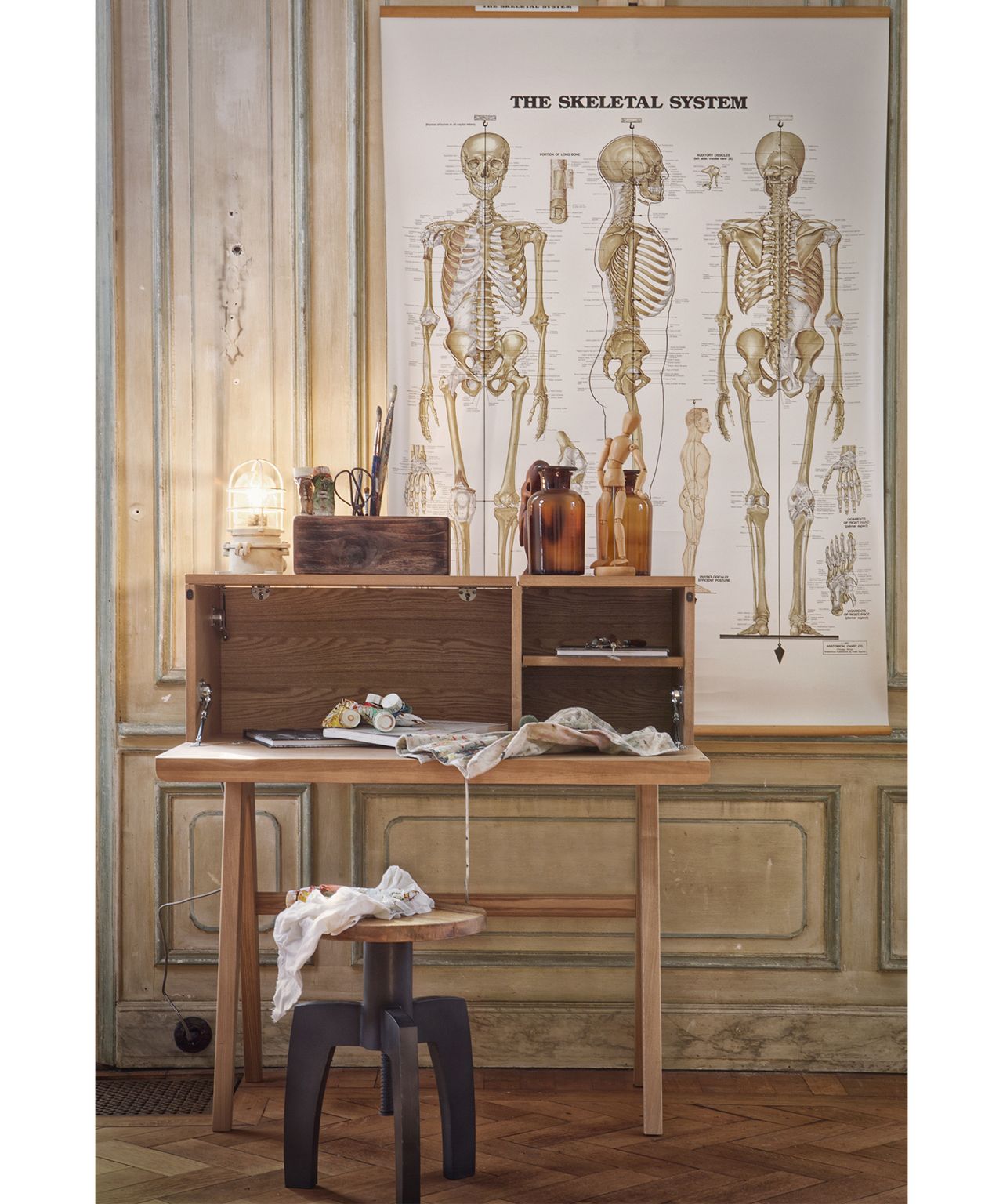 How do I keep my office clean?
David Snazel, buyer for hard flooring, Carpetright says: 'When it comes to floors in masculine interiors, hard flooring is the ideal solution and when considering flooring for a home office practicality and durability is key.'
'Hard flooring's easy-to-clean properties mean it is incredibly low maintenance and will be more protected against spills, scuffs and dents, from chairs and desks than soft flooring options. Additionally, these styles are incredibly easy to sweep and maintain meaning less time is spent cleaning where it could be used more efficiently.'
'Luxury vinyl is a high-quality option that effectively emulates expensive flooring materials using a plank or tile installation technique. This offers the same durable and low maintenance benefits of vinyl whilst being compatible with underfloor heating for an added a touch of luxury and warmth.'
How can I decorate my masculine office?
Katie Thomas, founder of interior design company KTM Design has shared her thoughts on how to incorporate the 'dark academia' interior trend  that's going viral on TikTok. She explains: 
'The look includes classical interiors and architecture, with elaborate vintage picture frames, pressed flowers, vintage posters, candle holders, statue busts and typewriters.'
'Typical materials are wood, and colors involve dark, moody, and earthy dark reds, browns, blues and greens – with highlights in cream and beige.
'Add pops of Dark Academia details to existing interiors, avoiding pastiche. Include vintage-looking brass or marble book stoppers, and elaborate metallic mirrors on your mantelpiece.'
'Update ironmongery like door and cupboard handles to follow a more vintage theme – the devil is in the detail.
'Embrace natural wood elements in your home like hardwood flooring, wall paneling, staircases and railing. Their natural texture and color can be contrasted with darker color walls, which can be painted in moody tones like charcoal, or you can create a timeless black and white color combo.
'You can also accentuate original period architectural features, such as moldings and ceiling rose by painting them a darker color. A gallery wall in your living room or entryway is also effective, using vintage picture frames.
'Investing in an antique bookcase may be more expensive, but they never lose their charm and are built to last. Add a chaise long, upholstered in velvet or a leather chair as a cozy reading nook idea.'
'Reclaim wooden desks to update your home office or add a banker's lamp to your existing desk.'