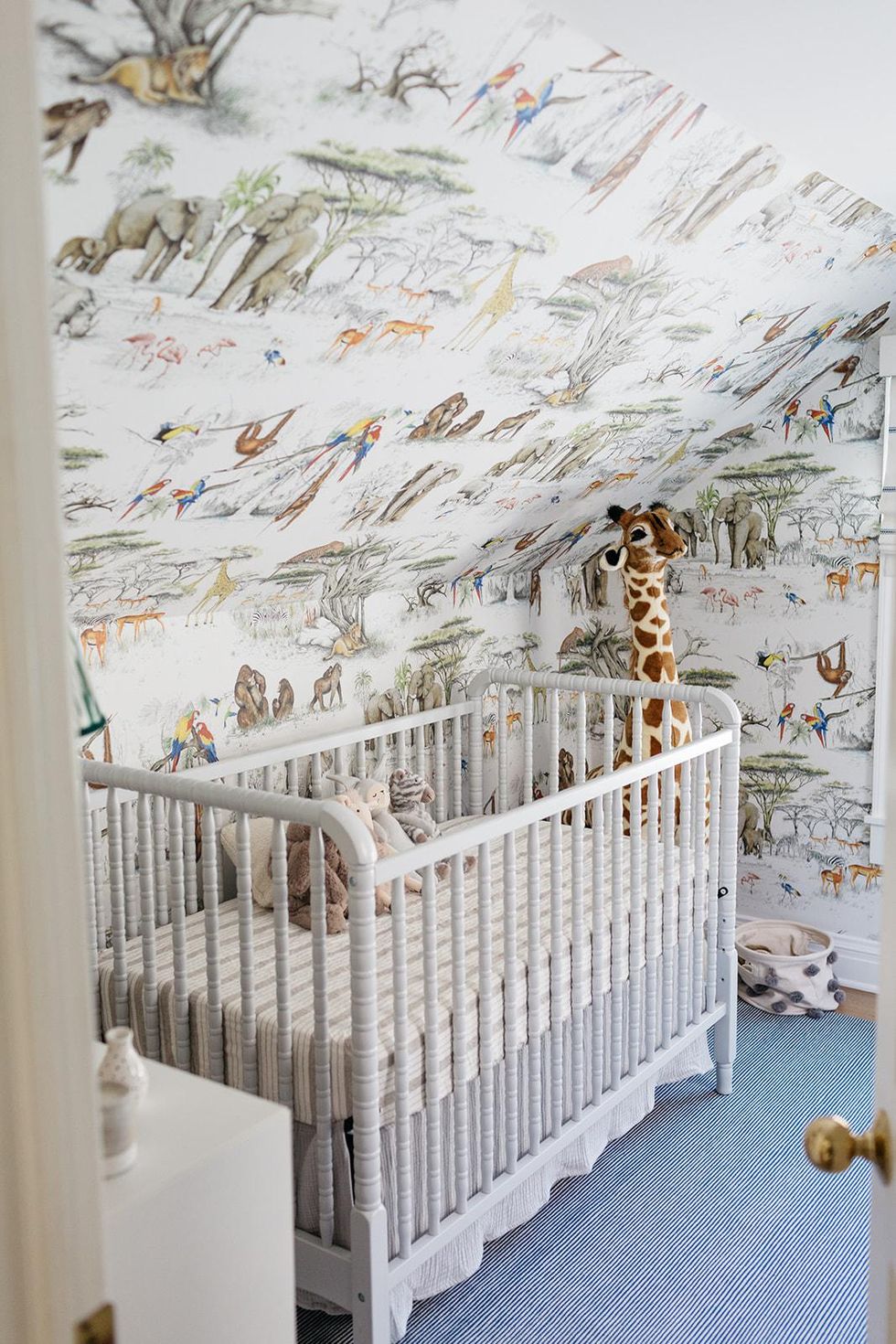 Carly Cardellino's Nursery Tour – Coveteur: Inside Closets, Fashion, Beauty, Health, and Travel
When Carly Cardellino moved from Manhattan into a Westchester farmhouse with her husband Giovanni Vaccaro and her daughter Delfina, she knew one thing for sure—she wanted to tackle Sandro's room first. At the time of the move, she was still pregnant and the clock was ticking, so Cardellino enlisted the help of her friend Emily Wolowitz, who had started working in interior design. The two worked well together with Emily helping bring Carly's vision to life while pushing her past her design comfort zone. "I think Carly's a really creative and fun person," Wolowitz tells me over Zoom. "She was the ideal client—she had so many great ideas and she wasn't afraid to take risks." In the end, their designer-client collaboration resulted in a room that both parties loved. Below, Carly and Emily discuss their design choices along with the tips to keep in mind when designing a nursery.
Choose a Design Centerpiece
The animal-print wallpaper was the anchor piece for Sandro's room. Inspired by the print inside Jeremiah Brent and Nate Berkus's nursery, the safari wallpaper was a guiding light for the design elements that would make up the rest of the nursery. "We looked to the wallpaper to find a few colors that we were going to pull out of there," says Emily. Carly gravitated towards cream, blue, and green, and those three shades helped to create a color narrative that connected all the different items within the space.
While the animal print is very youthful and playful, making it great for a nursery, Emily mentions that the level of craftsmanship also makes it feel very sophisticated. "As Sandro gets older, and the crib comes out of the room, you can definitely put a 'big-kid bed' in there and still have it feel really cool."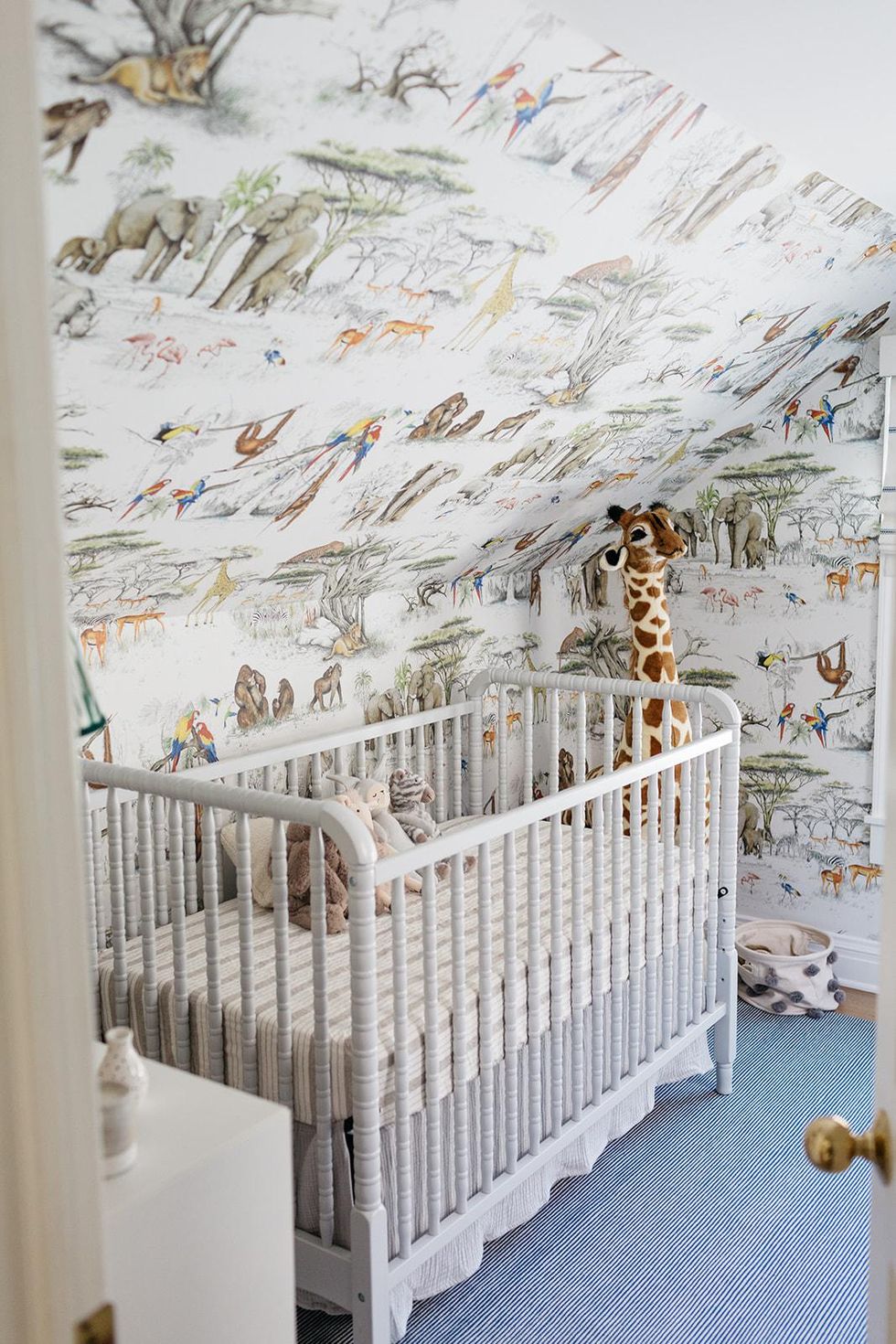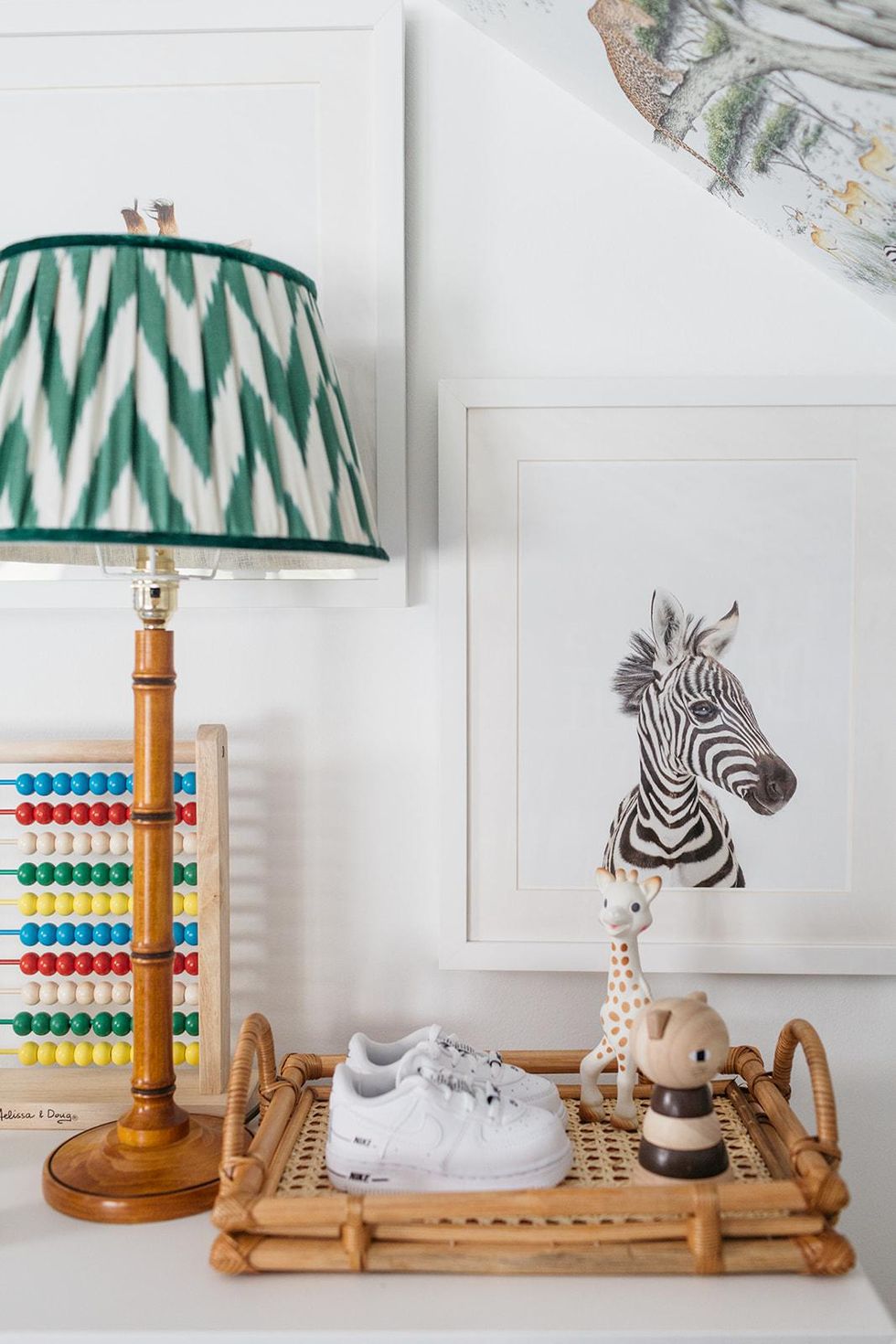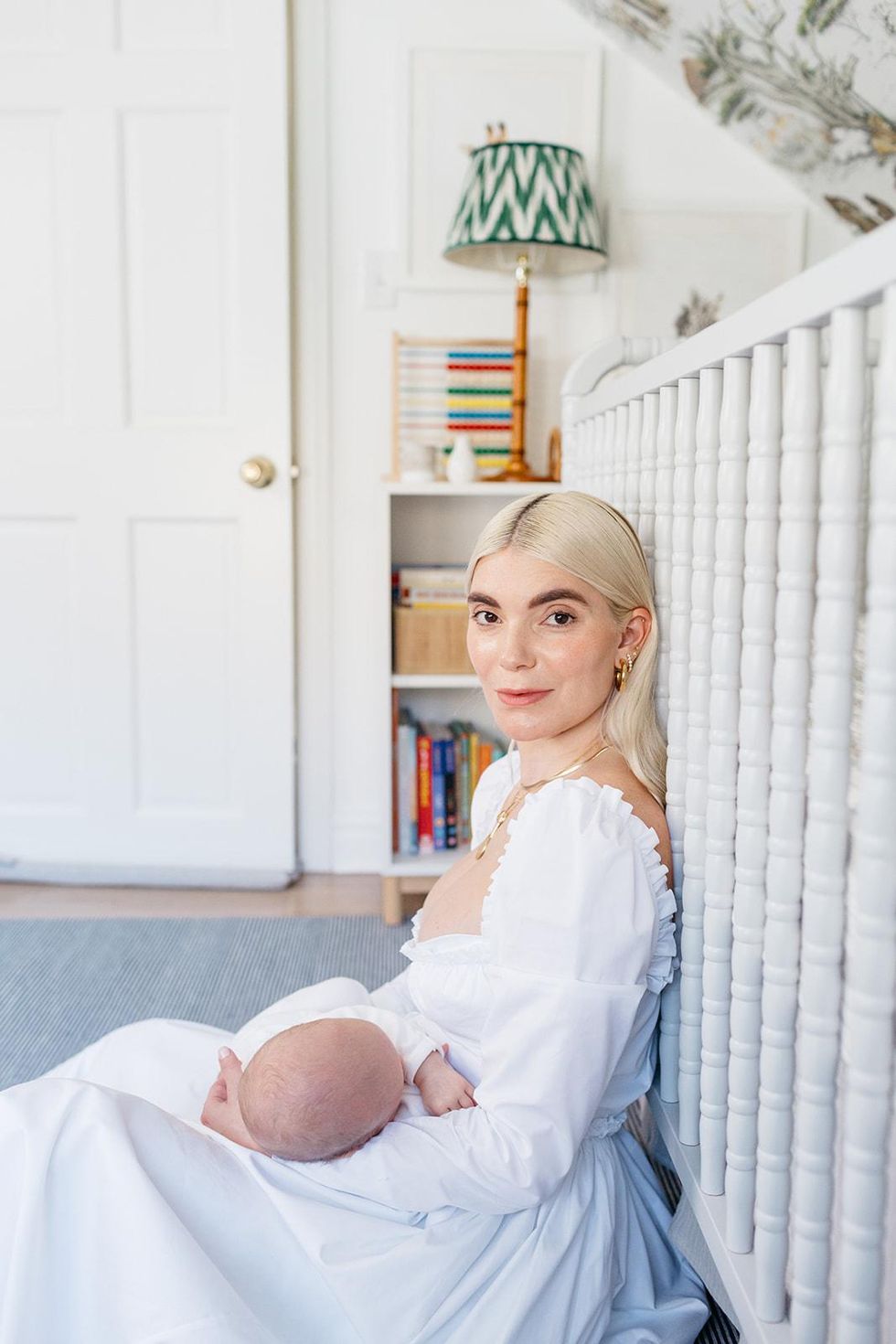 Use Social Media for Inspiration
Carly and Emily would use Instagram and Pinterest to spark inspiration and to source items. "We'd save photos of things we like and send images back and forth," says Carly. "I also like to follow other designers and see what brands they're working with," adds Emily. "I feel like the opportunities are endless and everything, design-wise, is at your fingertips."
One of those special pieces the two found on Instagram was a green Chevron-printed lamp that sits on top of Sandro's IKEA bookshelf. Even though it gave Carly a bit of trouble—it had a EU plug and required a European lightbulb—it was well worth it.
Don't Get Too Matchy-Matchy
"I wasn't looking to get a wood dresser," says Carly. "I was looking at light grey options to match the crib." It was Emily who advised against matching materials. "When you walk into a room, your eye should immediately wander," she says. "So we have stripes, there's a beautiful bouclé on the rocking chair, and then there's the natural texture of the brown wooden dresser." All those different textures make your eye more interested in what you're seeing. "If it's all the same, or you just buy a set, then when you see one item, you've seen them all."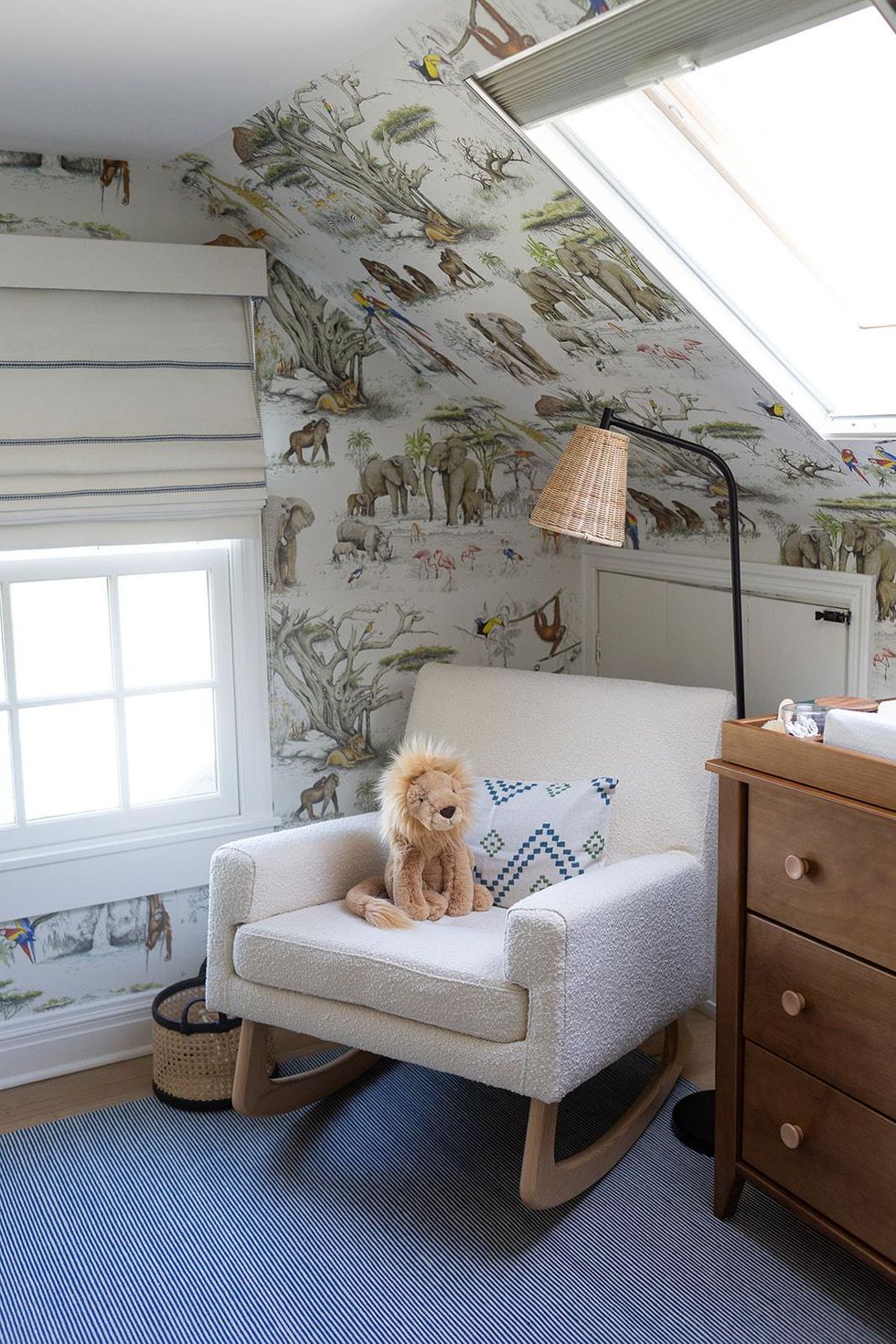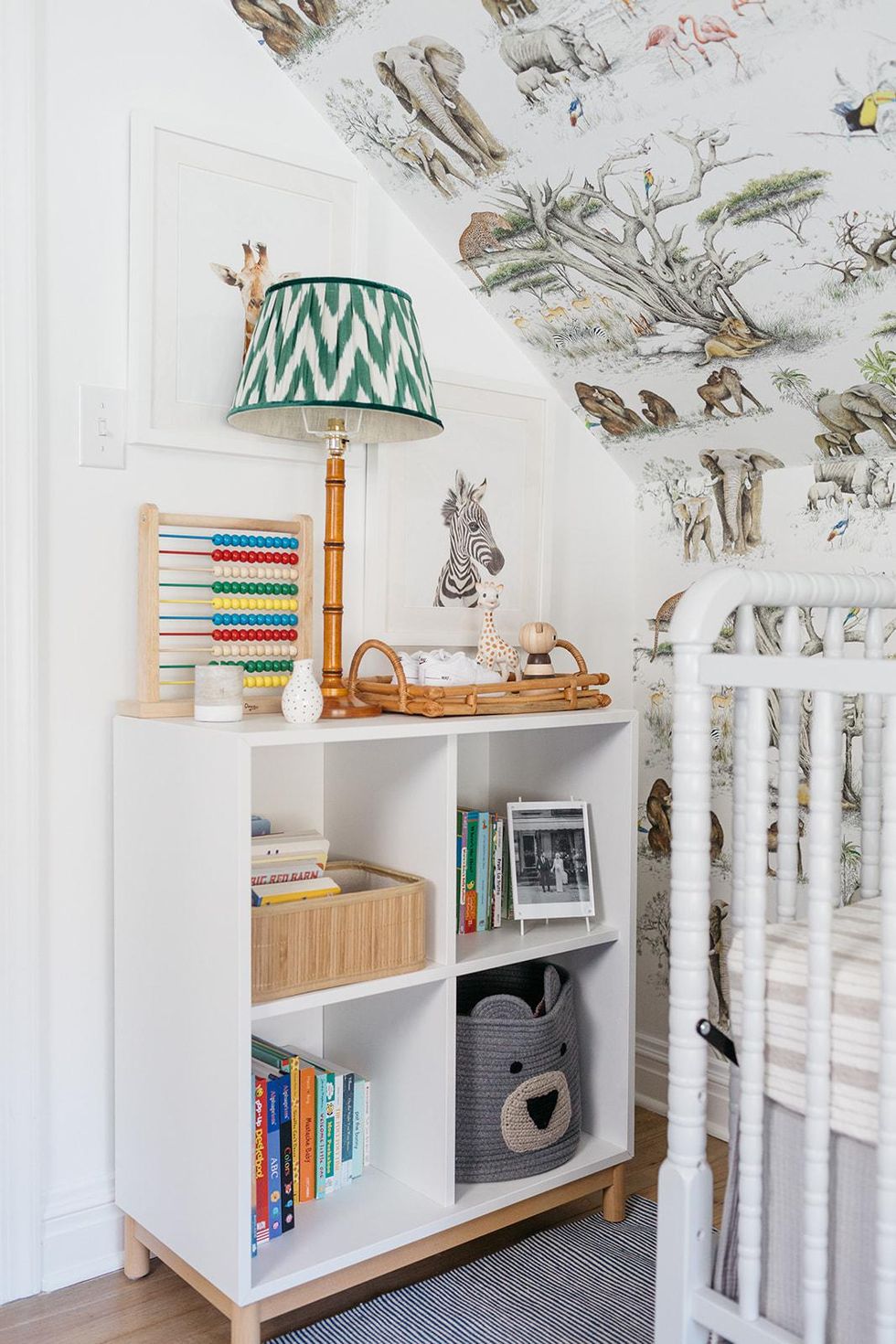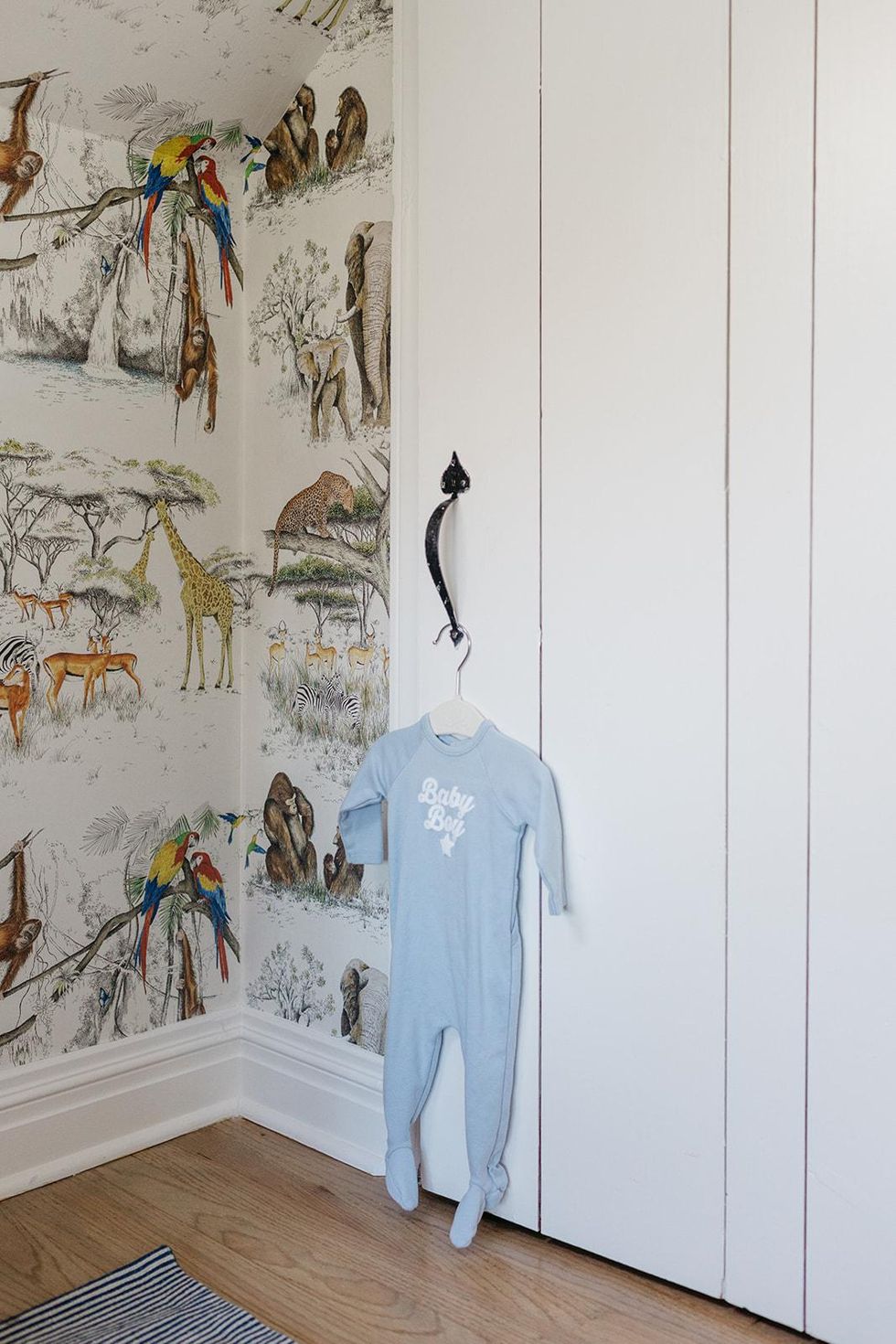 Invest in a Few Long-Term Items
Most people think of a nursery as a short-term situation, but a lot of money goes into the room, and Carly and Emily both believe that you should invest in the pieces that are going to last, not the ones that you're going to rotate out in a few years. And yes, a crib is included in that latter group: "It's not a forever piece for the room," says Emily. "You don't want to spend a fortune on it."
For Sandro's room, the big investments were the wallpaper, the carpet, and the custom window treatments. With everything else, they were a little more savvy, buying pieces from Urban Outfitters and Target.
Take Your Time
According to Emily, the key component to a successful room is taking your time. "People think that they're going to move into a space and finish a room in a month," she says. "It's just narrowing your opportunities. Patience is important. Wait until you find the right pieces that fit into the room." Carly agrees: "A nursery is more than just a baby room. It's worth it in the long run to put the time and effort into making sure your vision comes to life."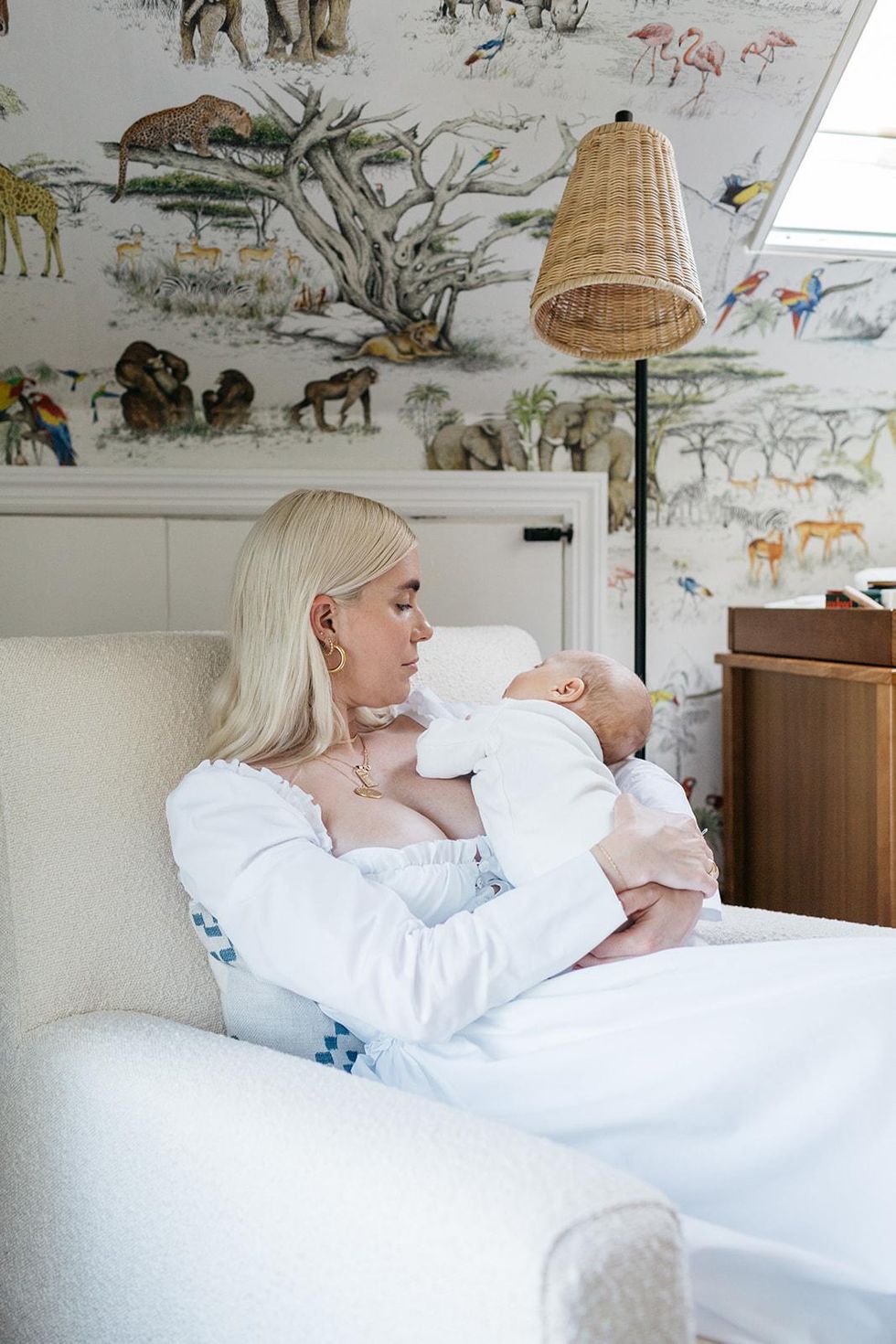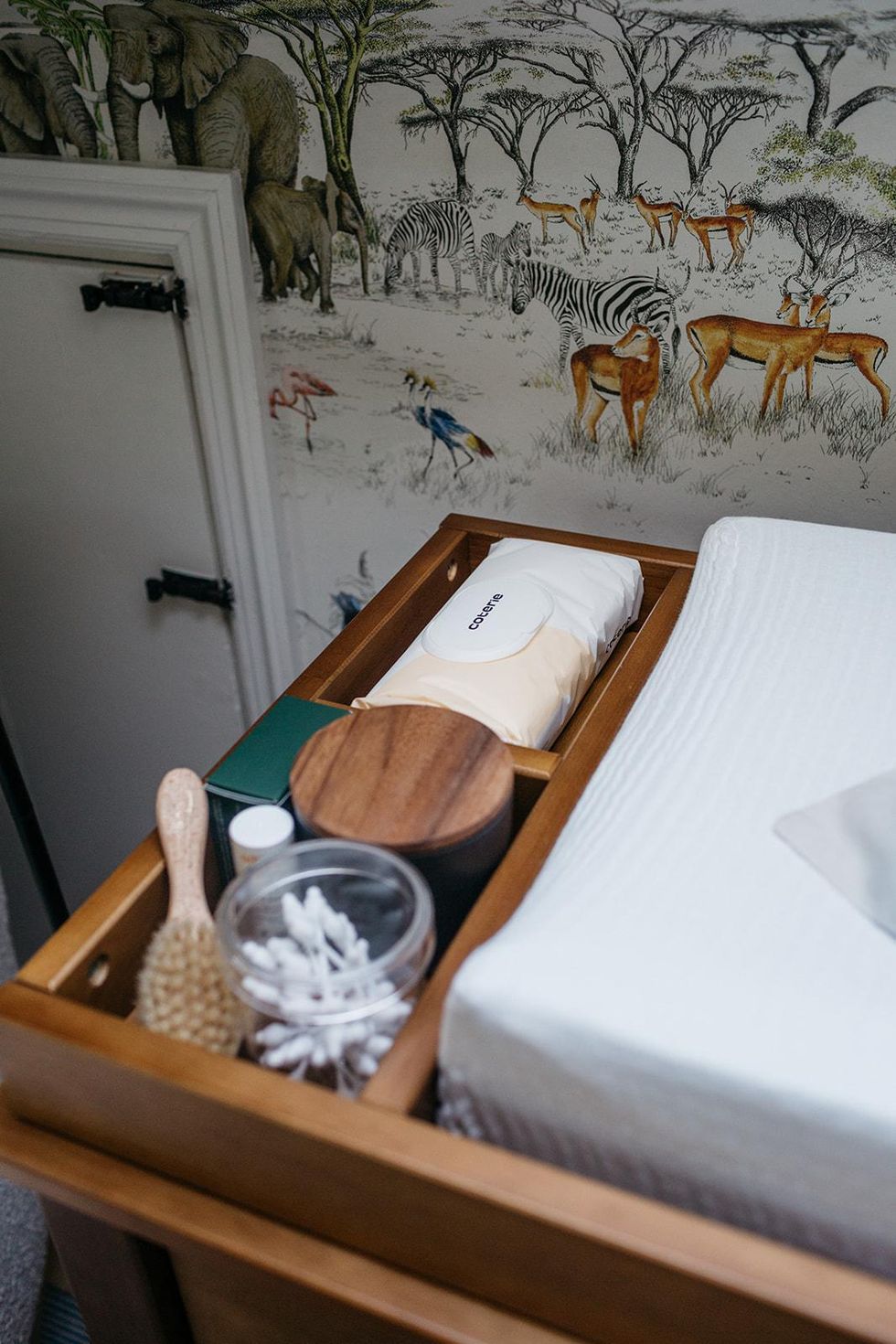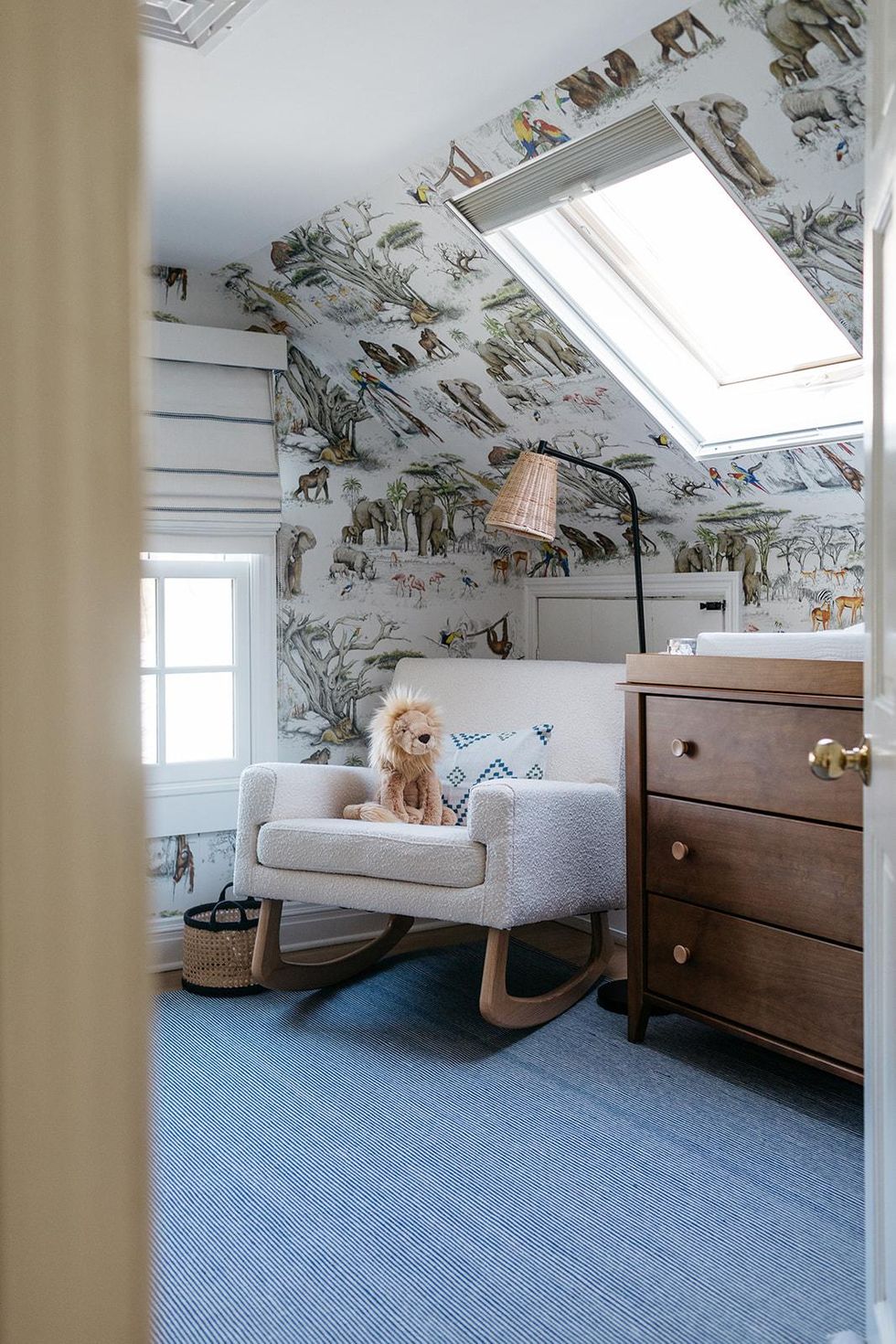 window.REBELMOUSE_ACTIVE_TASKS_QUEUE.push(function(){
window.REBELMOUSE_STDLIB.loadExternalScript("https://htlbid.com/v3/coveteur.com/htlbid.js", function() {
});
});
window.REBELMOUSE_ACTIVE_TASKS_QUEUE.push(function(){
!function(f,b,e,v,n,t,s){if(f.fbq)return;n=f.fbq=function(){n.callMethod?n.callMethod.apply(n,arguments):n.queue.push(arguments)};if(!f._fbq)f._fbq=n;n.push=n;n.loaded=!0;n.version='2.0';n.queue=[];t=b.createElement(e);t.async=!0;t.src=v;s=b.getElementsByTagName(e)[0];s.parentNode.insertBefore(t,s)}(window, document,'script','https://connect.facebook.net/en_US/fbevents.js');fbq('init', '1248680838922690');fbq('track', 'PageView');
});