Beige bathroom ideas: 11 decorating schemes that prove pale isn't dull
Beige often gets a bad press as a shade – associated with things with that are bland, boring, and even bad for you. But used right, beige bathroom ideas can be truly chic.
Some of our best memories include beige. Playing in the sand by the seaside, subsequently digging into an ice cream. Or, perhaps chowing down on a comforting bowl of hot pasta in your fave Italian restaurant. Asides from food, beige is a color that has close connections with nature. Think seashells and stone.
Creamy and calming, this bathroom color idea is perfect for modern and traditional schemes alike. Used with grey, it can achieve an on-trend Scandi space. And paired with black bathroom, it creates a softer, chic and minimalist room.
So whether you want to soften a sterile white bathroom design or brighten up a dark bathroom idea, we've scouted for some of the best yellow-brown and tan bathrooms.
Beige bathroom ideas in every style
1. Create an organic spa haven with natural textures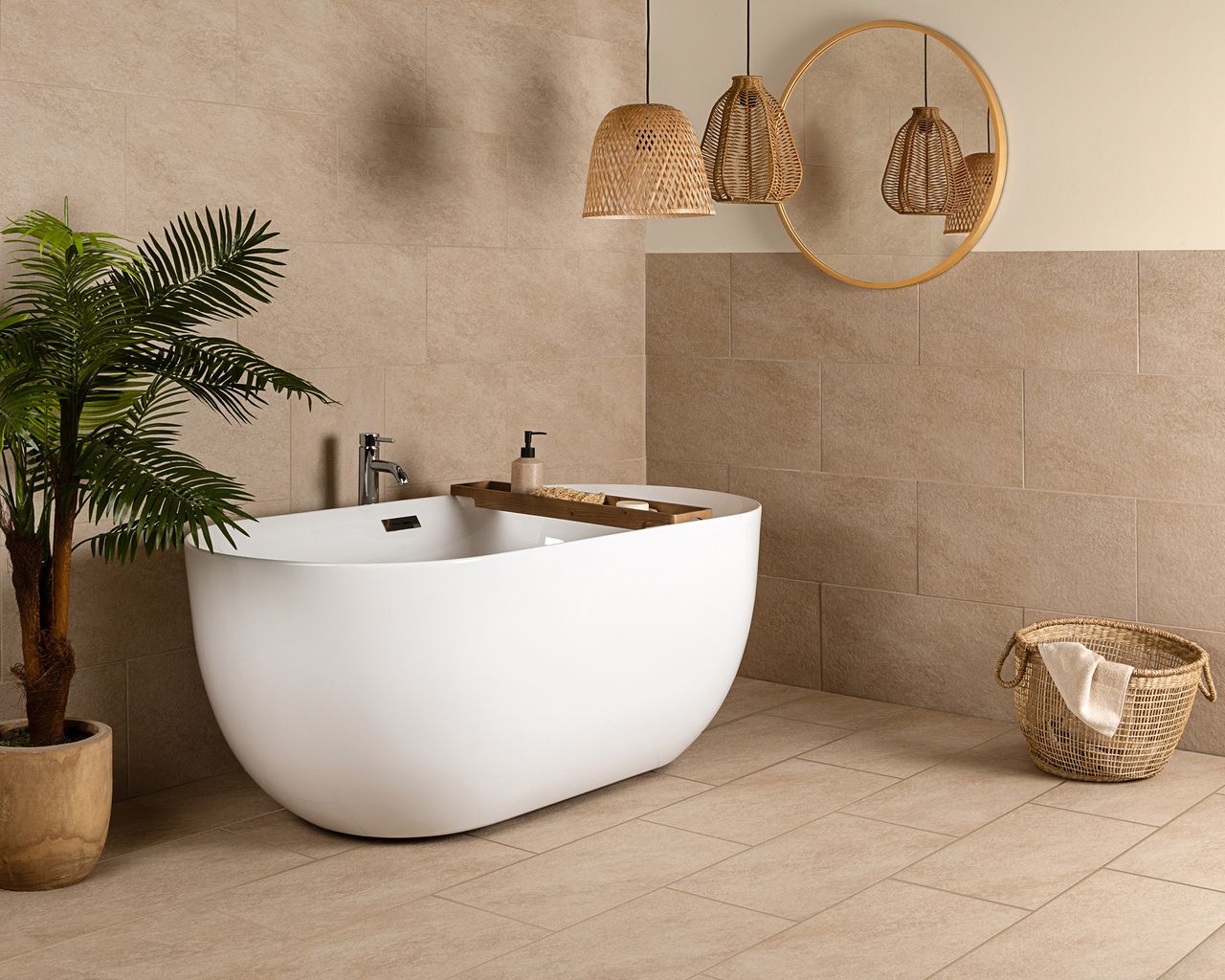 Long-haul travel can be expensive an impractical at the best of times. What with adapting to the time difference, jet lag, currency conversions and culture shock.
But if you want to create a space that looks like a South-Asian spa, then a beige bathroom idea can create an tranquil environment without having to travel to the airport.
In this scheme, beige bathroom tile ideas are used to create a sand-like wall and floor, without it burning your toes or injuring your feet from sharp shingle.
To finish this look, style with a rattan bathroom lighting idea, a wooden framed mirror. Woven baskets make for practical and portable bathroom storage ideas.
2. Use a beige printed wallpaper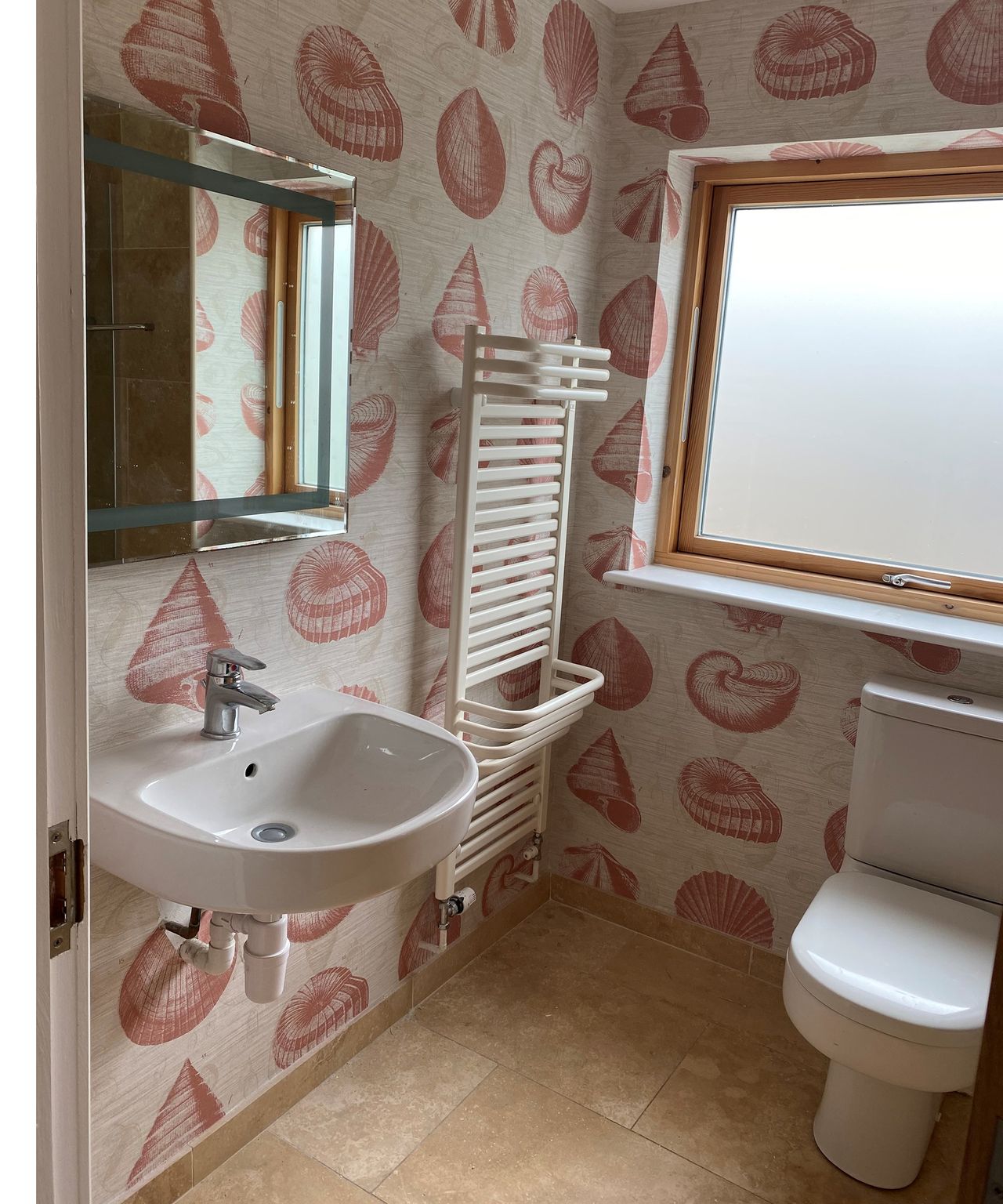 Oh we do like to be beside the seaside! But, if you're not in an area that's known for good weather, or live in a landlocked state, a road trip can be a big commitment!
So bring the outside in with a fun bathroom wallpaper design. This print by British designer Elizabeth Ockford uses a coral seashell motif to bring the shore to your bathroom. Not only that, but the beige linen effect background with a shimmered and backdrop provides a beautiful beach hut effect with a little luster.
3. Create a minimalist scheme with marble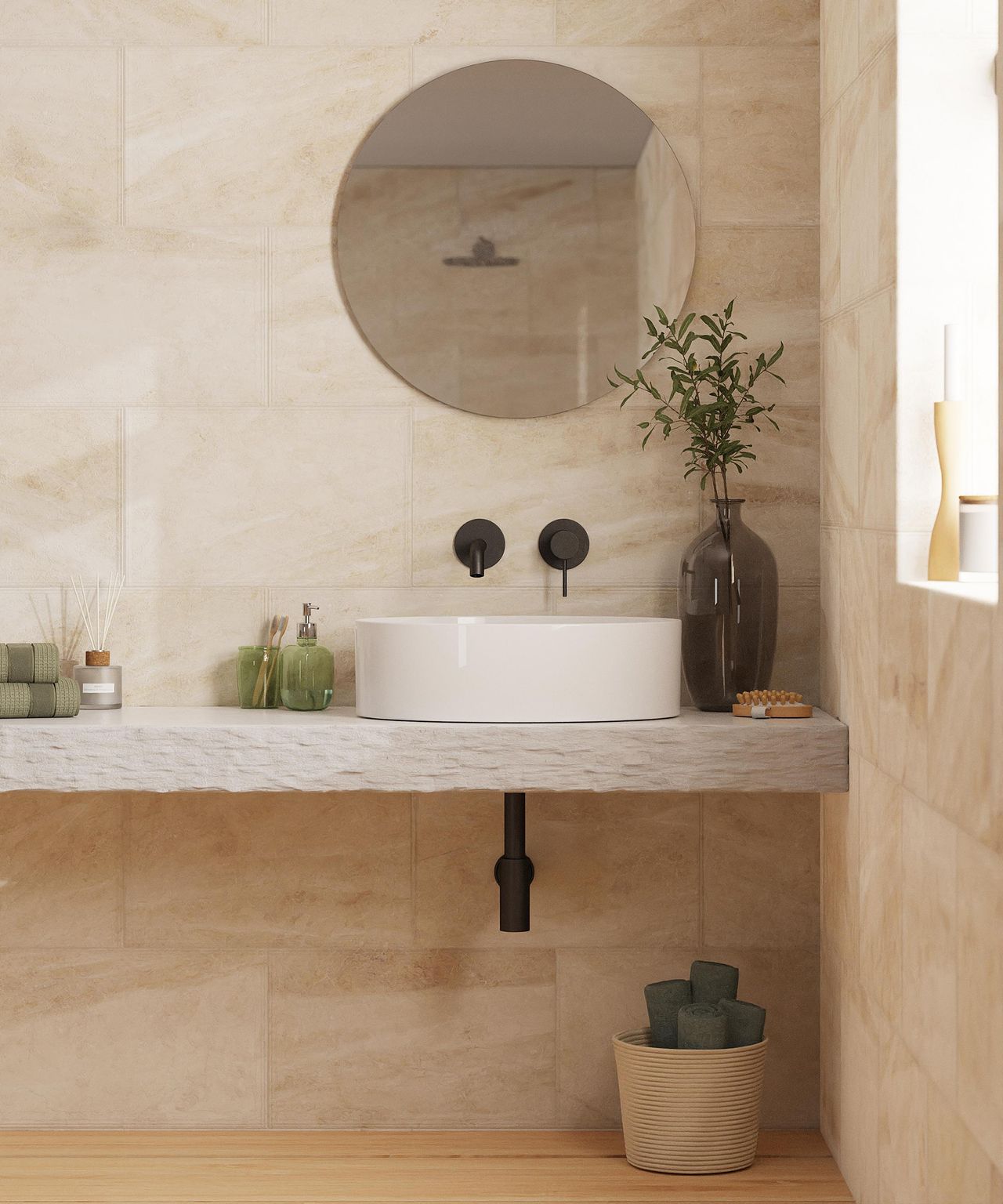 As far as materials go, marble is an inoffensive design that makes for a brilliant beige bathroom design. No matter how big your bathroom is, it is a stone that can transform even a small bathroom idea.
As an all-over design, this light beige bathroom idea will help to brighten up the room which can trick the eye into thinking the space is much larger than it is. But, if you're looking for en-suite bathroom designs or just cheap bathroom ideas, tiling the wall where your basin sits will look brilliant, too!
4. Add vintage charm with beige tiling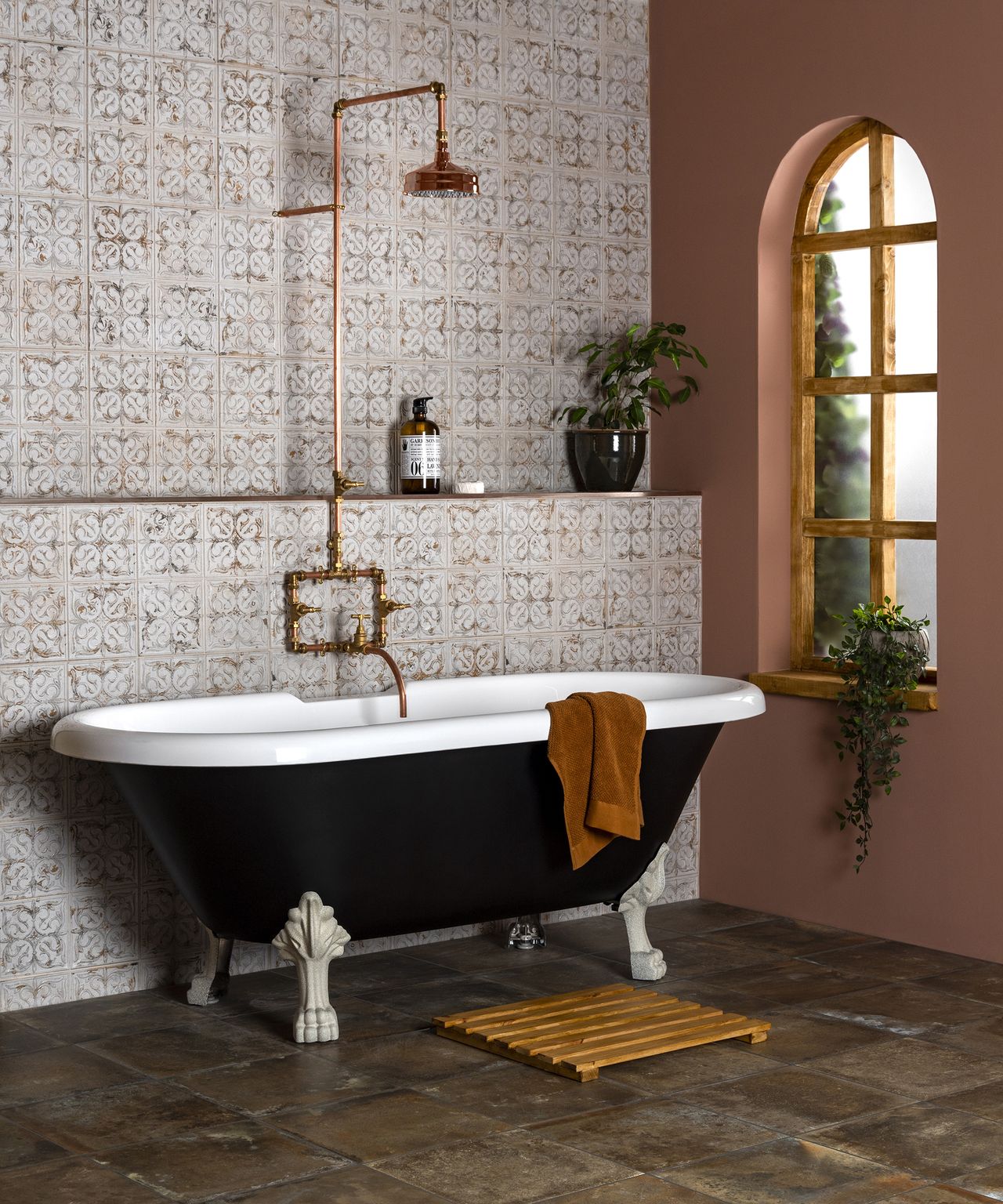 When it comes to beige bathroom ideas, brand new isn't always best. And as the adage goes, old is gold, especially when it adds romantic vintage vibes.
Inspired by tin wallpaper, these anchor chalk tiles have a decorative, vintage-styled design and are perfect for creating a statement wall. 
They're made from durable porcelain and have an antiqued aged rusted appearance. Paired with a few simple metallic fixtures such as a shower head, they provide a luxury look without the high-maintenance upkeep.
5. Reveal a rustic country scheme with a dark beige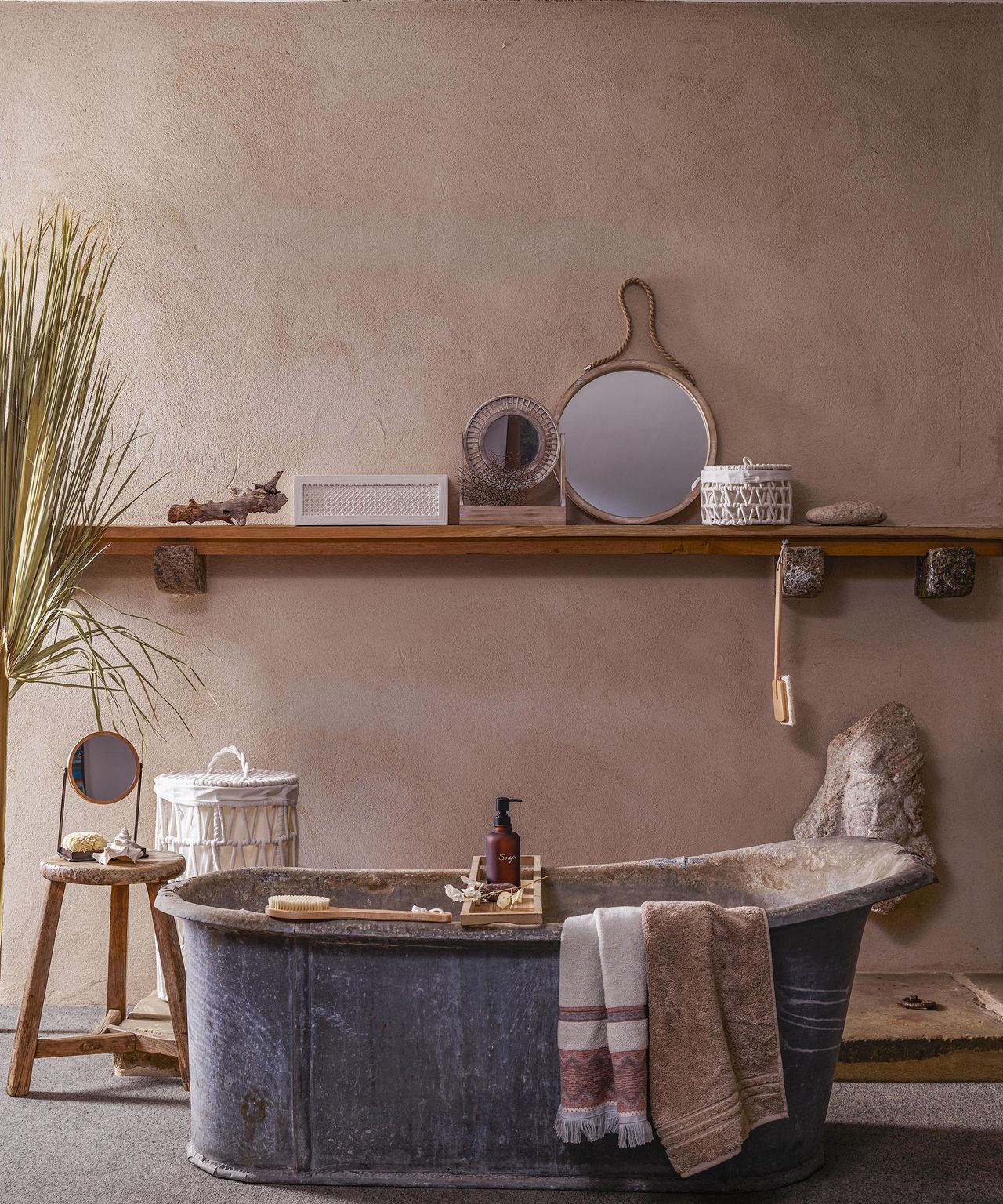 Rustic bathroom ideas are a great way to achieve a warm earthy bathroom scheme. By using beige, stone and terracotta, you can create an organic feel that's aligned with nature. 
To create this matt wall decor idea, start by choosing a chalk or concrete wall paint. Then, invest in a freestanding grey bath for the ultimate stand-out fixture in this beige bathroom idea.
This scheme also relies on showing off your self-care products and equipment for all to see. So make sure you invest in products housed in brown glass bottles, a pumice stone and a fresh loofah!
For seating, settle on a stool for shabby chic style and wooden bathroom shelf to display your wares.
6. Introduce a beige bathroom storage idea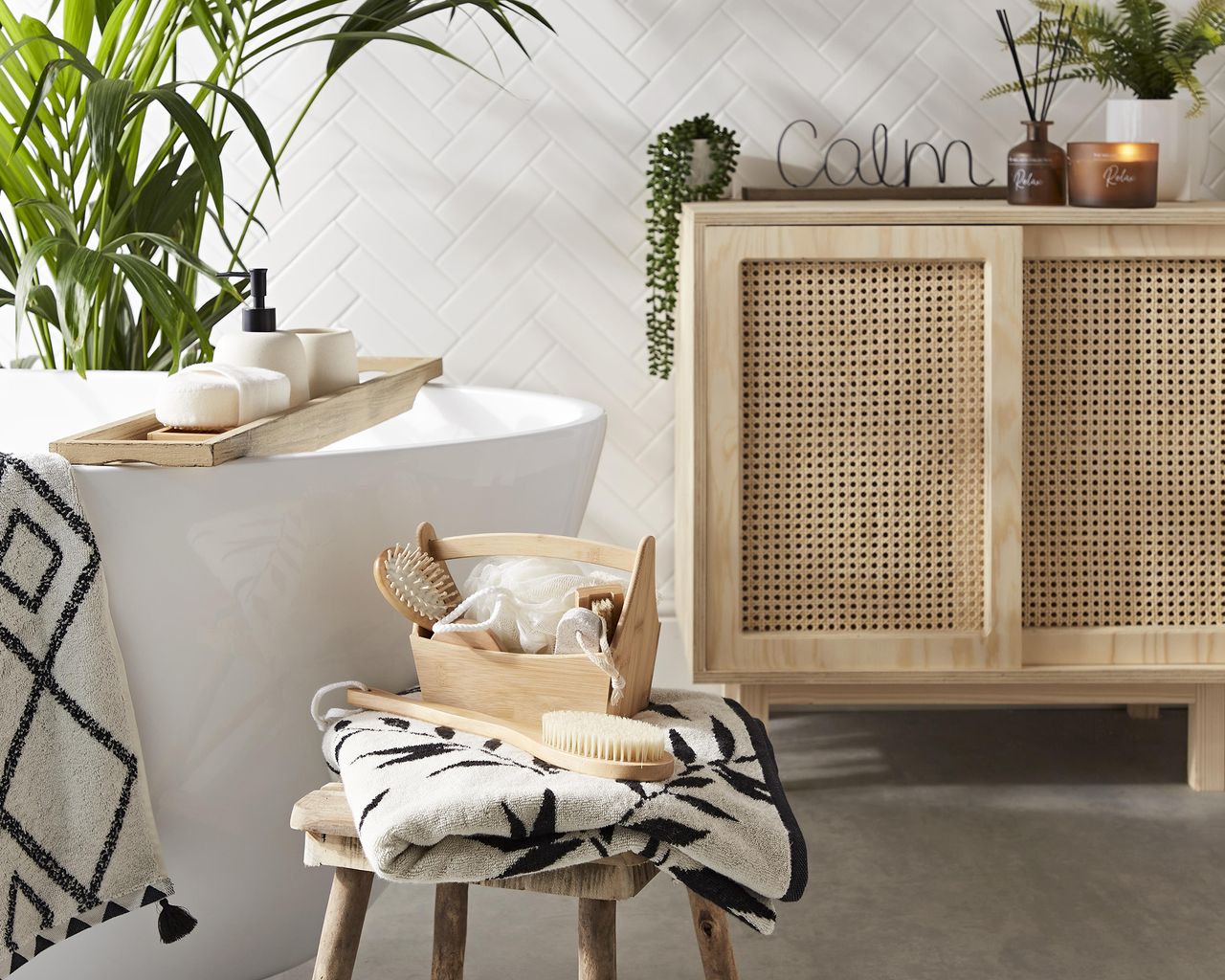 With the rise of cleanfluencers and social media, scrubbing up (be it your face and body or your home) has got serious!
No long does a flannel and simple cleanser suffice, as Youtubers share their secrets and Instagrammers reveal their routines to achieve a #nofilter aesthetic. But that seven-step regime relies on products. And those products need to be stored somewhere, right?
Rattan bathroom cabinet ideas are really on trend right now and are a versatile design for a beige bathroom scheme. Injecting lots of '70s style, combine with lots of green plants for a biophilic feel, a wooden caddy and a bath tray for totally awesome vibes.
7. Mix brass and beige for a vintage scheme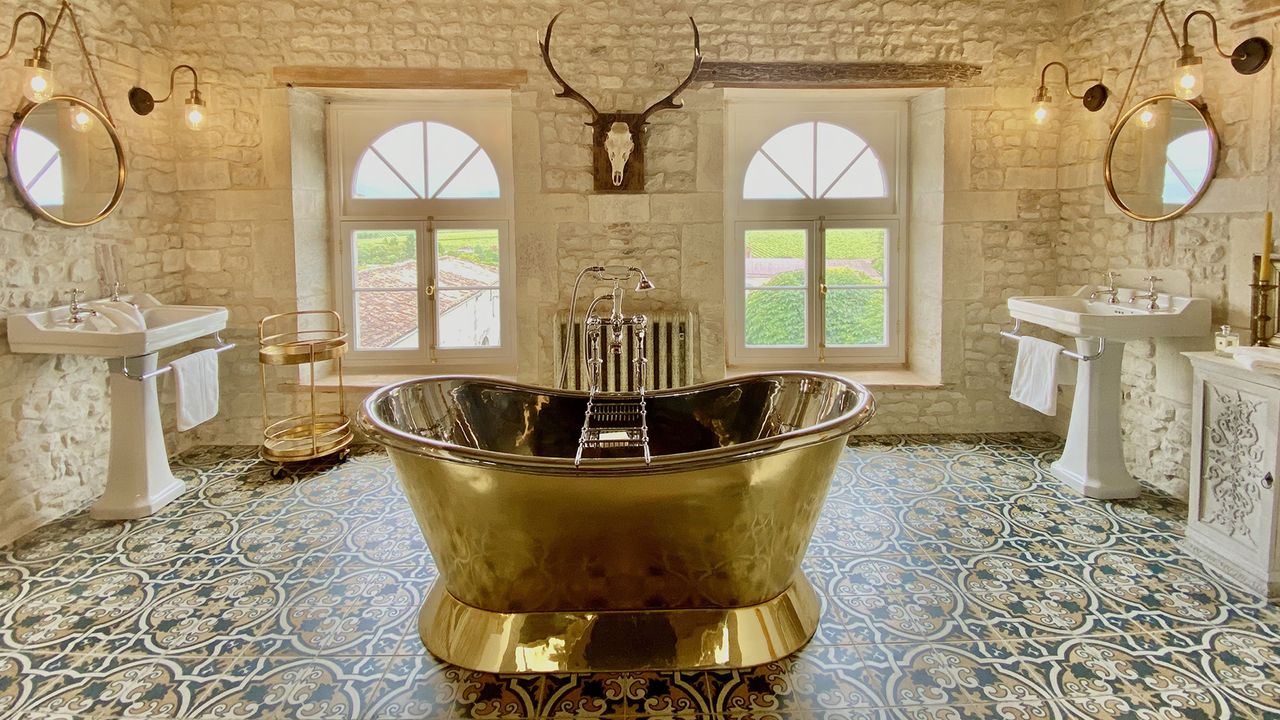 If you want to create a luxury bathroom idea that's full of opulence, then consider incorporating brass into your beige bathroom scheme. While gold complements a white bathroom idea, brass and beige are a match made in interior heaven.
Taking center-stage in this beige bathroom idea, the brass bath keeps your bathwater warmer for longer when compared to a traditional enamel bath. The bathroom lighting ideas and metal framed mirrors add to this warm metallic look.
Instead of deciding for a beige bathroom tile idea, why not opt for an exposed brick wall decor idea? Keeping the walls stripped back will mean that you can be playful with pattern on your floors.
8. Transform walls and floor with beige terrazzo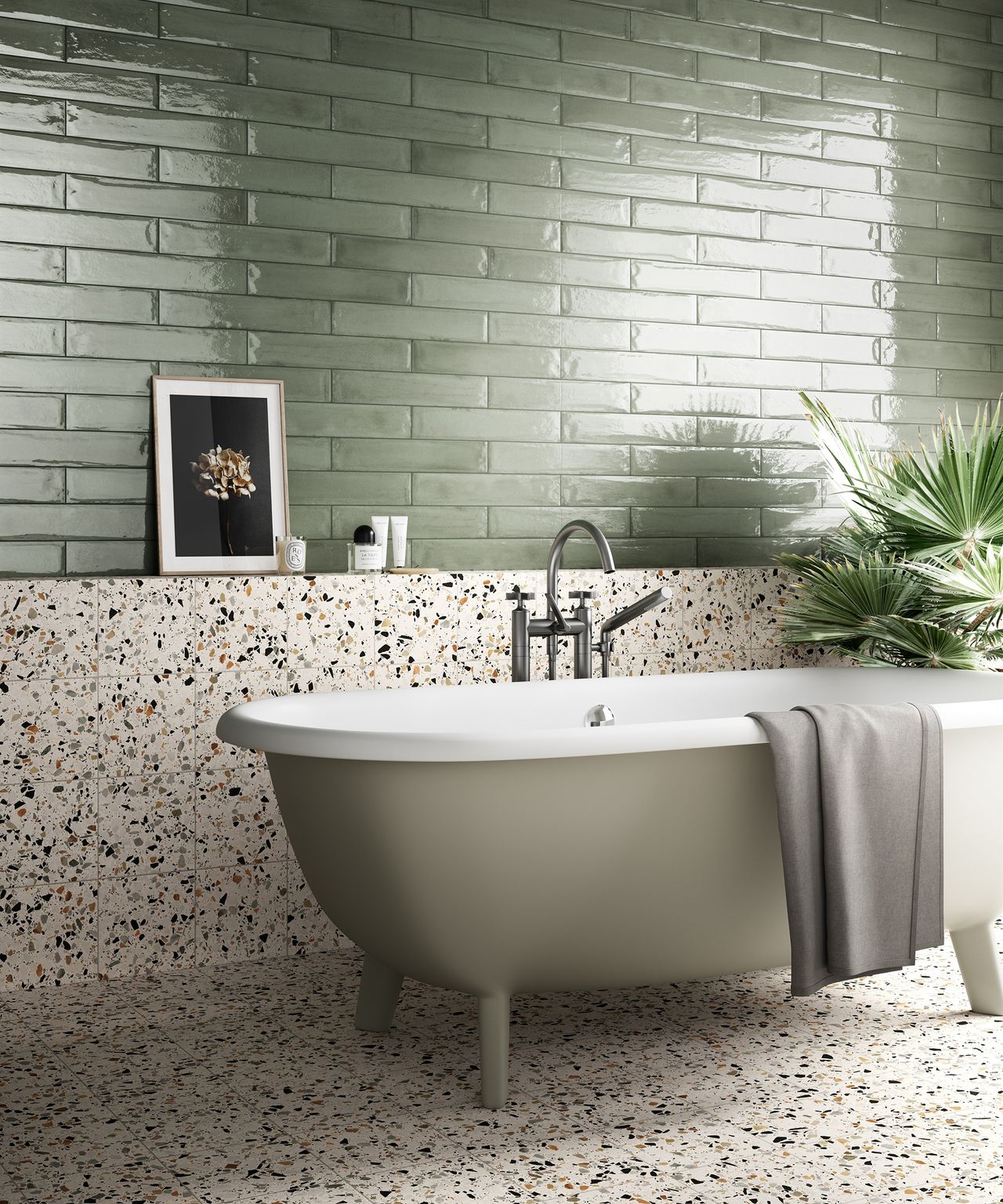 Gentle but glamorous, Terrazzo is an exciting look and busy texture that can revamp an otherwise plain bathroom. Characterized by marble, earthenware, and glass chips, this effect can be used sparingly to add a subtle interest to your washrooms or heavily to heighten an maximalist bathroom scheme.
In this light green bathroom idea, it pairs perfectly with the olive tones to add depth and catch the eye. Using the same design on the walls and floors, this seamless placement creates an immersive atmosphere to undergo your daily routine.
9. Create a light aura with beige blinds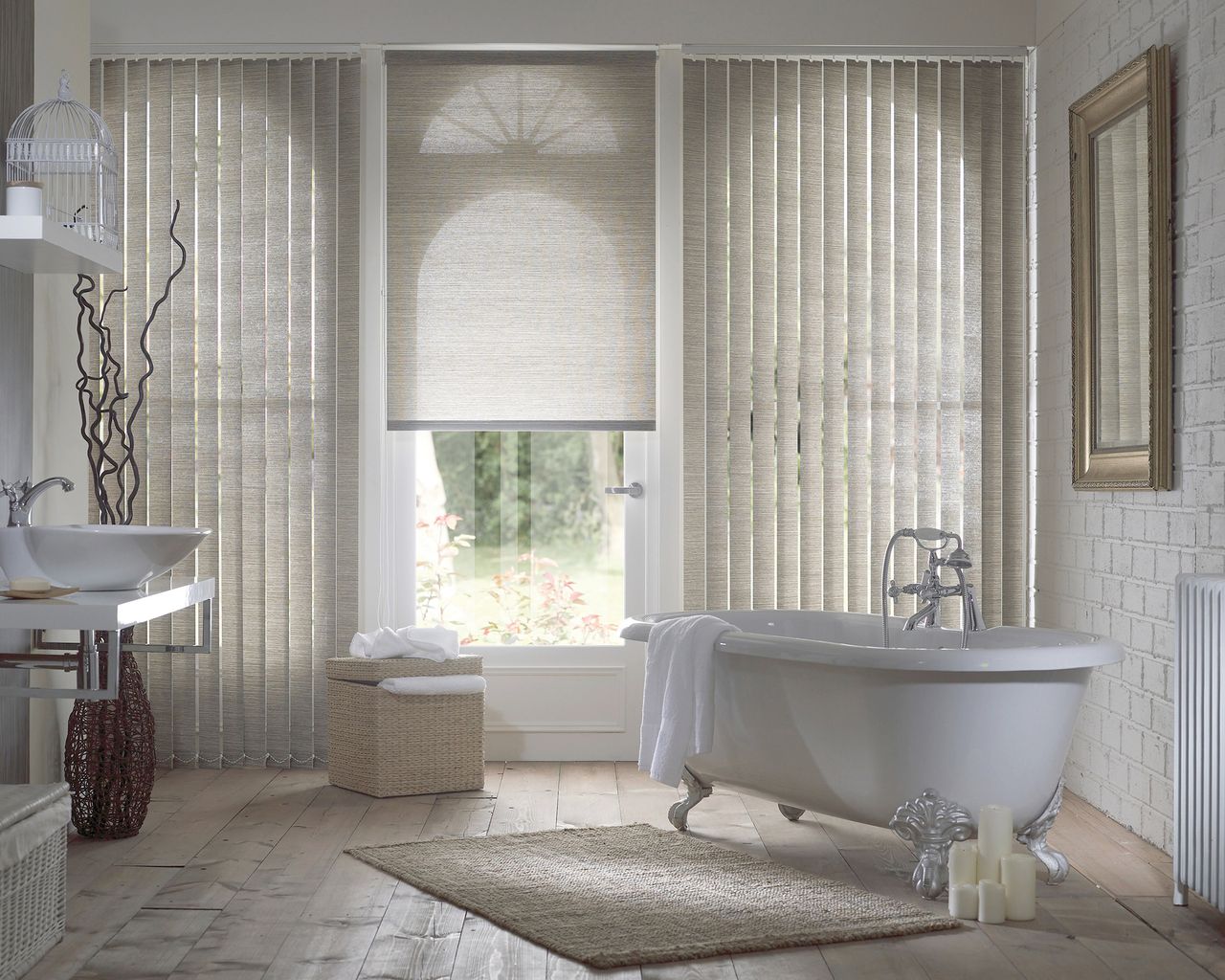 In a white-and-beige bathroom idea, the last thing you'll want is to block out natural light that shines into this room. But ultimately, you'll still want privacy and a cool environment – especially in the summer months.
But in bathrooms with high ceilings, a horizontal roller blind doesn't always cut the mustard, unless it's made-to-measure. Even still, these can be expensive if you're not installing it yourself.
As an alternative, long vertical slats give the illusion of spaciousness and height. They also allow more light to filter in when open or closed when compared to their horizontal counterparts.
10. Mix with black and white for a chic and modern look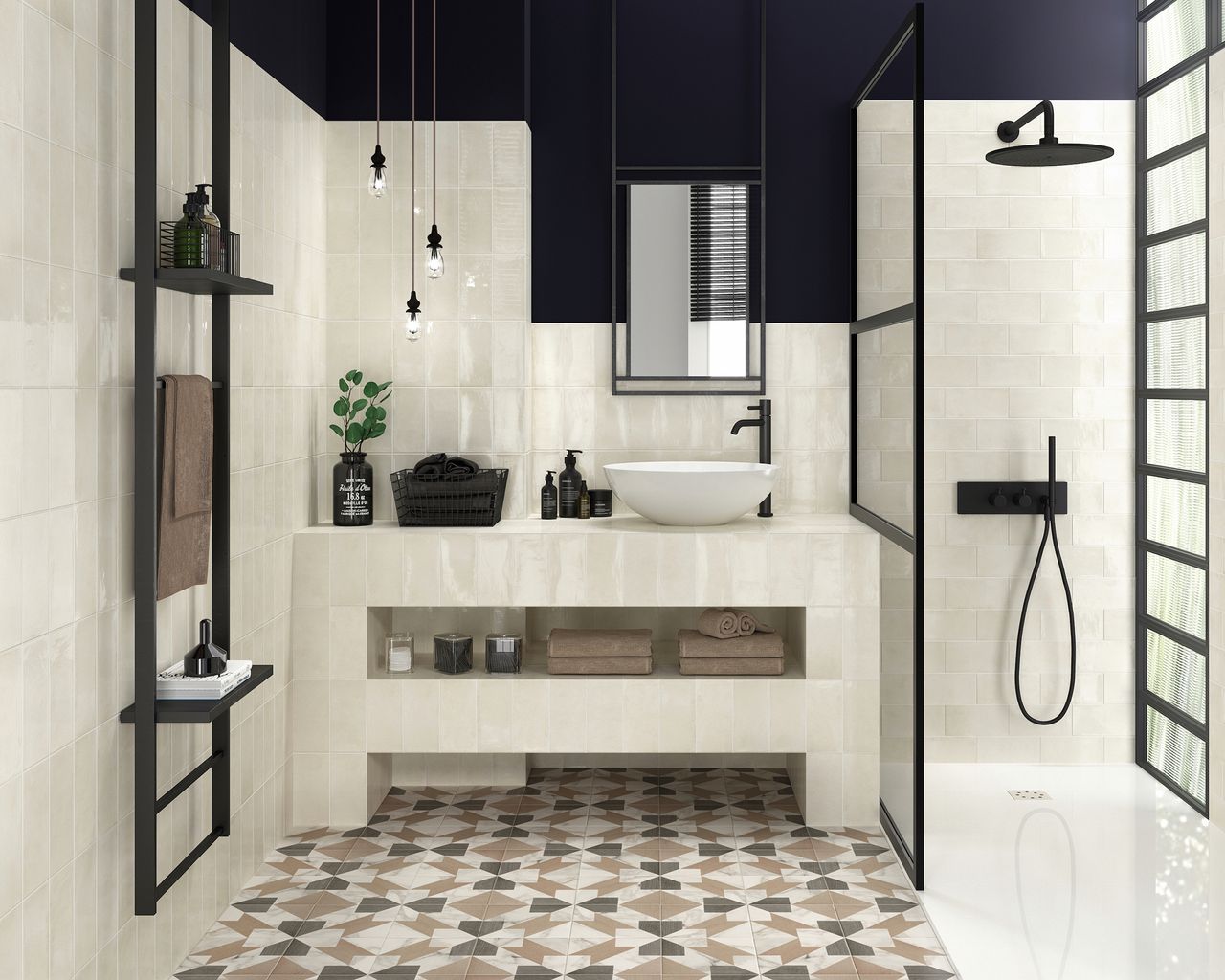 White and black bathroom ideas are a universal choice for many, but the monochrome look isn't for all of us.
So, if you're not quite ready to add a contrasting color into your bathroom, consider creams, browns and beiges to create a softer, sepia scheme in your space.
Making use of all the storage space, this bathroom uses a vertical 2-in-1 towel rack and shelf, and a cute bathroom vanity, with a recess in the design to hold towels, candles and more!
Keeping to a streamlined bathroom design, note how the lighting fixtures, mirror idea, shower screen and fixtures all take on a similar theme of slenderness. 
And, while the black ceiling adds a dramatic touch to the space, the patterned floor tiles adds a fun retro edge to an otherwise modern bathroom idea.
11. Go Art Deco with beige and green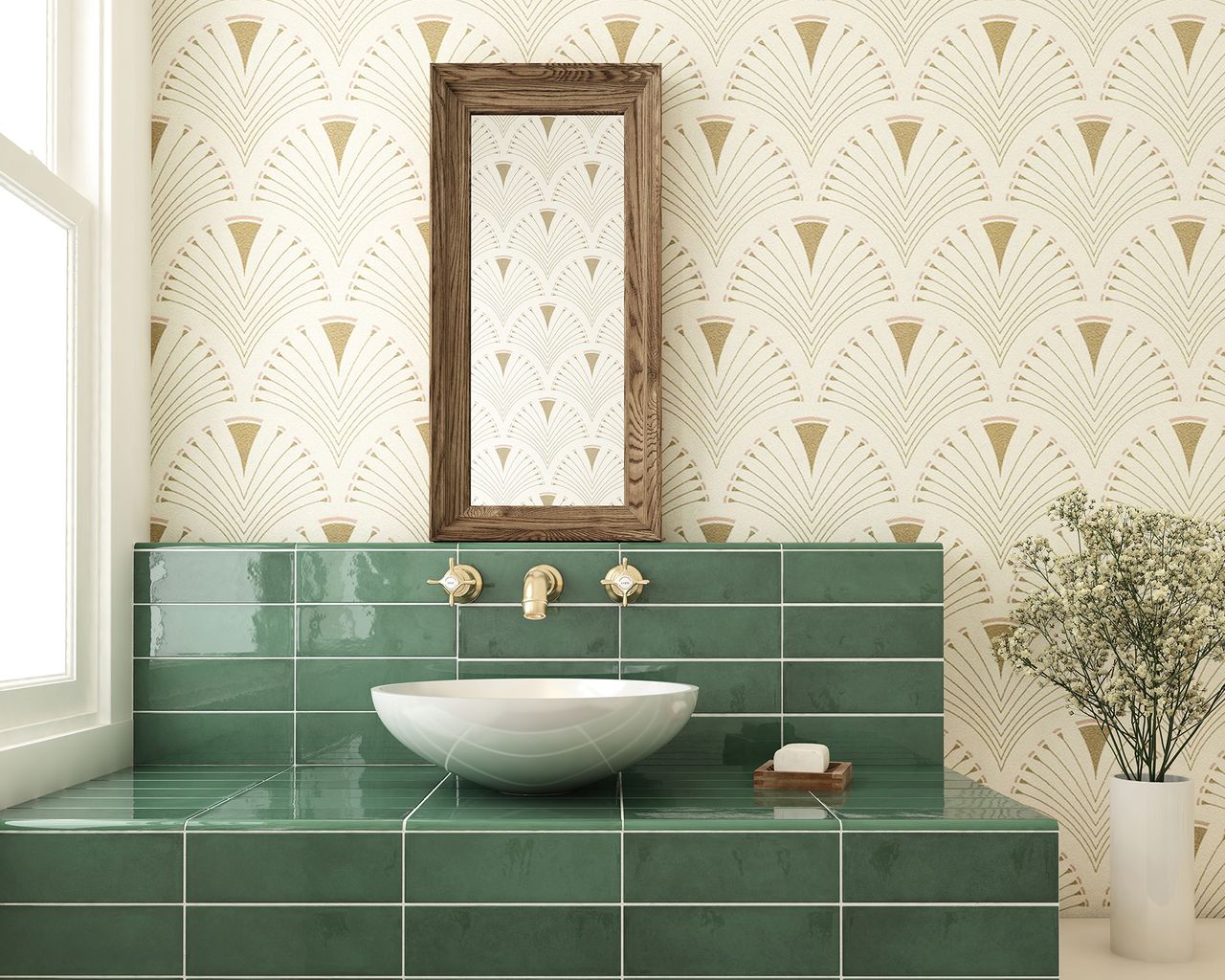 Far from the retro avocado suites we saw in the seventies, green and beige bathroom decor has had a glow-up. From herbaceous sage schemes to creamy pistachio shades, green is a color that only enhances the calming effects of a white bathroom.
If you want to keep in line with more traditional bathroom ideas, it's a color pairing that, you've guessed it – gets the green light. For a biophillic feel, add bathroom plants and floral details in the form of tile motifs and accessories for a nature-inspired scheme.
Ensure this decor doesn't induce nausea by using this color carefully. Here, fresh forest green makes up an all-in-one splash back and vanity unit where this beautiful bowl-like basin sits on.
What colors are trending for bathrooms?
Abbas Youssefi, Director of Porcelain Superstore has his own ideas why the color has become a firm favorite in the interiors world.
He says: 'When it comes to neutrals used throughout the home, the last few years has been dominated by greys. Beige is a natural progression.
'However, unlike grey, it has some seriously warm undertones which a lot of people are craving right now. The world has gone through some strange times over the last year and home has become a sanctuary for many. 
'We are seeing this being reflected in their interior decisions.
'There is something about beige that is timeless and it offers a safe bet when it comes to interior chic.'