Bedroom ideas for women: 13 designs that are fun and feminine
Bedroom ideas for women can sometimes get lost in the interior design world.
Too often are they crammed into the same box as romantic bedroom ideas, co-habiting couples or full of pink and floral patterns.
So, in the words of a paraphrased Beyonce, single ladies put your hands up because we've found stylish designs dedicated to you.
We've put together a montage of our fave female-friendly bedroom ideas that are the perfect balance of chic sleep space and girl power, below. 
Bedroom ideas for women 
1. Create a sassy gallery wall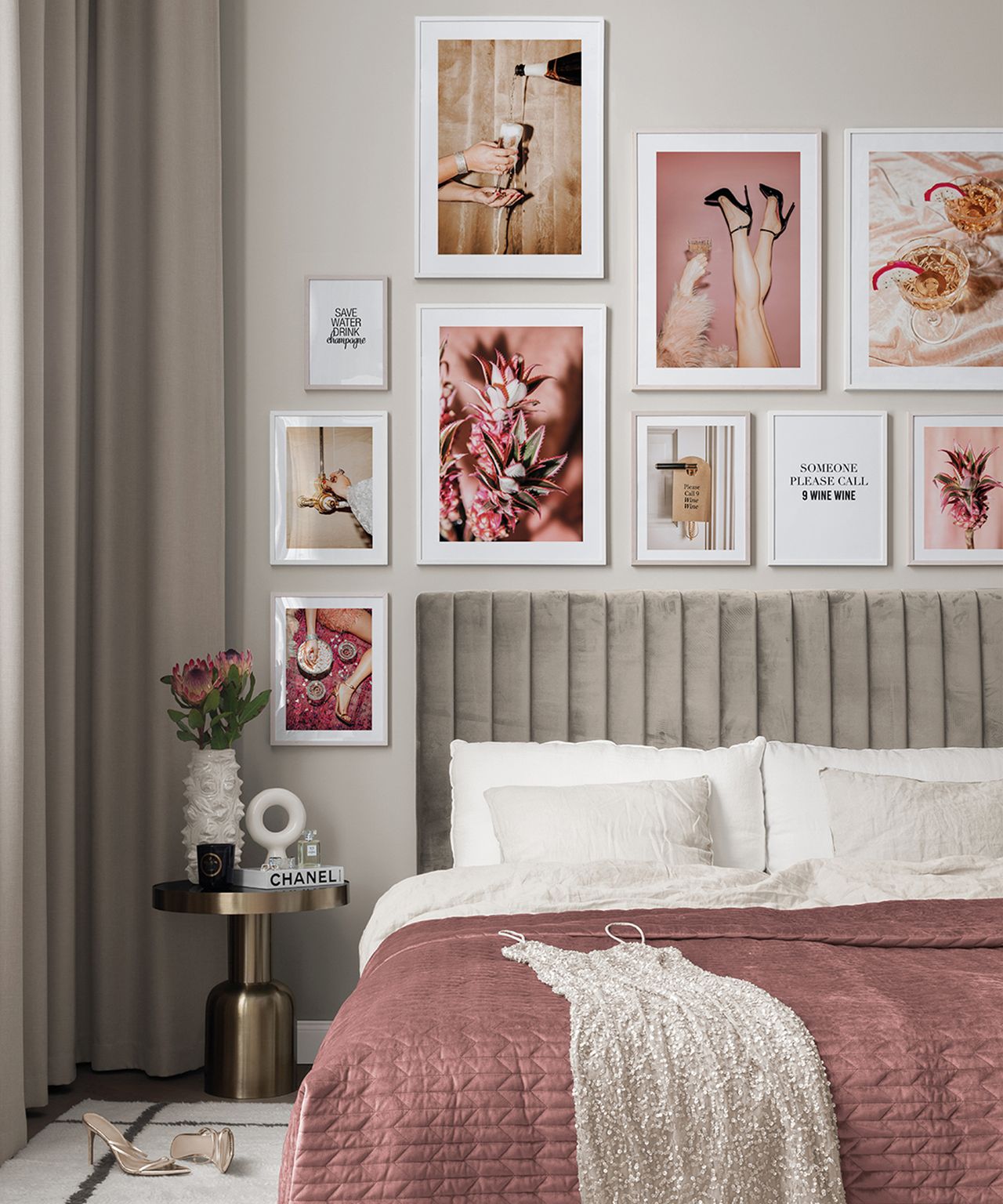 You know what they say – a picture tells a thousand words! So get everything off your chest with this gallery wall idea.
There is no right or wrong way to create this display, but we think a mix of your hobbies and interests make for a fun and personalized arrangement of prints.
This women's bedroom idea can be adapted for both the introverts and extroverts in us, depending on the images and typography used, and the quantity or placement of these prints. So treat yo' self to slogan, champagne prints and other photos of life's little luxuries.
Pair with fashion house literature and a bouquet of flowers in the dominant color scheme that suits your feature wall idea. Et voila!
2. Prove blue isn't just for boys with wall paneling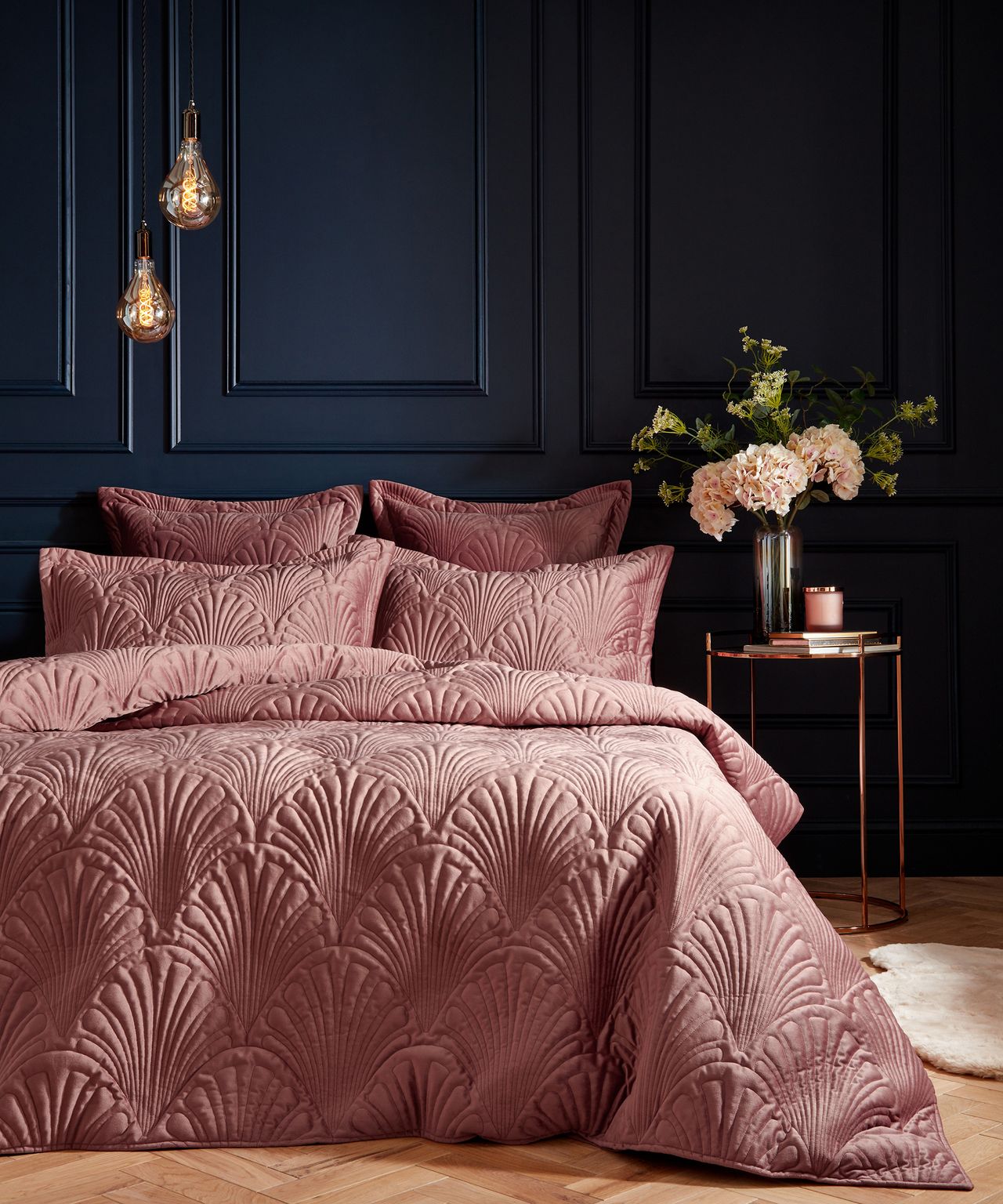 In today's world, blue bedroom decor can suit anyone. Professional and amateur interior designers love using this hue for its versatility and timelessness.
That said, some elements of the women's bedroom design, above, are unapologetically female. Take, for example, the Art Deco-inspired scallop embossed duvet and the addition of a bouquet on the gold bedside table. The cream fur also adds to the luxury textures on display in this scheme.
Using a navy blue shade to paint the wall panels helps give this otherwise girly bedroom idea some oomph. This is further industrialized with the use of bulb-style bedroom lighting with an exposed filament design.
3. Or try this royal blue idea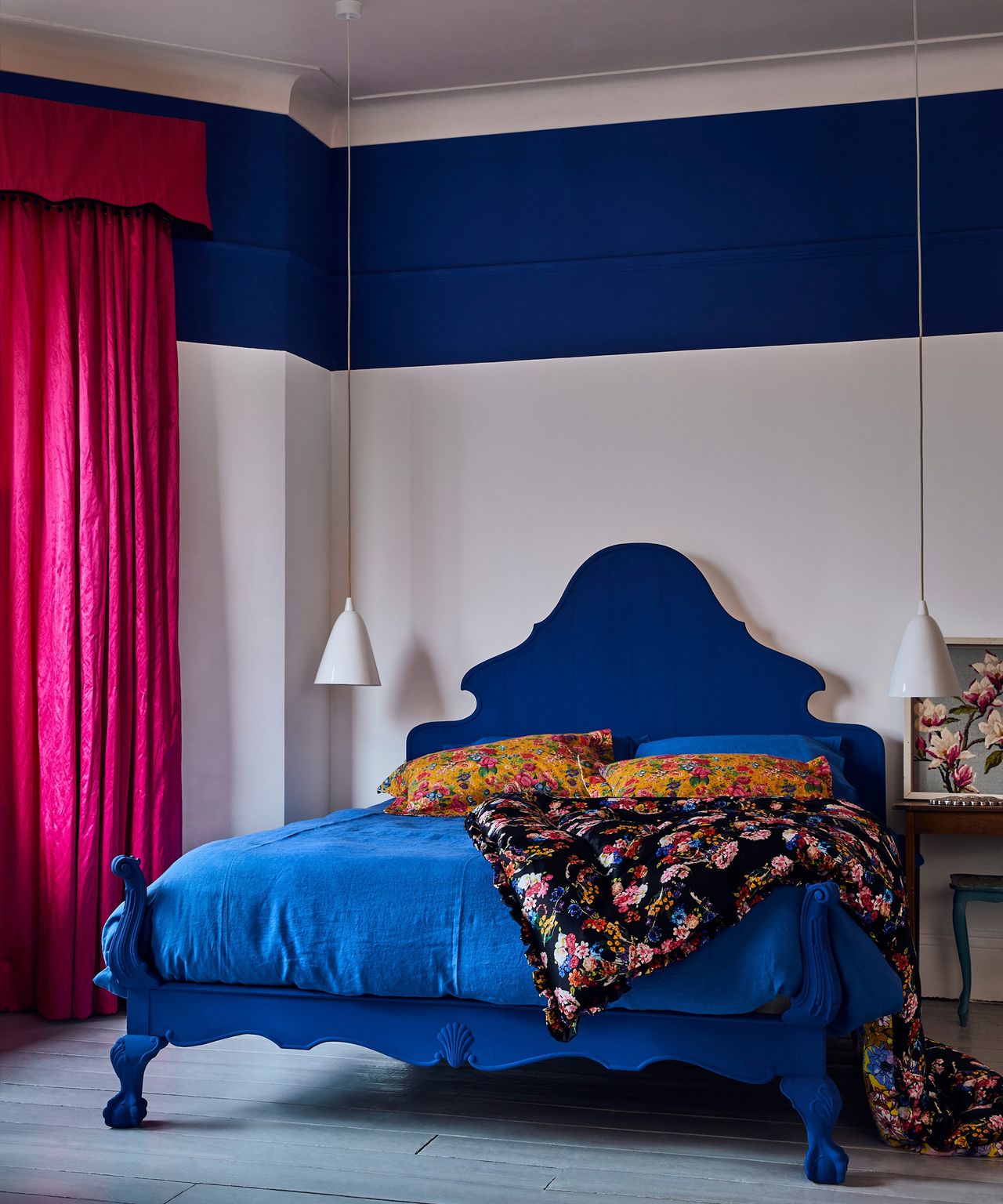 Kathryn Lloyd, Crown Color Specialist says: 'While blue may not be the first color that comes to mind when thinking about a lady's bedroom, it is actually a shade that gives a feeling of openness and a sense of space, creating a calming and restful backdrop.
'Due to its connection with nature and its relaxing qualities, it's incredibly popular in bedrooms. Some people seem to think paler and powdery shades of blue work best, but dark and bright tones, such as navy or royal blue, work just as well to create a cozy and relaxing space.'
'Chalky whites, sandy tones and soft terracottas are the kind of colors that blend and harmonize with blue the best – they give it warmth while maintaining its restful character, which is what most people aim for in their bedroom.'
4. Create a bohemian scheme that's full of texture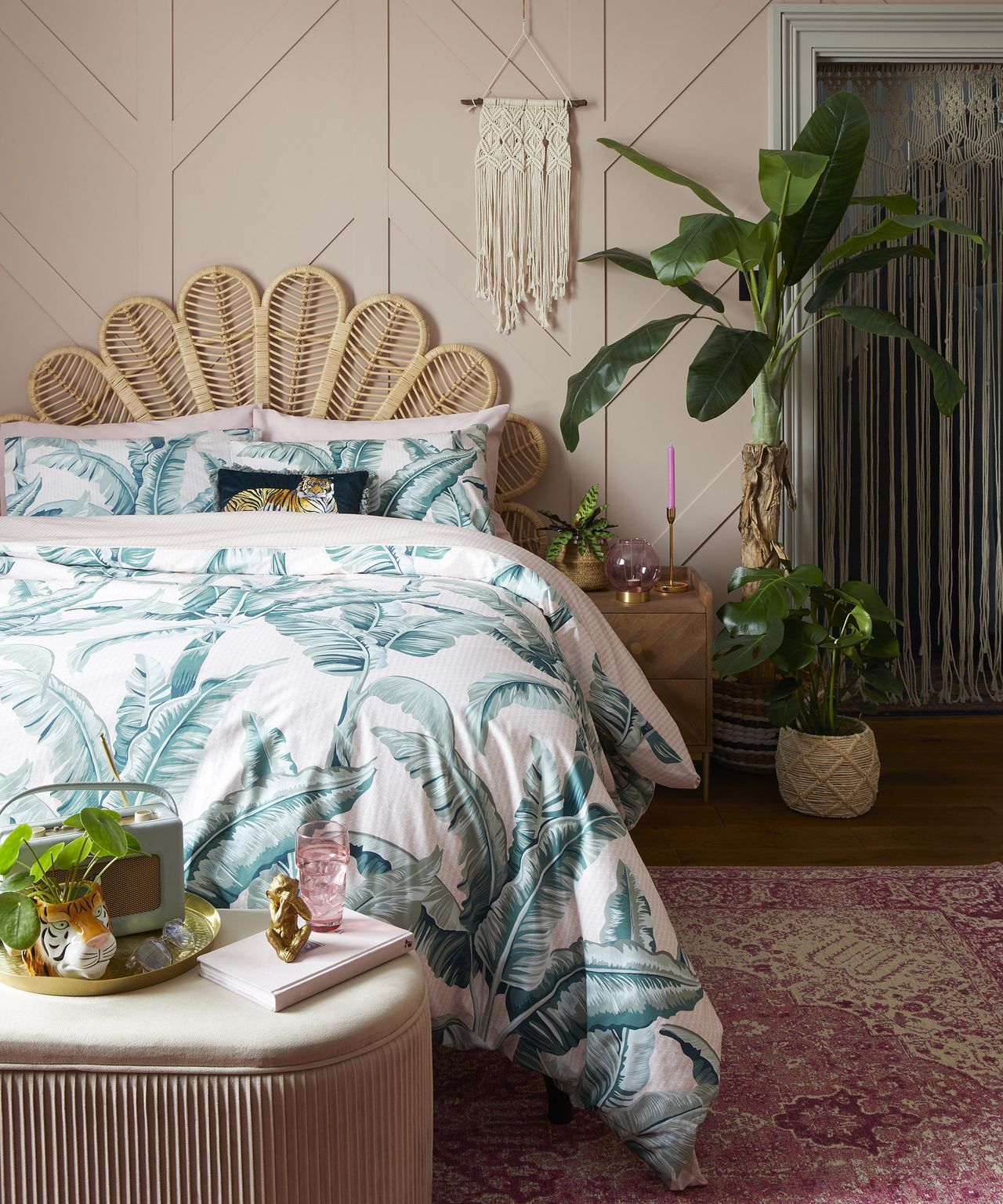 If we had a time machine to take us back to our fave interior era, it'd have to be the '70s. 
Full of natural wooden texture, macramé wall hangings and colorful, psychedelic rugs, it's a time where peace, love and tactility were in abundance. So it's no wonder why a boho bedroom ideas are so popular. 
This cane headboard is shaped in a gorgeous sunburst design for a nature-inspired bedroom idea for women. Paired with a banana leaf motif duvet, we're dreaming of far-flung destinations with a Pina Colada or fresh coconut in hand.
If you haven't got a door, this macramé door hanging is a great idea to zone of a room or to make an entrance!
5. Cut some shapes with geometric inspired accessories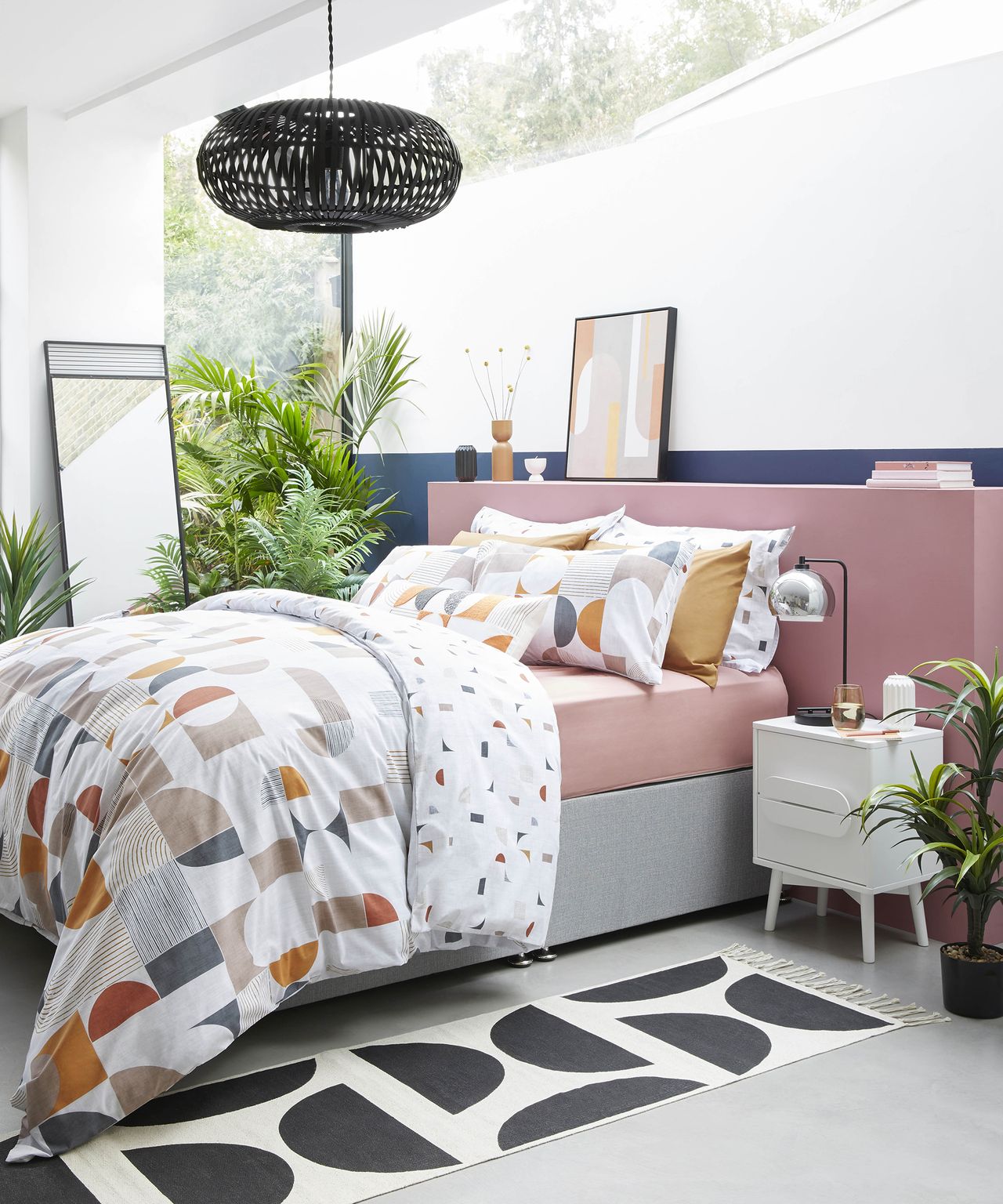 We're all for budget and convenience here at Real Homes. Dresses with pockets? Check. Finding money in your jeans before doing the laundry? Yes! Reversible duvet covers? Ab-so-lutely.
'Shaping up' for a wonderful women's bedroom idea, this geometric scheme is great for if you're not really a 'girly-girl'. That's because this 2-in-1 duvet uses neutral hues of earthy mustard, terracotta and grey. On one side, find a semi circle and square design. Flip it over to reveal flecks of terrazzo-style print.
This runner with a monochrome half moon design would also make a statement in white and black bedroom ideas.
6. Recreate your dream childhood bedroom design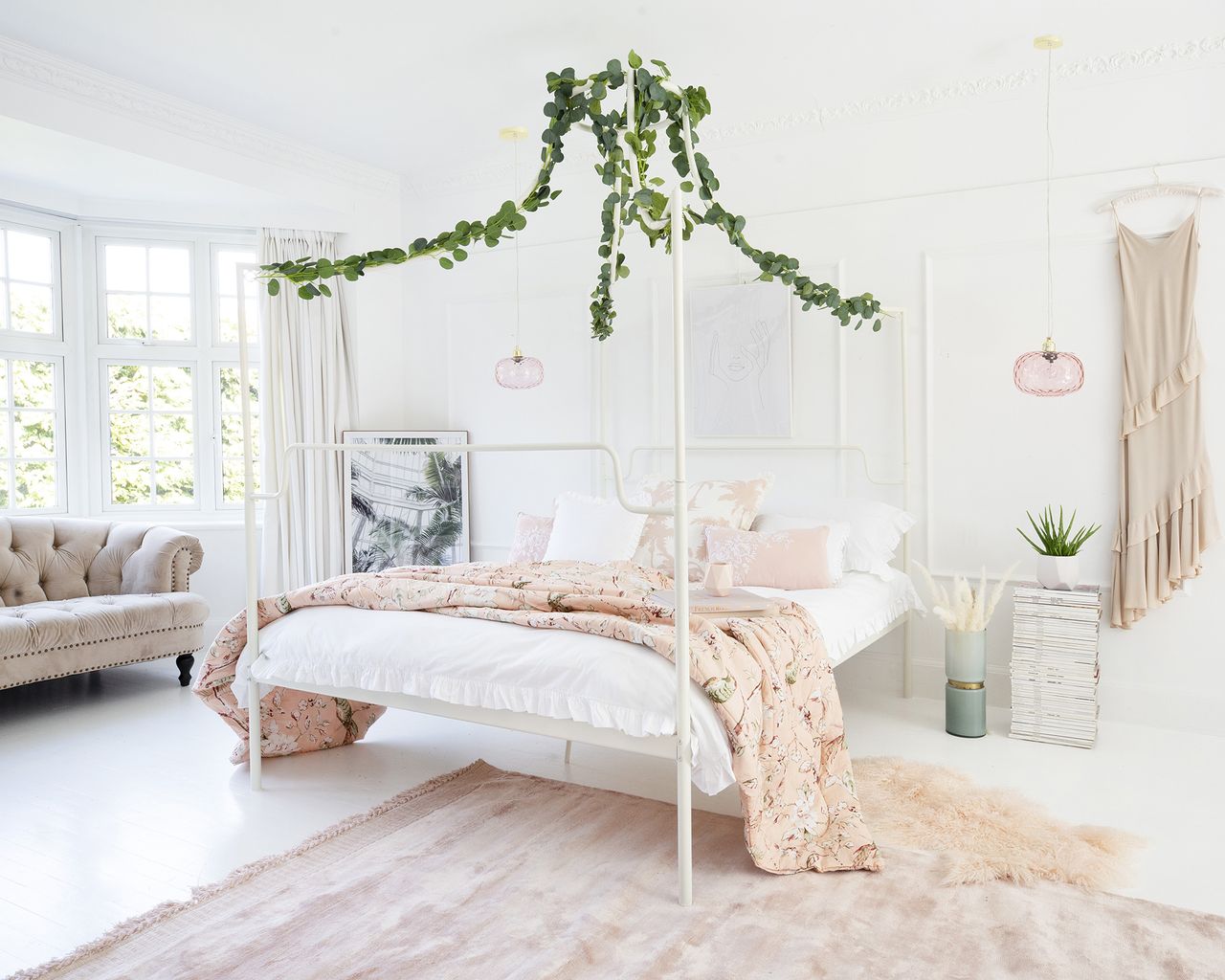 When we were little girls, we daydreamed about a canopy bed that we could sing, dance and play on, pretending we were Disney Princesses. Skip 30 years down the line in search of modern bedroom ideas and we've hit the jackpot!
#bedroomgoals and totally Insta-worthy, this metal four-poster bed frame can be decorated with fairy lights for a cozy winter feel, or with faux vines and spring flowers for a spring or summer setup. This white and pink bedroom idea is a foundation that can be built on to suit your own interior taste. 
Wayfair's resident style advisor Nadia McCowan Hill says: 'Your choice of bed will set the mood and style across your bedroom.
'A classic metal frame may not be an obvious first pick, however it will toughen up an overly feminine scheme and add a contemporary twist.'
We also think that panels of white voile swathed and draped around the canopy and frame would look ethereal and graceful, reminiscent of childhood fairy tales like Sleeping Beauty! Or take to a gold and teal bedroom design for a Middle Eastern vibe that Princess Jasmine would sleep in.
Style with a large mirror idea before reciting the words: 'Mirror mirror, on the wall…' for the ultimate nostalgic memory. Mom, we've finally made it.
7. Create a dramatic bedroom design with Chinoiserie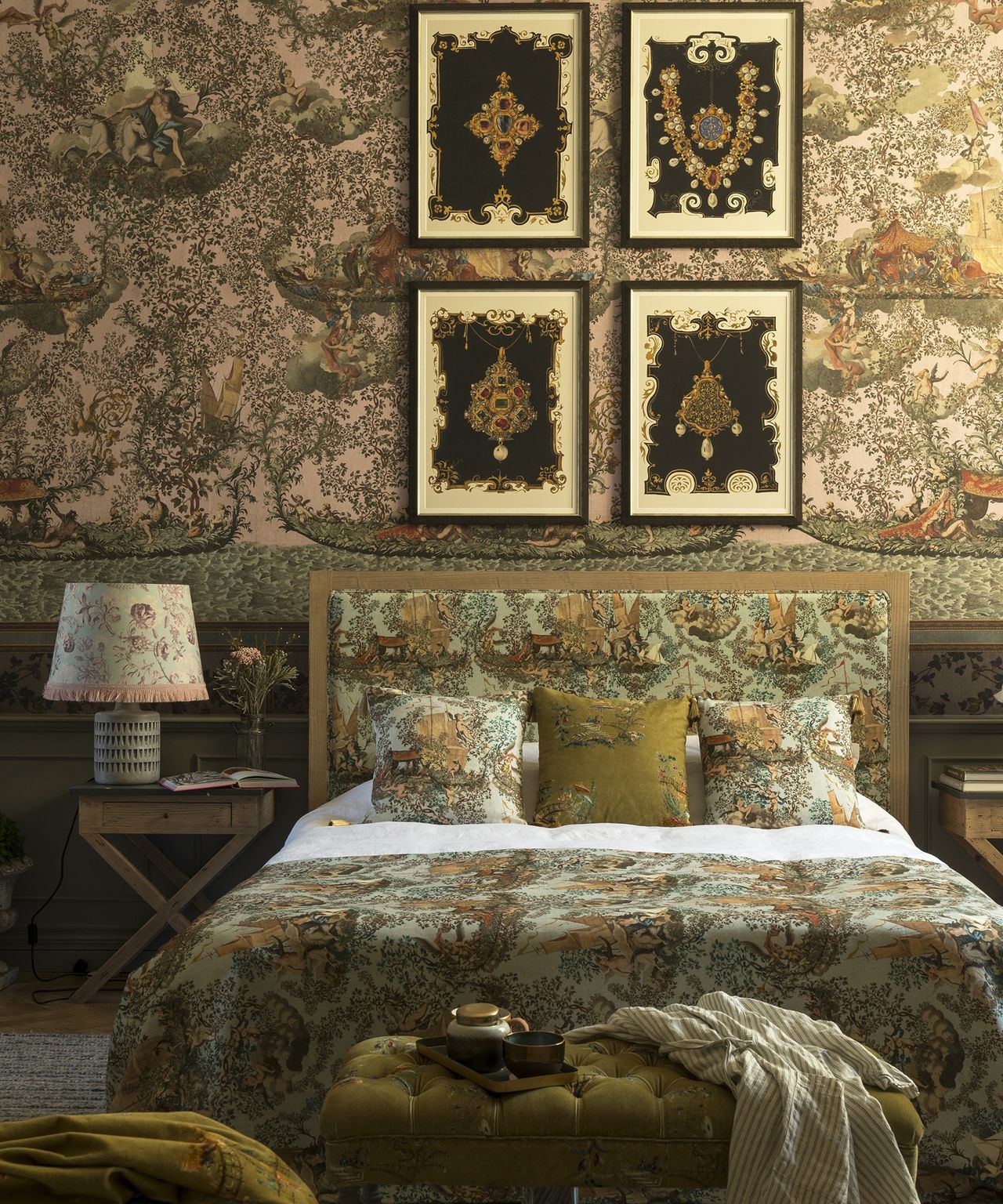 This maximalist scheme is inspired by East Asian design. By using a printed wallpaper as a bedroom wall decor idea and opting for a matching bedspread you can create a bedroom that is as expressive as you are.
Hanging pictures on the wall can break up the design while also adding a high focal point to make the room look bigger.
'Maximalism is a trend loved by interiors enthusiasts. It allows creatives to showcase their personality through bold and daring design,' says Nina Tarnowski, founder & designer for Woodchip & Magnolia.
'The key to this scheme is decorating with you in mind. Showcase your favorite colors, patterns and display quirky 'out of place' items that you love rather than storing them away.'
'Pattern is a great starting point for the go-big-or-go-home approach to interior design. Whether you're looking for a bright and tropical scenic wall mural, luxurious velvet upholstery or want to envelop your room with clashing designs across all four walls and the ceiling.'
'Throw everything you have into your design, then add more.'
8. Upcycle bedroom storage for a Gothic aesthetic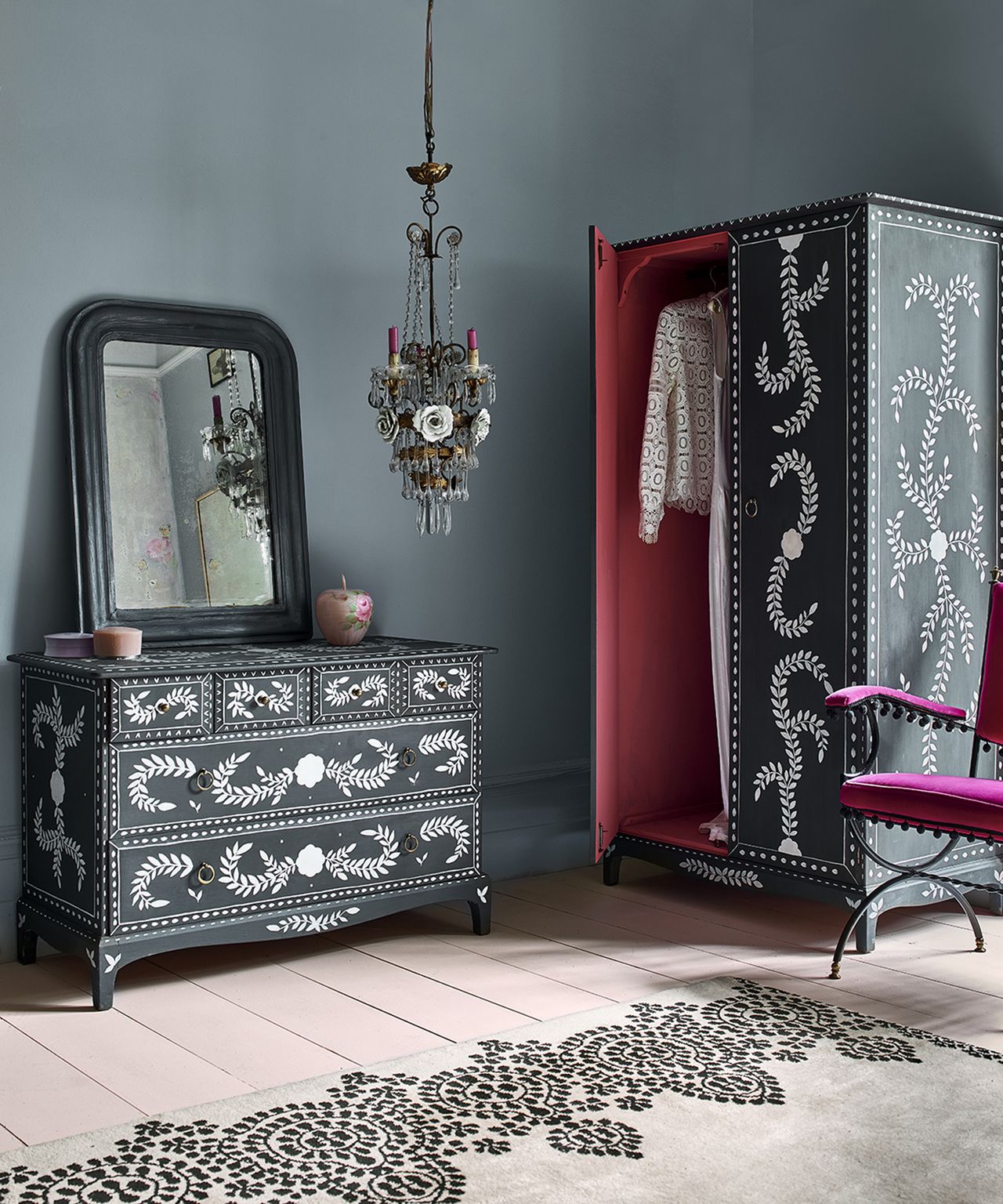 While a lot of women's bedroom ideas and decorating advice spans wall paint ideas and bedding, there's a lot of opportunity for your wardrobes and drawers to be given a designer makeover.
If you don't have the money to fork out on brand-new wardrobe storage ideas, embellishing existing furniture with painted designs can revive a worn out fixture.
Consider yourself a bit of a Goth or rock chick? This design by Annie Sloan uses black chalk paint with a contrasting white leaf design. Paired with a plain black mirror and a printed rug, this adds a pretty floral design to your women's bedroom idea for those who are adverse to using pastel colors.
And don't forget the inside of your wardrobes and drawers. This punchy pop of fuchsia pink adds another level of drama to this dark design.
'One of my favorite tips is to paint something neutral or black on the outside and then add a flash of vibrant color on the inside,' Annie Sloan, color and paint expert says. 'It'll make you smile every time you open a drawer or a wardrobe. Color brings joy so be bold with it!'
9. Be playful with wallpaper panels and texture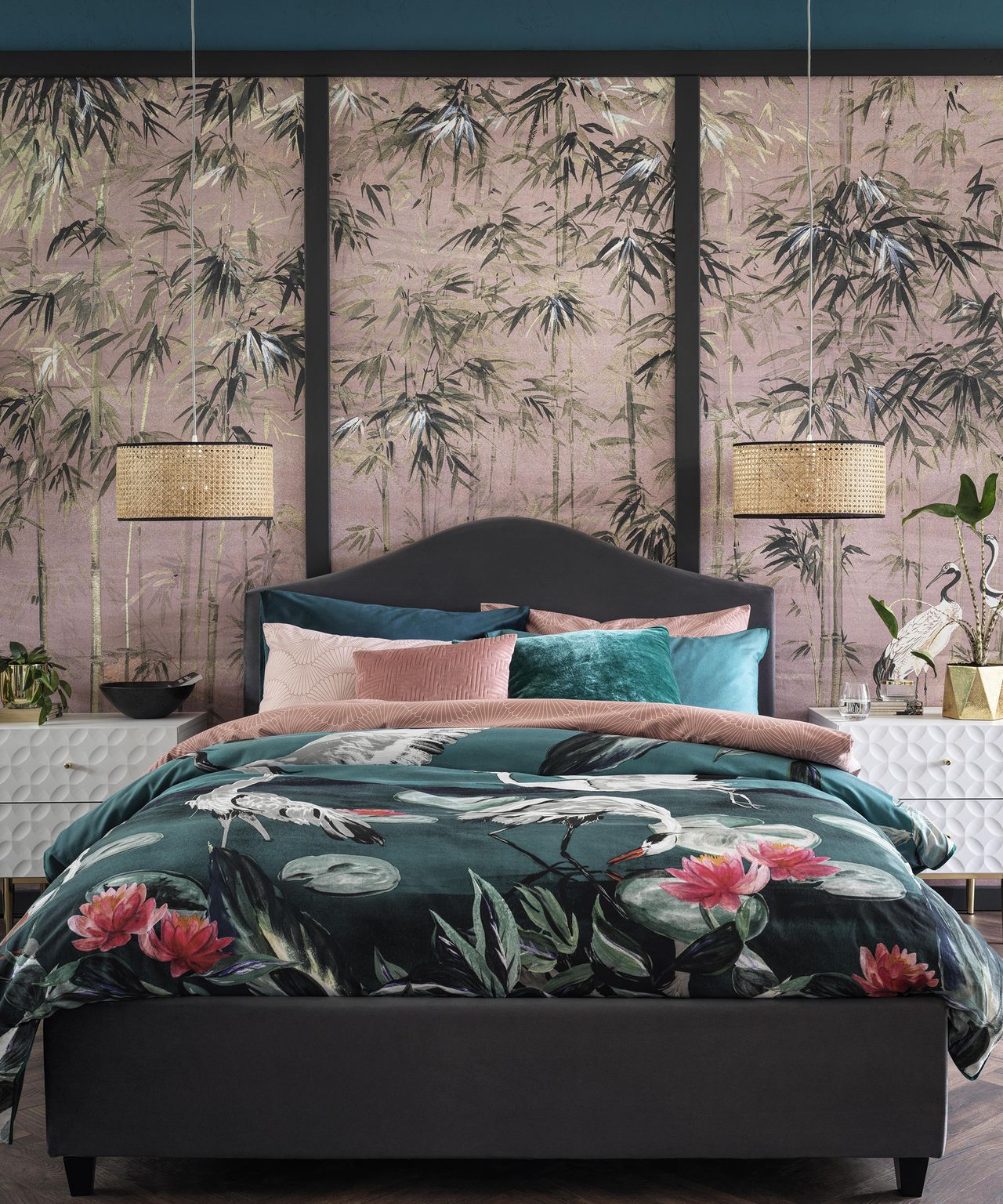 Generally speaking, women tend to be a lot more experimental with bedroom design.
So rather than opting for an all-over wallpaper idea, why not introduce panels of print into your bedroom ideas for women? Using teal and black to add contrast to this pale pink wall decor adds dimension, zen and a way to zone your bedroom space.
The black, pink and teal triple combo can also be continued in your choice of duvet cover too. We love this 'Japonica' design from Habitat which fuses Art decor design with Asian inspiration.
From scallop print cushions to rattan shades and gold planters, look out for these items on your next trip to Sainsbury's or shop the entire look online at Habitat and Argos.
10. Add lots of flowers for a rustic, country feel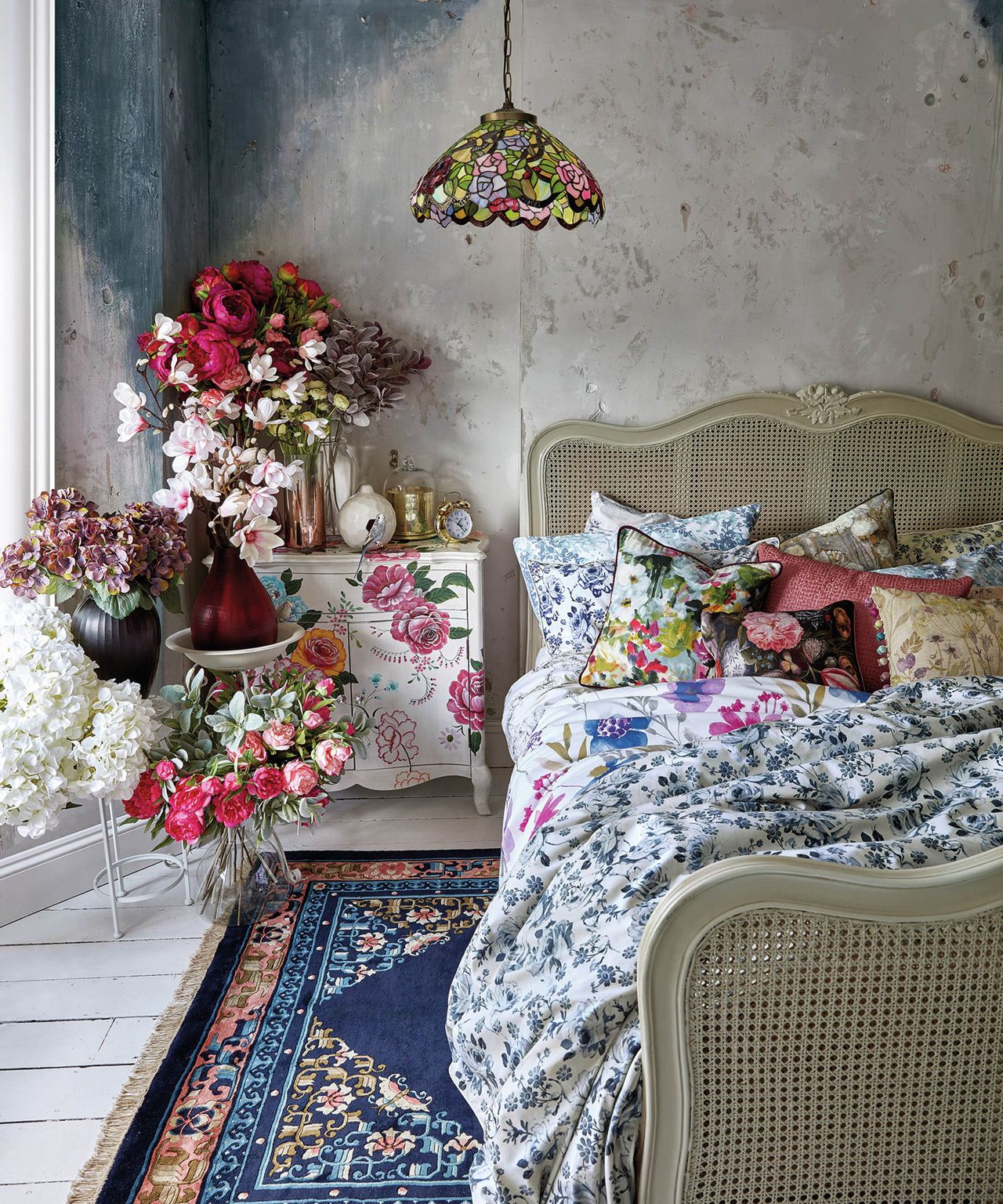 A damsel in distress may have been seen as a weak character that needed to be rescued. But on the other hand, distressed interiors are a sign of strength, resilience and definitely something we don't need rescuing from!
In this rustic bedroom idea, we're here for all of the worn details. Take for example this diluted grey and blue wall. To achieve this, use a chalk finish paint to provide a Matt texture to your women's bedroom idea.
If you're lucky to have floorboards that are in good condition, painting these white can add to an authentic farmhouse feel. But if you don't, then shopping for a floral shabby-chic rug can cover unsightly wear and tear.
By knowing how to correctly remove paint from a door, you can affordably emulate the charming country feel in this bedroom.
This painted set of drawers is a lovely alternative to bedroom storage ideas you'd find on the high street. By displaying your accessories on this organizer you can keep the floor tidy and de-cluttered. This is especially important for a small bedroom idea.
Lastly, this gorgeous stain glassed lampshade is a gothic bedroom lighting idea that goes well with all the floral bouquets and soft furnishings.
11. Consider peacock as an alternative to leopard print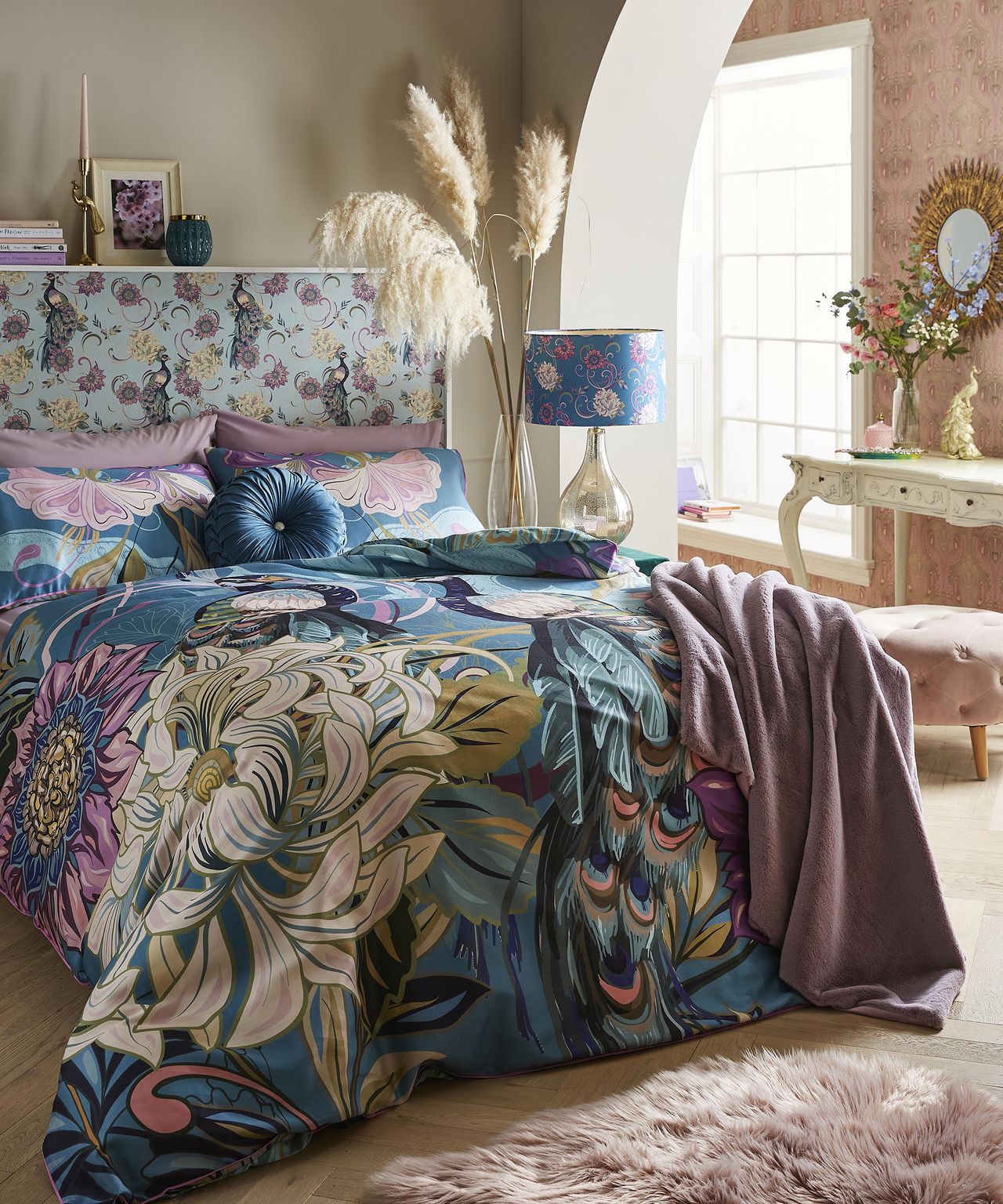 We get it. Leopard, zebra and other out-there animal print isn't for everyone. But if you want to inject a bit of feminine fun into your women's bedroom idea, there are more feisty animals out there to choose from.
With its gorgeous teal, purple and blue feathers the humble peacock is the perfect example of how nature can be translated into interior design. Take a look at this bedspread by Joe Browns for example which uses the colorful peafowls print for inspo. The printed wallpaper also pays homage to the Phasianidae family.
Using a neutral beige and pink backdrop, layer various pastel blue and lilac soft furnishings to further emulate the look of this beautiful bird. The use of Pampas grass is an ethical and cruelty-free alternative to peacock feathers in this purple bedroom idea.
12. Go peach for a bright and fruity bedroom idea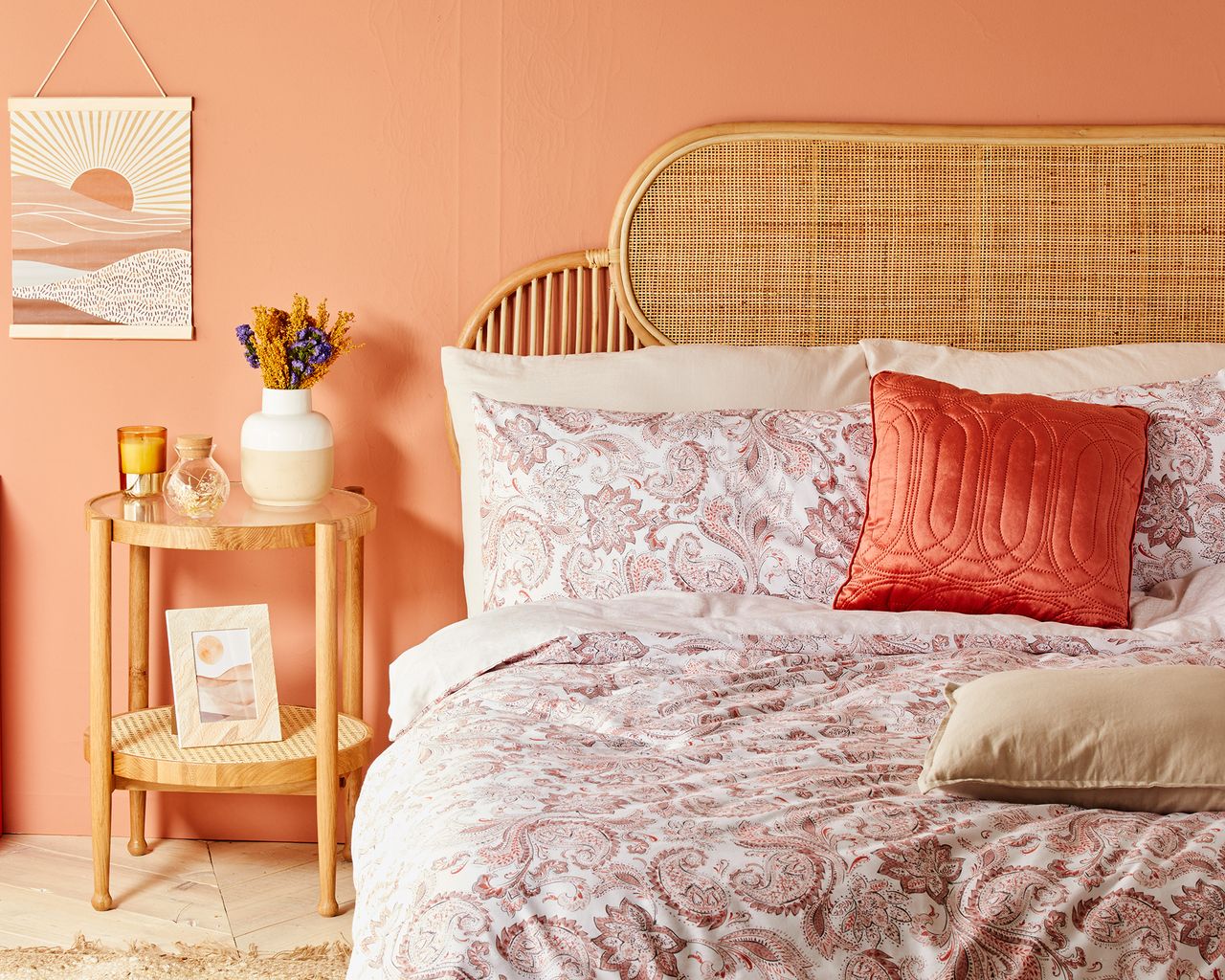 Bright and uplifting peach is a color that packs a juicy punch in a women's bedroom idea. Full of warmth and fuzziness, it's the lovechild of fiery red mellowed by a optimistic yellow hue.
To recreate this look, give your walls a healthy dose of coral or peach paint. Decide on how many coats you want to create a diluted sunset effect or evening sunset look.
Rattan features heavily in this decor to create a wholesome and organic feel to this scheme so get your hands on this texture in whatever shape or form you can.
We love this wooden bedside table for convenience and a headboard is always a good idea that ages well too. This paisley print duvet and pillowcase cover creates a coordinated seventies theme. 
And finally, dried flowers in a white and beige vase give us all the Scandi chic style our bedrooms asked for.
Unlike Bieber, UK and Irish shoppers won't have to go as far as Georgia for these bedroom items. Simply head to Primark or Penny's (as it's known in Republic of Ireland) for some bargain bedroom finds.
13. Go for a chocolate brown design that he'll like too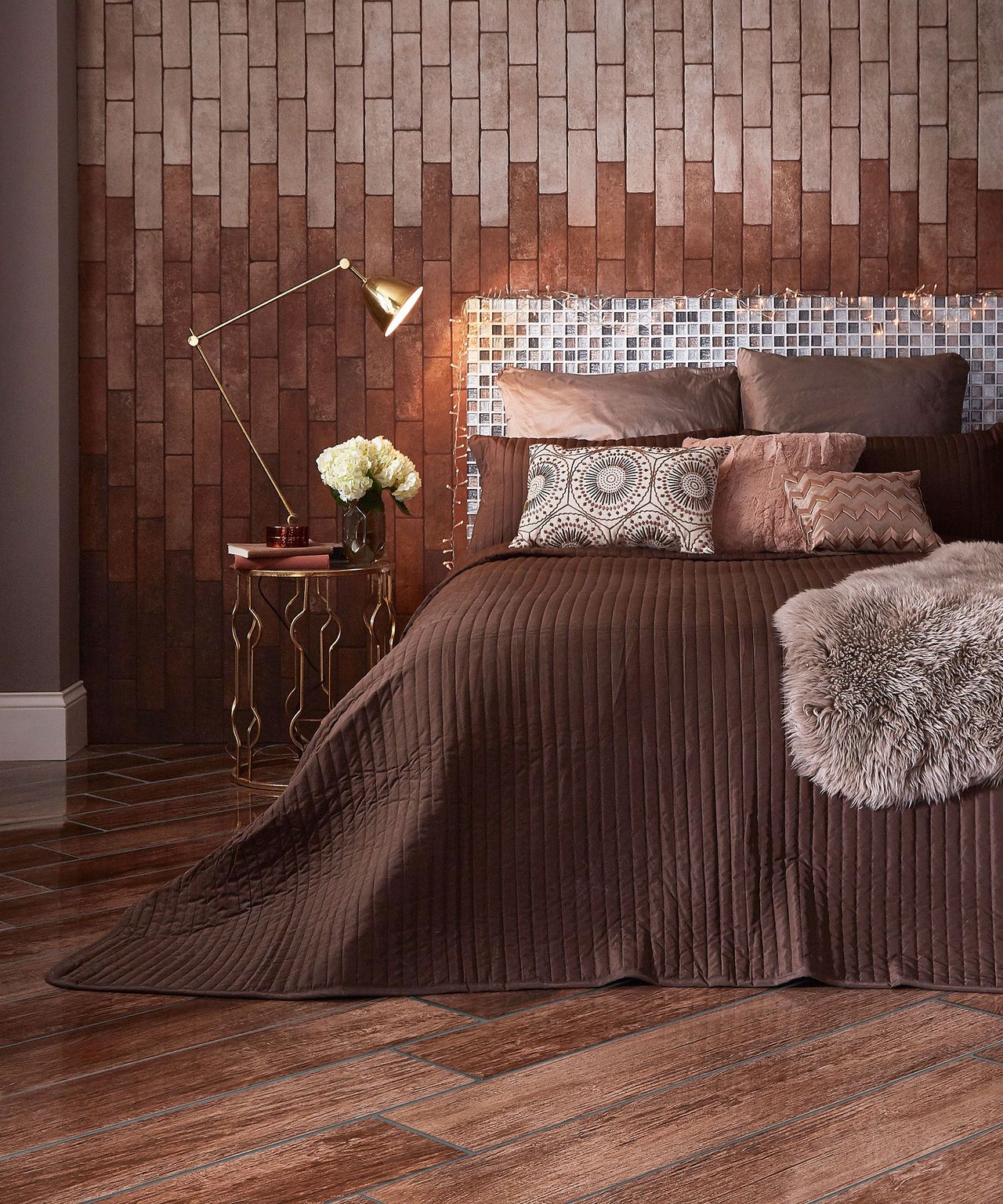 Rich and velvety, cocoa brown is a color that has us climbing into the pantry for our next chocolaty fix. Thankfully, this interior design won't increase our waistlines or get us in trouble at the dentist.
We usually associate porcelain and ceramic tiles with areas with high-moisture such as kitchens and bathrooms. But have you ever considered using tiling decor in the bedroom, and do you know how to grout wall tiles?
Earthy in color, this brick shaped tile wall decor idea has a realistic concrete effect design, and is perfect for injecting the industrial look that your partner might not mind. Paired with a complimentary mosaic tile, it adds a touch of glam to your bedroom.
Style with metallic cushions and a fur throw for a sophisticated scheme. Note how the gold lighting idea and bedside table further accentuate this luxury bedroom design.
14. Create a quirky bedroom storage idea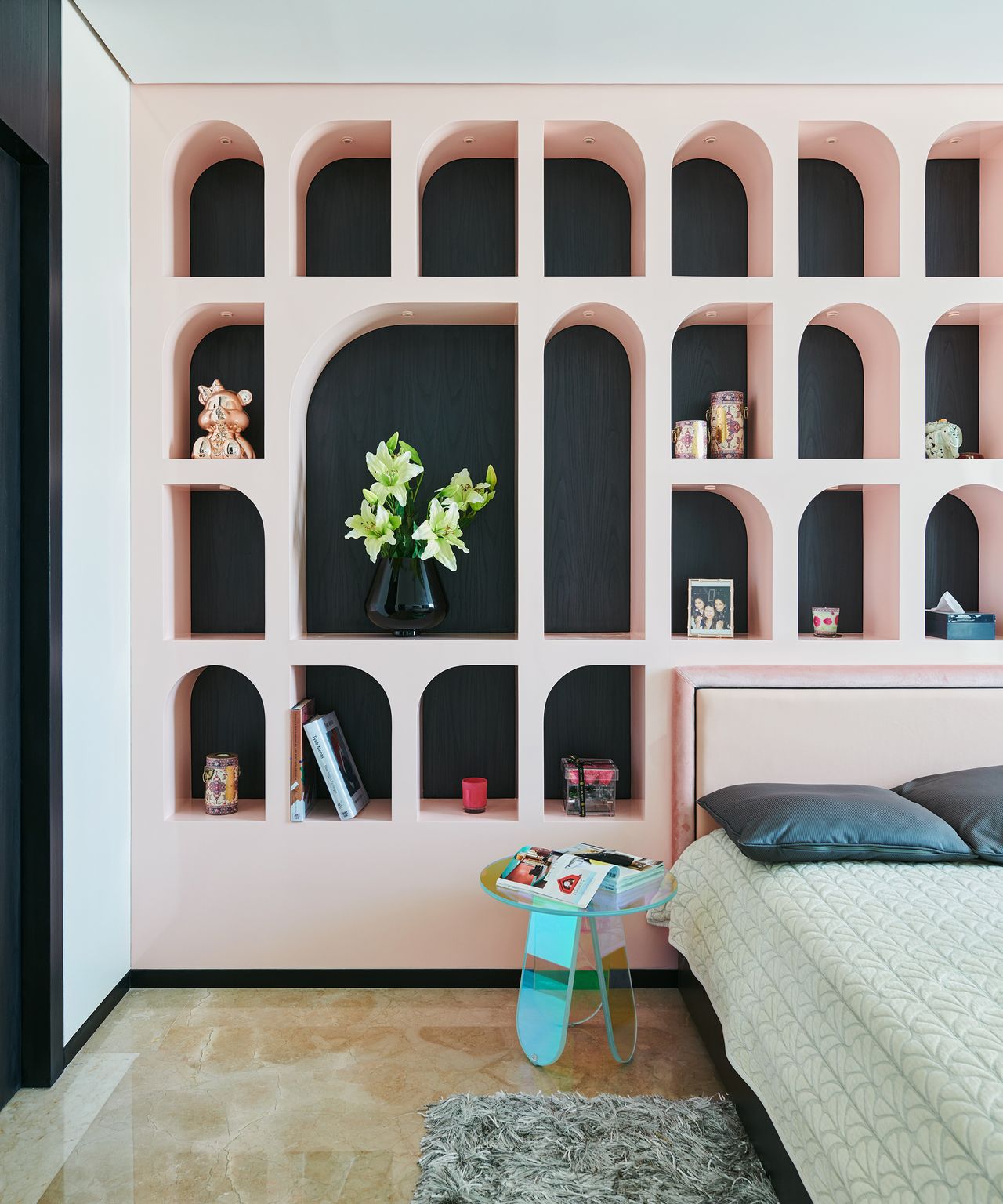 As women, one of our favorite pastimes is to shop 'til we drop. But, unfortunately for us, we need to find a place for our homewares and accessories without making our women's bedroom idea look untidy.
Whether it's a hardback from the bookstore or a bunch of flowers from our fave independent florist, it needs to be displayed in style. So buying a good bedroom storage idea or building your own bespoke design is key to a clutter-free space.
This gorgeous design by Covet House has got us saying 'Thank u, next' to anything else we may have seen before. The pastel pink arched design has the perfect curved cavities for displaying all of your pretty purchases.
What is a good color for a woman's bedroom?
'Of all the colors, green is perhaps one of the most versatile shades for a lady's bedroom,' says Kathryn Lloyd, Crown color specialist.
'There are so many color combinations and moods you can create with it, from bold and sophisticated, to fresh and calming, so there is really something that will represent every style and personality.
'For a woman's bedroom, restful tones of sage, olive or bright mint or aqua create a beautiful space that is as relaxing and cozy as it is invigorating.
'All tones of green almost glow in the sunlight, as it brings out their warmth, that's why they look so wonderful in south-facing rooms. Equally, if your bedroom is north-facing, a pale shade of sage or mint will brighten up the whole scheme.
'Green really pops alongside metallic gold or bronze touches that will enhance its warmth and give it shine, whilst also adding a touch of glamour (which we all love!). 
'For a more unusual combination, try a flash of something expected, like a dusky pink – this could go on something as simple as an armchair, an oversized vase, curtains or bedding and will give the space a hint of old-fashioned femininity.
'Green can also be used as a pop of color in a neutral room – go with lots of white, pale woods and simple, modern furniture. Keep everything really pared back and bring in the merest touches of soft orange, pale mustard or black in accessories.'
How can I make my bedroom feminine?
McCowan Hill shares feminine-friendly tips on how to upgrade your bedroom style. She says: 'It's time to put pink on pause and lean into a spectrum of pastel hues. Replace this typically feminine color with calming shades of lilac and grey which promote relaxation and re-calibration in a bedroom space.
'Plump for tactile (ideally organic) fabrics and introduce sleep-promoting scents like lavender for an added soothing touch.'
'Or to embrace a minimalist scheme, look for ways to create symmetry in your bedroom to create a high-end feel on budget.
'Flanking your bed on both sides with bedside tables or simple floating shelves is an easy way to elevate your scheme, whilst clever storage options will also provide a spot for you to  squirrel away any clutter and keep a minimal appearance.'
While Georgia Metcalfe, co-founder of The French Bedroom Company says:
'To create a feminine bedroom we layer up with glamorous textures of velvet, silk and lace, in uplifting colors such as pink, white and pale yellow, adding a metallic color for shine, and to give textural contrast to the soft furnishings. 
'Finally, we add fresh flowers for a pretty finish. Voila, la Boudoir!'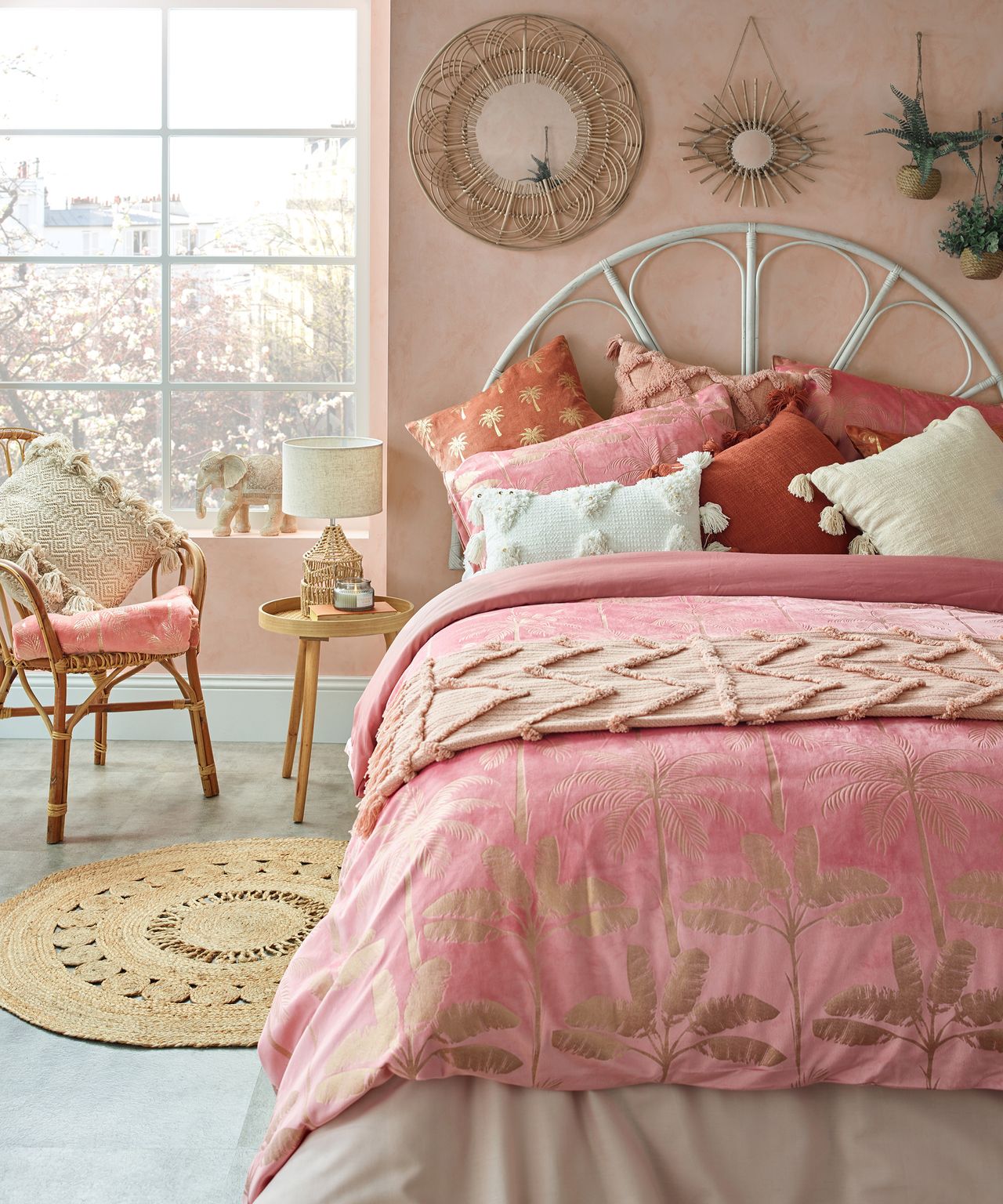 Cazz Foster, stylist at Dunelm adds: 'When it comes to achieving the ultimate boho bedroom textures and patterns are key and, the more the better in our opinion!'
'Opt for hand crafted pieces made from natural materials and play around with the positioning until it feels right.
'Have fun with your space and fill it with boho delights and trinkets such as macrame hangings, cane headboards, Turkish style rugs and real wood furniture.
'We also recommend adding plants, plants and more plants! Get the jungle vibe by filling your room with plants, here we have used a mix of real and fake so don't be afraid to combine the two.
'When it comes to the walls, always choose a muted neutral base in order to make your accessories really stand out. To create this look we went for a pale pink wall and kept accent pieces consistent in a warm metallic gold.'