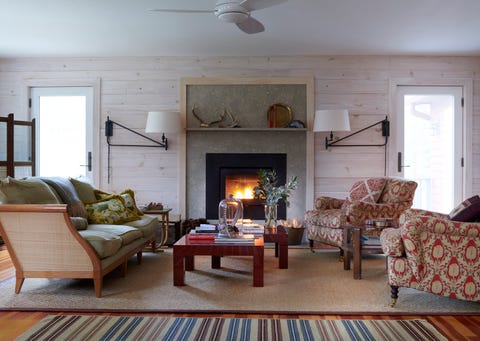 An ELLE DECOR Director's Elegant Home in the Berkshires
In the sun-filled dining area, the vintage Stickley dining table and chairs were purchased at an estate sale on Long Island. The Circa Lighting chandelier by Barry Goralnick hangs in front of an antique Swedish box-bed.

---
The Austerlitz house was a disaster. A dizzying hash of sheetrock, nails, and mouse droppings. That's how my colleague David Murphy describes it. Not a pretty picture, which is ironic given that Murphy is ELLE DECOR's longtime visual director. It's been over a decade since he and his husband, George Camarda, bought the distressed property on the New York–state side of the Berkshires, but over the ensuing years, they slowly transformed it into a cozy and well-appointed refuge befitting the stylish couple.
As with all extreme fixer-uppers, the gutting was ferocious. First they worked on making it simply habitable before ever sleeping over, but Xanadu it was not—not yet, at least. ("The first night we slept on cots," Murphy says.) They hired an architect, who stuck more or less to the original 1940 floor plan, but modified it by adding a larger shower to the main bathroom and a custom retrofitted kitchen by Bilotta. But they did much of the renovation themselves, since Camarda, it turns out, is very "construction capable," as Murphy puts it. Camarda's two brothers—one does tilework and waterproofing, while the other does HVAC—also lent a hand. Murphy focused on less physical tasks. "I'm not good with a hammer, but I am good with numbers," he says.
Perhaps it doesn't come as a surprise that it wasn't the 1,800 square-foot ranch-style house that was most alluring, but the property's peaceful, verdant environs. Whatever plans they might have had of finding the perfect centuries-old colonial cottage were upended in favor of a panorama of foliage. "The setting is what drew us in," Murphy says. "No matter where you walk in the house, all you see is nature." And because the interior had nary a saving grace, there was no need to tiptoe around preserving whatever character the original builders had forgotten to give it. Murphy and Camarda found freedom in that.
After the building was brought up to livable standards, thus began a years-long process of creating the interior spaces. No detail was spared, from the bathroom's Finnish soapstone floors to the limestone mantel in the living room designed by a friend. The white shiplap walls throughout the ground floor, which include sitting and dining areas, were stained by Camarda himself. The result is a vibe that Murphy calls Nordic meets the seashore. "It became our little beach house in the Berkshires," he says.
To complete the look, they filled the spaces with a mélange of antique furniture they'd amassed from a slew of estate sales. The two parsons tables in the sitting room, for example, formerly belonged to the abstract expressionist painter Helen Frankenthaler. The two George Smith chairs and Donghia-style sofa were major scores on Long Island. Because antiques hunting tends to evolve from an innocent, trivial pursuit to a terminal obsession, the furnishings throughout the rest of the house were sourced in the same way.
When put on the spot, Murphy says the space he loves most is the main bedroom, a sun-filled sanctum with pale blue walls and a four-poster bed that sits high above the floor. Camarda lovingly refers to it as the anti-depression room. "I can't tell you how many times I've taken pictures of the view out of that window," Murphy says. "There's an immense sense of pleasure I get all year-round from simply looking out and staring at the countryside."
Now Murphy and Camarda are taking stock of their accomplishments at the Austerlitz house. But this isn't one they will grow old in. During the pandemic, like so many New Yorkers with second homes, they retreated to theirs. But after many months in indefinite exile, working remotely, trying to stay positive (and successfully off each other's nerves) they'd realized that it simply wasn't big enough for long-term living. Thus, earlier this month, after having their friend William Waldron photograph it for posterity, they said goodbye. "Had there not been a pandemic, we wouldn't have sold it," Murphy says. "This house was a savior to us when the shit hit the fan last year, and it's not easy leaving it."
They've since found a bigger place across the border in Egremont, Massachusetts, and will soon begin the long, fulfilling process of making it their own. This time, with less sheetrock to discard.
This content is created and maintained by a third party, and imported onto this page to help users provide their email addresses. You may be able to find more information about this and similar content at piano.io