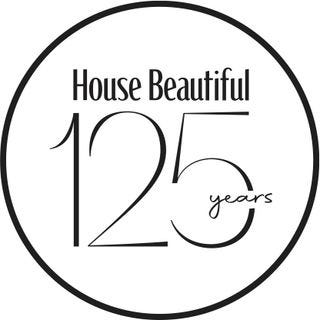 A Tented Bathtub With Floral Details
For House Beautiful's 125th anniversary this year, we're digging into some of our favorite spaces from our archive—including, so far, decorator Sister Parish's New York Apartment and the West Hollywood home and studio of designer extraordinaire Tony Duquette, dubbed "the house of a magician." Here, we revisit a collection of brilliantly decorated rooms from 1967, which was first published in our October issue that year.
The easiest way to get inspired when decorating a room? Looking at imaginative spaces by today's top designers…and those from the past featuring elements that have withstood the test of time. In our latest archive dive, we're browsing a collection of what we dubbed "super décor" in 1967. From a Victorian bedroom with blown-up paisley print by Tony Duquette to a tented bathtub with floral drapes, wallpaper, and framed artwork, these spaces are sure to spark ideas—or your curiosity, at the very least! Explore the original story below.
---
Super Décor
We invite you in these pages to take a kind of House Tour with us and see what has been wrought by a dozen talented and imaginative men and women who excel at providing settings for private lives in this cataclysmic design day. In this Picture Portfolio we hope you gain the pleasure of expertise observed, of the new emphasis on scale. Feel the surprising element of juxtaposition. Note the play of the disciplined-spare and heaped-on opulent; of openness and cloister; of historical and geographic mix. All of this is Décor Today. Individual. Sophisticated. Exciting. Validly beautiful. Super.
Portfolio Editor: Frances Heard
Through walnut doors a harmony of elegance: Aubusson, Louis XV crystals, an 18th-century landscape from Bath, Empire armchairs. Designer: Don Luckett. The living room of the designer's house in Beverly Hills (left).
Through brilliant Italian damask draperies, ribbon-banded with a couturier's bow, a prelude to a personal, cordial room designed by Count Fernando Sarmi. The living room in Count Sarmi's duplex penthouse in Manhattan (right).
Cover: Vista of enchanting sequences: lovely, clear colors, the sure counterpoint of splendid modern and splendid antique. Designed by Mrs. Henry Parish II.
Reflected in a fantasy mirror bought in Spain, a crisply current dining scene. Designed by Melvin Dwork. Mr. and Mrs. Isaac Drawer's Hudson River apartment, Fort Lee, N.J.
Against her superb Coromandel screen, candid whites, marvelous play of textures—hushed luxe. Designed by Melanie Kahane for her own apartment. The living room of Mr. and Mrs. Ben graver in Manhattan.
Blown-up paisley, overleaf, the special glory of a Victorian bedroom, 20th-century style. Designed by Tony Duquette. Bedroom in Mr. and Mrs. Charles Smith's house in Pasadena, California.
Tented bath, a rosy fantasy with porcelain roses part of the antique French lights. Designed by Thomas Britt. A bath in the Manhattan apartment of Mrs. John Ross.

Collector's home-gallery, a fill of antique treasures placed for maximum delight. Designed by Stephen Spector. The living room of Mr. Spector's own Manhattan apartment.

Giant Scale: High, heavy beams, massive frame, massive fireplace, massively successful. The living room of the Donald Ross house in Los Angeles (left).

Tiered curtains, low fireplace, quiet furnishings, dramatize the loftiness of this serene living room. Designed by Howaard Perry Rothberg II. In Mr. and Mrs. Bertran Lichtenstein's Manhattan apartment (right).

Interplay of pattern, range of scale, fascinating objects add up to a vibrantly exciting room. Designed by David G. Whitcomb. The living room in the designer's own Manhattan penthouse (left).
Extremely high ceiling, again a keen awareness of scale, disciplined décor… a room of unquestioned beauty. Designer: Andrew Delfino. The dining room of Dr. and Mrs. Richards Lyon's house in Berkley, California (right).
---
Love looking at designer spaces for inspo? Us, too. Let's obsess over them together.

---
This content is created and maintained by a third party, and imported onto this page to help users provide their email addresses. You may be able to find more information about this and similar content at piano.io