15 design tricks to make a small bathroom look bigger
There is an art to knowing how to make a small bathroom look bigger and if your decor ideas don't match up to the size of your space, don't worry, you are not alone. Tiny bathrooms are a common problem, whether you rent an apartment or are working on a smaller secondary bathroom in your forever home. You can of course have the space remodeled, but that can be expensive and will take longer also. Thankfully, there are plenty of clever design solutions you can use to make your space look and feel bigger quickly – and without spending a fortune.
Working with natural light, using tiles cleverly and finding the perfect layout is a must for all good small bathroom ideas according to experts. As is keeping windows free from fussy drapes and the entire room clear of clutter…
Kirsten Krason, co-founder of Salt Lake based design studio, House of Jade Interiors explains. 'One of our favorite ways to make a small bathroom feel larger is to play up the wall space as much as possible. We love taking tiles all the way to the ceiling when possible to draw the eye up and depending on what you choose, the result can be eye-catching and luxurious.'
1. Select glass shower doors that gleam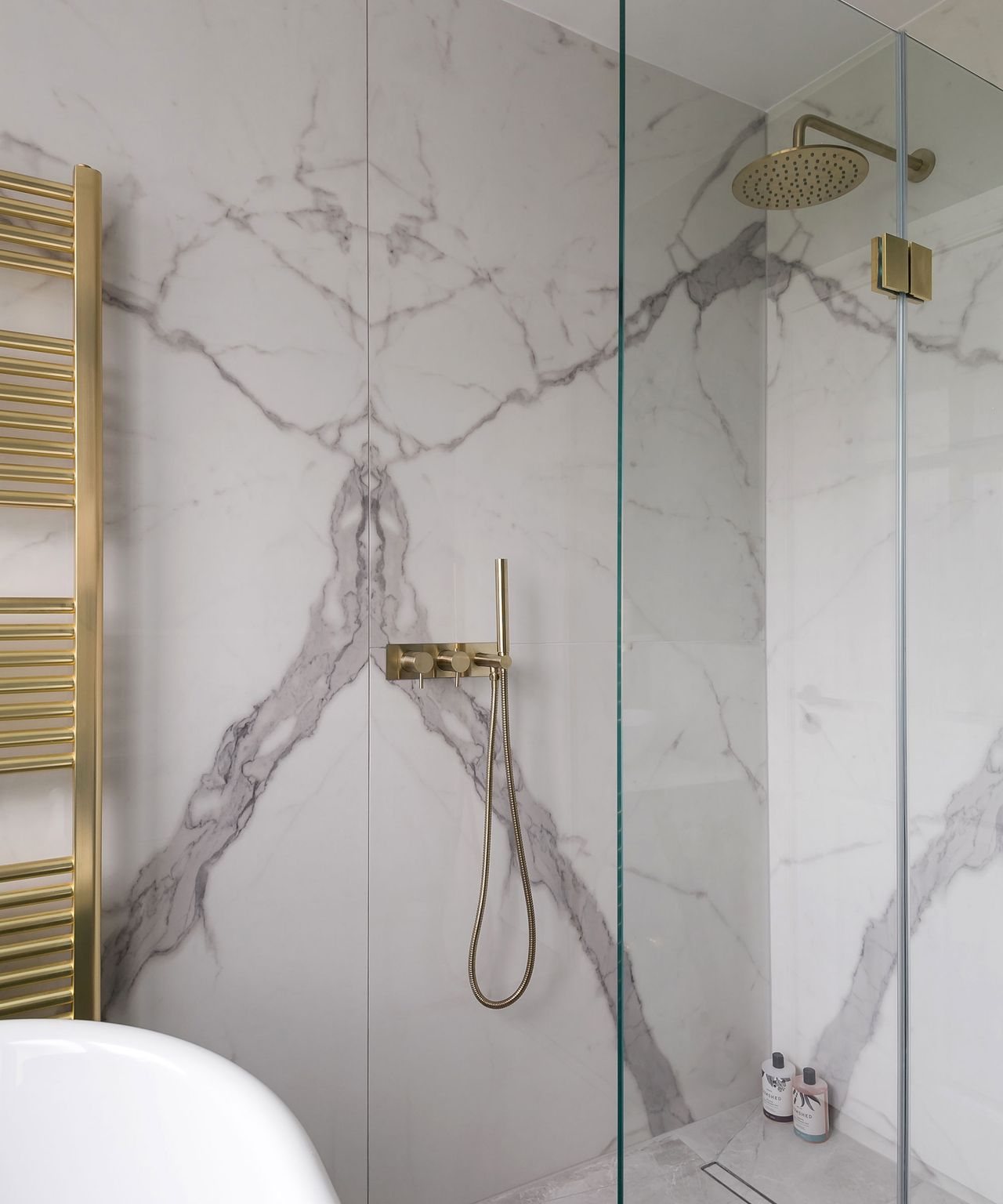 Hands up if you're over that shower curtain that sticks to you when wet? The beauty of using a glass 'shower curtain' is that you'll never have that problem again – and, it will make your shower space feel larger and more stylish. When we can 'see' all of a space, our brains are tricked into believing that it's larger than it is. You can have the glass cut to size too which means they can fit even the tiniest of corners. Make sure you're cleaning glass shower doors properly too for a gleaming finish.
2. Lighten up your grout color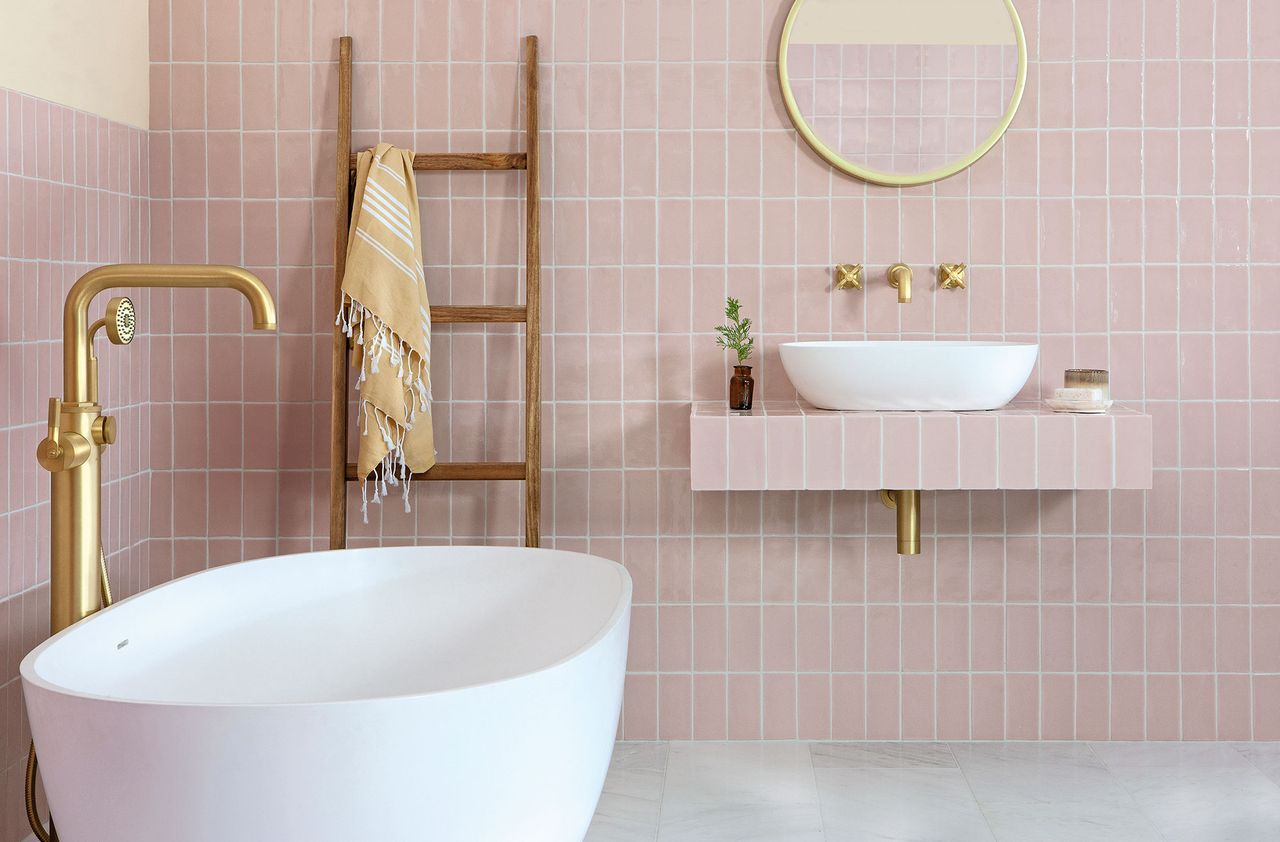 Wall-hung units are a key design trick to utilize to make your small bathroom feel bigger. Being able to see your flooring creates the illusion of space so if you can choose a basin that's narrow and you can use the wall tiles to create the shelf then you're on to an interior design winner. The result will be a seamless feel that looks fabulous, like this dreamy blush pink bathroom by Fired Earth. And don't forget to use wall-mounted fixtures and fittings – make a feature of them by choosing a bright brass – a great look that also creates a warming glow. 
3. Great storage is essential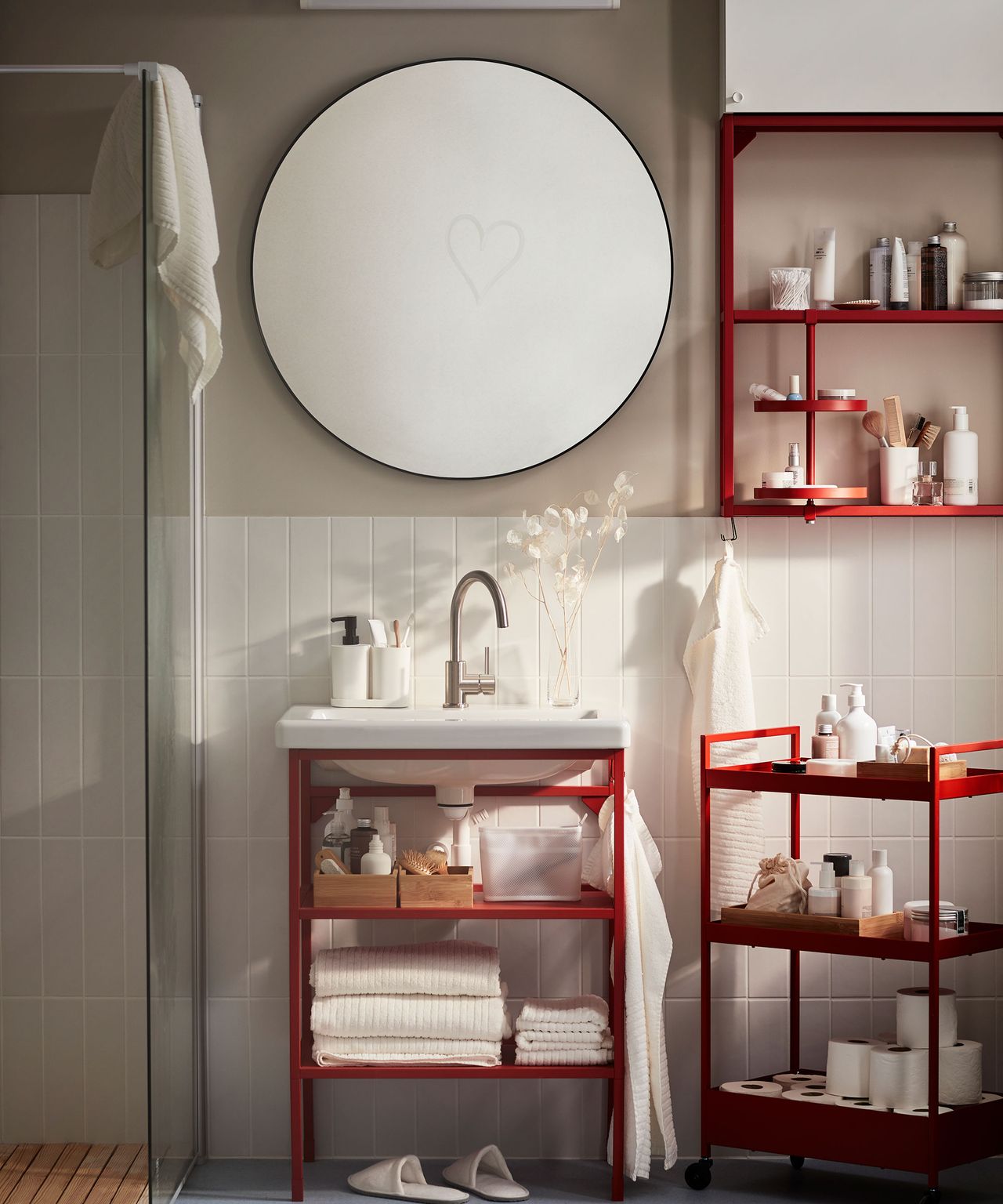 One of the biggest issues with small bathrooms is storage – how to incorporate it and how to make it look stylish and part of your overall design. 
Ikea always has great solutions and we love the ENHET/TVÄLLEN range that you can pick and choose from. Even the wash stand comes with storage underneath which is a godsend in a small bathroom. The only drawback is that you'll have to keep it all spick and span as everything will be on view!
4. An all encompassing design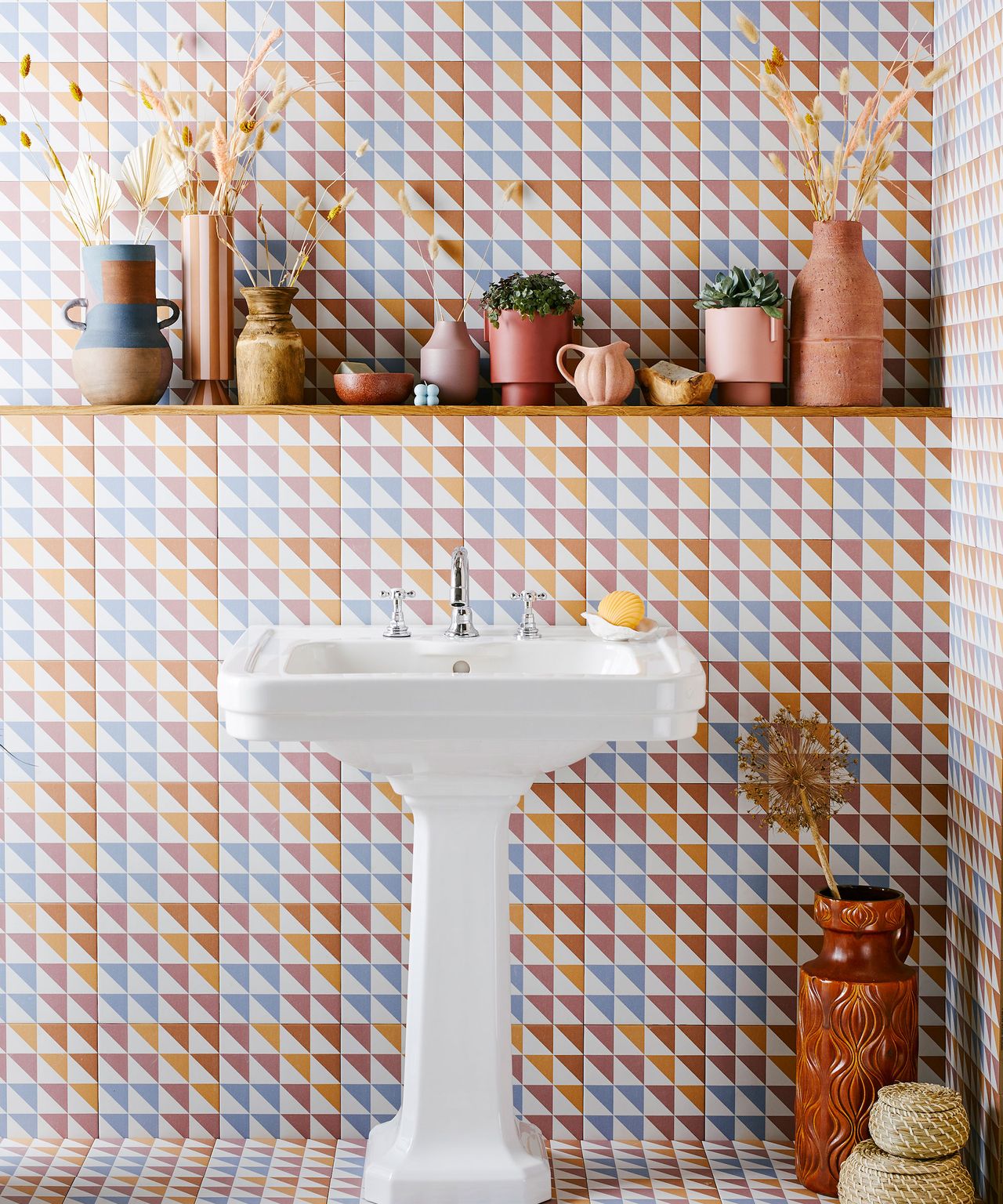 There is an advantage to having a smaller bathroom – it means if you're on a budget but have always yearned after a particular tile that is pricey, you can afford it… Why? Because your bathroom is small it means you won't need as many tiles if your bathroom was a 'normal' size. So re-price your scheme, revisit your favorite bathroom tile ideas and see what you can afford, an allover tiled scheme can really enhance a small bathroom so go for it.
5. Repeat tiles on the floor and the walls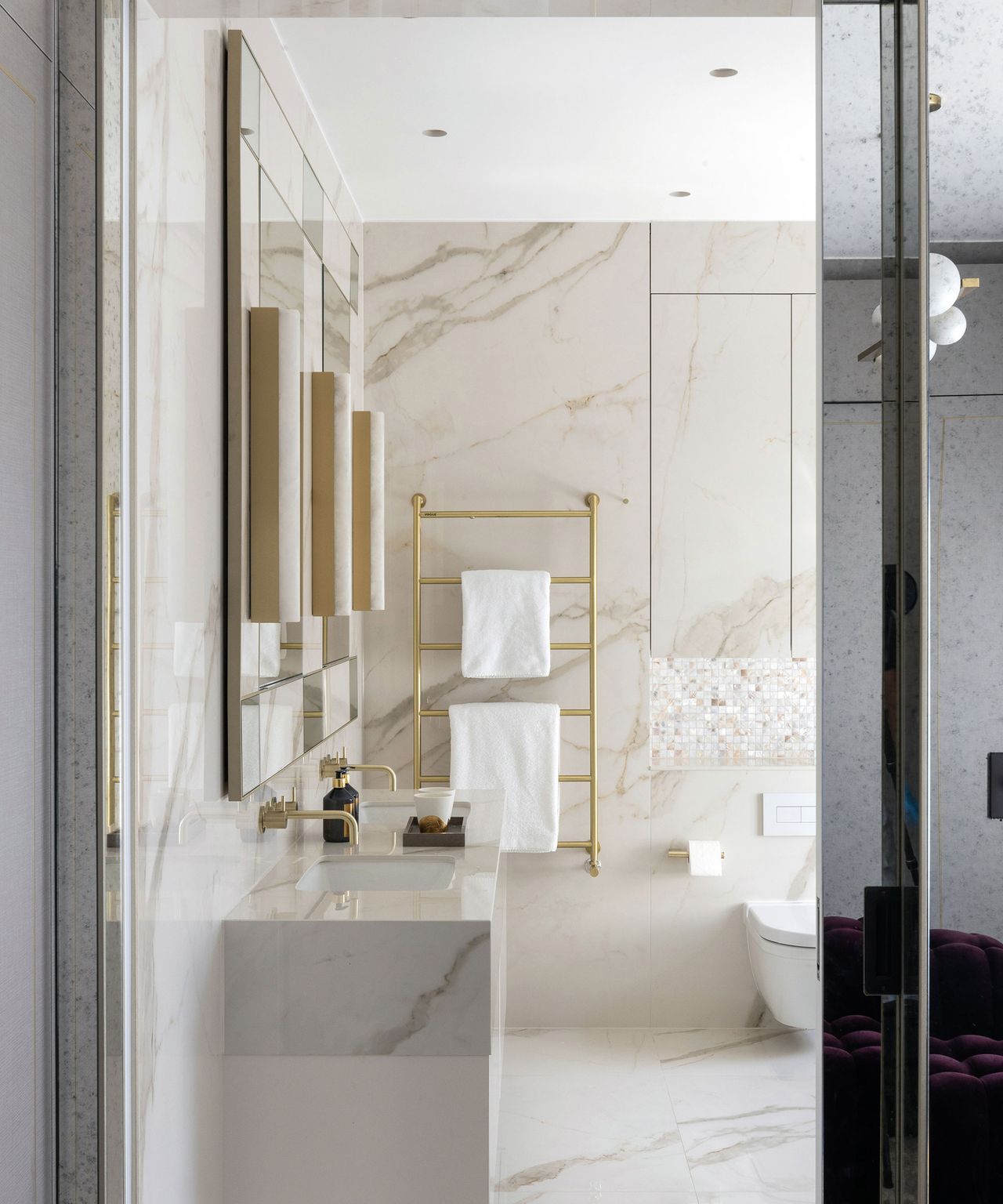 Not only will this achieve a seamless feel, it also creates a much sought after hotel chic style. Using large format tiles on both the walls and floor – using a marble effect or pale tiles, will lighten and brighten your bathroom hugely. The result will be a fresh looking bathroom that's easy to clean, spacious and smart.
6. Textures that will distract the eye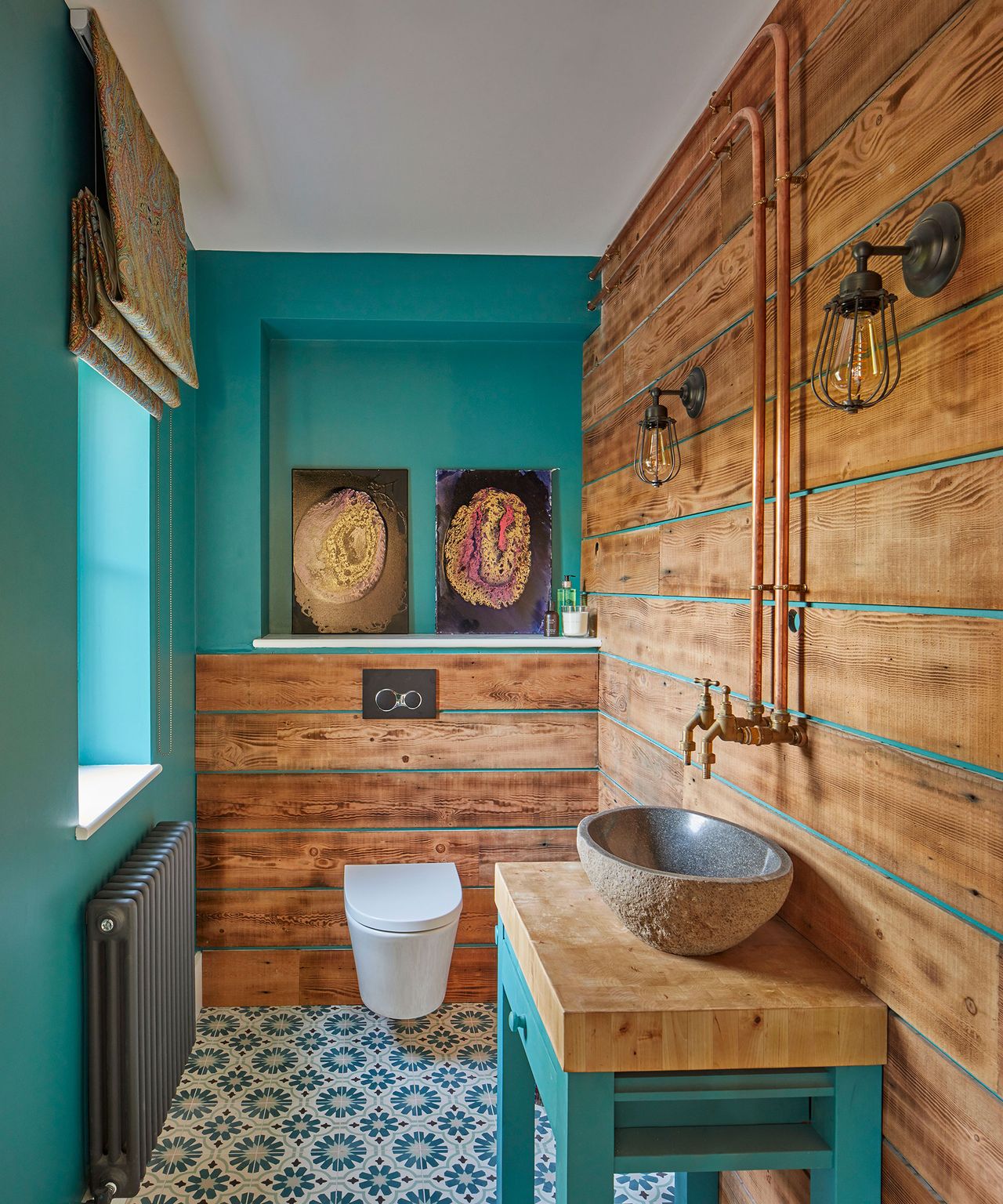 Sometimes we want more than smooth painted or tiled walls – like a beautiful rustic scheme for example. As mentioned above, having a smaller bathroom can be used to your advantage, you can create an innovative look without breaking the bank. If you love the use of wood then consider reclaimed boards on your walls, they add a warmth and a tactile element that's reminiscent of a cozy log cabin.
7. Color up to chair rail height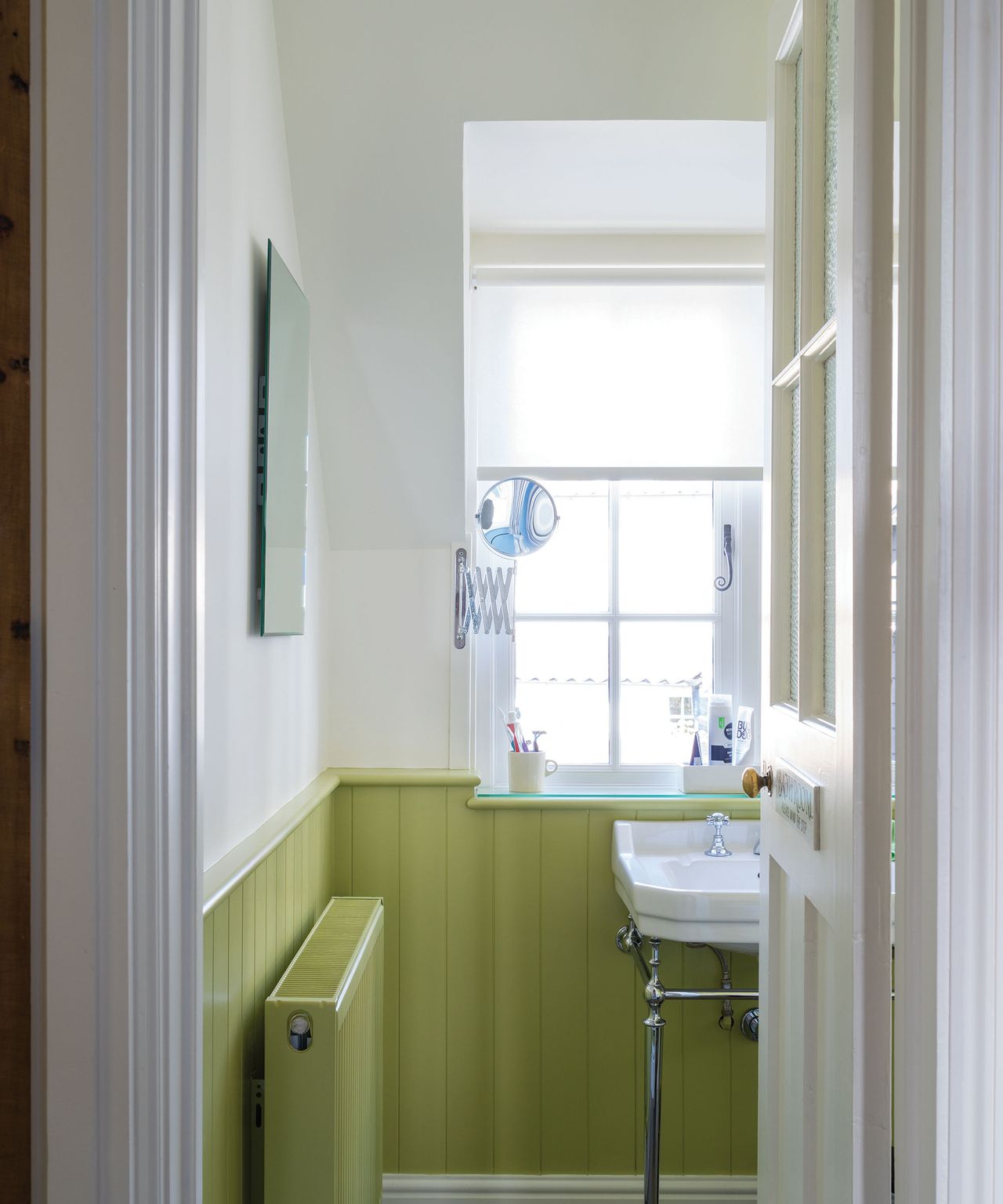 When you have a small and dark bathroom to contend with you need to be clever with how you use paint. White will always brighten up so one great interior design hack is to only paint the top half white – from the chair rail upwards so that the light coming in from the window will bounce off it. Then, get your color fix by painting the lower half in a shade you love and don't forget to learn how to paint a radiator too!
8. A tiny tub for a tiny space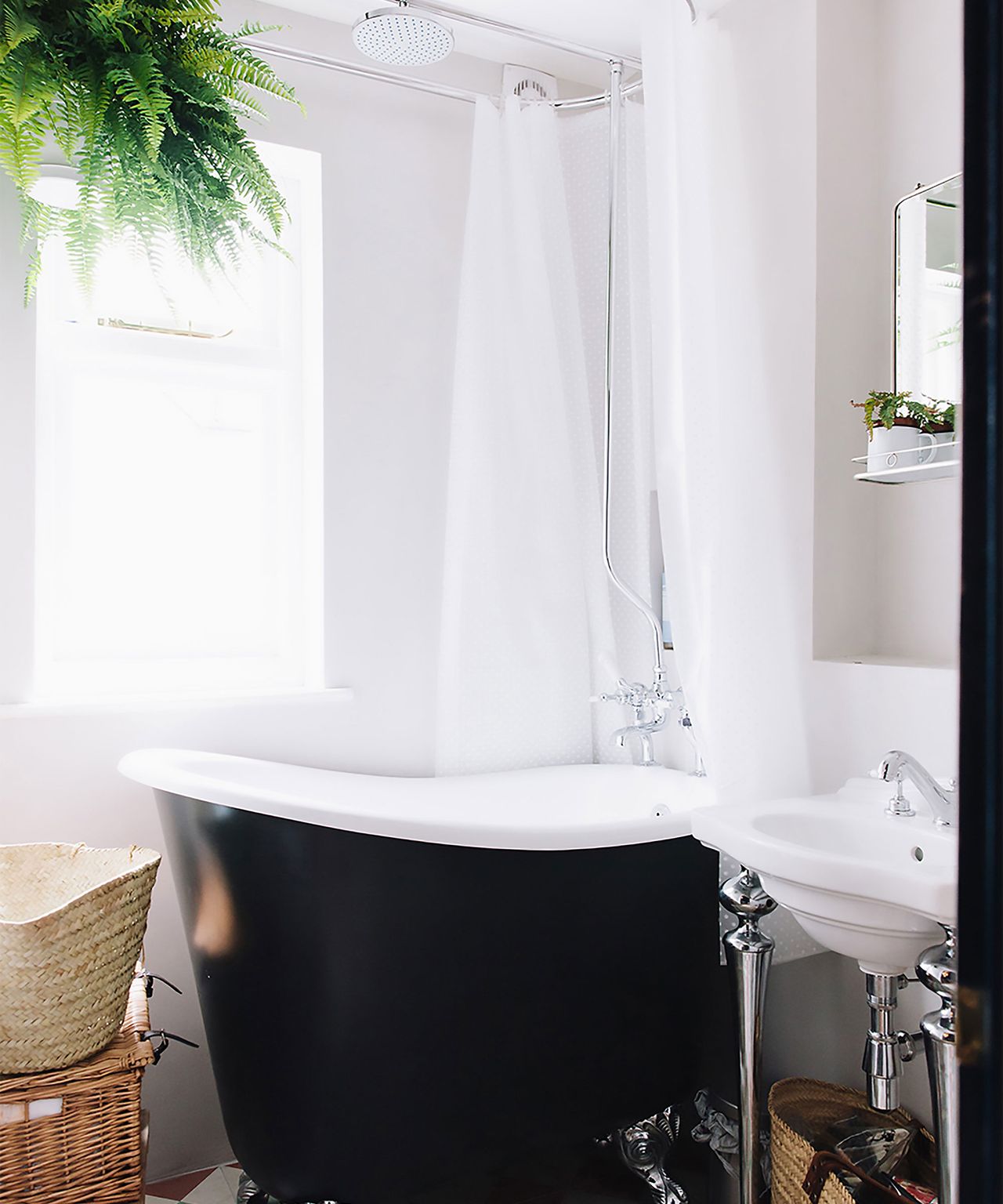 We automatically believe that a small bathroom means shower only, but you can get fabulous small baths to fit into the teeniest of bathrooms. This is revolutionary for those who aren't fans of showers, you may have to sit up more but you can still relax. Paint the exterior in a shade to match your scheme for a lovely cohesive feel. 
9. Mirrors are key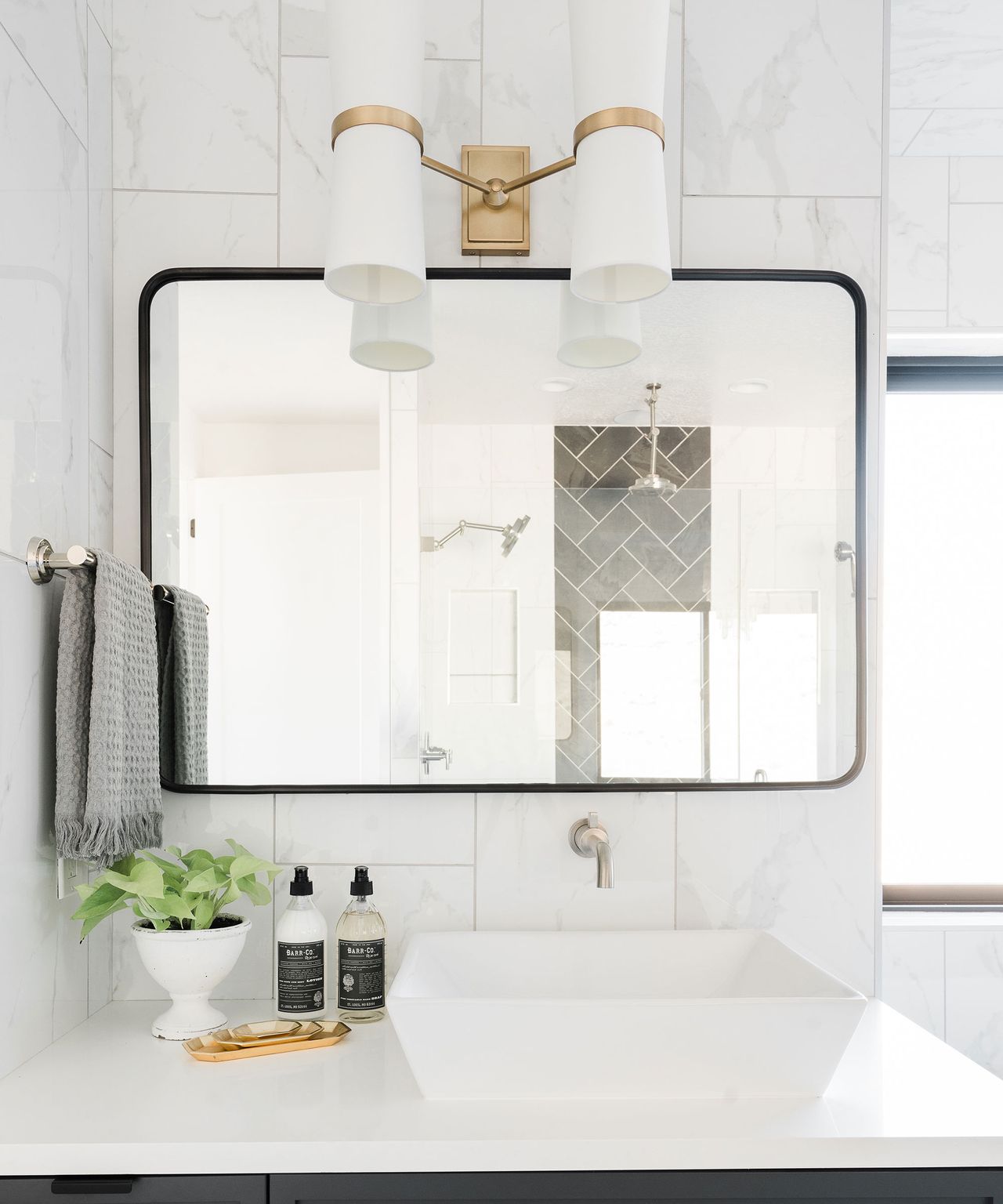 One of the simplest ways to make a small bathroom feel bigger is to invest in the best mirror ideas. If you can cope with a mirrored wall then do as it will double the appearance of your bathroom, however, they aren't for everyone – we don't all want to see ourselves that much. As an alternative, a good sized mirror placed above the basin will easily suffice and one with curvy corners will look more 'friendly' than an angular design.
10. Bright shutters for a pop of color and privacy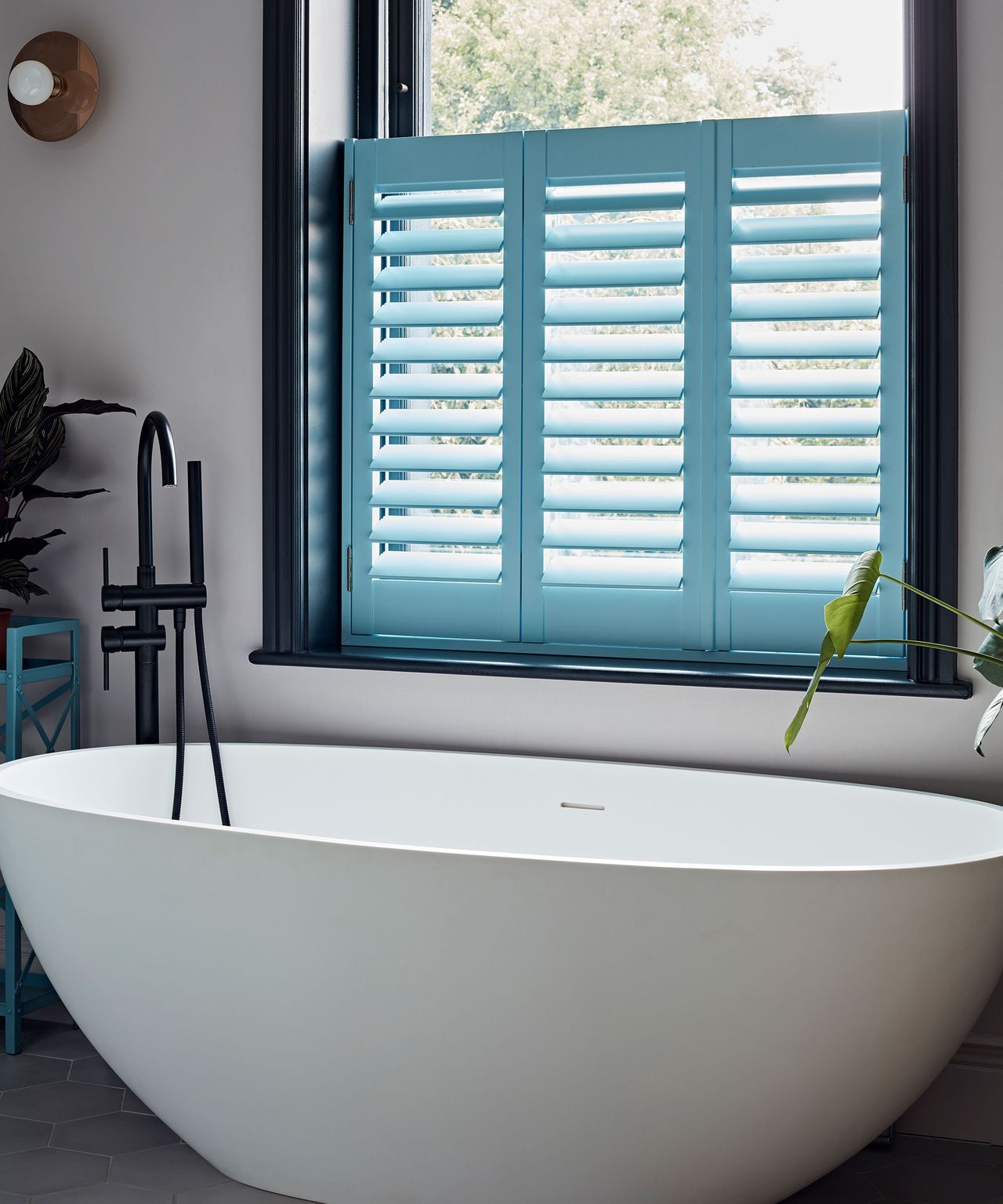 Shutters are a great type of window treatment and work well to dress bathroom windows for much-needed privacy, while still retaining light. A half shutter option is definitely worth considering as you don't need full shutters in a bathroom. Blinds work from top to bottom so essentially block out the top half of the window, so this solves that problem perfectly. Have them painted to match your scheme, they could work to add an accent color and look striking.
11. A trio of tiles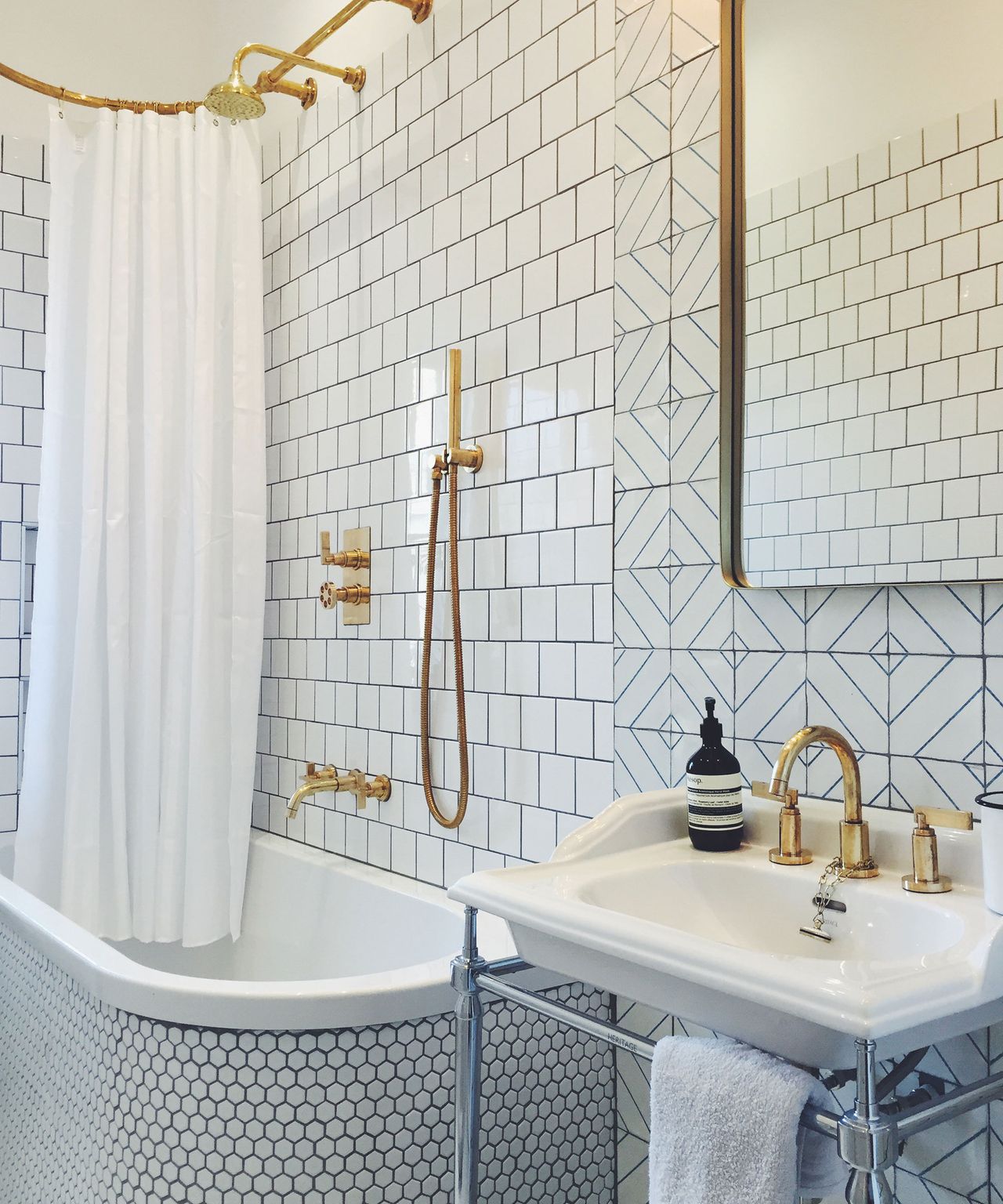 Nodding to a little maximalism and all the tile trends will make a small bathroom feel so much grander in design. For balance, choose one tile color and swap in different designs or choose one design and go for a trio of colors. They make for a more inviting space, drawing attention to the shower, brass fixtures and elegant design of the shower rail to create the illusion of more space.
12. Neutral expansive tones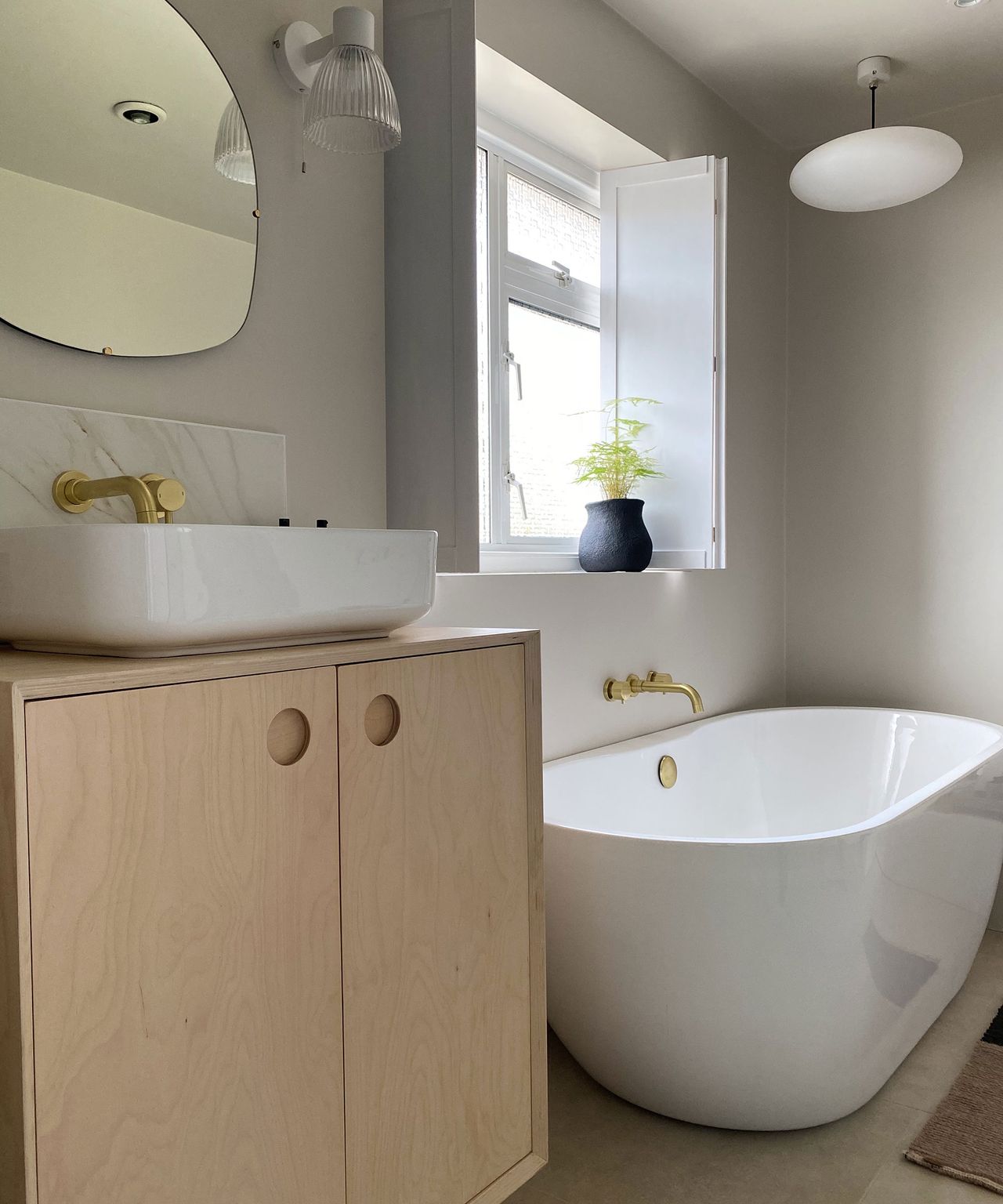 A pale scheme will always be a winner when it comes to making a small bathroom feel bigger. Dark shades can feel oppressive and will definitely make the space feel the opposite. So opt for light and airy shades teamed with white sanitaryware and pale wood units. Keep flooring light too, a slight texture can work well, but keep it subtle. The idea is for it to feel fresh and bright.
13. Make the most of wall space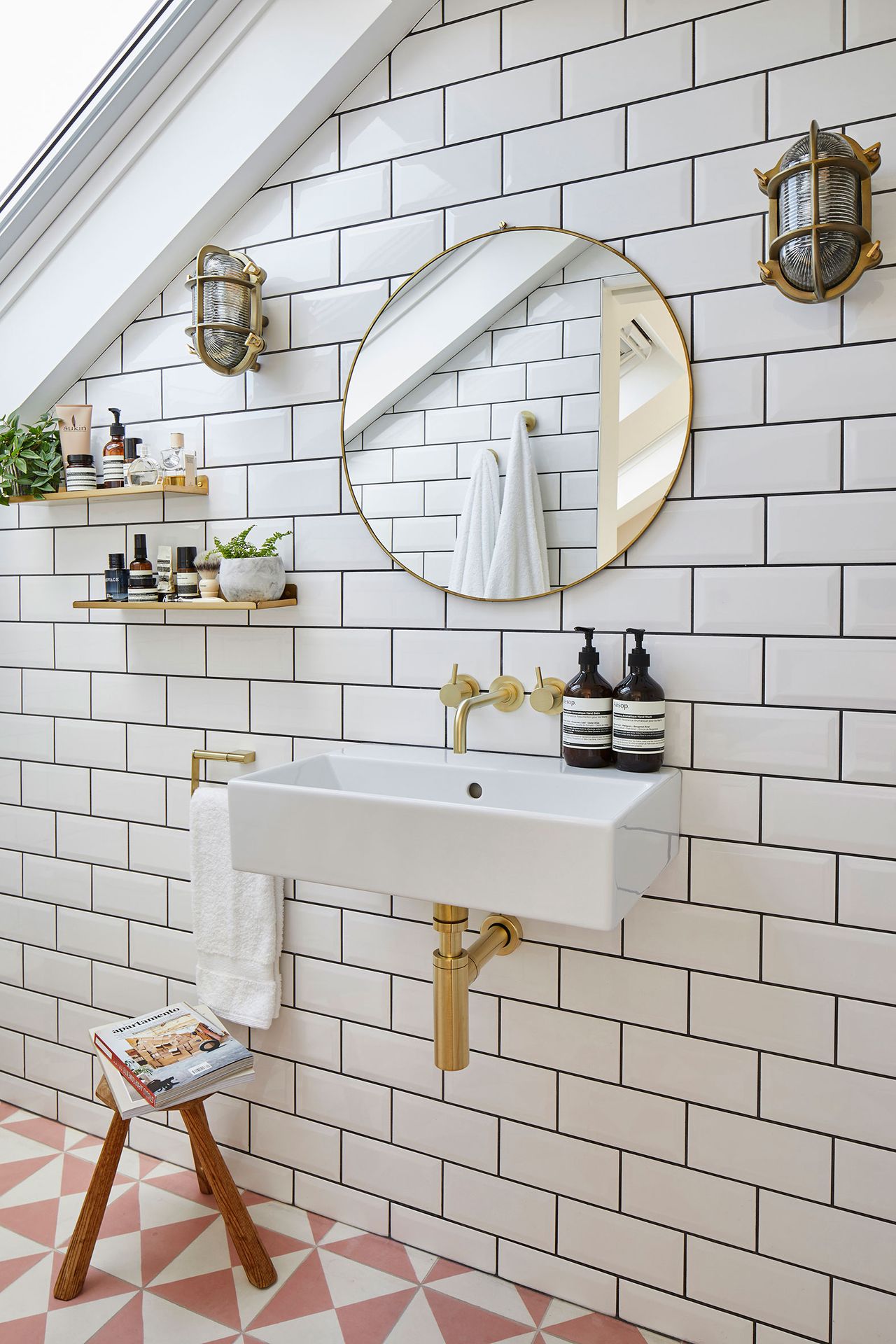 Don't forget you can use your walls for storage; wall cabinets, built in nooks, or perhaps the simplest option – some shelving. Open plan bathroom storage ideas are here to stay, as they are easy on the eye and ideal for displaying all of your favorite lotions and potions – not forgetting decorative plants too. The only proviso is that you'll need to keep it neat and tidy as they are on show.
14. Wall paneling is your friend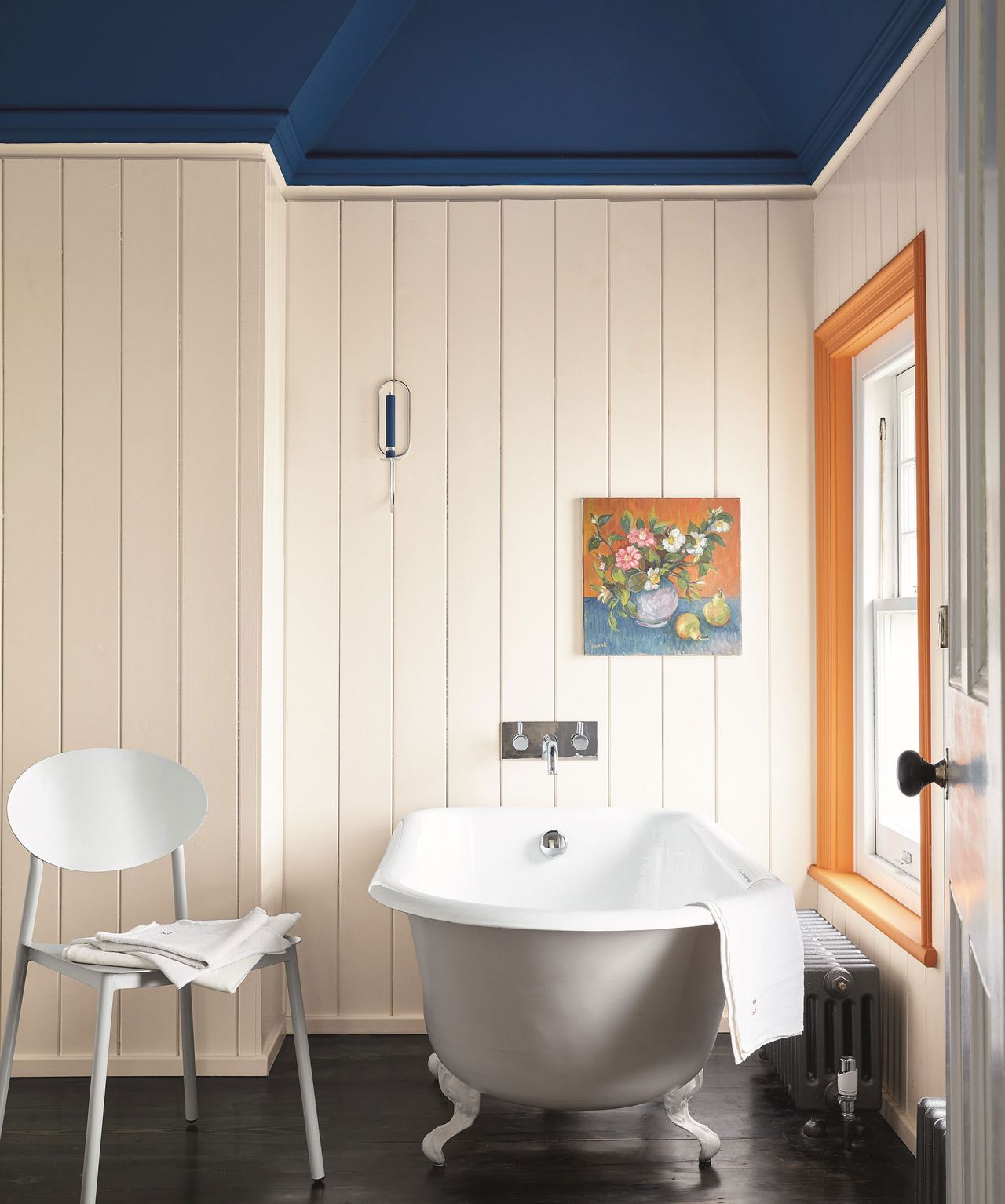 Tongue and groove wall paneling is a total design savior and will create the illusion of height. If you paint yours white or off-white it can help to bounce the light around also. 
The next space enhancing trick here is in the painted ceiling. A feature that draws the eye up. Don't be afraid of dark colors while zesty orange, pale blue or sunshine yellow will all work well to add brightness. Used in conjunction with the tongue and groove paneling creates an effective finish.
15. Wall sconces are everything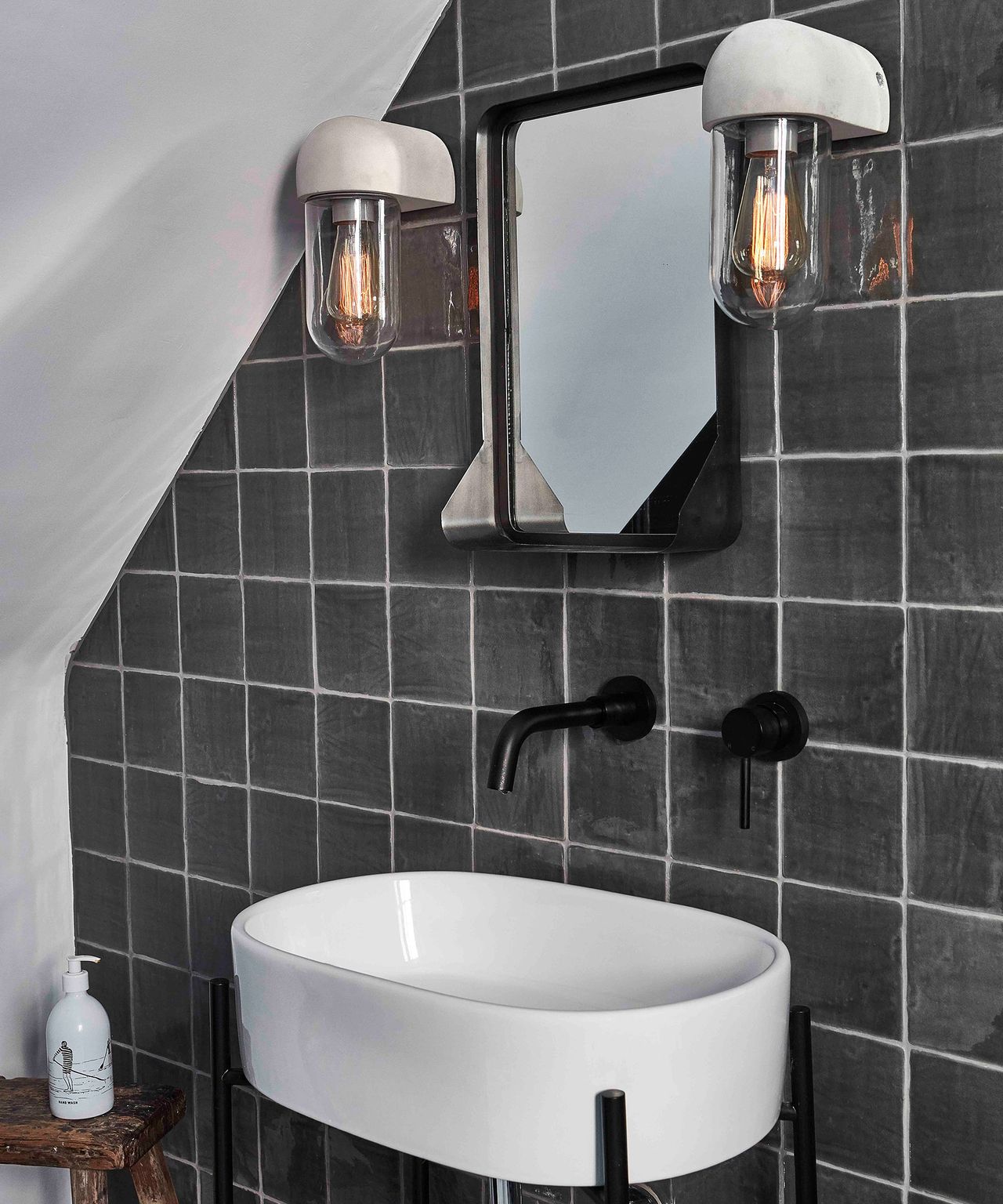 Lighting is always essential and no more so than in a space that's tight. Well positioned bathroom lighting ideas will help a small space feel bigger, ideally use wall lights on each side of a mirror and a pendant. Frosted strips into mirrors are worth considering too, as are recessed lights in the ceiling. In a small bathroom you don't want to feel like it's full of lights – they need to be subtly placed so you hardly notice them.