12 neutral living room ideas for a cool and calming scheme
In an interiors world where maximalism is making a comeback, the term more is more is frequently used to describe trends, and the Colors Of The Year are just getting wilder and wilder, neutral living room ideas may seem a bit… safe. But bold shades and animal prints aren't the only ways to create interesting, stylish spaces. 
The classic neutrals are so versatile, you can design rooms that feel serene and soft and calming or ones that are fun and fresh and every bit as exciting as a bright color scheme. And there's the big plus that neutral schemes have longevity. A white, cream or grey living room is never going to go out of style, no matter how outrageous the trends get and you can always use these colors as a backdrop to switch up the room as styles come and go. 
So to pay homage to the neutral living room, we've rounded up all our favorite looks that prove playing it safe can still result in some of the most beautiful spaces…
1. Layer textures and patterns in a neutral living room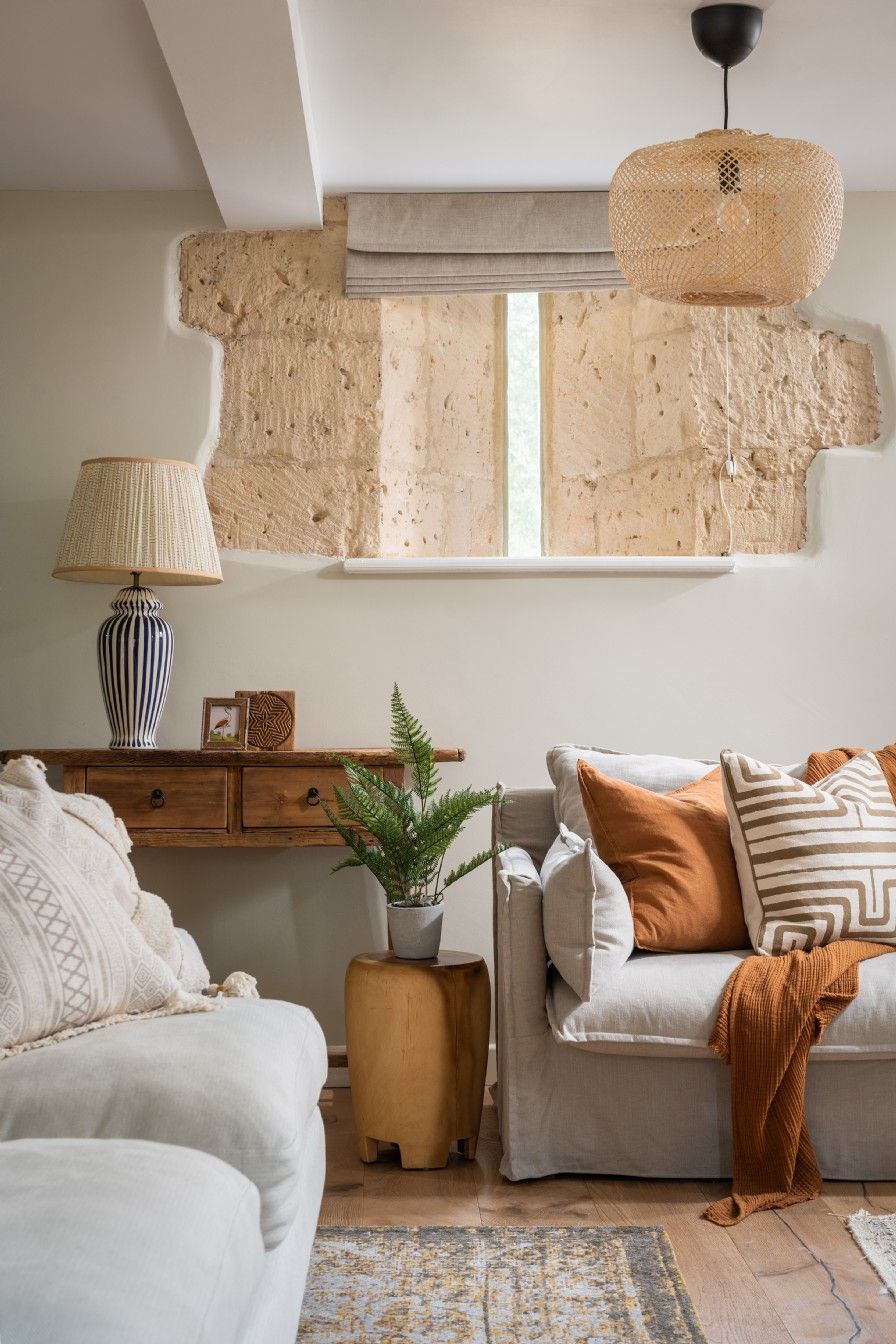 When it comes to neutral living room ideas where color isn't going to be the focal point, you want to be adding interest in other ways, and that interest comes in form of texture and maybe some subtle patterns too. 
Pick plenty of tactile fabrics that have different looks and feels to them and layer them up. Bring in slubby linen cushions, open-knit throws, long pile rugs, rattan pieces, wooden pieces – more is more when it comes to textures.
2. Experiment with brown tones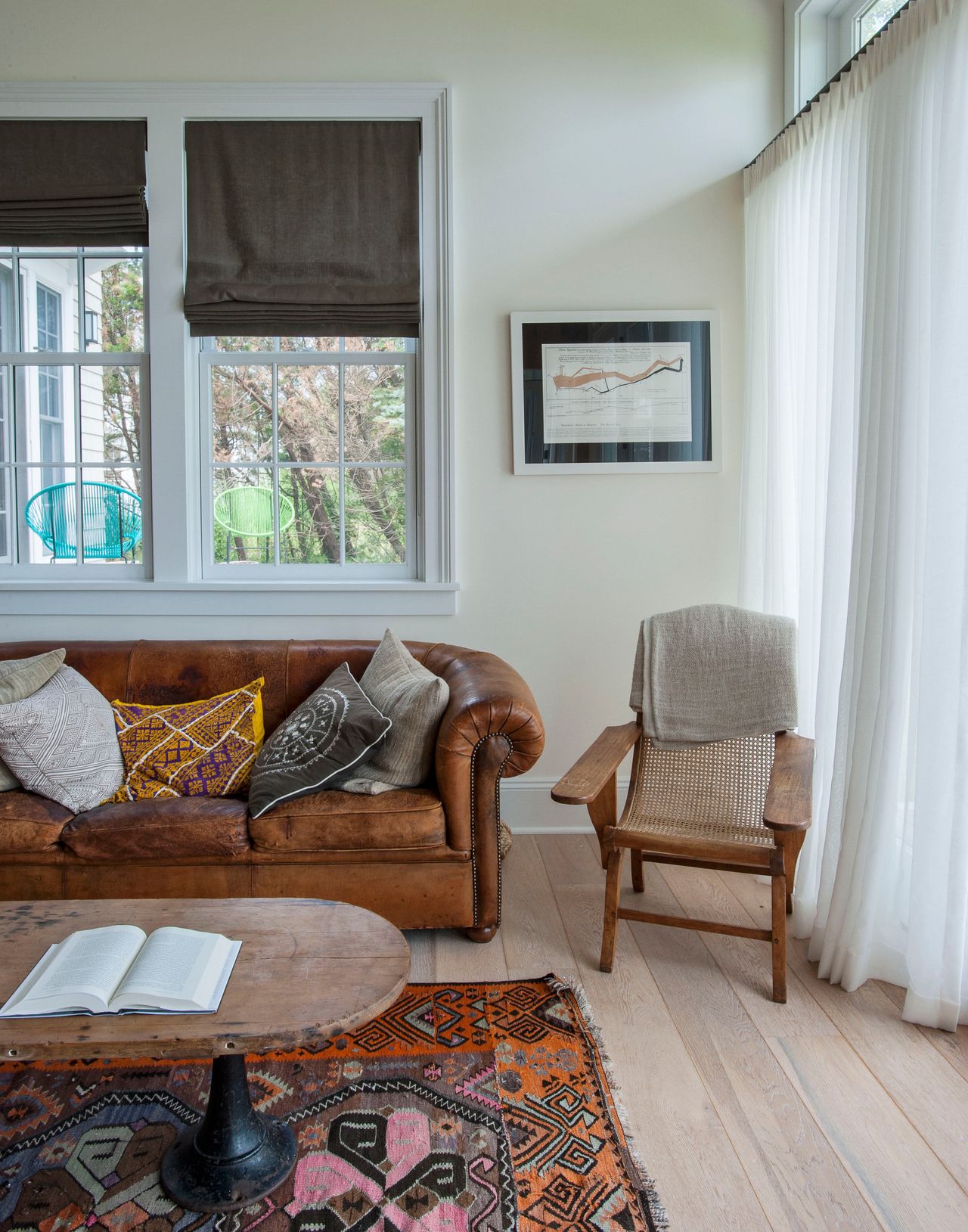 Neutral schemes are often associated with white, cream, grey and the ever-growing in popularity, beige, but we would say darker hues like brown and even a soft black can work as a neutral. 
Bringing brown tones into it a lighter color scheme can give the space depth and create a nice contrast that's not as harsh as black or grey. It creates a very cozy, inviting feel to a room. Here, cream walls and white woodwork bring a freshness to the lovely warm tones of the aged leather sofa and wooden pieces, plus it ties together the classic pale neutrals on the walls with the orange and pink tones in the vintage rug. 
3. Go for a monochrome scheme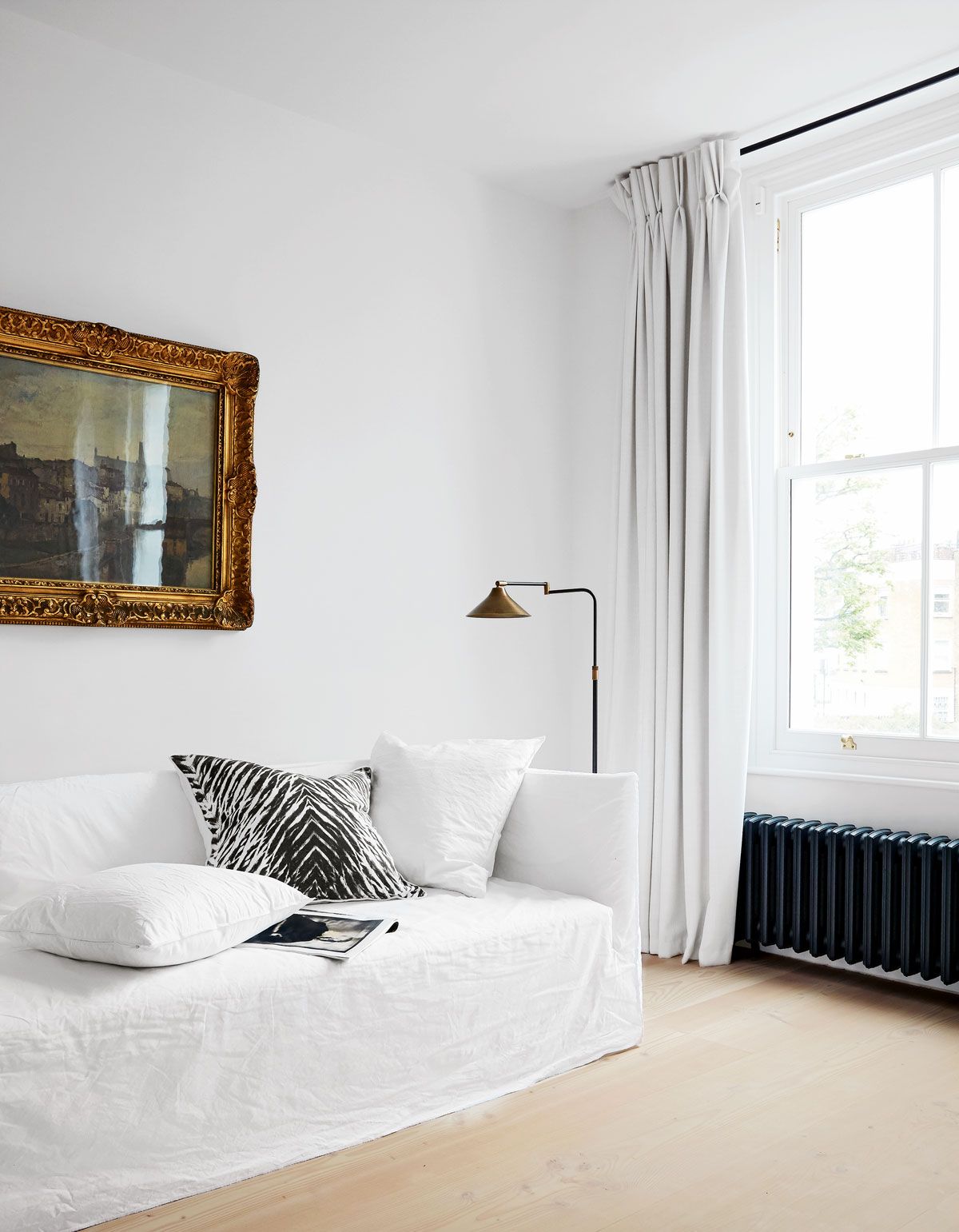 There something so chic about a living room that sticks to just one neutral tone, whether that's grey, beige or as can be seen in this space white. Again, if you want to go monochromic texture is key so be sure to pick plenty of different fabrics and finishes for the room. 
Sticking to just one color works wonders in small living rooms too as there is very little visual clutter, so the space appears bigger and brighter. 
4. Neutral doesn't always mean light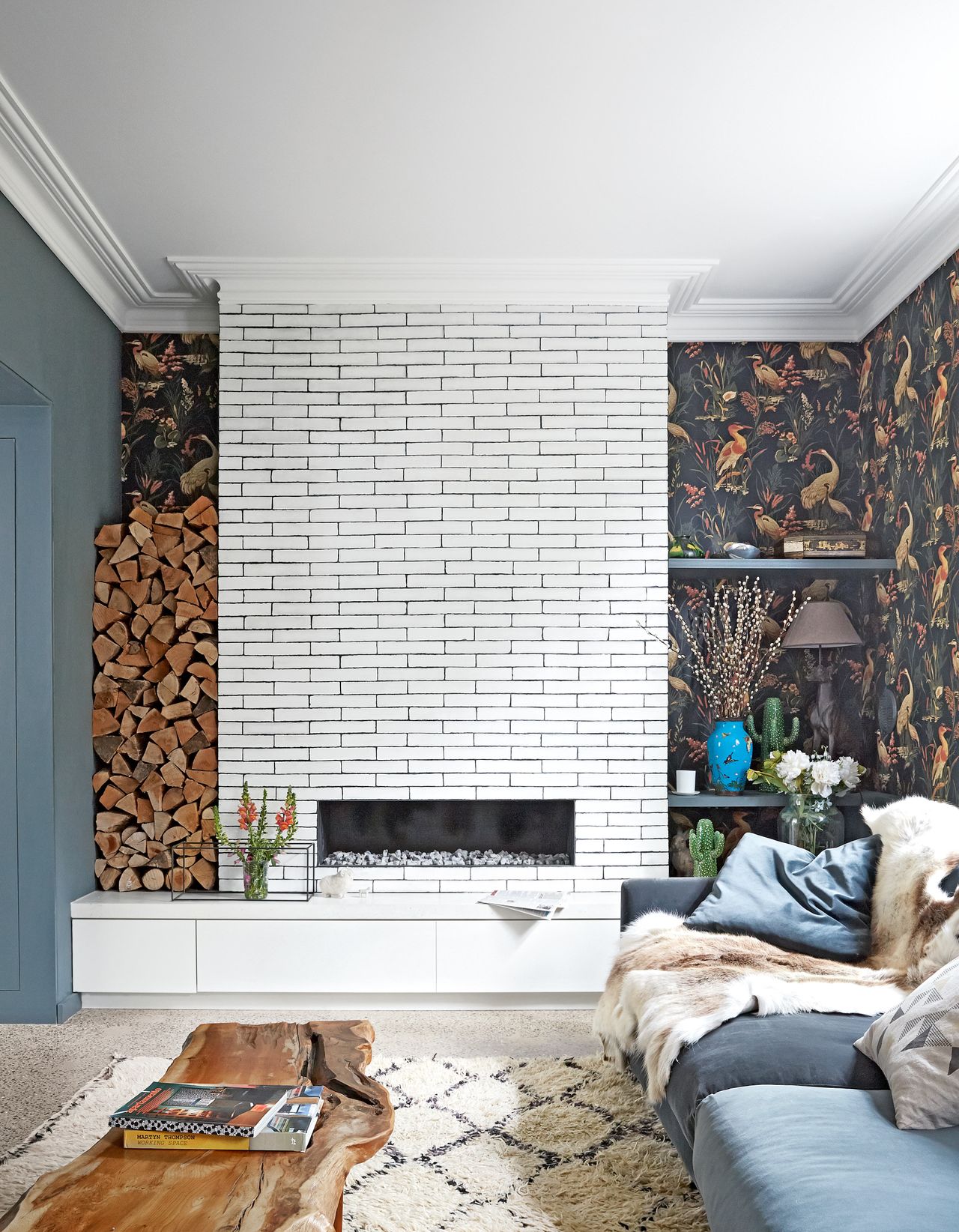 A neutral living room doesn't always have to be about soft pale tones, a neutral palette can also include deeper colors. Case in point with this dark living room, the overall feel is still neutral and calm, but mixed in with the cream of the carpet, rug, and throws, are deep grey-toned blues that create a more dramatic feel and adds a richness to the scheme. 
5. Incorporate natural materials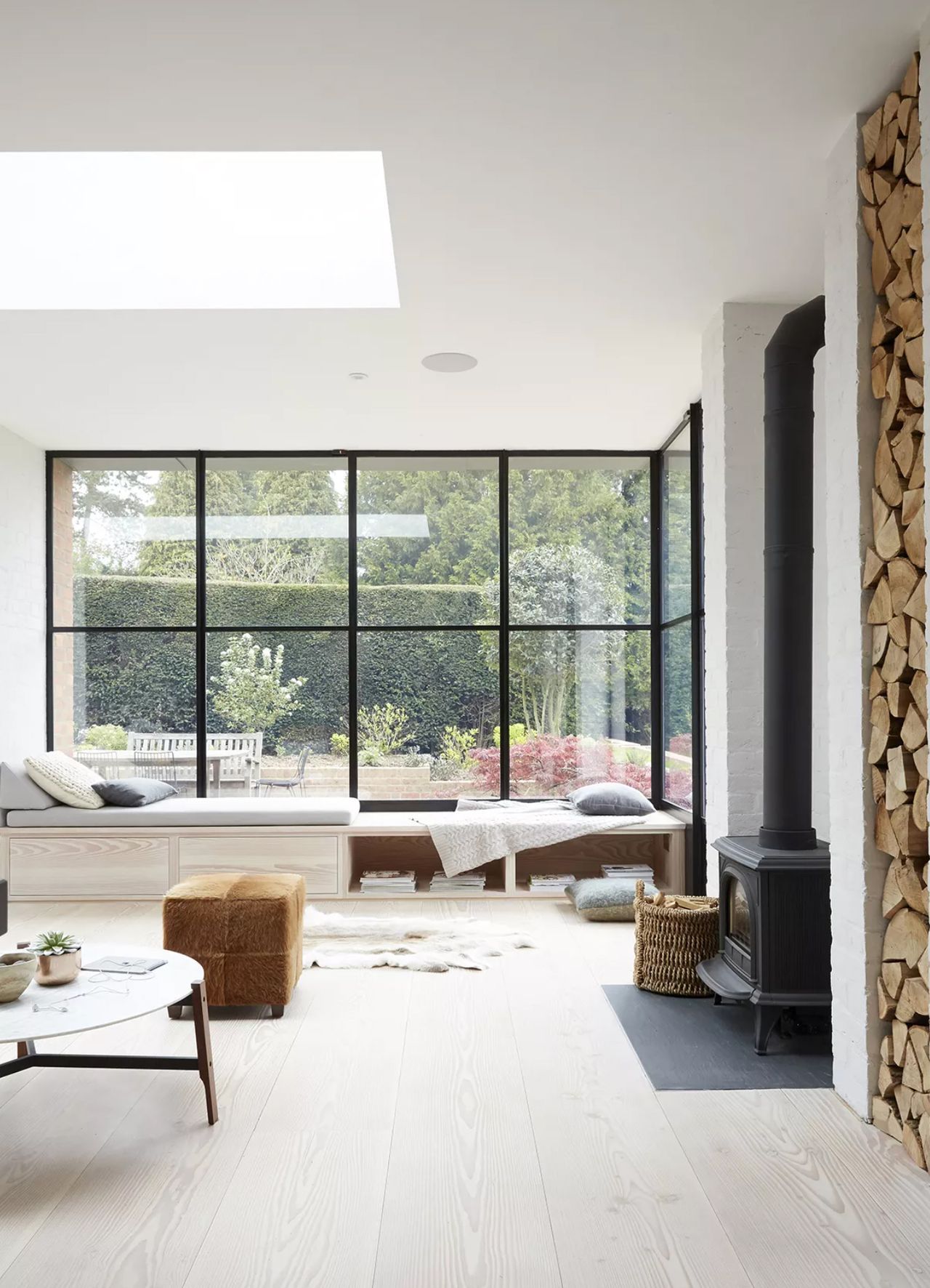 Back to that all-important texture. Bringing in natural materials to a simple neutral scheme gives a living room a rustic, beachy edge creating a relaxed, laid-back vibe. Here, something as simple as a stack of logs can add texture and color that doesn't distract from the overall white living room scheme. 
6. Pick pastel tones for a whimsical look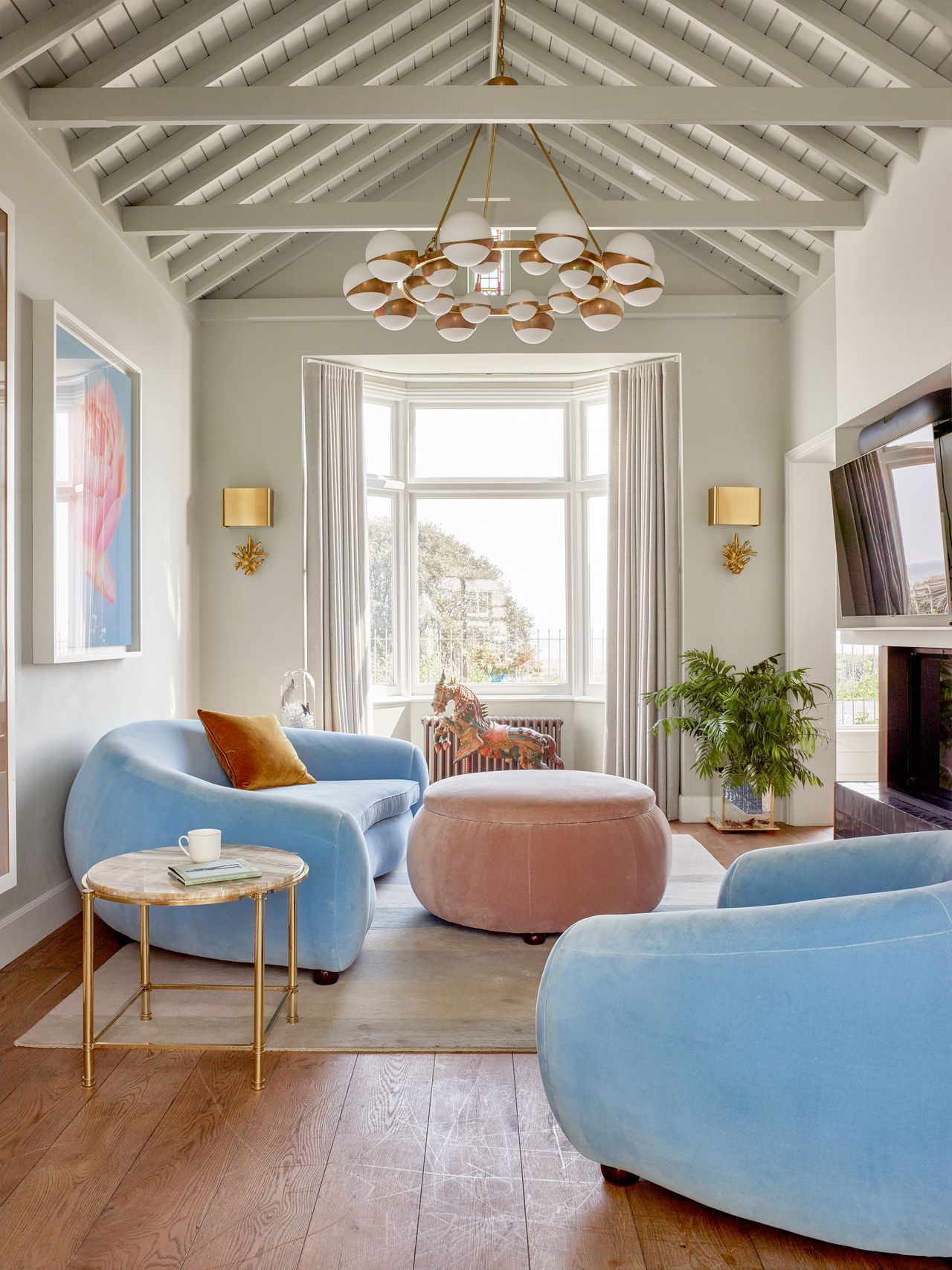 And a neutral living room doesn't have to be void of color either, as this fabulous space proves. Soft pastels work perfectly in a neutral space, just be sure to pick the right neutrals. You want go with something crisp and cool-toned to contrast the whimsy of the pastels, a really clean white would work, or be inspired by this color palette and pair a soft light grey with baby blue and blush pink. A very grown-up take on the pastel trend. 
7. Go cool and sophisticated with layers of grey
It's easy to see why grey is everyone's favorite neutral. It's so versatile, always looks stylish, and is a classic so you know you aren't going to be painting your walls or buying a new sofa in a few months time.
Commit to your love of this cool tone by choosing it as the sole color for your living room. Match the walls to the sofa as can be seen in this grey living room and add layers of both darker and lighter grey shades for a really sophisticated but cozy look.
8. Add depth with richer hues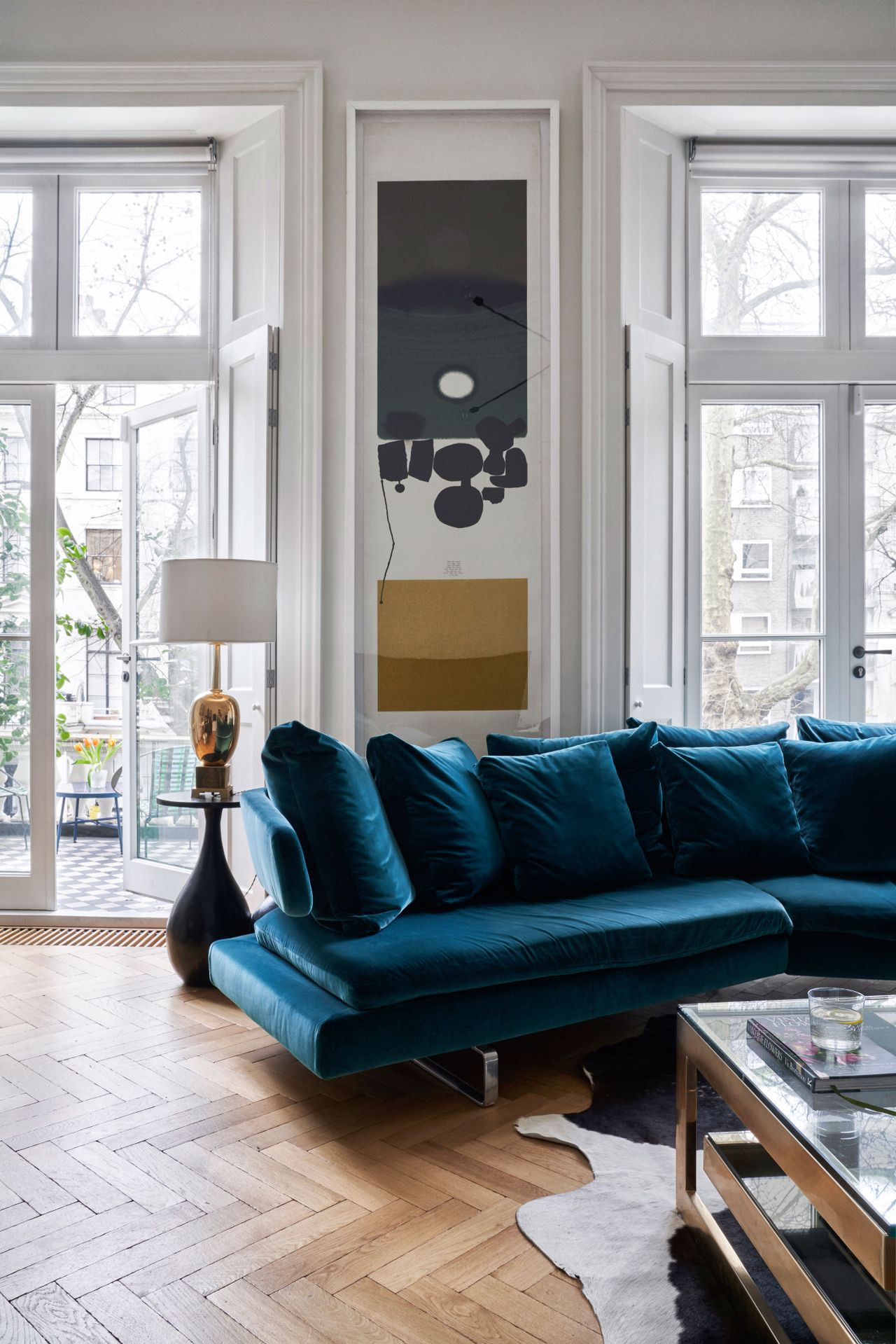 Choosing an accent color for a neutral living room can really add depth and ground the space. Balance out all those light airy shades with something strong and rich like this deep velvety blue. This space still feels neutral but that large pop of color from the sofa gives the room a focal point. 
When choosing an accent color do look at the undertones of the neutrals you are working with. Match the undertones to the color you want to bring in. Neautrals with warmer tones work best with warmed toned colors like oranges, reds, pinks and yellows. Whereas cooler toned neutrals pair best with blues and greens. 
9. Bring in multiple colors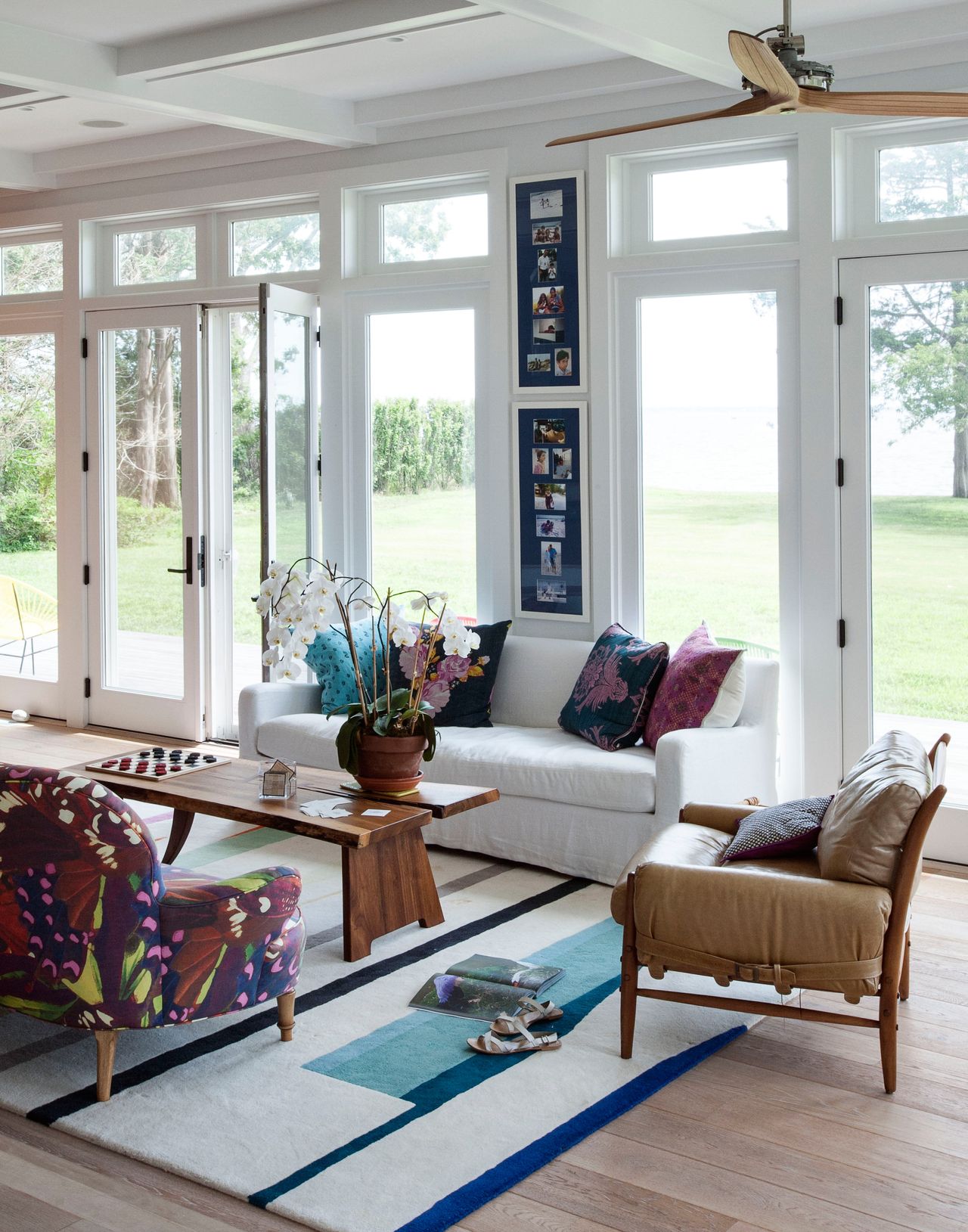 The best thing about neutral living rooms is you can change up the look of the room really easily. Keep the walls and furniture neutral and then just rotate cushion, rugs and throws as a way of making the space feel different throughout the seasons.
The pops of purples and blues here feel fresh and summery, perfect for this time of year, but come fall it would be a simple switch to add in some deeper burgundies and brown tones.  
10. Create a calming atmosphere with the palest of greens
Some colors, in their palest form, are so barely there that they can almost act as a neutral. See how the pale grey/green walls gives this space all the calming, uplifting qualities you'd expect from a green living room, and yet paired with the grey chair and cream rug and woodwork the room looks effortlessly neutral. 
11. Contrast neutral hues with black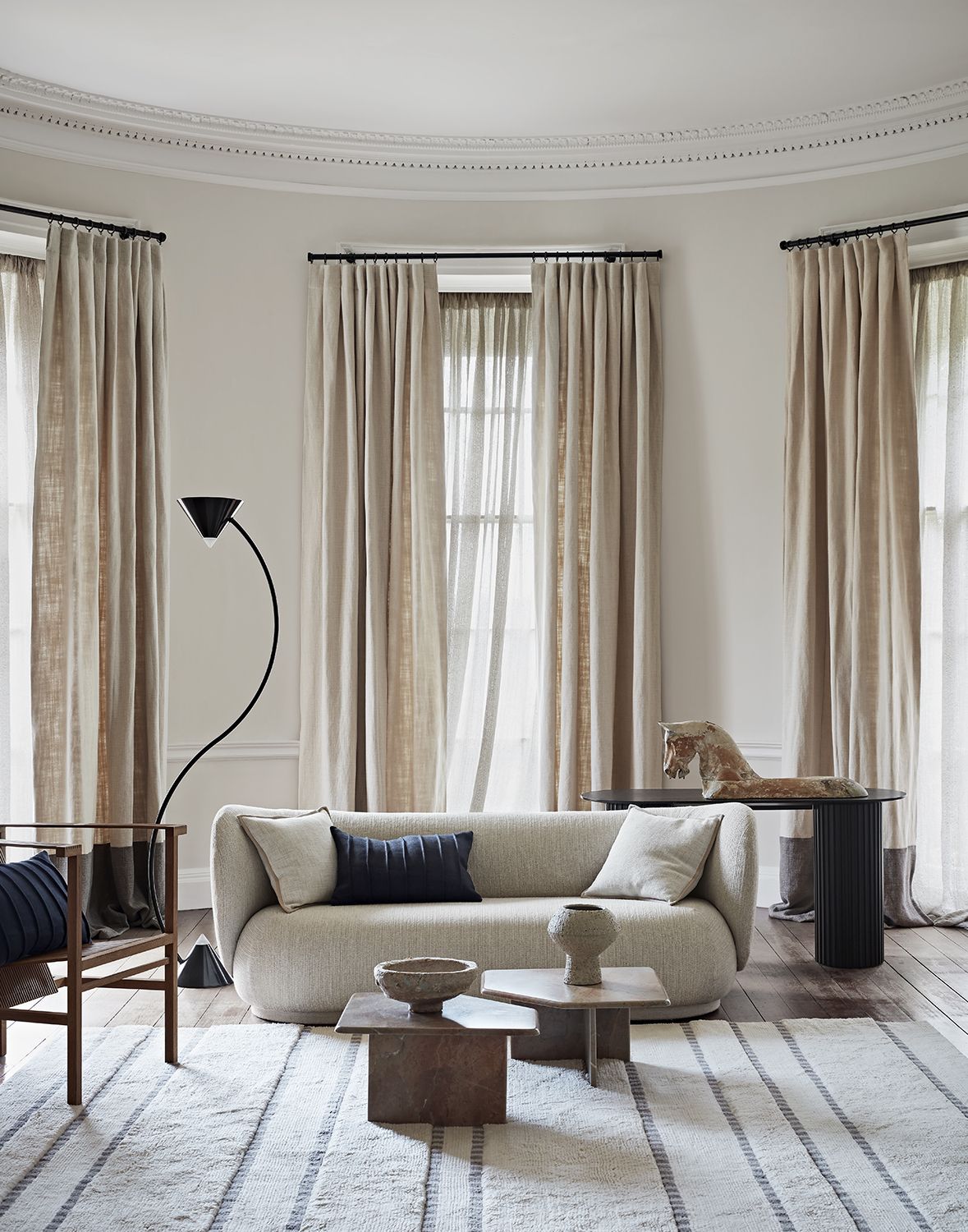 Black paired with any neutral tone makes a striking color scheme, and a good option if you are looking for something a bit more dramatic but want to keep things simple. Still stick with 80% neutral hues, but bring in touches of black with lighting, throw cushions and furniture so you really notice that contrast. 
12. Make a statement on the ceiling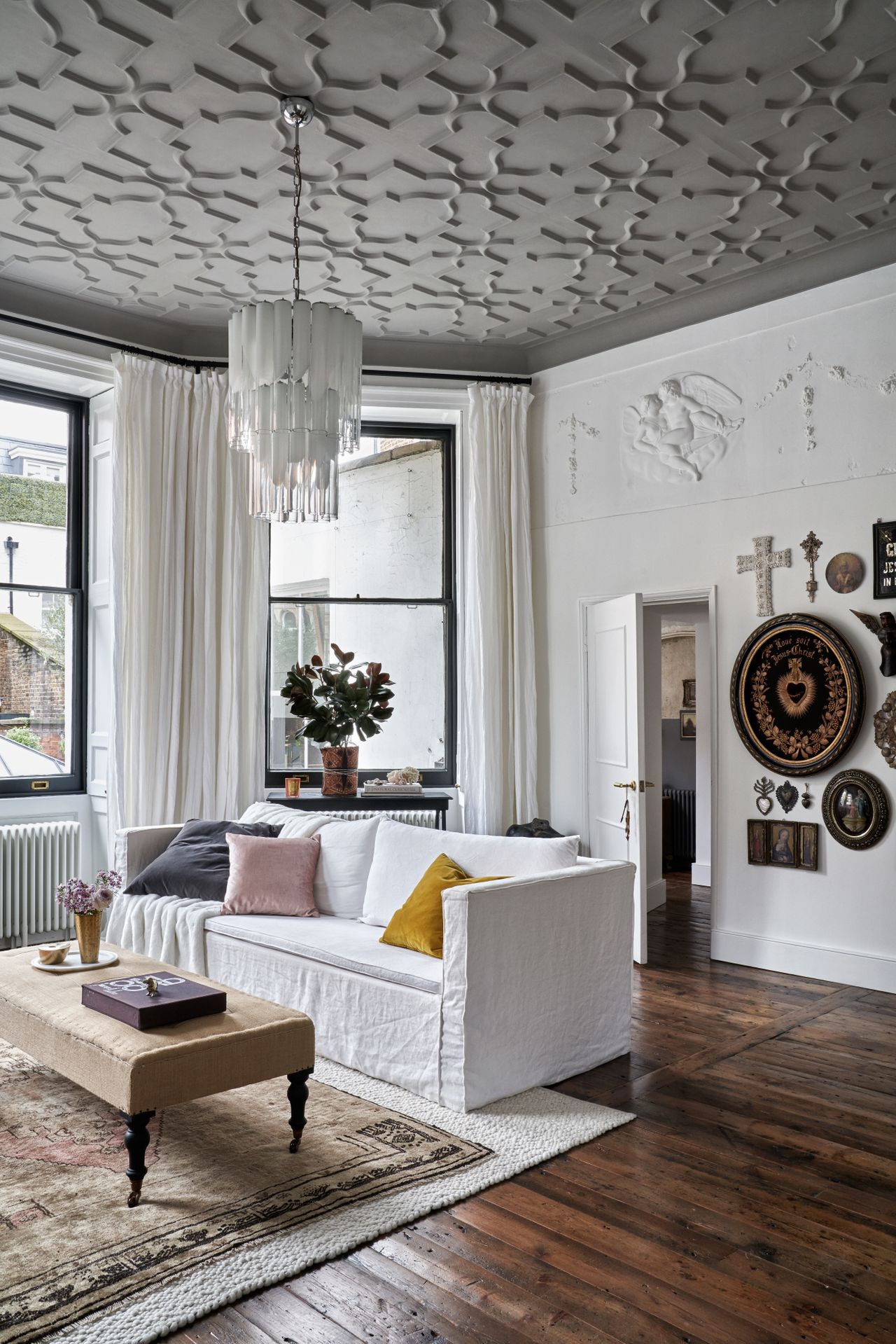 Another great neutral living room idea for bringing in some drama, keep the space neutral at eye level and add the color on the ceiling. In this room the palette still feels soft and the dark grey isn't anything too wild but you could go for a black ceiling or even a really bold color, or if you really want to make a statement add wallpaper. 
What is a good color for a neutral living room?
Any neutral color can provide the perfect base for a living room color scheme so your choice really comes down to style and the aspect of your room. Before picking a neutral tone look at the way your room faces and the amount of natural light it gets. There are of course exceptions, but the general rule tends to be, north-facing rooms that lack natural light work best with warmer tones to counteract the darkness and coolness. With light-filled south-facing rooms, you can be more experimental as both cool-toned and warmer-toned colors will work.